Mattingly: Tip cap to Arrieta, and move on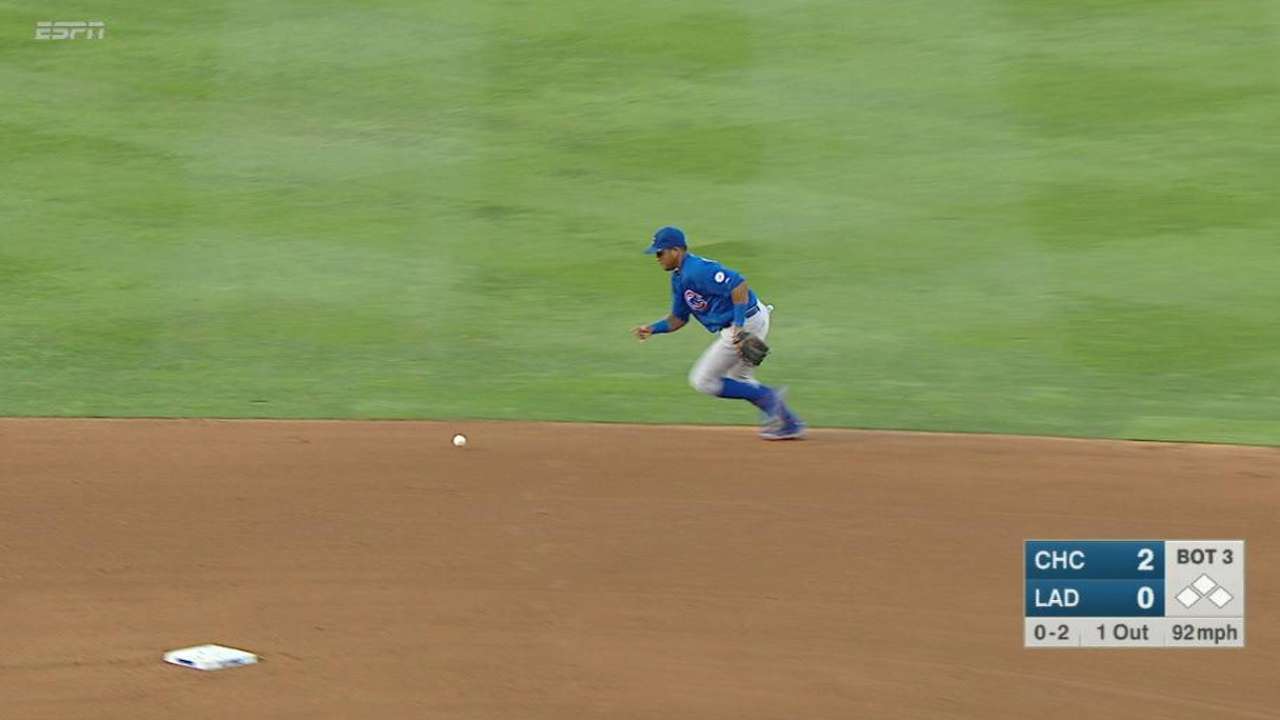 LOS ANGELES -- The Dodgers added two games to their lead between no-hitters. Analytically speaking, if they keep getting no-hit every nine days, they should run away with the division.
OK, that's not necessarily foolproof. But the Dodgers, with this drill fresh in their minds, were philosophical after losing to the Cubs, 2-0, on Sunday night, on Jake Arrieta's no-hitter only nine days after Mike Fiers mesmerized them with a no-hitter in Houston.
"To me, it doesn't matter if we got 20 hits or no hits," said Adrian Gonzalez. "We lost. But we won the series and we'll be ready tomorrow."
That's when the Giants come to town for a three-game showdown series, the Dodgers up by 3 1/2 games in the National League West with 33 games to play. When the Dodgers fell to Fiers, it was the third loss of a five-game losing streak that sparked Clayton Kershaw's call to arms, followed by a five-game win streak. Nobody was talking about panic or urgency after Arrieta's no-hitter.
"The last one bothered me more," manager Don Mattingly said, referring to Fiers' no-hitter. "We chased balls way out of the strike zone way too much. I didn't feel we were ready to play. I didn't feel that way at all tonight. The guy tonight had really good stuff. Tip your cap. We couldn't do anything with him. We didn't win the game tonight, that's what it's about."
The Dodgers have been no-hit 18 times, but this was only the third time at Dodger Stadium. The nine days is the shortest time between no-hitters for one club in NL history (previously Cincinnati, 20 days, 1971).
Interesting side note: The Dodgers were no-hit for nine innings by Montreal's Mark Gardner on July 26, 1991, in a scoreless tie, then broke it up in the 10th. Two days later, Dennis Martinez threw a perfect game against the Dodgers.
The Dodgers did have issue with Sunday night's official scorer, Jerry White, who charged an error to Cubs second baseman Starlin Castro for Kiké Hernandez's blistering one-hopper that exploded at Castro's feet and caromed off his glove.
"I was surprised a little bit," said Hernandez. "At that moment, only the third inning, a home official scorer, even Arrieta said on the postgame interview it should have been a hit. Whatever. I don't know what happened to him, what's going through his mind thinking in the third inning of a no-hitter. It happens. [Hitting coach Mark McGwire] said the guy was going to review it. I know how this works. If we didn't get another hit, they weren't going to change it.
"A hit, no question about it," said Gonzalez. "Just ask Arrieta. ... I asked five of their players when they were on base, all said it was a hit. Look, he threw a great game. It goes down as a no-hitter. At the end of the day, all that matters is we lost.
"[Arrieta] did a great job. He overmatched us tonight, threw a no-hitter, and they gave him the benefit of the doubt."
Mattingly agreed.
"At this point, there's no reason to talk about it," he said. "It's a moot point. If you really want my opinion, I think it's a hit. But at this point, it's a moot point. It doesn't change the game."
Ken Gurnick is a reporter for MLB.com. This story was not subject to the approval of Major League Baseball or its clubs.