Angels slip to .500, but look to battle back
Despite struggles, club knows 'things can still happen,' Weaver says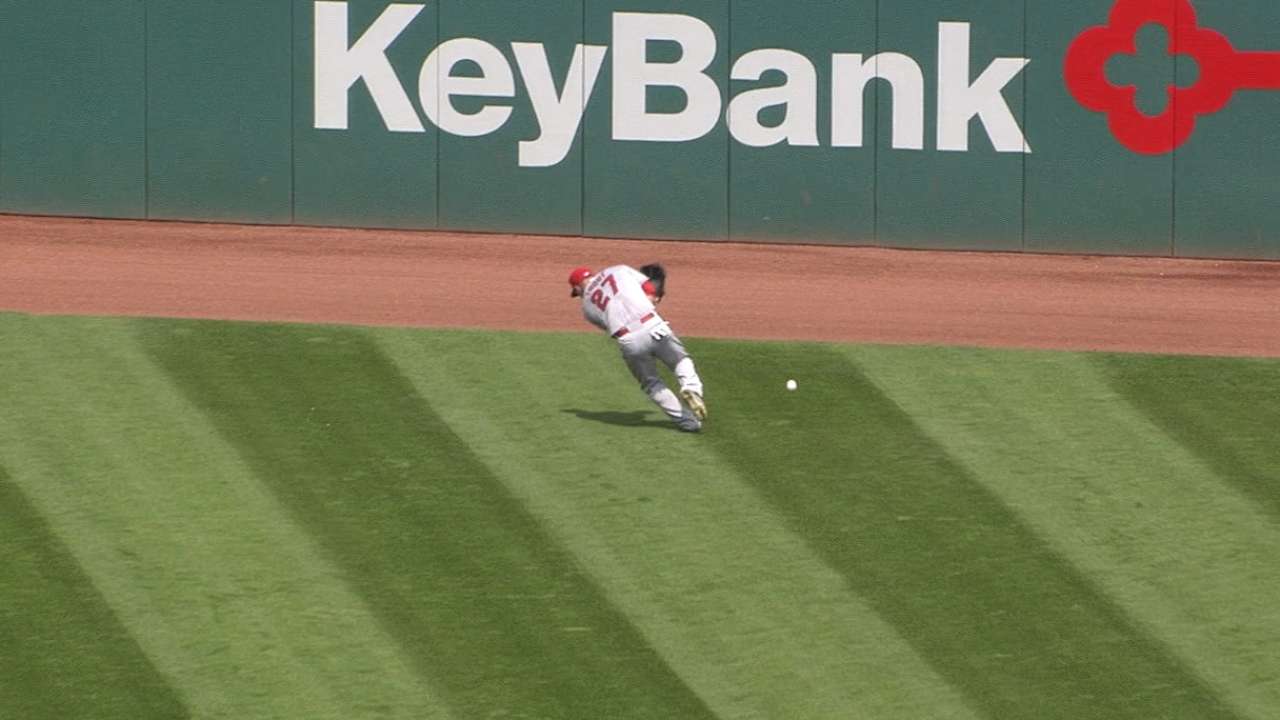 CLEVELAND -- August is almost over, and the Angels are a .500 team. It had been 65 days since they had the same amount of wins as losses, but then they were unable to score in a first inning that began with a single and a triple, and they lost two fly balls in the sun and gave up their second grand slam in as many days in a Sunday afternoon game from Progressive Field.
And now, after their 25th loss in their past 36 games, the Angels are 65-65.
"We're in a tough spot," Jered Weaver said after a 9-2, sweep-clinching loss to the Indians. "Obviously, we haven't been playing the baseball we want to play. We've been struggling a little bit in all aspects. It's frustrating, but at the same time, we have to know that things can still happen. We've still got to go out there and keep battling."
The Angels stomached tough losses on Friday and Saturday on back-to-back bullpen meltdowns, the first by Trevor Gott and the second by Joe Smith. They began Sunday with a line-drive single by leadoff hitter Kole Calhoun, but then he got picked off by Indians starter Josh Tomlin.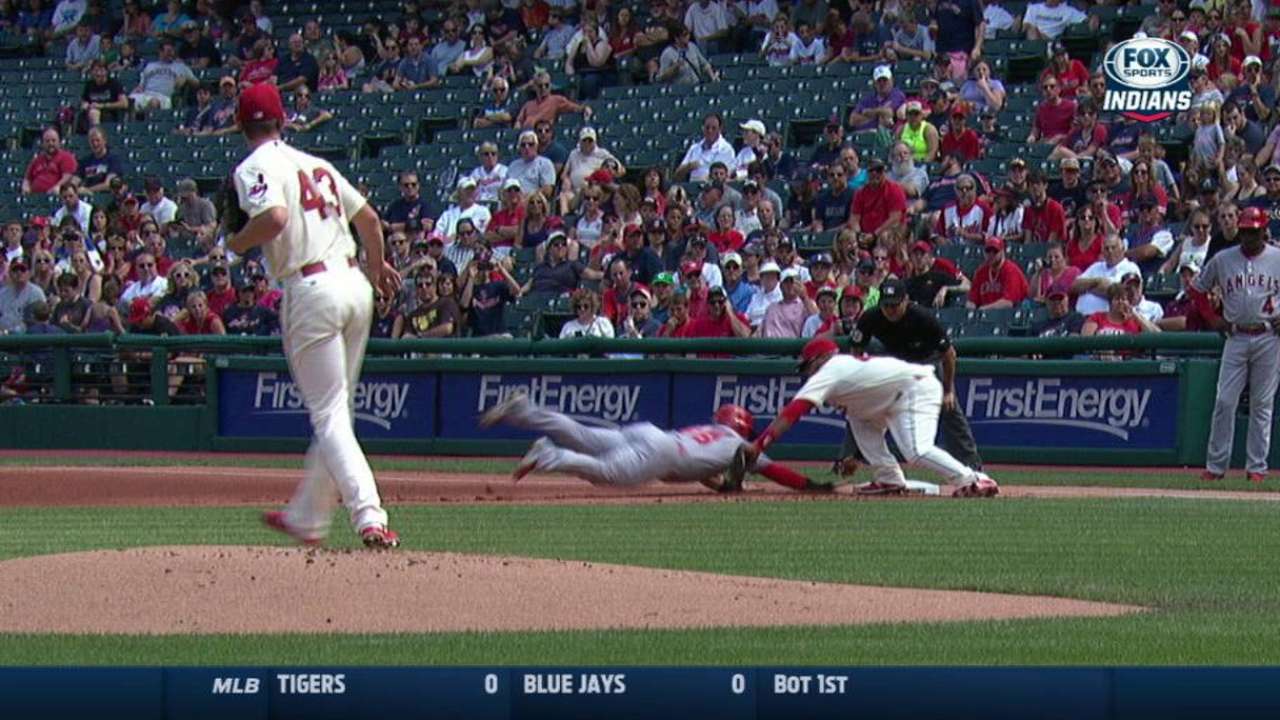 Mike Trout followed with a triple high off the tall fence in center field -- part of an encouraging 4-for-4 game at the plate -- but Albert Pujols and David Murphy couldn't bring him in.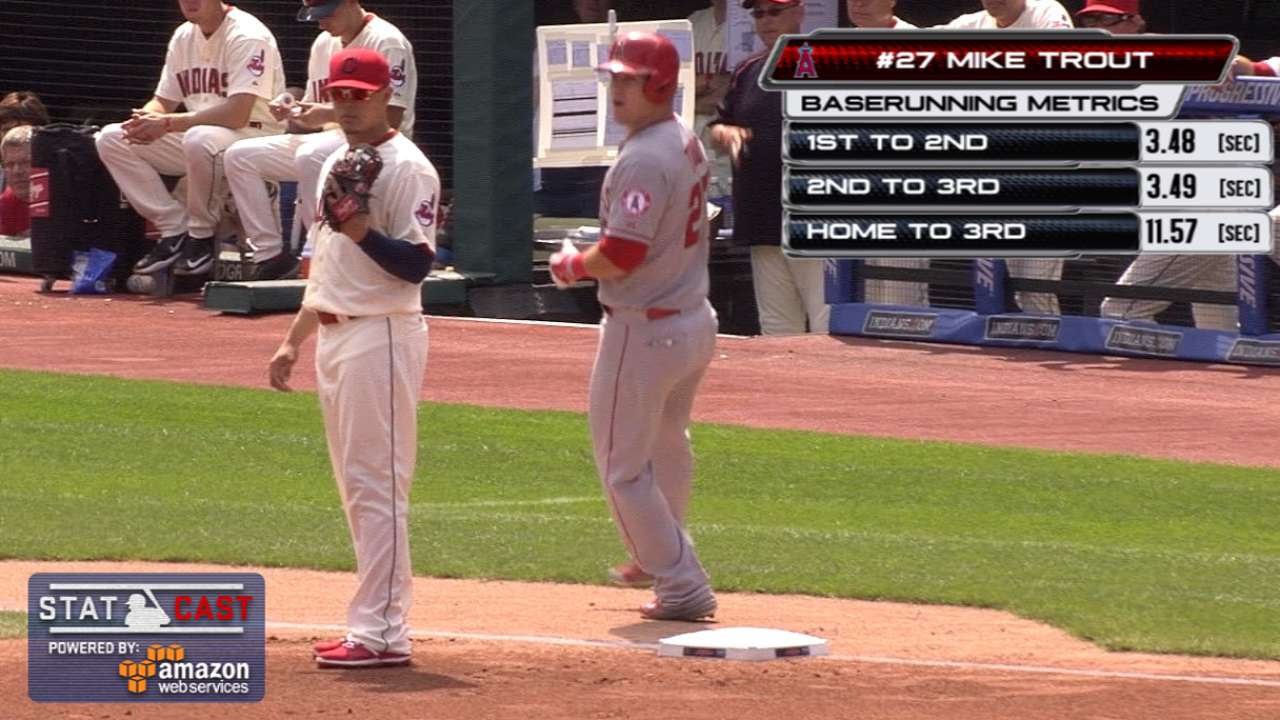 Then Mother Nature started to beat up on the Angels.
After an RBI double by Michael Brantley in the first, Carlos Santana lifted a high fly ball to center field that Trout lost at the very end, rewarding the Indians' first baseman with two bases and plating a second run. In the fifth, Calhoun lost sight of another Santana fly ball in front of the right-field warning track to put runners on second and third with one out.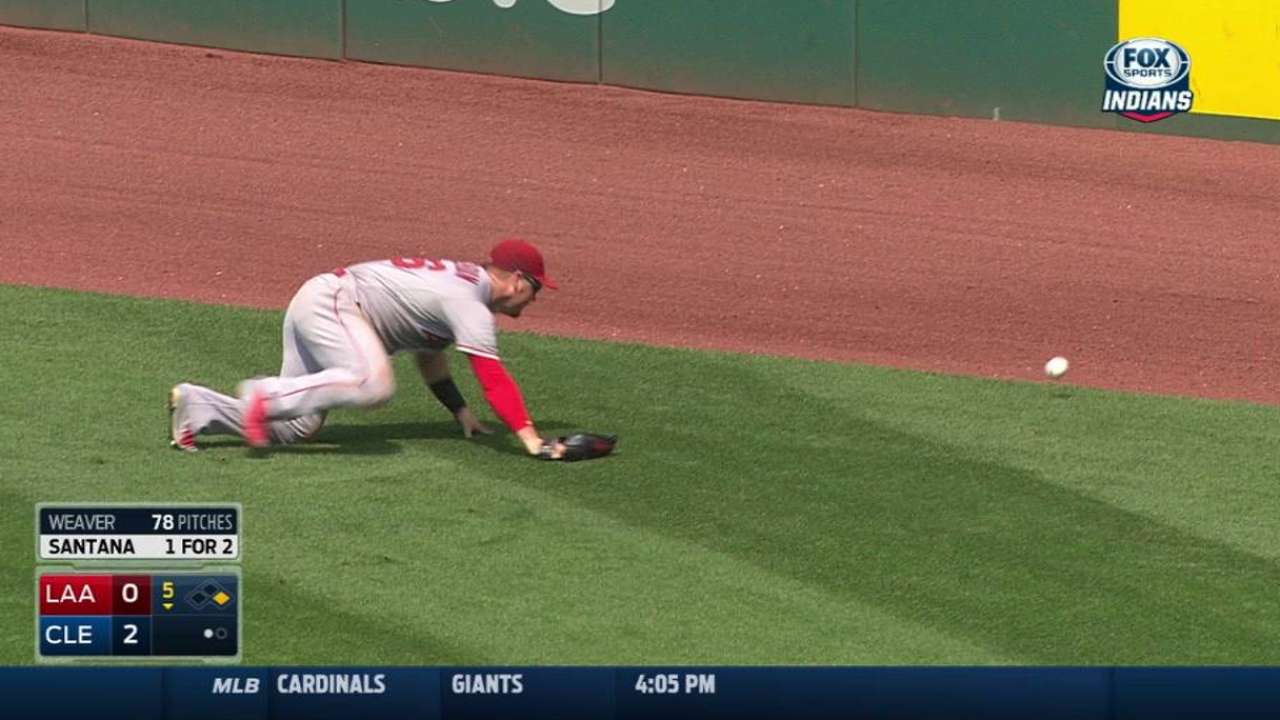 Yes, Trout and Calhoun were both wearing sunglasses.
"It doesn't matter," Trout said. "When the ball's right in the sun, you can't do anything about it. You feel helpless."
Weaver, five days removed from a dugout tirade shortly after Trout and Calhoun miscommunicated on a fly ball in Detroit, slumped his arms and looked on in disbelief.
Three batters later, his 80-mph fastball to Abraham Almonte resulted in a grand slam.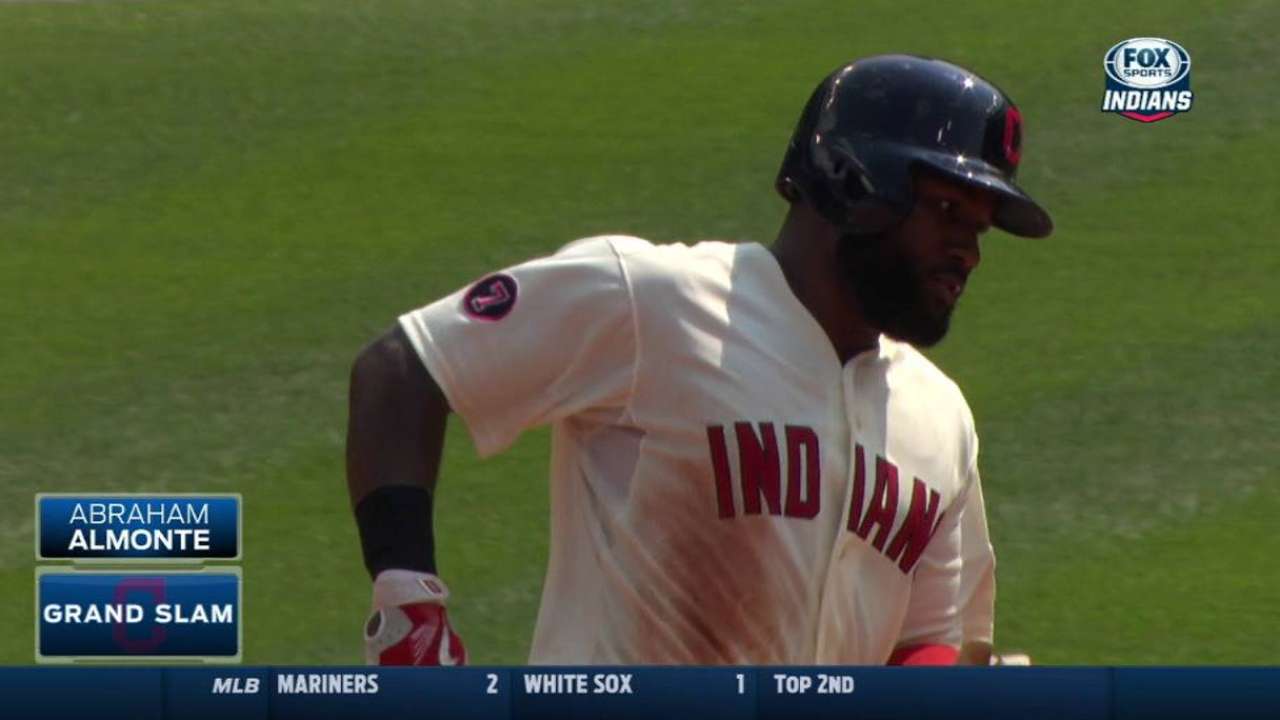 "It could have been a different game, but that's the way it goes," said Weaver, charged with eight runs on nine hits and four walks in six innings, putting him at 6-10 with a 4.94 ERA. "We've just been running into a little bad luck in some situations, and I haven't been able to pitch my way out of those situations."
The last time the Angels had a .500 record, it was June 26. Immediately after that, they won 17 of 20 to vault into first place, up two games on the Astros in the American League West. Now they trail the Astros by 6 1/2 games in the division and are 3 1/2 back of the Rangers for the second Wild Card spot, with the Twins also in front. Their pitching staff has a 7.33 ERA over its past 10 games, their offense has been baseball's worst this month -- at least according to batting average, on-base percentage, slugging and runs per game -- and their defense has abandoned them, too.
"We have to stay positive," Trout said, "and try to get through this."
The Angels will play 25 of their last 32 against AL West opponents, and they still have an entire month to get right again.
"No one takes these last 36 games in stride, for sure," Angels manager Mike Scioscia said. "These guys want to achieve, they want to play well; they feel it when we're not playing well. Even though this is a tough stretch, we always talk about, 'Hey, the sun is coming up, and let's go out there and try to create some momentum.'"
Alden Gonzalez is a reporter for MLB.com. Follow him on Twitter @Alden_Gonzalez and listen to his podcast. This story was not subject to the approval of Major League Baseball or its clubs.