Santana gets back on track with 10-K gem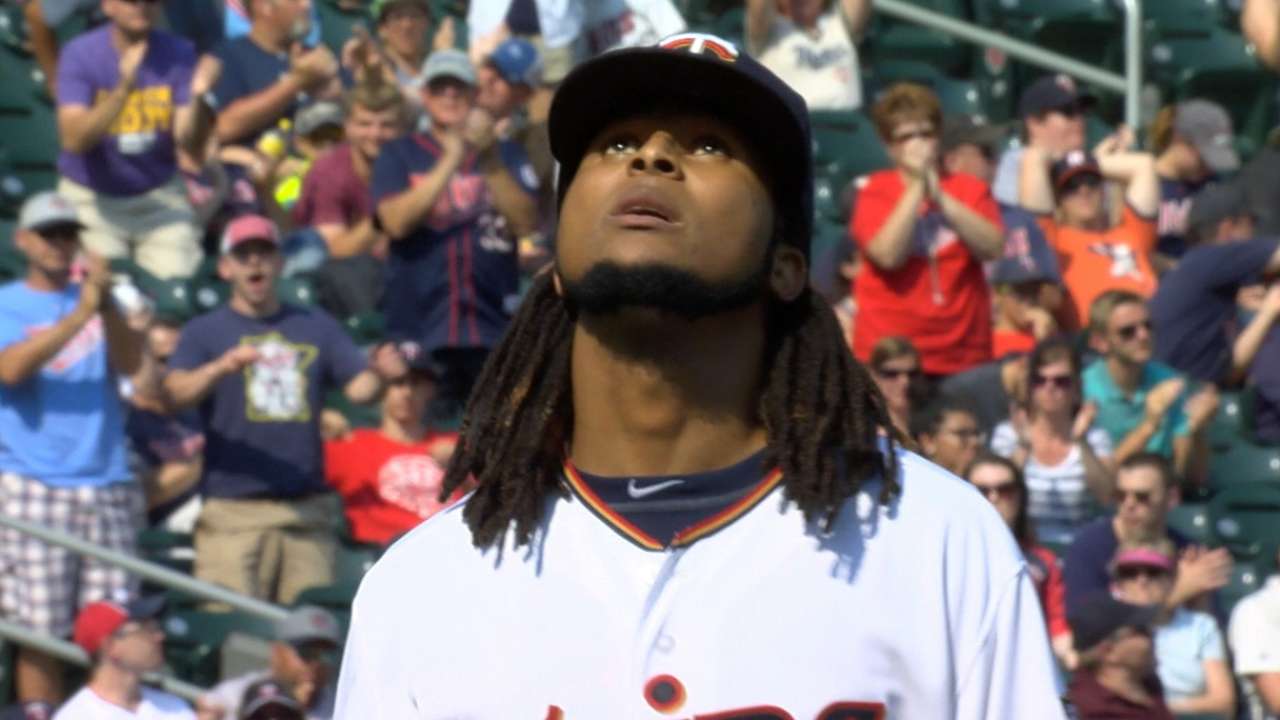 MINNEAPOLIS -- During his bullpen session in St. Petersburg on Thursday, Twins right-hander Ervin Santana went back to the basics with pitching coach Neil Allen, having posted a 9.12 ERA over his previous five starts.
Allen had Santana work on a variety of drills aimed to help him regain his fastball command, and it paid immediate dividends, as Santana turned in perhaps his best outing of the season on Sunday against the Astros. He tossed seven scoreless innings with a season-high 10 strikeouts to lead the Twins to a series victory with a 7-5 win at Target Field.
Santana was finally able to locate his fastball, keeping it down in the zone, which made his slider more effective. He showed signs of being the type of pitcher the Twins were looking for when they signed him to a four-year, $55 million deal before the season. This was his first home win of 2015.
"Fastball location was the biggest thing," Santana said. "Today, I fixed it. I had a lot of fastballs for strikes low in the zone."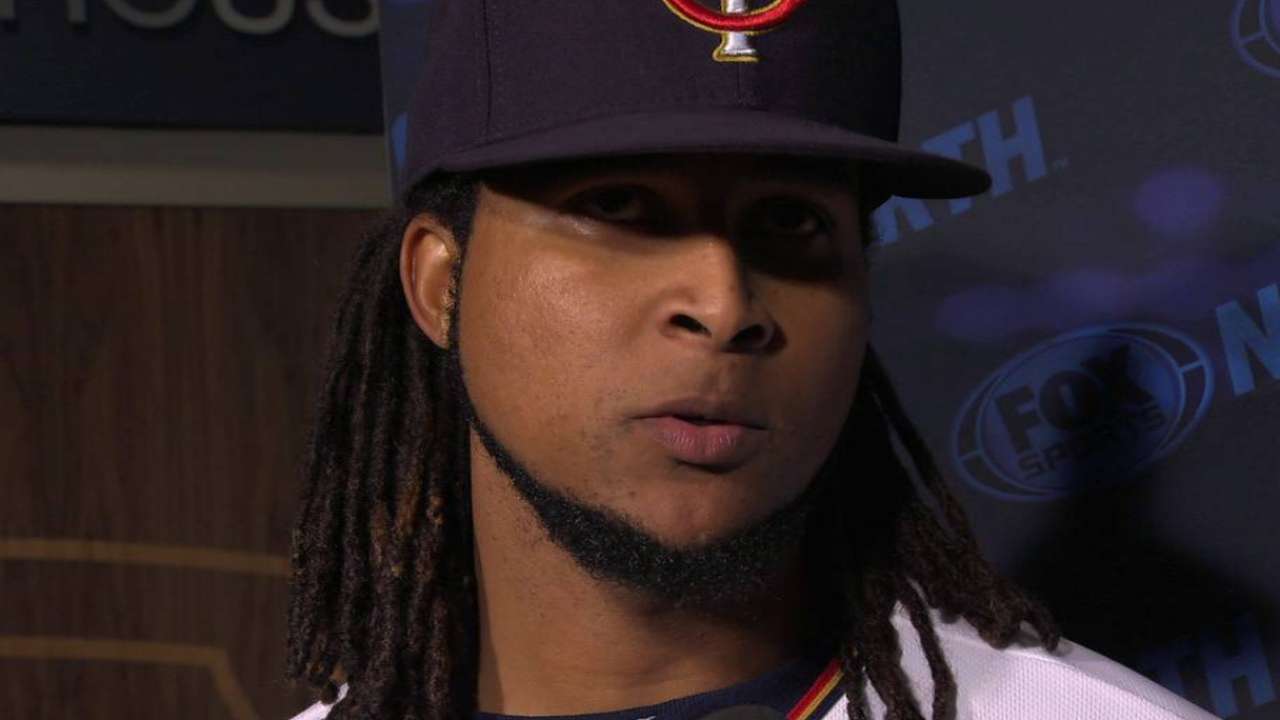 His catcher Chris Herrmann, who last caught him two starts ago on Aug. 19 against the Yankees, noticed the same thing.
"I think the one thing that really stood out to me was he was keeping the ball down in the zone," Herrmann said. "That made his offspeed pitches more effective today, and he got a lot of strikeouts with guys chasing pitches in the dirt."
Twins manager Paul Molitor said after Santana's previous outing, when he lasted just 2 2/3 innings against the Rays, that he thought Santana might be tipping pitches, but after looking at video, he saw that wasn't the case. Molitor said Santana's struggles were due to a pitch-location issue, so he paid close attention to it on Sunday.
"I tried to focus a little bit on the catcher's glove today to see how [Santana] was doing with location," Molitor said. "It was good. The offspeed was better and the changeup was better. And with his fastball, he didn't miss many spots. It wasn't perfect by any means, but it was definitely a step in the right direction."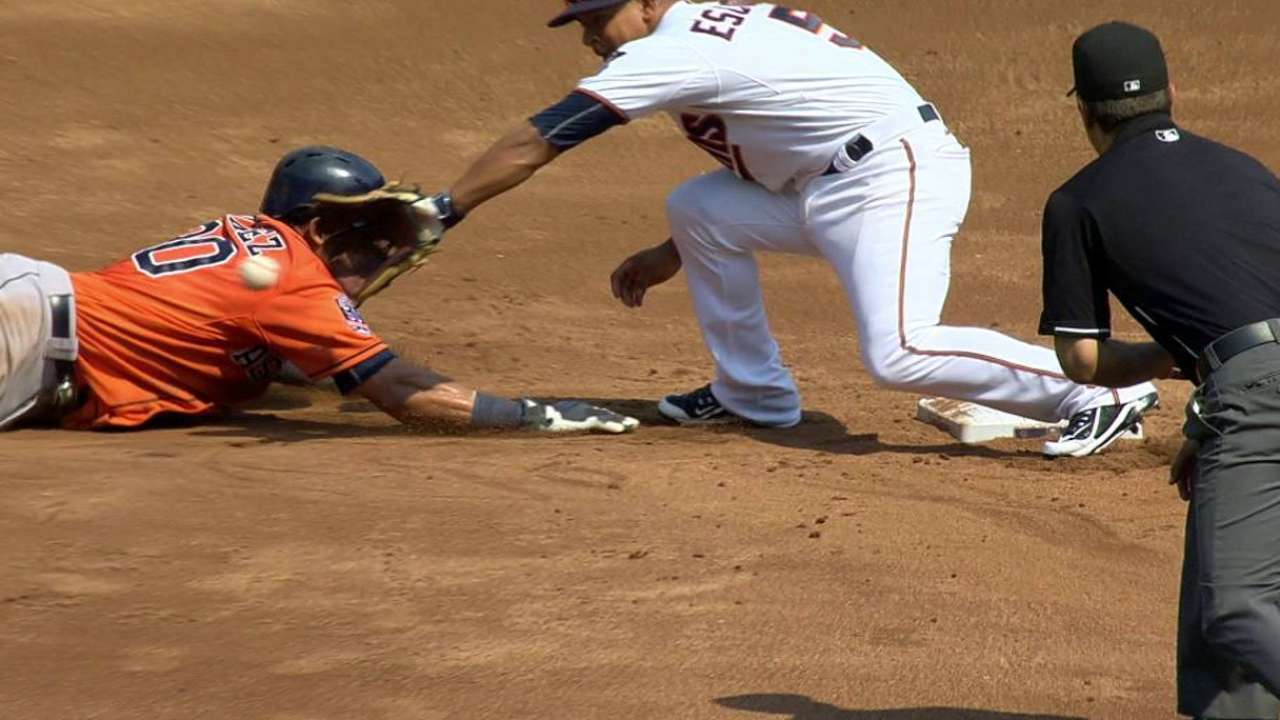 Santana picked up the bullpen, as he snapped a streak of eight straight starts without a Twins pitcher going at least six innings. It was also the first time this season a Minnesota pitcher reached 10 strikeouts. The strikeouts were key, as they helped Santana get out of several jams. He scattered six hits without a walk, but allowed the first batter to reach in five of his seven innings.
"We've been looking for a start to pick us up, and Ervin got it done today," Molitor said. "He allowed a lot of leadoff guys to get on and didn't have a lot of clean innings so to speak but he made pitches when he had to. He had a little extra in the tank to reach back and stranded some runners out there."
Rhett Bollinger is a reporter for MLB.com. Read his blog, Bollinger Beat, follow him on Twitter @RhettBollinger and listen to his podcast. This story was not subject to the approval of Major League Baseball or its clubs.