Pillar nearly adds miraculous catch to reel
Blue Jays center fielder unable to finish leaping grab to pair with two-run homer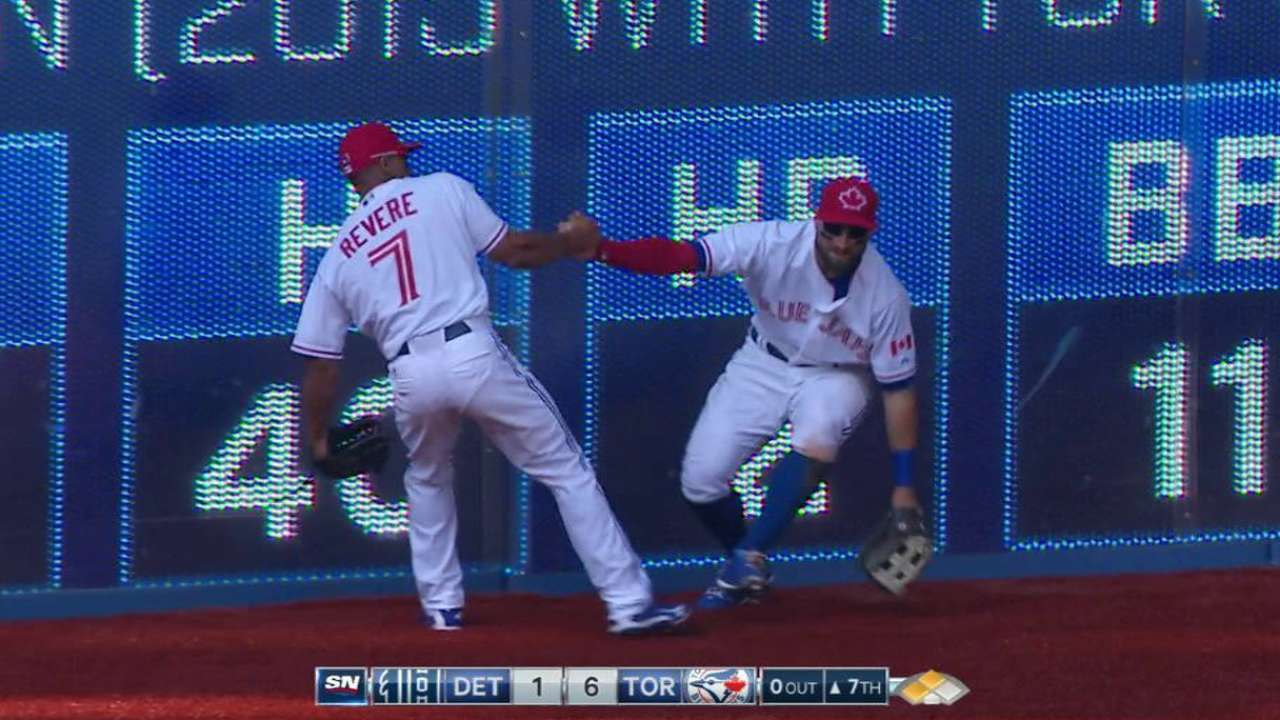 TORONTO -- There was a brief moment of concern when Kevin Pillar crashed into the outfield wall while he tracked a deep fly ball in the seventh inning of the Blue Jays' 9-2 win over the Tigers on Sunday.
The Toronto center fielder nearly came up with an almost-impossible catch on a Nick Castellanos double, snagging the fly ball as he made contact with the ball but losing it when he hit the ground. Pillar paid the price as he lay sprawled out on the Rogers Centre turf for a few moments, prompting manager John Gibbons to exit the dugout.
"When I saw him lay there, I thought, 'Uh-oh,'" Gibbons said.
Turns out all the 26-year-old needed was a breather. Pillar was on his horse again an inning later as he took away a base hit from Rajai Davis with a feet-first sliding catch. All in a day's work for the athletic outfielder, whose highlight reel is seemingly approaching the length of a feature film at this point.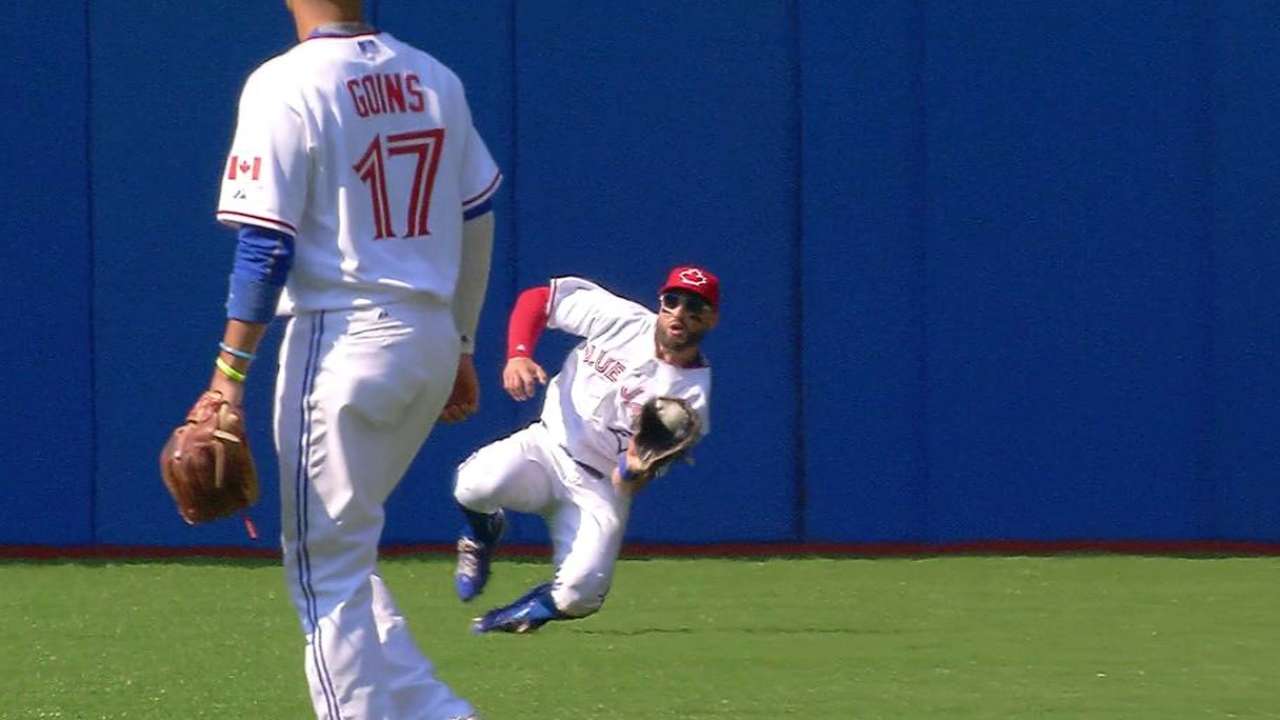 "I'm out there to make plays," Pillar said. "That's what I want to do. We'll deal with [the injury risk] part of it after."
In addition to his nice glove work, Pillar added a two-run homer in the series finale. Asked whether he'd prefer to hit a home run or make a great catch, Pillar said he had no preference, though he did go on to express an affinity for the long ball.
"Hitting a home run is something I don't do very often, so it's always special," said Pillar, who has gone deep nine times this season. "If you can do it at the time of the game when it matters, it's a lot of fun, and in front of a crowd like this on a big day, I don't take it for granted and I try to enjoy it."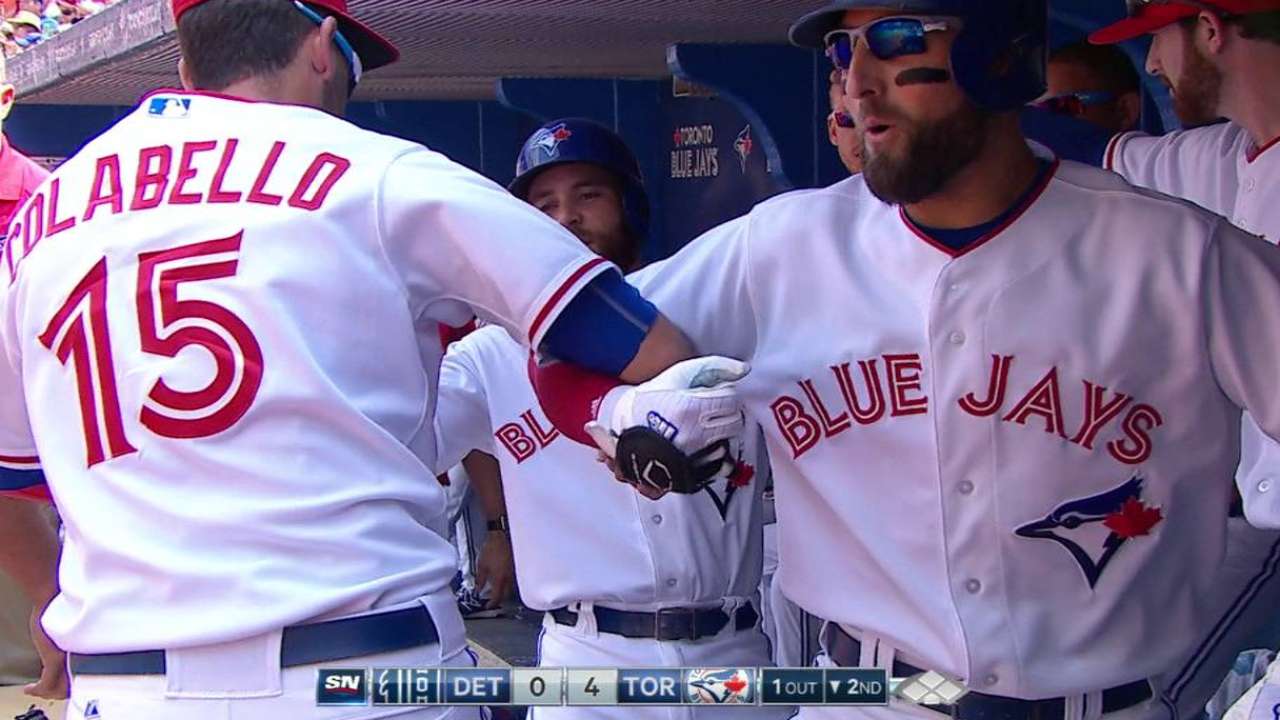 Jamie Ross is an associate reporter for MLB.com. This story was not subject to the approval of Major League Baseball or its clubs.