Holland shuts out Orioles to complete sweep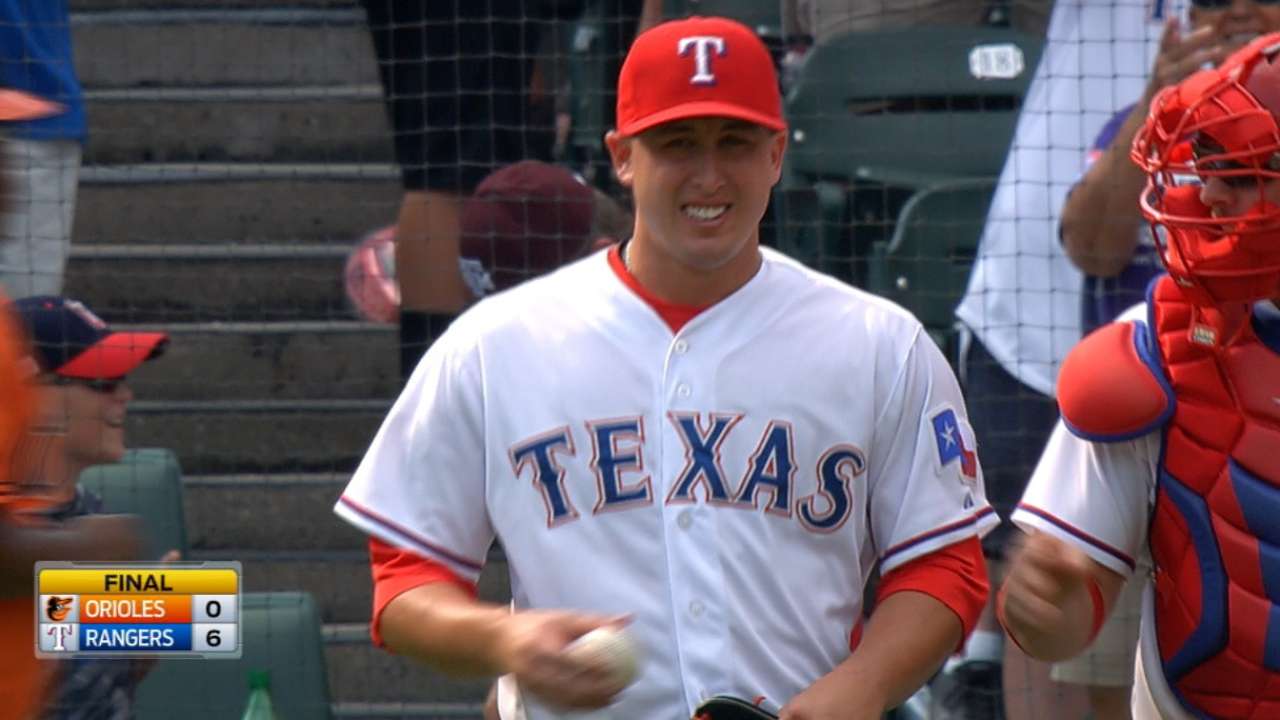 ARLINGTON -- Texas starter Derek Holland mastered the Orioles in a 6-0, three-hit shutout Sunday, earning a series sweep for the surging Rangers and heaping more misery on a Baltimore club that has begun to see its postseason hopes fade over the past two weeks.
"He was terrific," Rangers third baseman Adrian Beltre said of Holland. "He was spotting his fastball in and out, his breaking ball was absolutely magnificent, he was making the guys chase, he was ahead in the count the whole game. It was huge for us."
The Rangers have won four in a row and 13 of their last 17 to move within three games of the AL West-division lead held by Houston since early May; they are now seven games above .500 for the first time since the end of the 2013 season. The Orioles have lost 10 of their last 11 games and wrap the road trip just 1-6, 5 1/2 games back in the race for the second American League Wild Card spot.
"We are still right in the thick of things, so if you think we aren't, cool," Orioles center fielder Adam Jones said. "I think we are in the thick of things, just have to go on a five-, six-game winning streak and you guys [in the media] come back to us and say, 'Now you're in the middle of it.' It's just how it works. We just got to get on that roll so you guys can ask those questions."
Holland struck out 11 and walked none in his fourth start since returning from a shoulder injury he suffered in the first inning of the Rangers' home opener. He tallied his eighth career shutout and first since 2013, lowering his ERA to 2.82.
The Rangers collected 11 hits -- all singles -- including seven off Baltimore starter Miguel Gonzalez.
MOMENTS THAT MATTERED
Holland hangs on in fifth: Holland cruised through the first four innings, allowing only a pair of two-out hits, but things got dicey for him in the fifth after he hit Caleb Joseph to start the frame. Jonathan Schoop grounded to short for a potential double play, but was ruled safe at first, a call that was later confirmed by instant replay. Dariel Alvarez singled, putting men on first and second with one out, but Holland got both Paul Janish and Manny Machado to fly out to right field to end the threat. More >
"Derek's pitched a lot of baseball games at this level and I think he's well aware of those types of situations," Rangers manager Jeff Banister said. "He's the type of guy that he stays in control."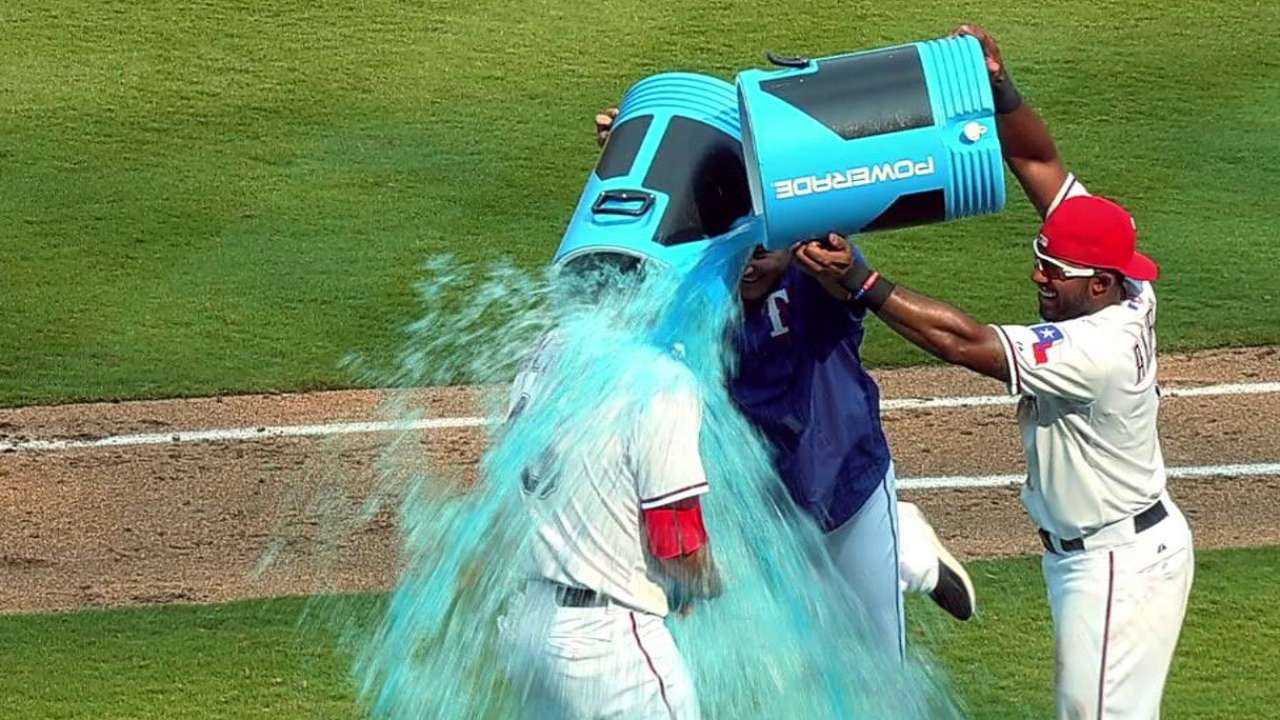 Baltimore's backsliding: The Orioles, who dropped to fourth in the AL East, have already exceeded their loss total from a year ago. The O's have lost 11 of 13 and are 1-57 when trailing after seven innings. Offensively, they mustered just three hits and are four games under .500 for the first time since June 7. More >
"That's a question that gets asked every year in this sport and for every team out there and it's us right now, and we've got to keep working," manager Buck Showalter said of turning things around. "We've tried a lot of different things, trust me. It's not a time to point fingers. It's a time to rally around each other, which our guys have already tried to do and will do."
Rangers come out swinging: The first three Rangers hitters collected singles to start the game and two of them scored. Delino DeShields led off with a blooper to right, Shin-Soo Choo followed with a line drive to right and Prince Fielder singled to left-center. With the bases loaded, Adrian Beltre drove in DeShields with a sacrifice fly, and Choo came home on a Gonzalez wild pitch.
"We're getting some early runs for ourselves, which is really key," Banister said. "When you look up in a baseball game and you see a team that scores first, that win percentage jumps up."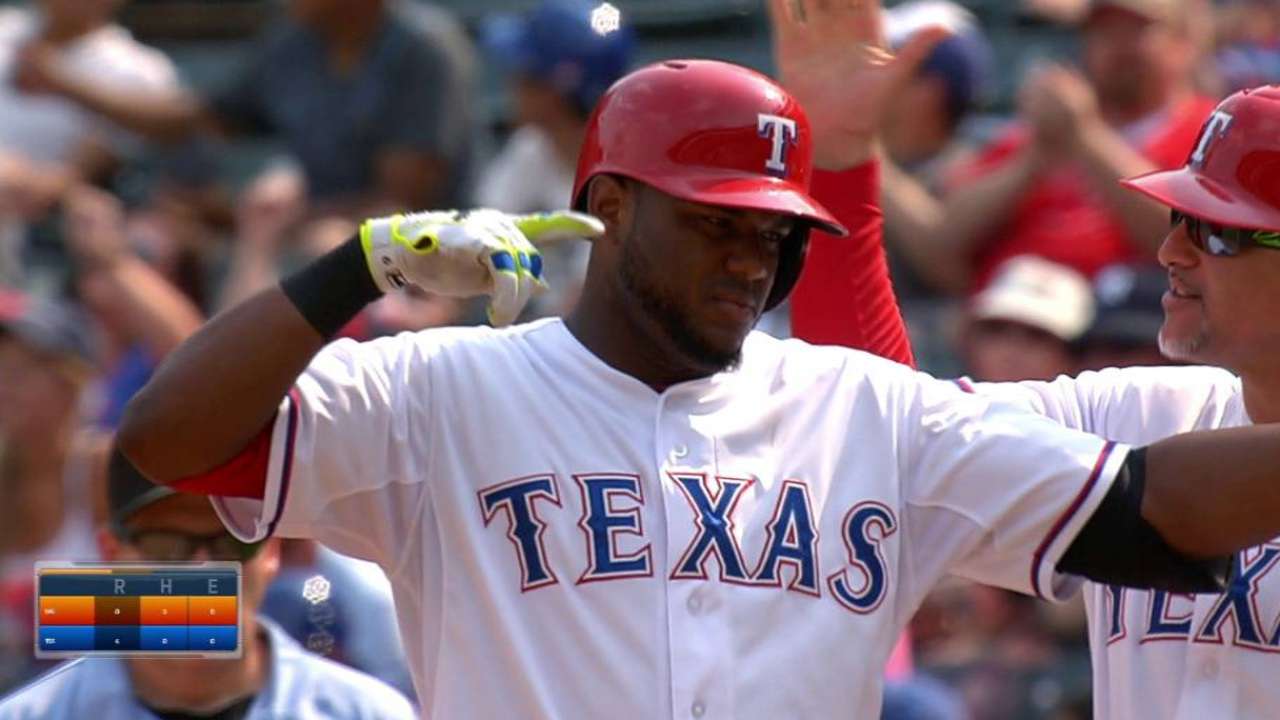 Short shrift: Struggling righty Gonzalez got into trouble early on, loading the bases and allowing a pair of early runs. Gonzalez was charged with four runs and has gone 5 1/3 innings or fewer in 11 of his last 14 starts (one due to injury), again putting his future rotation status in jeopardy.
"Command was better, was making better pitches towards the end of the game," Gonzalez said of his outing. "Holland pitched a great game and you tip your hat to them. They've been playing really good baseball."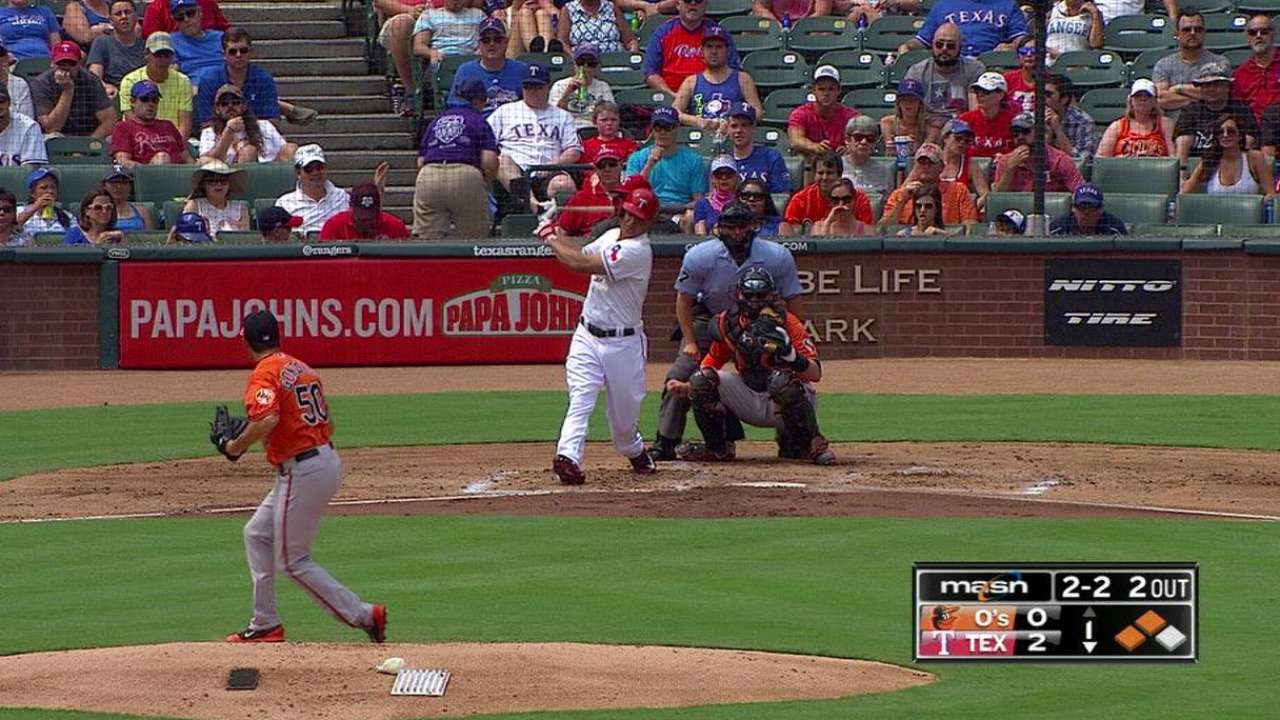 QUOTABLE
"We're striking out in double figures it seems like every game. I'm not going to beat up on them. If I do that, it's certainly going to be privately, not publicly. They understand and they're frustrated and I think we're looking forward to getting home and see if we can right this ship." -- Showalter .
"We really didn't play well at home … it was all aspects of it. We were losing games at home really in any way imaginable. We'd blow leads, we'd make errors, we wouldn't hit, and when we played those games with multiple runs scored, we weren't winning them. I feel like now that has flipped." -- Banister on how much his team has improved at home since it was 16-28 in late July (Texas is now 32-32)
REPLAY REVIEW
With no outs and a runner on first in the top of the fifth, the Rangers thought they had a double play when Schoop grounded to shortstop Elvis Andrus, who made a quick toss to second where Hanser Alberto relayed the ball to first baseman Mitch Moreland. First base umpire Paul Schrieber ruled Schoop safe and Rangers manager Jeff Banister challenged the call, but the call stood after a replay review. Holland got out of the inning unscatched and said the Rangers infielders kept the replay delay from affecting him.
"Those guys were keeping me loose and not letting me overthink anything," Holland said. "They're not letting me dwindle too much and worry about what I've got to do -- just stay there and be Derek."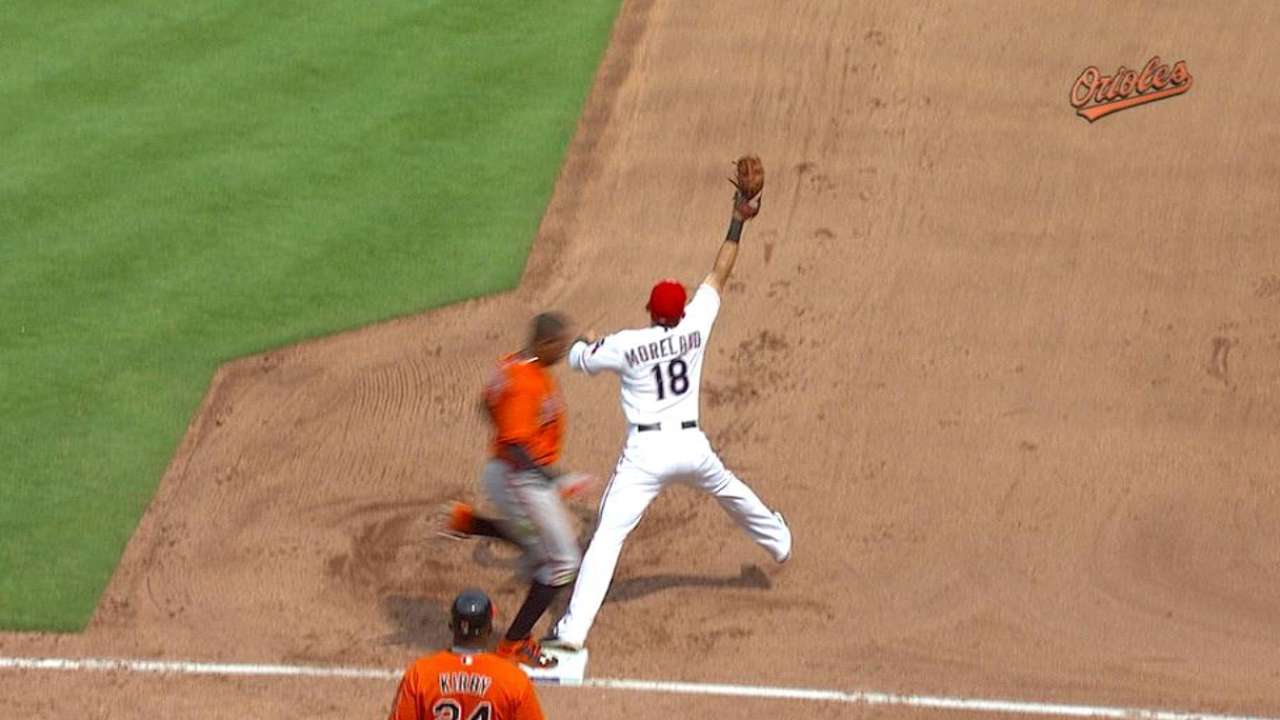 WHAT'S NEXT
Orioles: Baltimore heads home for a quick three-game homestand against the Tampa Bay Rays before heading out on the road for series in Toronto and New York. The O's will send lefty Wei-Yin Chen to the hill on Monday night against Rays righty Chris Archer. First pitch is slated for 7:05 p.m. ET.
Rangers: The Rangers begin an 11-day, 10-game road trip, their longest of the season, in San Diego at 9:10 p.m. CT on Monday. Colby Lewis, the team leader in victories with 14, could set a career high with another win. The Padres counter with Tyson Ross.
Watch every out-of-market regular season game live on MLB.TV.
Brittany Ghiroli is a reporter for MLB.com. Read her blog, Britt's Bird Watch, follow her on Facebook and listen to her podcast. Dave Sessions is a contributor to MLB.com. This story was not subject to the approval of Major League Baseball or its clubs.