Brewers to stick with Garza in rotation
After rough stretch, right-hander given chance to get back on track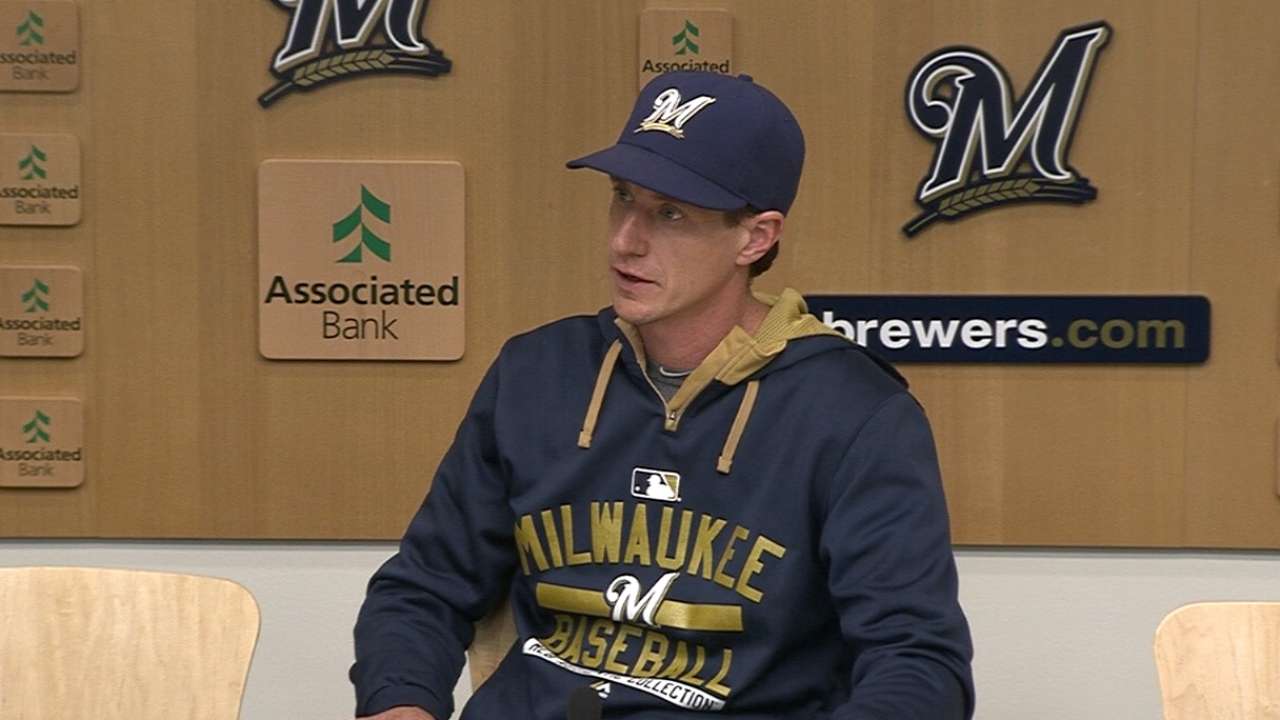 MILWAUKEE -- Despite his continued struggles, Matt Garza appears to be staying in the Brewers' starting rotation.
Brewers manager Craig Counsell said a conversation would be had about Garza's spot in the rotation after the right-hander allowed seven runs over 3 2/3 innings Saturday in Milwaukee's 12-9 loss to the Cincinnati Reds.
While that conversation has yet to take place, Garza is listed as the probable pitcher for Thursday's game against the Pittsburgh Pirates at Miller Park.
"We haven't sat down with Matt yet," Counsell said. "We need to do that. But the way we're listed now is the way we are right now. So until further notice, that's what we're going to do.
"Where we're at is where we're at. The probables are accurate right now."
It's hard to explain why Garza has struggled as much as he has this season. After posting a 3.63 ERA in 100 starts between 2011-14, Garza has a 5.56 ERA in 25 games (24 starts) in 2015.
Only teammate Kyle Lohse (6.27 ERA) and Kansas City's Jeremy Guthrie (5.62 ERA) have higher ERAs than Garza. Both of those pitchers have been removed from their respective starting rotations.
Garza has a 12.83 ERA over his last three starts, allowing 19 earned runs over his last 13 1/3 innings.
"When there's a long record of success and things don't go the way you expect, it's difficult," Counsell said. "It's difficult to find the reasons why. You're searching for it, Matt's searching for it. Sometimes maybe we make it too complicated. It's just Matt needs to execute pitches better.
"You're always going to keep searching and Matt's always going to keep searching, but at the end of the day when you're playing a big-league baseball game it comes out to just executing and beating the other guy. All sides are trying to help get to the root of when things go wrong. But we've got to go out and perform in the end."
Garza went on the disabled list on July 6 with right shoulder tendonitis, an issue Counsell says hasn't popped up since his return on July 21.
The Brewers will likely stick with Garza in the rotation knowing he will have to be a part of next season's starting staff due to the $25 million he's owed over the next two years.
Milwaukee is currently using a four-man rotation, as four off-days in a 12-day stretch eliminated the need for a fifth starter. A fifth starter will be needed next weekend in Cincinnati, which will cut into an already limited pool of potential starting candidates.
Andrew Gruman is a contributor to MLB.com. This story was not subject to the approval of Major League Baseball or its clubs.