Guaipe gets the call in latest bullpen shuffling
Montgomery sent to Triple-A to work on command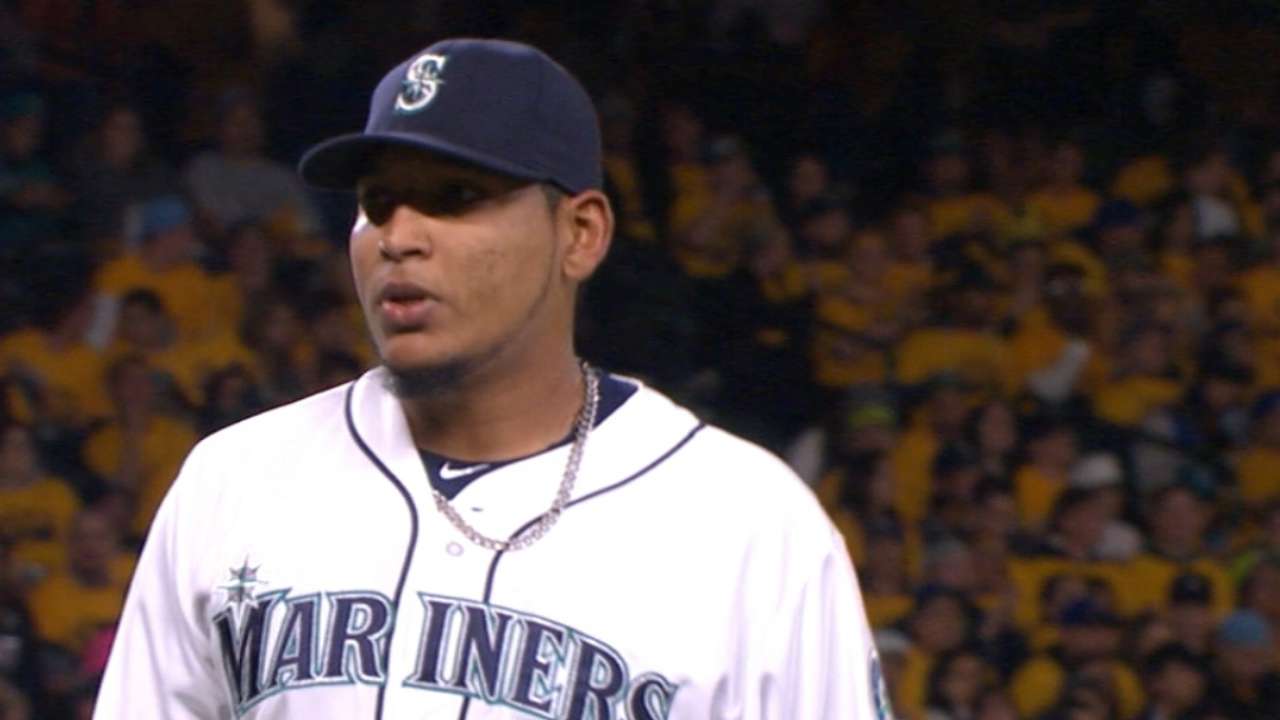 CHICAGO -- Mariners manager Lloyd McClendon has been patient with his bullpen this season while he waits for someone to entrench themselves in a role. But he'll have to wait a little longer as his relievers continue to work through a stretch in which they have been called on more than ever.
With his closer traded away and having to utilize his two primary setup relievers in August more than any other month, McClendon's latest test has been figuring out the best course for his bullpen. And he'll use two members with little starting experience as spot starters on Sunday and Monday.
"There was a stretch where they were all put to the test," McClendon said. "We didn't have a choice. We probably overused them a little bit."
In need of another right-handed reliever, the Mariners optioned starter Mike Montgomery down to Triple-A Tacoma to bring up Mayckol Guaipe before Sunday's game against the White Sox.
Montgomery will likely be back after Tacoma finishes its season on Sept. 7, while Guaipe rides out the rest of the season with Seattle. McClendon said Montgomery would make two starts with Tacoma to regain his command after he walked 21 batters in his last seven games.
"He'll continue to work on his command and try to get it back," McClendon said. "His stuff is plenty good, but there's no defense for walks. You just can't do that."
The rookie left-hander had his start skipped on Sunday in favor of reliever Edgar Olmos, and with starter James Paxton on track to return from the disabled list, McClendon decided against keeping the starter.
Montgomery impressed early in the season when he carried a 1.62 ERA across six starts in June, but he has not picked up a win since July 5. Since then, he's allowed three or more runs in seven of his nine starts.
"The toughest part for young pitchers is the second time around," McClendon said. "Teams have seen you, they've scouted you, so now they know what you've got. You have to make those adjustments. And the biggest adjustment is making sure you stay in the strike zone."
Guaipe, ranked No. 28 among the club's prospects, according to MLB.com, is making his second appearance on the big league roster this season after he went 0-3 with a 7.50 ERA in 12 innings earlier. The Mariners will aim to avoid using Logan Kensing and Tom Wilhelmsen, both righties, on Sunday before their trip to Houston.
Wilhelmsen picked up his sixth save on Saturday night as he settles in as the de factor closer. Seattle traded away Fernando Rodney to the Cubs on Thursday and has moved reliever Carson Smith to a setup role.
The 31-year old Wilhelmsen struggled to escape Saturday's game, but he wasn't charged with an earned run for the sixth straight outing.
"He's done great," McClendon said on Saturday. "He's done it before and he seems to be a lot more relaxed. His pace is good, his breathing is good, he's commanding the zone. I've got no issues at all."
Greg Garno is an associate reporter for MLB.com. This story was not subject to the approval of Major League Baseball or its clubs.