Revere hits leadoff as Tulo drops to No. 5 spot
Each batter reaches base once in Blue Jays' rout to sweep Tigers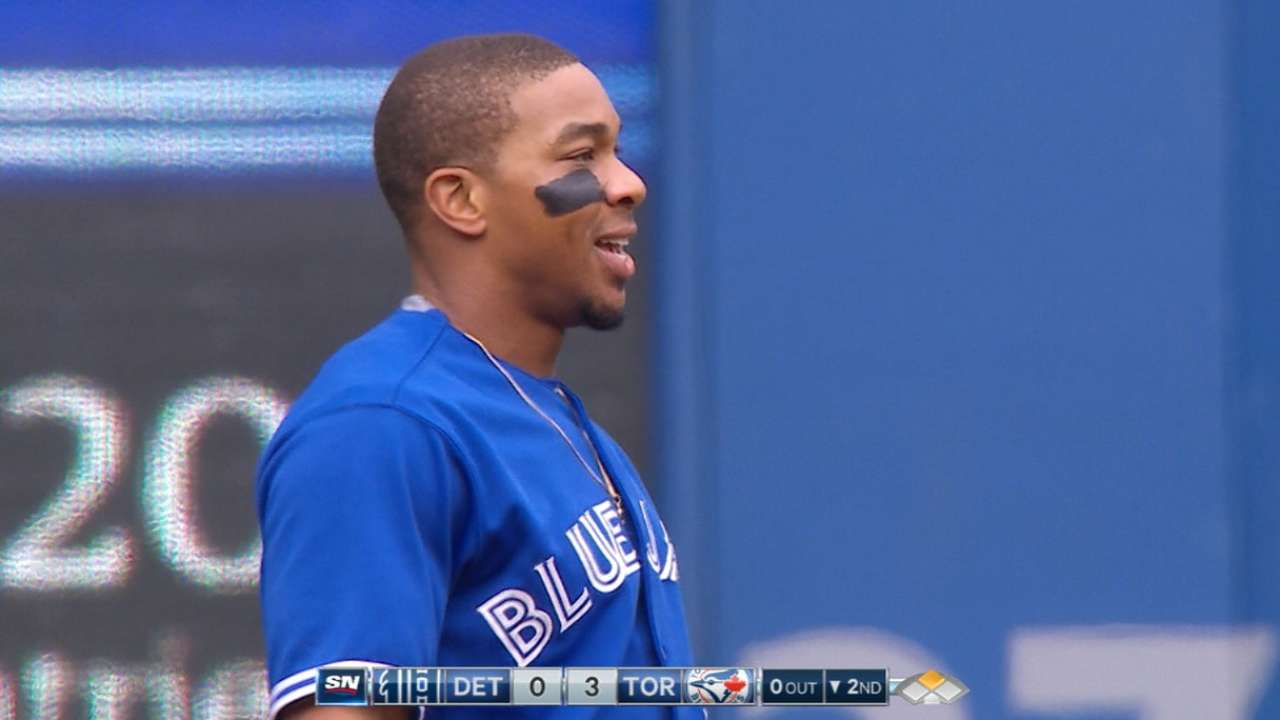 TORONTO -- In spite of a near-record run through August, Blue Jays manager John Gibbons shook up his batting order on Sunday.
Troy Tulowitzki was removed from the leadoff role in place of Ben Revere and hit in the No. 5 spot as Toronto wrapped its three-game series at Rogers Centre against Detroit with a 9-2 victory. He went 1-for-4 with a double, while Revere was hitless with a walk in four at-bats.
"The only reason I did it, I just did it to give Tulowitzki a breather," Gibbons said. "I like the way it sets up, I like [Tulowitzki] at the top of the lineup, and maybe this will jump-start him a little bit."
Gibbons didn't commit to permanent change in the batting order, however.
"Show up tomorrow, you'll find out," Gibbons said.
Tulowitzki had been a mainstay at the top of the order since he was acquired from the Rockies at the non-waiver Trade Deadline. The Blue Jays are 24-5 since the deal, but the All-Star has struggled in the new role, and after he struck out four times on Saturday and Revere tallied four hits, the shortstop was moved to more familiar territory in the middle of the order.
"I don't think that's the reason why I haven't been myself offensively," said Tulowitzki, a career .297 hitter entering Sunday who has hit .228 (26-for-114) at the plate since joining the Blue Jays. "It's been a little bit of a change, putting pressure on myself -- haven't been swinging the bat like I'm capable of. But at the same time, we're winning games, so it's been fun for me."
Tulowitzki said he didn't have complaints about hitting leadoff, nor did he have any feedback for Gibbons on the move. He said he's more comfortable in the middle of the order because it's where he's hit his entire career, but he didn't ask for any change.
"I'm not that type of player," Tulowitzki said. "I say, 'Do what you want. You're the manager. I'm a player. I'm gonna go out there and play hard every single day. That's none of my business. You make the lineup, and hopefully I'm in it.'"
Jamie Ross is an associate reporter for MLB.com. This story was not subject to the approval of Major League Baseball or its clubs.