Jankowski getting comfortable at MLB level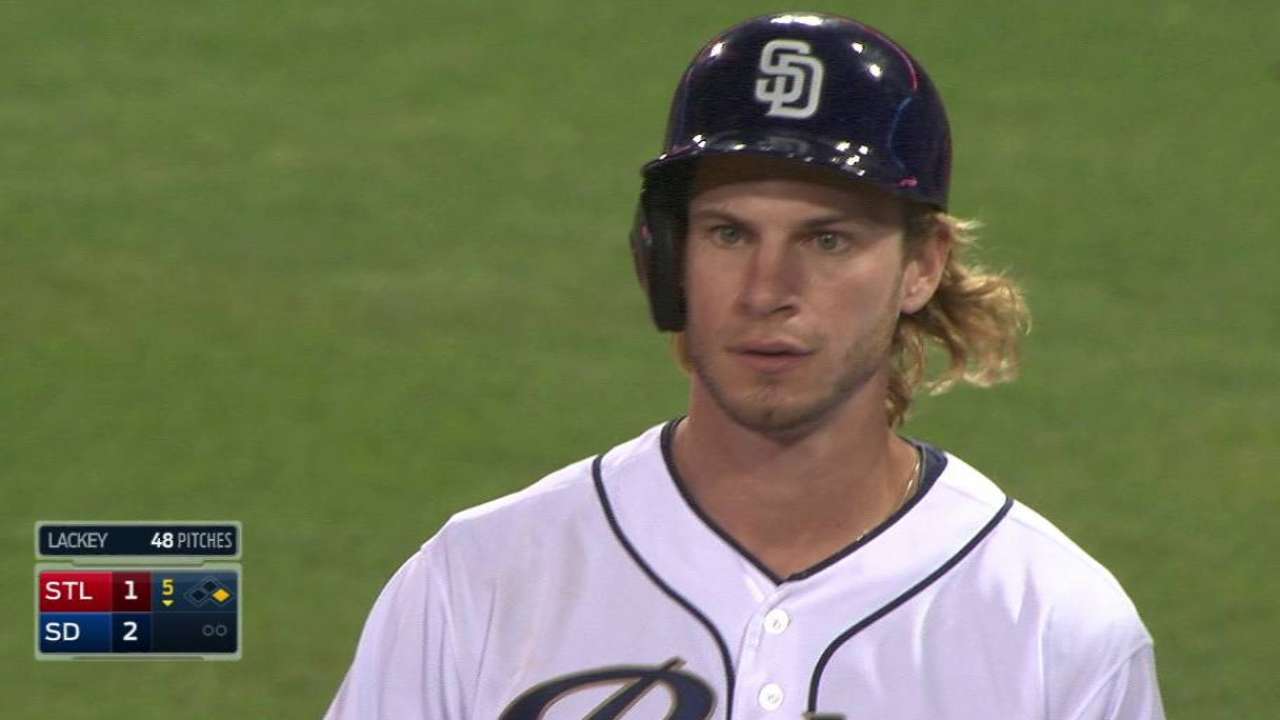 PHILADELPHIA -- Padres outfielder Travis Jankowski had heard the stories about rookie hazing. The Padres rookie was familiar with the stories about rookie pitchers having to carry a Dora the Explorer backpack to the bullpen, arriving in the clubhouse with your street clothes missing and a Batman costume hanging in your locker and countless other discomforts.
That is until he arrived at Citizens Bank Park and his family came to town.
"I've never got a standing ovation during batting practice," said Jankowski, who had 77 family and friends arrive from his hometown of Lancaster Pa., for the one game he didn't start this weekend on Saturday night, but had 22 at the park on Sunday. "[Bench coach] Dave Roberts was kind of egging them on getting them all fired up. It was embarrassing, but it was all fun.
"Yeah, my rookie hazing was brought on by my family."
Since the 24-year-old made his debut on Aug. 21, he's appeared in eight games and hit .238 with three RBIs. With the Padres on the bubble for the playoffs, the young outfielder will have plenty of opportunities over the next month to show his ability with a full-time gig possible in 2016.
"He has a willingness to learn the game," Padres interim manager Pat Murphy said. "He got off to a hot start, but the bigger thing is he's had a lot of good [at-bats] in the relatively small sample size. I think he's a nice guy to track. If I'm betting on a guy to contribue, he's definitely one I can see being able to contribute."
The Padres hope that contribution eventually comes at the top of the order where he can use his athleticism to create offense for the rest of the lineup. On Friday, the rookie spent extra time before the game working on his bunting and will certainly be a threat on the base paths under the guidance of Roberts.
Until then, he's looking to make his most of the final month of the year and just enjoy the experience.
"The guys took me in right away and there wasn't too much rookie treatment," Jankowski said. "Everything is great and I'm loving it up here."
Michael Radano is a contributor to MLB.com. This story was not subject to the approval of Major League Baseball or its clubs.