Astros put up fight despite missing key bats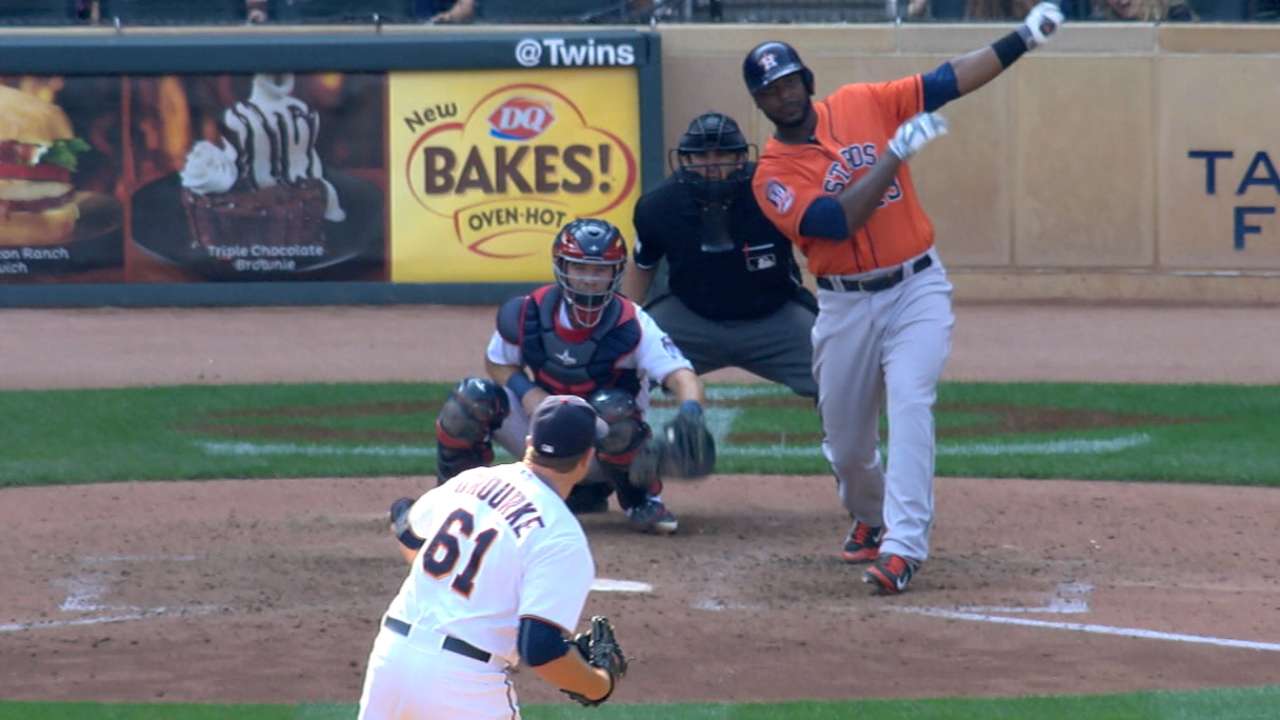 MINNEAPOLIS -- Down seven runs to the Twins in the ninth inning, it would have been easy for the Astros to fold. They hadn't scored all day and it was the last game of a six-day, seven-game road trip. They didn't.
Instead, the Astros battled in the ninth inning for five runs. Though Houston's rally fell short, it made a 7-5 loss seem a lot closer than it actually was.
"Houston showed a little bit of their character, how they were fighting down to the last out. It got a little anxious for us there," Twins manager Paul Molitor said.
First baseman Chris Carter hit a mammoth three-run shot to center field, projected by Statcast™ to land 454 feet away from home plate. Second baseman Jose Altuve followed that up with a two-run home run of his own.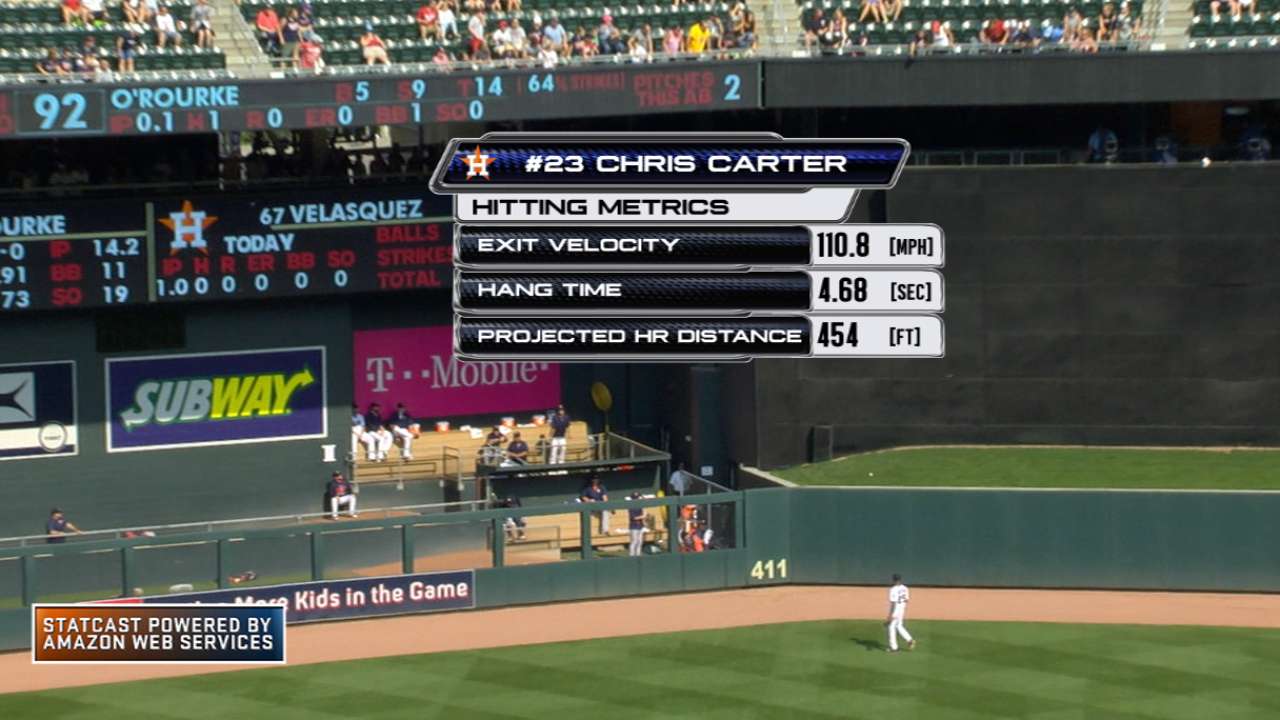 "It was nice to battle back. I'm proud of our guys for that. I think we had a tough time getting into the game today," Astros manager A.J. Hinch said. "We hung in there. We tried to battle back. I definitely appreciate that effort."
The five-run ninth overshadowed the fact that the Astros were just three outs away from getting shut out for the second time in three games. A day after the Astros' bats went down quietly in Friday's loss, Hinch was asked about the impact of rookie shortstop Carlos Correa sitting out the series with a sore left hamstring.
"It's a big difference. Anytime you take a middle-of-the-order bat out of there, it changes the look of it. It changes different guys' roles in the lineup," Hinch said Saturday. "It's a big presence. It's very noticeable. I think go around the league, 30 teams take away their three-hole hitter, their four-hole hitter, it will look and feel a little bit different."
Correa sat for his fourth straight game Sunday, and the Astros' bats were mostly quiet again. They couldn't do much offensively, aside from a handful of scattered hits, for the first eight innings. Houston had plenty of men on, including a leadoff runner in four of the first five innings, but it was ineffective at moving runners over.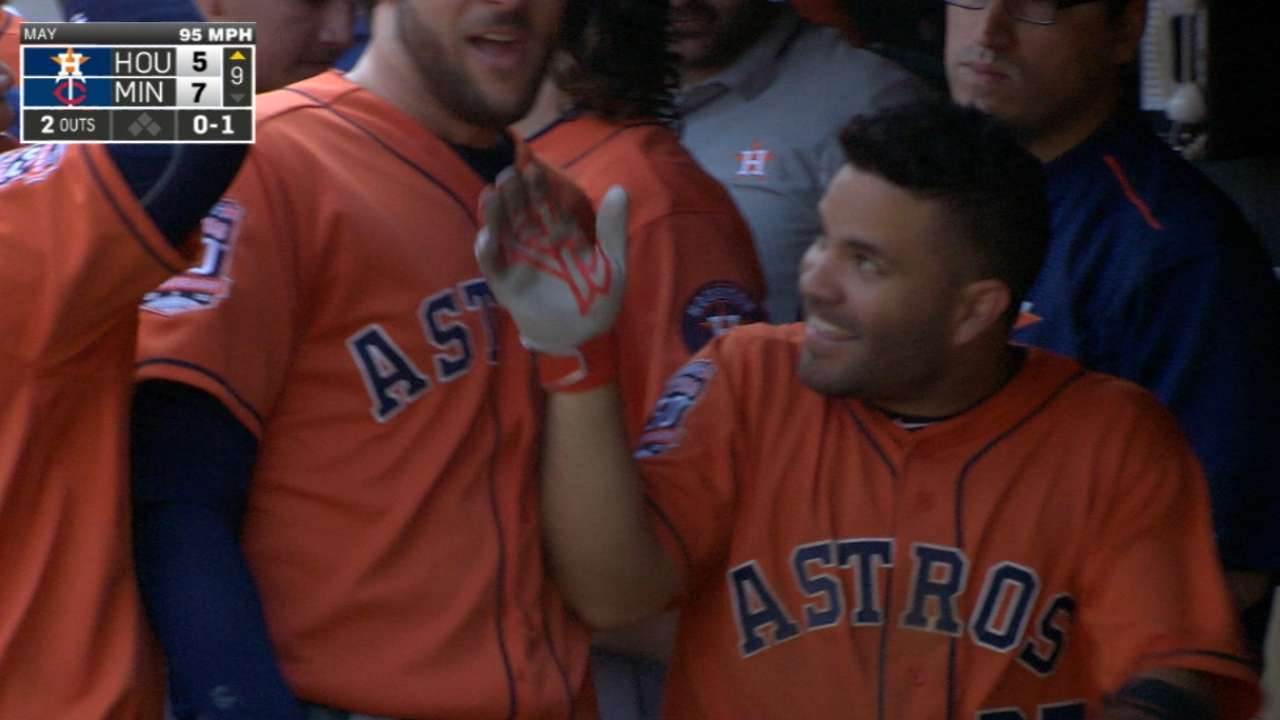 With a game left in August, the team's numbers in the month are lower than they have been in most major offensive statistical categories. But reinforcements in the form of a healthy Correa and George Springer are coming soon.
Correa could potentially be back for Monday's game against the Mariners and Springer, who has been sidelined since early July with a broken wrist, began a rehab assignment at Double-A Corpus Christi on Friday. Before his injury, Springer was hitting .264 with 13 home runs and 29 RBIs.
But with or without Correa and Springer, the team showed it's resiliency Sunday, part of why they're leading the American League West as the calendar nears September.
"This is the team we are. I think we've been doing this all season long," Altuve said. "We battle to the end. We took some good at-bats in the last inning. The game didn't finish 7-0 like it started in the ninth inning."
Betsy Helfand is an associate reporter for MLB.com. This story was not subject to the approval of Major League Baseball or its clubs.