Correa's injury postpones matchup vs. Twins' phenoms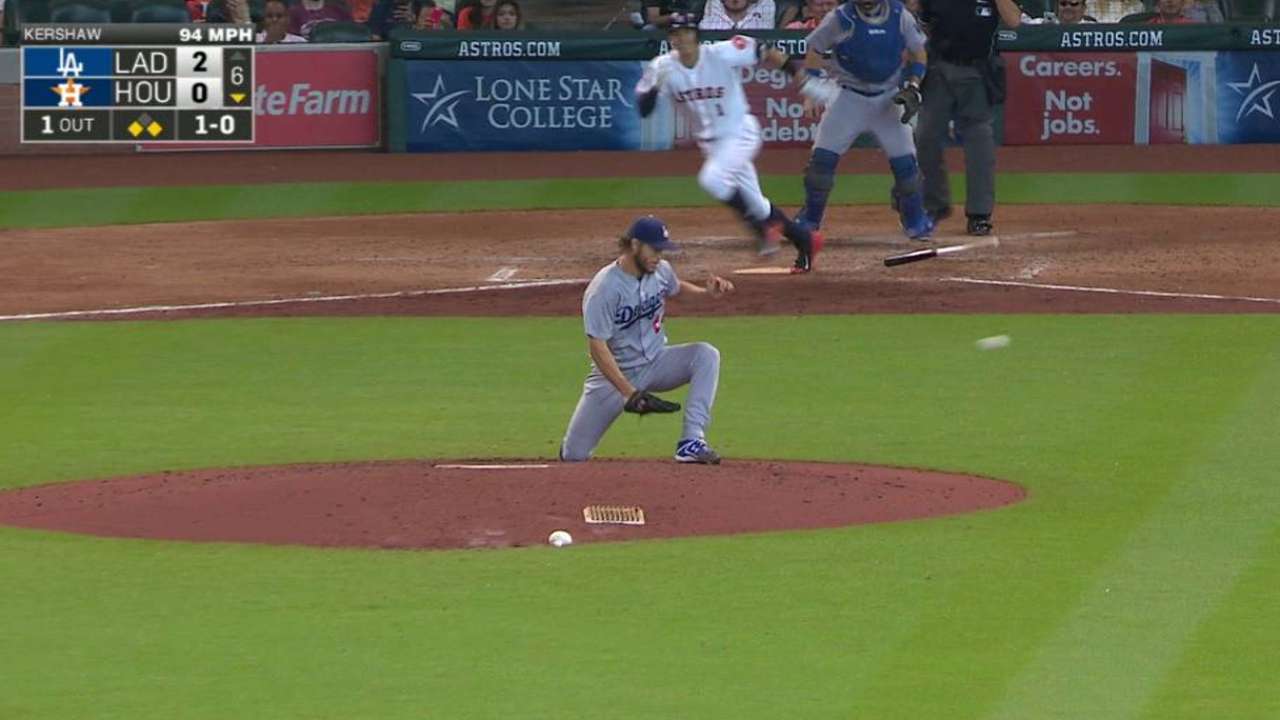 MINNEAPOLIS -- The long-anticipated matchup between Astros shortstop Carlos Correa, the No. 1 pick in the 2012 Draft and likely favorite for the American League Rookie of the Year Award, and Twins outfielder Byron Buxton -- the No. 2 pick that year -- and third baseman Miguel Sano -- another Rookie of the Year candidate -- will have to wait until the Twins visit Houston next weekend.
Correa was out of the Astros' lineup with a sore left hamstring for the fourth consecutive game in Sunday's series finale against the Twins. He ran on Saturday and will again on Monday. Manager A.J. Hinch said Correa would stick to working out on a treadmill or stationary bike on Sunday.
Correa said his hamstring is improving and he definitely thinks he will play in the club's upcoming series against the Mariners. And it might be sooner rather than later. Hinch seemed optimistic that Correa might play in Monday's opener.
"We're going to get home after the flight and run him through a battery of tests," Hinch said. "Based on how he's reacting and how the training staff is talking about his progress, how he is striving, his workouts, it's trending in the right direction."
Correa needs to run at full speed without any problems before returning. Hinch also said it was important to see him moving with a little bit of freedom and no fear.
This visit was Correa's second to Minneapolis -- the first was for a pre-Draft workout. He didn't fall to the Twins. The Astros snapped him up first in '12 and called him up in June this season. Since then, Correa has had a big impact on the Astros. Buxton has struggled at the plate and was hampered by a thumb injury since making his big league debut in June, but he has shown flashes of what made him the No. 1 overall prospect, according to MLB.com, each of the past two seasons. Correa and Buxton had a chance to catch up and pose for a picture earlier in the series.
"We played in the Midwest League together and we were on the same All-Star team in the Midwest League," Buxton said. "It's pretty cool just because he went No. 1 and I went No. 2. This is just one of our dreams. So it's pretty cool."
Correa was also teammates at one point with Sano, playing together in the 2013 Futures Game. The first time Correa met Sano, he thought he might be suited for a different sport.
"He's a big guy. I was like 'Wow. Are you a football player or what?' He's a big guy with a lot of power," Correa said. "He's going to bring a lot to the table. He's going to be an impact player in the big leagues."
In fact, they both have been already. Correa is hitting .278 with 15 home runs and 43 RBIs in 68 games while also impressing at shortstop. Sano, in 20 fewer games, is hitting .284 with 12 homers and 38 RBIs, mostly as a designated hitter.
Wrapped up with their own teams, they haven't spent a ton of time keeping tabs on each other, but Sano acknowledged they're both competing for AL Rookie of the Year.
"I haven't looked at his numbers, but everybody says he's having a good year," Sano said. "But I don't look at my own numbers either. I just come to the games and try to hit the ball, and that's it."
And though Correa isn't focused on competition with Buxton or Sano, the prospect of watching three of the game's brightest stars might finally come to fruition next weekend.
"Everybody's trying to make the playoffs, so you're going to try to find a way to help your team win some games, and that's what you've got to focus on every single day," Correa said. "Not try to be better than any player, just try to be better for your team in order for you to make the playoffs."
Betsy Helfand is an associate reporter for MLB.com. This story was not subject to the approval of Major League Baseball or its clubs.