Peralta regains form, leads Brewers over Reds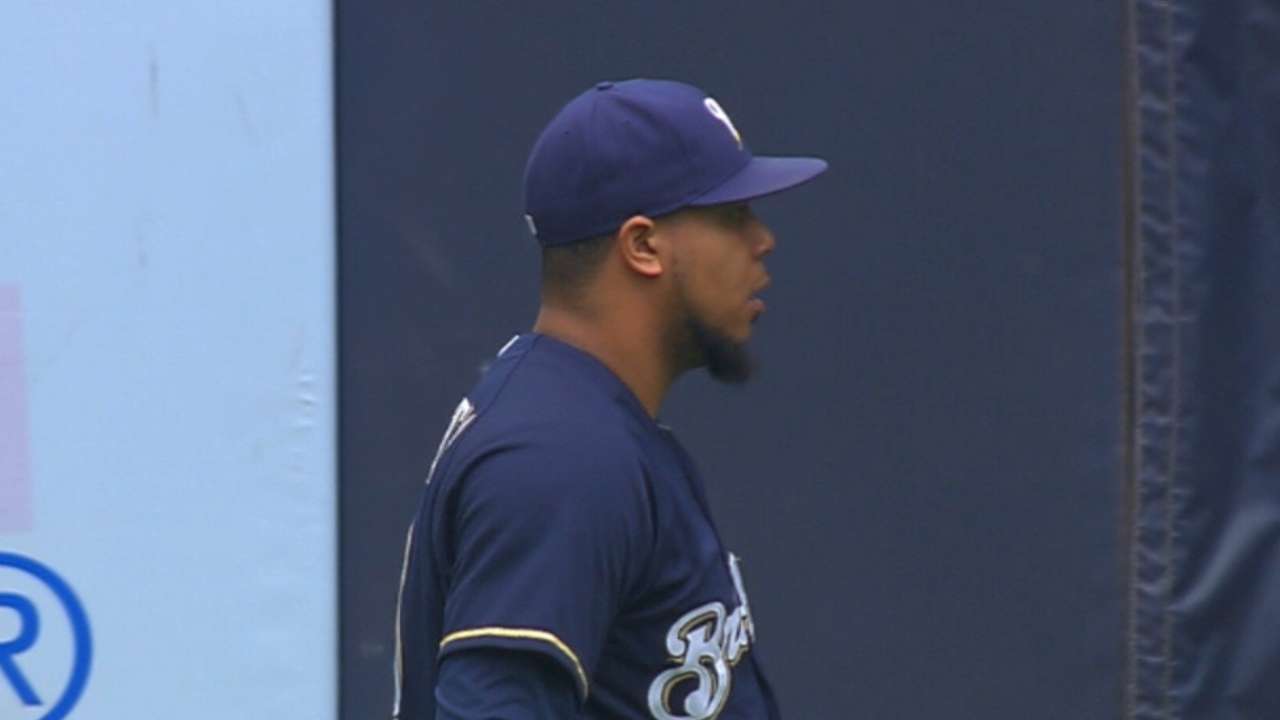 MILWAUKEE -- Wily Peralta edged out John Lamb during a low-scoring duel on Sunday afternoon that the Brewers won, 4-1, over the Reds. Milwaukee (55-75) took two of three games in the series from last-place Cincinnati (53-76) to stay 1 1/2 games ahead of the last-place team in the National League Central.
It was a 1-1 game in the bottom of the third inning when Jonathan Lucroy hit a two-out RBI single to left field against Lamb that scored Martin Maldonado for the go-ahead run. The Brewers added two runs in the eighth for insurance and Francisco Rodriguez recovered from his first blown save of the year on Saturday to get his 31st save with a perfect ninth.
Peralta gave up one earned run on seven hits over seven innings, including Brayan Pena's RBI single in the top of the second inning. He allowed no walks and struck out six. In his fourth big league start, Lamb had his finest outing to date, with two earned runs and five hits allowed over six innings. He did not walk a batter, struck out eight and induced two double plays, but he gave up Ryan Braun's first-inning homer.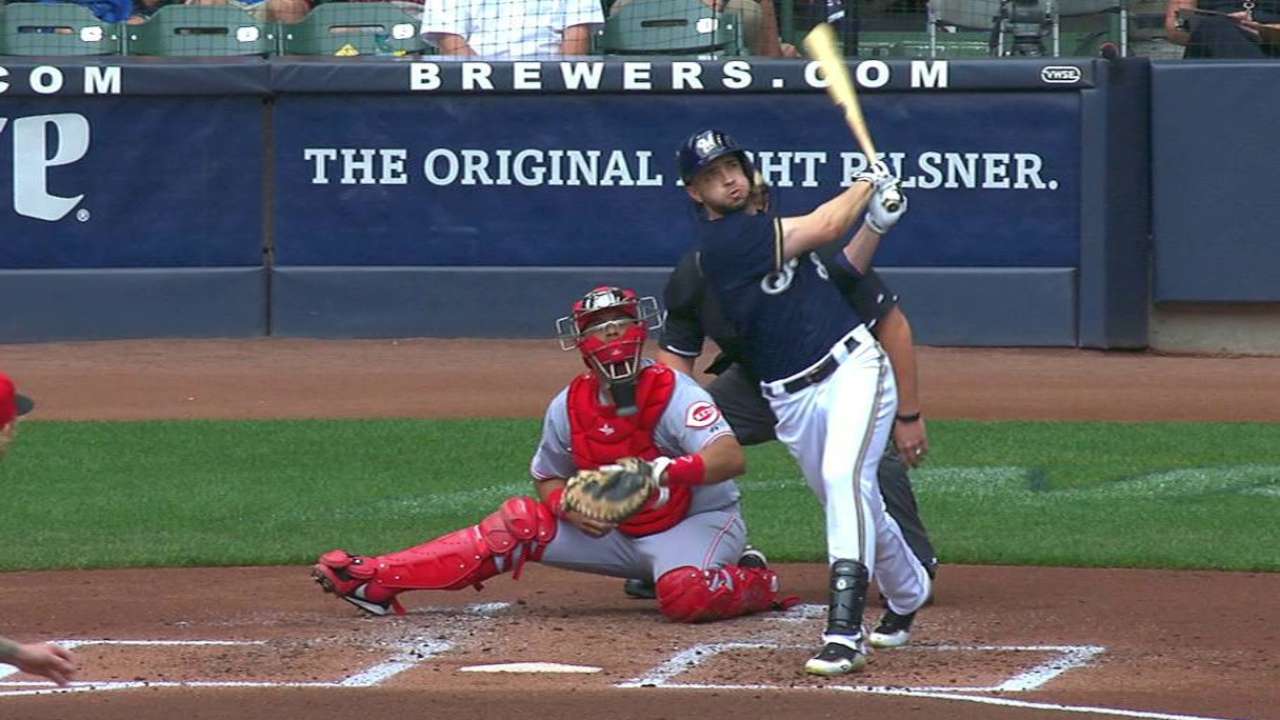 "He pitched a nice ballgame," Reds manager Bryan Price said of Peralta. "In the games we lost, they were able to work their way to their primary setup pitchers and that's a good recipe for any team. Get your setup guys to your closer and that's the way to win games."
MOMENTS THAT MATTERED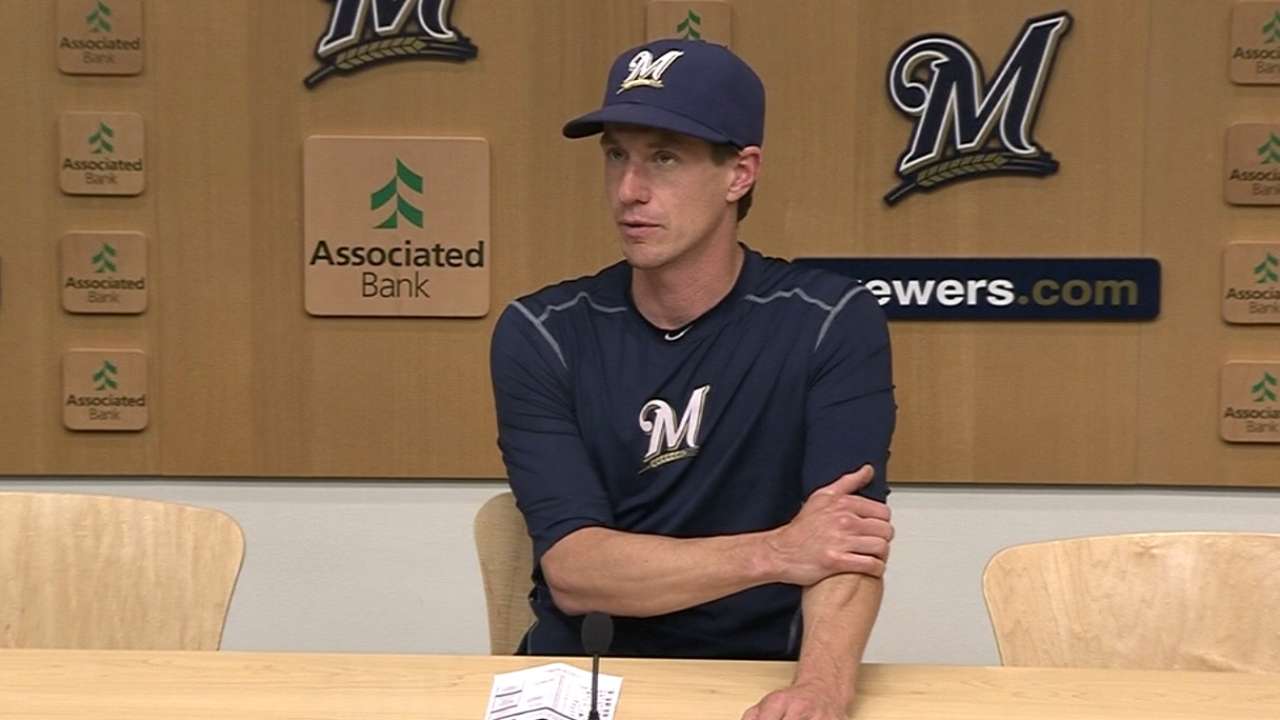 Breathing easy: There was some concern when Peralta's velocity was down drastically on Tuesday in Cleveland. Usually in the 94-96 mph range with his fastball, Peralta was sitting at 89-91 mph during his 2 2/3 innings against the Indians. The right-hander insisted he was healthy and proved it Sunday by limiting the Reds to one run while matching a season high with six strikeouts over seven innings. Peralta's velocity dip appears to have been a blip on the radar, as he was back to 94-96 mph with his fastball on Sunday.
"There are just some mysteries to the game we're not going to be able to figure out," Brewers manager Craig Counsell said. "It was great to see. He was back to what you expect from Wily. He really pitched well. There were no injury concerns for me, but how Wily Peralta pitched is what's really important. He pitched like he's capable of and how we've seen him in the past."
Like Counsell, Peralta is chalking up his velocity dip as an aberration
I told you guys after my last start that I wasn't worried about it," Peralta said. "I felt good today. It was perfect weather today. That day in Cleveland wasn't easy, especially after coming off warm weather in Washington. Today was good and the velocity was back and I was locating all my pitches."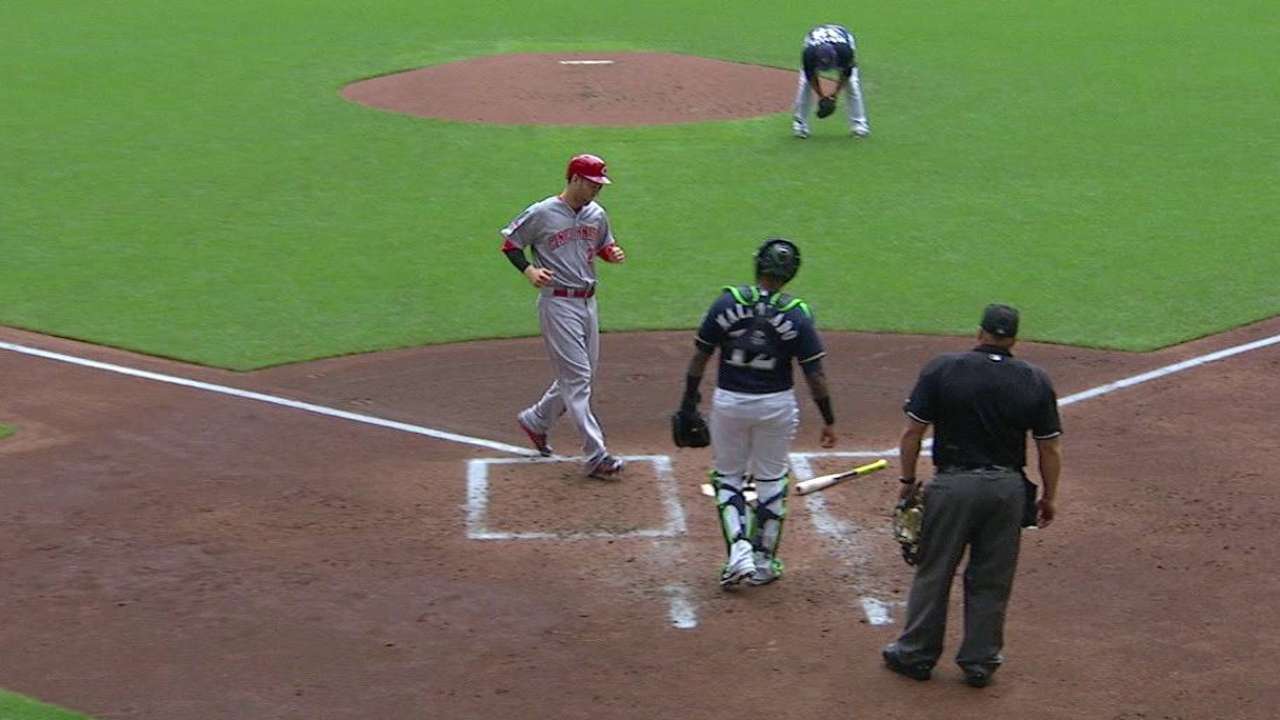 Turn two: The Reds had a great chance to take the lead in the eighth after Jay Bruce hit a one-out double off of the right-field wall against reliever Will Smith. Joey Votto followed with a walk, to put the go-ahead run on first base. Jeremy Jeffress replaced Smith and got Brandon Phillips to hit a 95-mph 1-1 fastball to the shortstop for an inning-ending double play.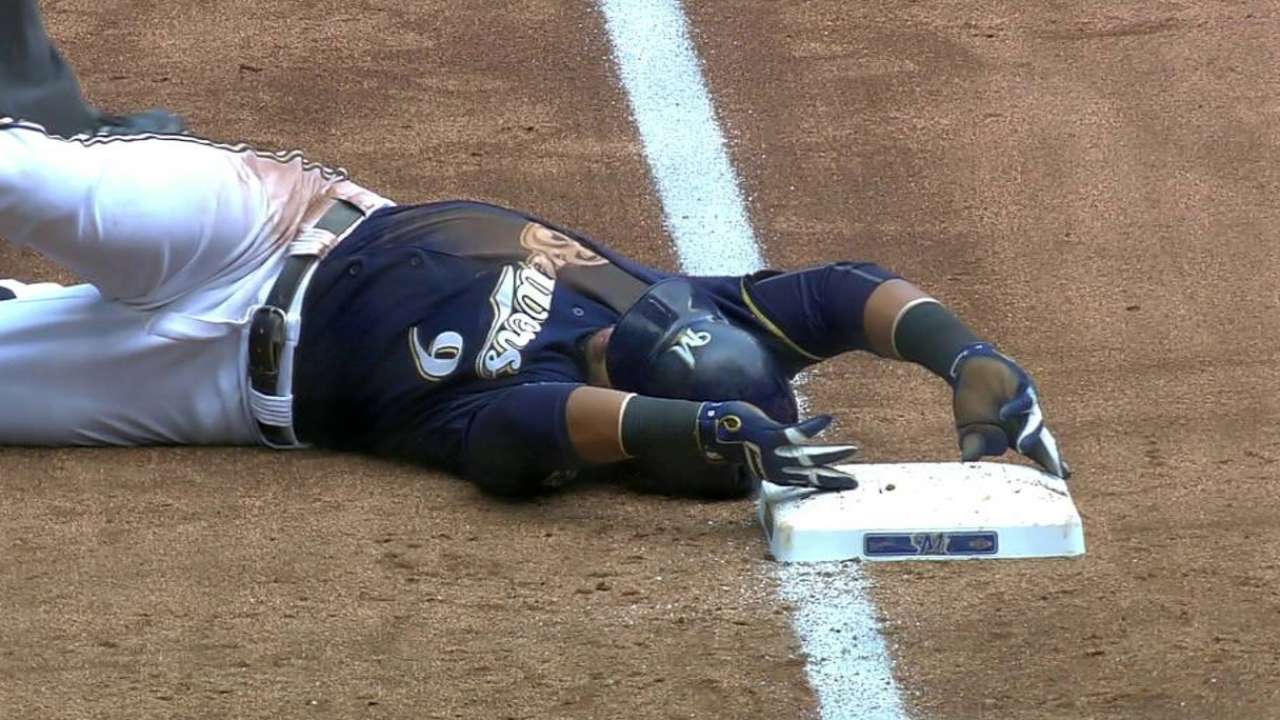 Adding insurance: After squandering a chance to add insurance runs in the eighth inning Saturday, the Brewers didn't waste their chance at extending their lead in the series finale. Maldonado led off the eighth with a double off Sam LeCure and moved to third on a sacrifice bunt by Logan Schafer. Jean Segura followed with a triple to the right-field corner to score Maldonado. Facing Jumbo Diaz, Lucroy lofted a sacrifice fly to center field to score Segura to put the Brewers in front 4-1. Since his Aug. 19 return from Triple-A, LeCure had retired 16 of 18 batters in four hitless appearances before Sunday.
"The runs in the eighth were certainly big," Counsell said. "One-run lead to a three-run lead. That gives Frankie some room. That was a big inning. Guys had good at-bats, good two-strike at-bats. Maldy fouled off a couple of pitches. Good approach by him and Jean going to right field in that inning. Then Luc getting the sac fly. We did a really nice job."
WHAT'S NEXT
Reds: The road trip moves to Chicago where the Reds will play the first of three games vs. the Cubs starting at 8:05 p.m. ET on Monday. Cincinnati has a 4-9 record in its season series vs. the Cubs. Joey Votto, who has reached safely in his last 19 games, has 11 career homers hit at Wrigley Field. Michael Lorenzen was called up from Triple-A Louisville to make the start, replacing the struggling David Holmberg.
Brewers: After an off-day Monday, Jimmy Nelson will take the ball in the series opener Tuesday against the Pittsburgh Pirates at 7:10 p.m. CT. After a 14-start stretch in which he posted a 2.98 ERA, Nelson walked a career-high eight batters and allowed five runs in 3 1/3 innings in Cleveland on Aug. 26.
Watch every out-of-market regular season game live on MLB.TV.
Andrew Gruman is a contributor to MLB.com and Mark Sheldon is a reporter for MLB.com This story was not subject to the approval of Major League Baseball or its clubs.