Gomes focuses on defense, but bat warming up
Catcher has been inconsistent offensively after injury, but Francona appreciates his game calling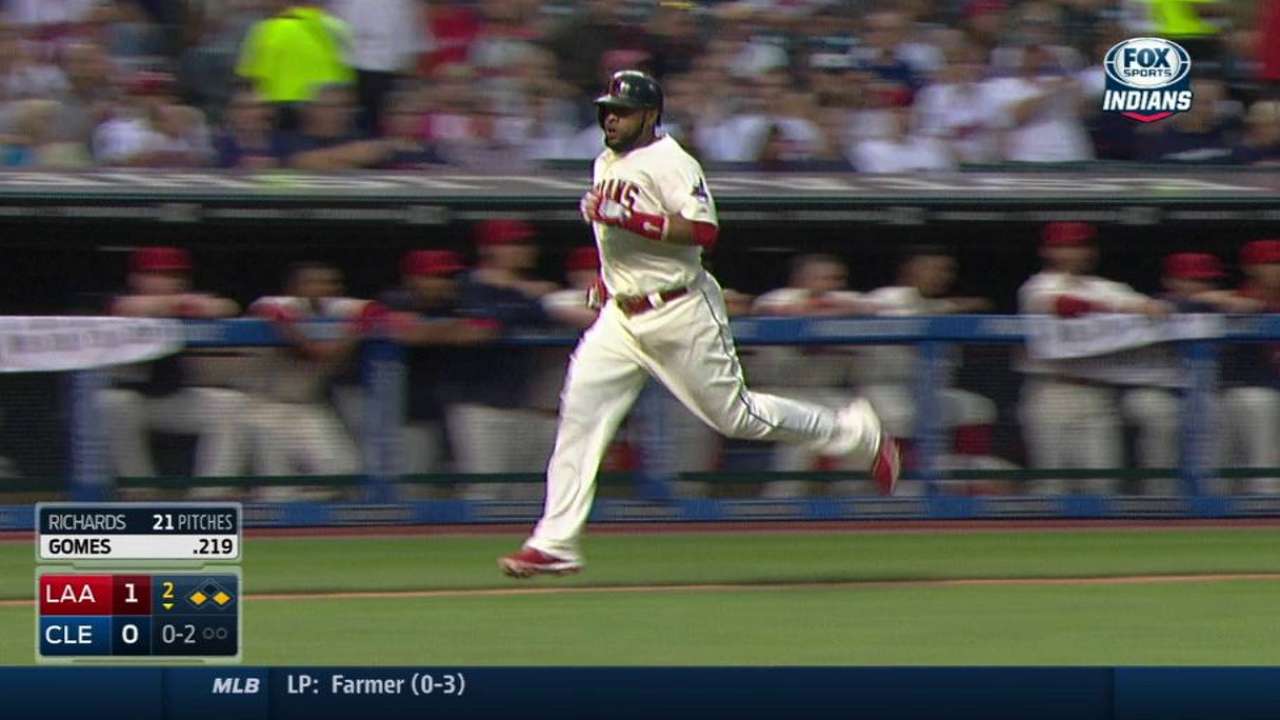 CLEVELAND -- Yan Gomes has learned to put game calling and defense at the top of his priority list. When the Indians' catcher enjoys an overpowering offensive display like the one turned in on Saturday night, he says it is simply a bonus for him.
It's a trait that Cleveland manager Terry Francona loves in Gomes.
"He understands that, if we're shaking hands at the end of the game, whatever he's done is good enough," Francona said on Sunday morning. "I think it's one of the best things about him, and he's got a lot. It's one of the things that maybe I kind of hang my hat on, because that's so important.
"If you have a catcher that hits and doesn't run the game, you're going to spin your wheels. I know that when we walk through that line after a game, I can never tell how many hits Gomer had, and I love that."
During Saturday's 8-3 victory over the Angels, Gomes launched a towering grand slam to cap off a five-run eighth inning for the Tribe, and he ended with a career-high five RBIs. He looked more like the catcher that took home a Silver Slugger Award for his hitting in 2014, but that version of Gomes has been missing more often than not this year.
Gomes has tried to shake off his offensive inconsistency as much as possible.
"I've been having some pretty big ups and downs at the plate," Gomes said. "If you're going to do something, you might as well focus on defense. I've been trying to let that happen. Like Tito has [ingrained] in my head, anything I do at the plate is extra."
Francona said he knows Gomes has been frustrated at points this year, though.
"Oh yeah, sure. But he's handled it," Francona said. "I don't think he's happy with where he's at offensively, and I completely understand that. But he handles it. When he goes out to the field, he takes care of that pitcher, and you never see him not doing that. You never see that frustration take over."
Gomes was given a day off from starting on Sunday against the Angels and entered the day batting only .221 with 22 extra-base hits and 36 RBIs in 72 games this season. A year ago, the catcher hit .278 with 21 homers, 49 extra-base hits, 74 RBIs and a .785 OPS in 135 games for the Indians.
Francona believes much of Gomes' struggles this season can be attributed to the fact that he was sidelined from April 12-May 23 with a right knee injury.
"I don't think it's out of the ordinary," Francona said. "[When] guys miss time -- significant time -- early, you see that a lot. Gomer can hit. It's been inconsistent this year, but that doesn't mean he's, one, not going to hit in September, and two, not going to hit in his career, because he's a good hitter."
Jordan Bastian is a reporter for MLB.com. Read his blog, Major League Bastian, follow him on Twitter @MLBastian and listen to his podcast. This story was not subject to the approval of Major League Baseball or its clubs.