Statcast: Goins' gallop on sac fly gaffe
Technology tracks Blue Jays' second baseman scoring all the way from second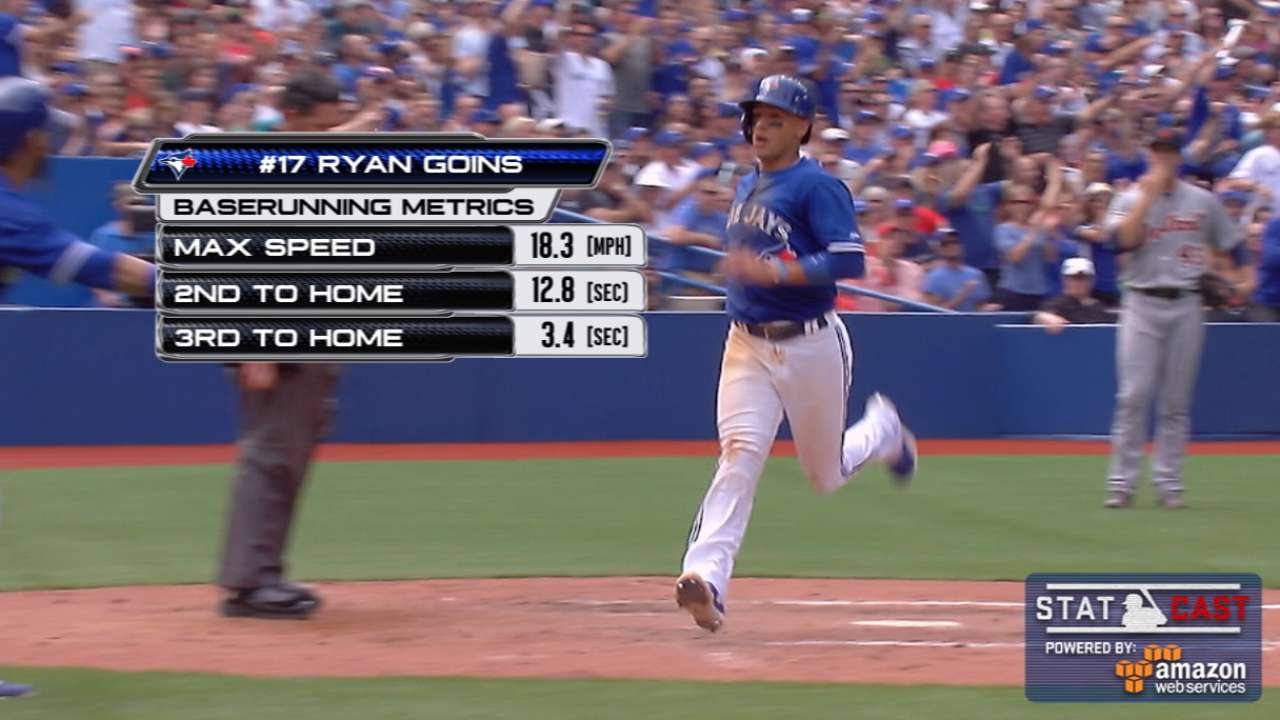 Saturday's full slate of games featured a number of defensive gems across the Majors -- and one less-than-stellar effort.
The one thing they all had in common was Statcast™ was there to track every aspect of each play. From potential run-saving catches with the game in the balance to one of the stranger sacrifice flies of the season, the following is an in-depth look, courtesy of Statcast™, at some of Saturday's top plays, as well as a pair of the top home runs on the night.
Goins scores on unusual sac fly
Though the Blue Jays racked up 15 runs on Saturday, one in particular stood out above the rest. That fateful play came in the fourth inning when Josh Donaldson hit a sacrifice fly to drive in Ryan Goins -- all the way from second base. Tigers center fielder Anthony Gose reached a top speed of 18.4 mph to track down the deep fly ball, which he mistakenly thought was the third out. Goins tagged to third then kicked it into another gear once he realized Gose had yet to throw the ball back into the infield. Goins went from second to home in 12.8 seconds overall, but needed just 3.4 seconds to cover the last 90 feet, all while reaching a top speed of 18.3 mph.
Buxton takes away a hit with shoestring grab
Byron Buxton, the top Major League prospect, wasted no time in flashing both his speed and fielding prowess in a 4-1 loss against the Astros on Saturday night. The 21-year-old Twins center fielder reached a top speed of 20.1 mph as he raced into the gap to rob Evan Gattis of a hit with a shoestring catch. Buxton recorded a route efficiency of 99.1 percent, all while covering a total distance of 66 feet on the highlight-reel play.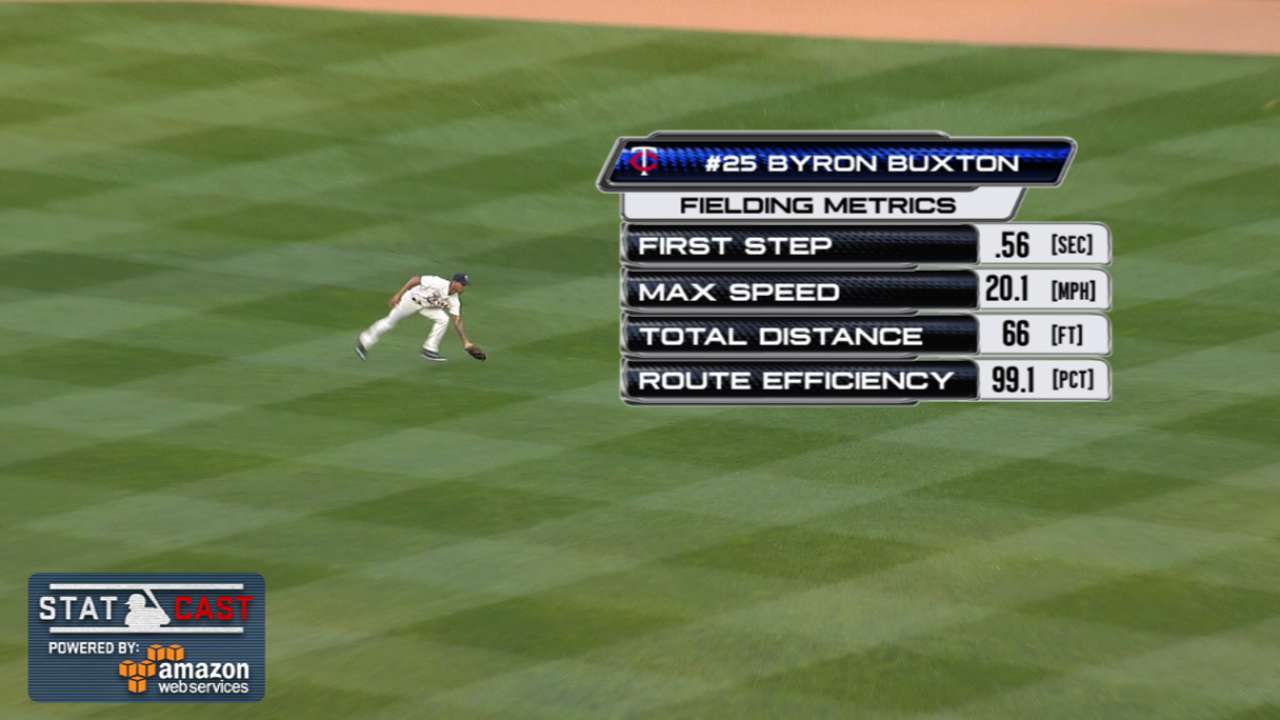 Herrera makes clutch diving catch
Not to be outdone, Phillies outfielder Odubel Herrera logged a route efficiency of 99.3 percent on his sixth-inning diving catch that took extra bases -- and possibly an RBI -- away from Padres slugger Justin Upton. With the Phils clinging to a two-run lead at the time, in a game they eventually won by a 4-3 score, Herrera reached a top speed of 19.7 mph as he raced into the gap before lunging to make the grab, sending Matt Kemp retreating back to first base. Similar to Buxton, Herrera covered 66.9 total feet on the play.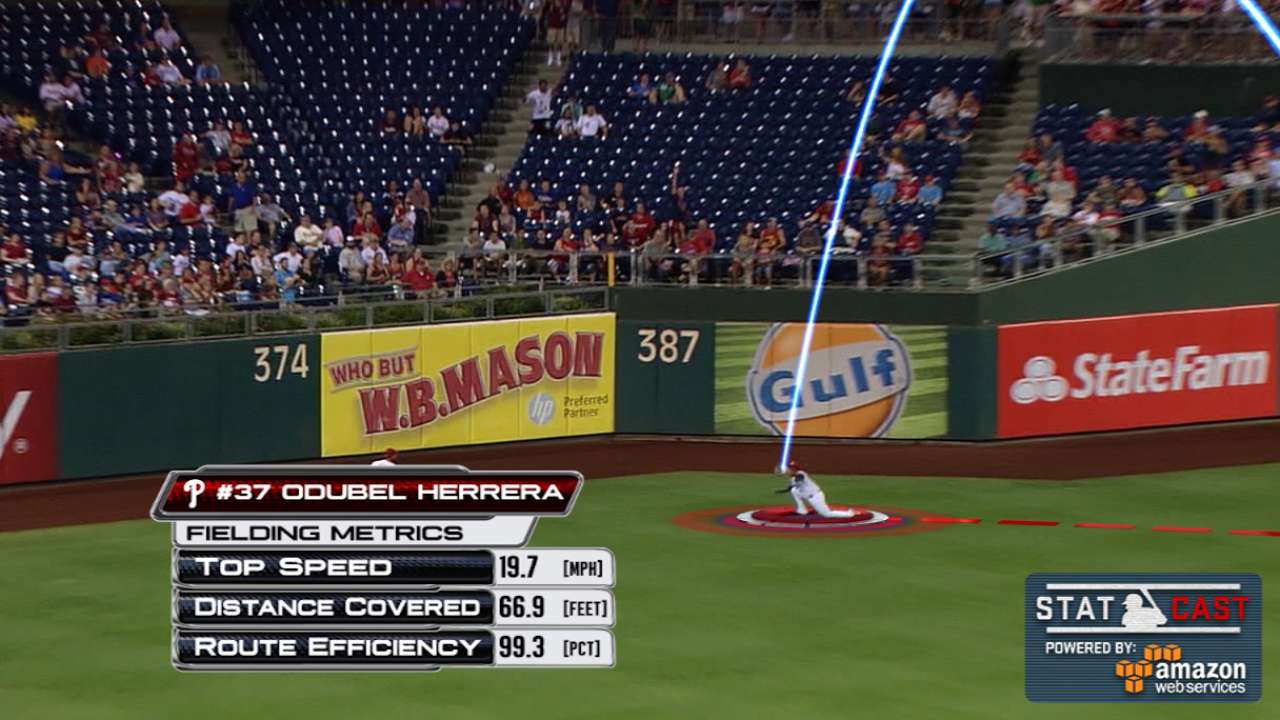 Bour leaves no doubt with towering homer
Marlins first baseman Justin Bour put his team on the scoreboard in fashion on Saturday night, blasting a no-doubter into the second deck at Nationals Park. He provided the lone Marlins run in a 5-1 loss. The Nationals outfielders didn't even move after Bour sent the ball off his bat at 112.8 mph. It traveled a projected distance of 452.5 feet before finally landing in the second deck in right-center field.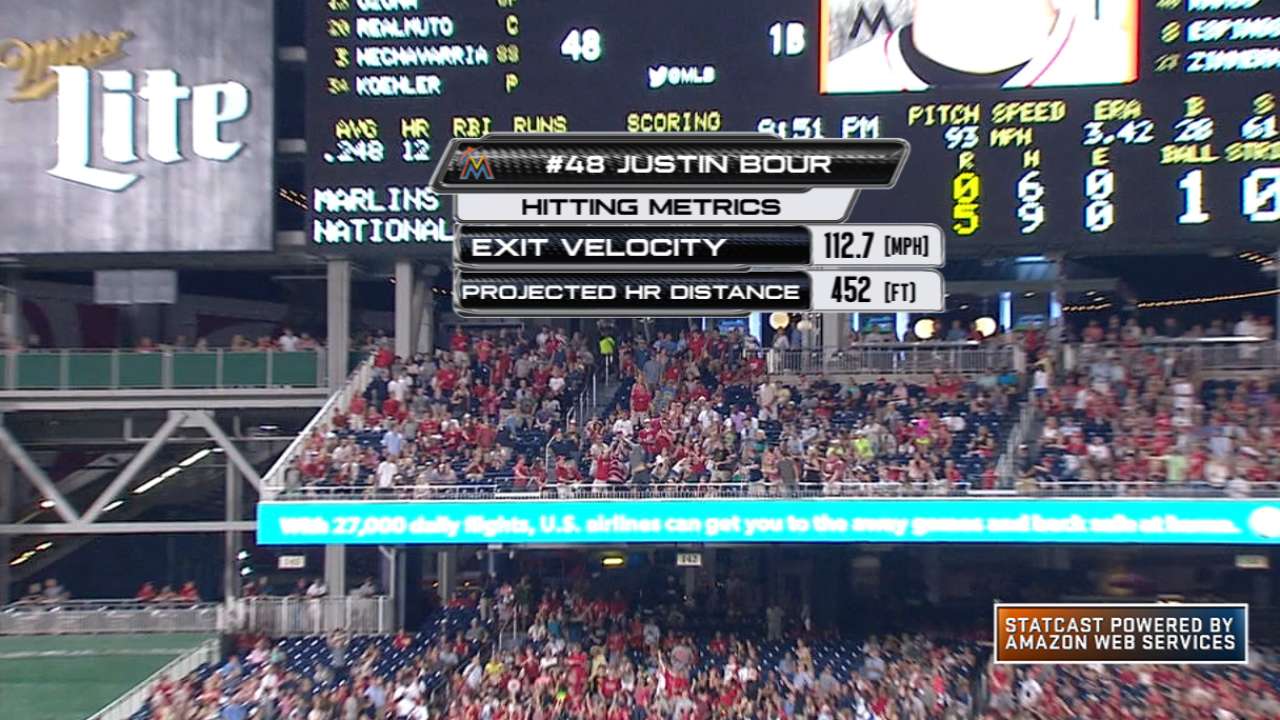 Bruce crushes three-run blast off Garza
Reds outfielder Jay Bruce hit an absolute shot of his own, connecting for a three-run homer in the second inning of Saturday's 12-9 victory over the Brewers. Bruce turned around a 93-mph fastball from Matt Garza at 107.1 mph in sending the ball a projected 442.1 feet to straightaway center field.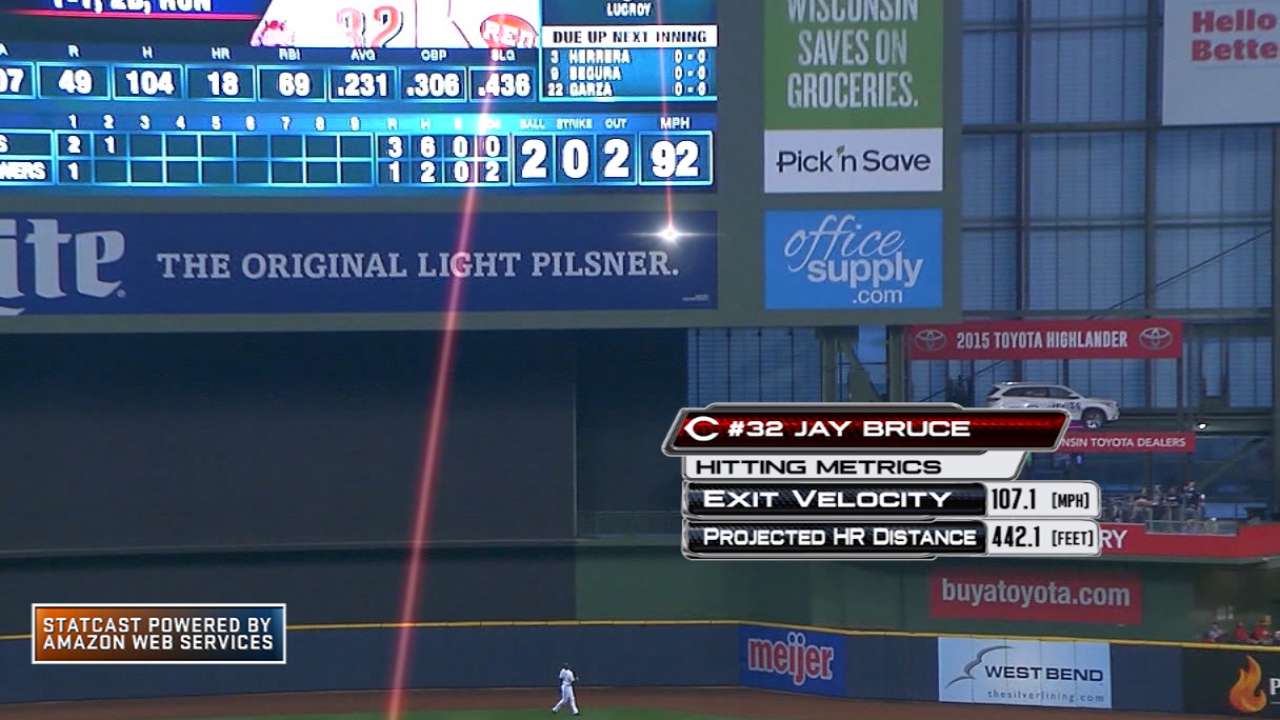 Paul Casella is a reporter for MLB.com. This story was not subject to the approval of Major League Baseball or its clubs.