Garza hopes to work through recent struggles
Counsell leaves open possibility of skipping right-hander's next turn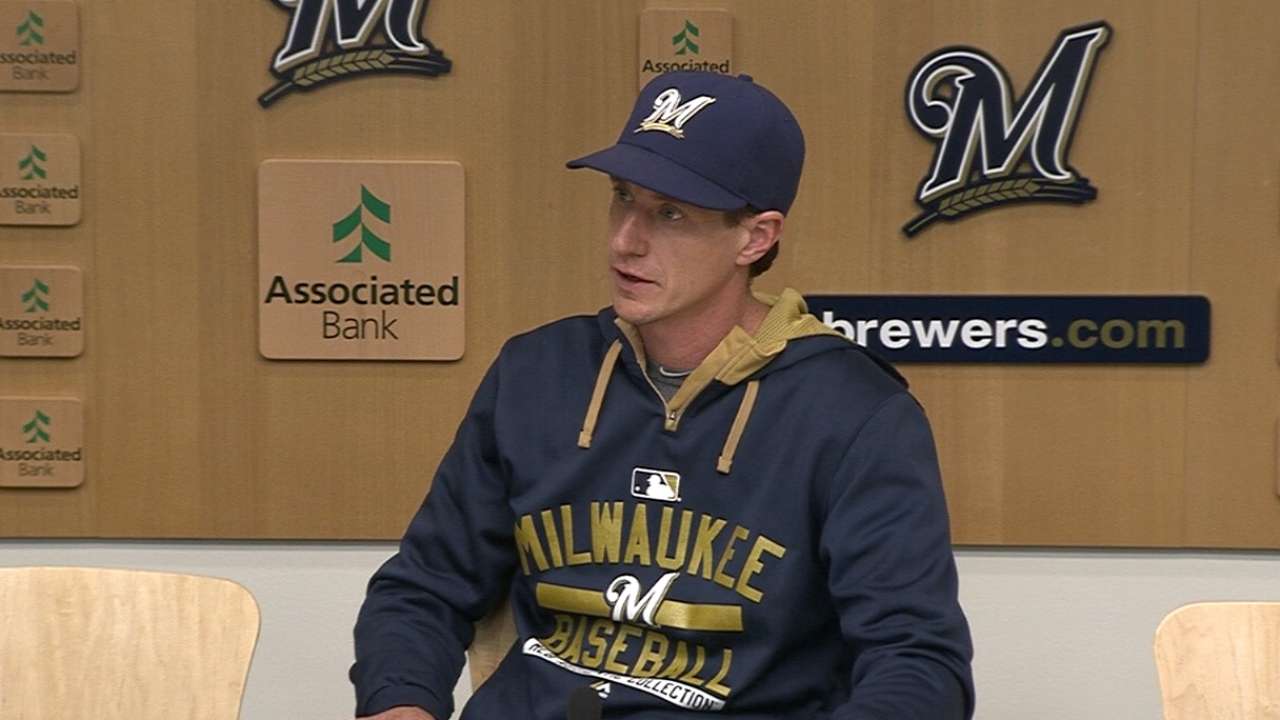 MILWAUKEE -- Frustration over what has been a difficult season set in long ago for Matt Garza.
But yet another rough outing in Milwaukee's 12-9 loss to the Cincinnati Reds on Saturday caused the veteran right-hander to describe his current state of mind as rock bottom.
Garza allowed seven runs on 11 hits over 3 2/3 innings on Saturday, only avoiding becoming the first pitcher to 15 losses in the big leagues due to the Brewers rallying to erase an early deficit.
"I don't think I can get any further down," Garza said. "This is already bottom. I just have to keep fighting and keep going. The worst thing I can do is quit and mentally check out. I just have to keep fighting and move forward."
A mix of shaky pitching with a bit of bad luck has led to what has been Garza's worst statistical season (5.56 ERA) since his rookie campaign.
The trend continued Saturday, as the Reds used a bloop single, a softly-hit double and a surprise two-out bunt single to score two runs in the first inning.
Garza was then hit hard in the second inning, which was capped by a 442-foot, three-run home run by Jay Bruce.
"They opened up the game with a jam shot and then a squibber down the line," Garza said. "Then Frazier drops a bunt down the third-base line that nobody is expecting with two outs. Then one ball up to Bruce and that's my day. I have to keep plugging away. I'm fine. I'm healthy. I just have to find out what it is."
The Brewers opted to remove struggling starter Kyle Lohse from their rotation. Milwaukee's predicament with Garza is much more complicated, as Garza has at least two more seasons and $25 million left on his contract.
However, Brewers manager Craig Counsell left open the possibility of Garza not making his next start.
"We're going to talk about it," Counsell said.
Garza doesn't feel as if skipping a start would help him as much as pitching through his woes. His next outing is scheduled for Thursday against the Pittsburgh Pirates at Miller Park.
"It would just make me think more," Garza said. "I just have to keep getting back out there."
Because of his contract situation, Garza is all but guaranteed to be in Milwaukee's rotation in 2016. The Brewers must explore all options to get the right-hander on track and feeling good heading into the offseason.
It appeared as if Garza was set to do so after pitching well in three outings following a July stint on the disabled list with a shoulder injury.
Garza has regressed since and has a 12.83 ERA over his last three starts.
"It has been a tough year, but guys have gone through this before and bounced back to do what they do," Garza said. "I just have to keep trying to learn and not let the frustration take over."
Andrew Gruman is a reporter for MLB.com. This story was not subject to the approval of Major League Baseball or its clubs.