Fiers benefits from extra rest in no-no follow-up
Right-hander allows three hits over six-plus in win over Twins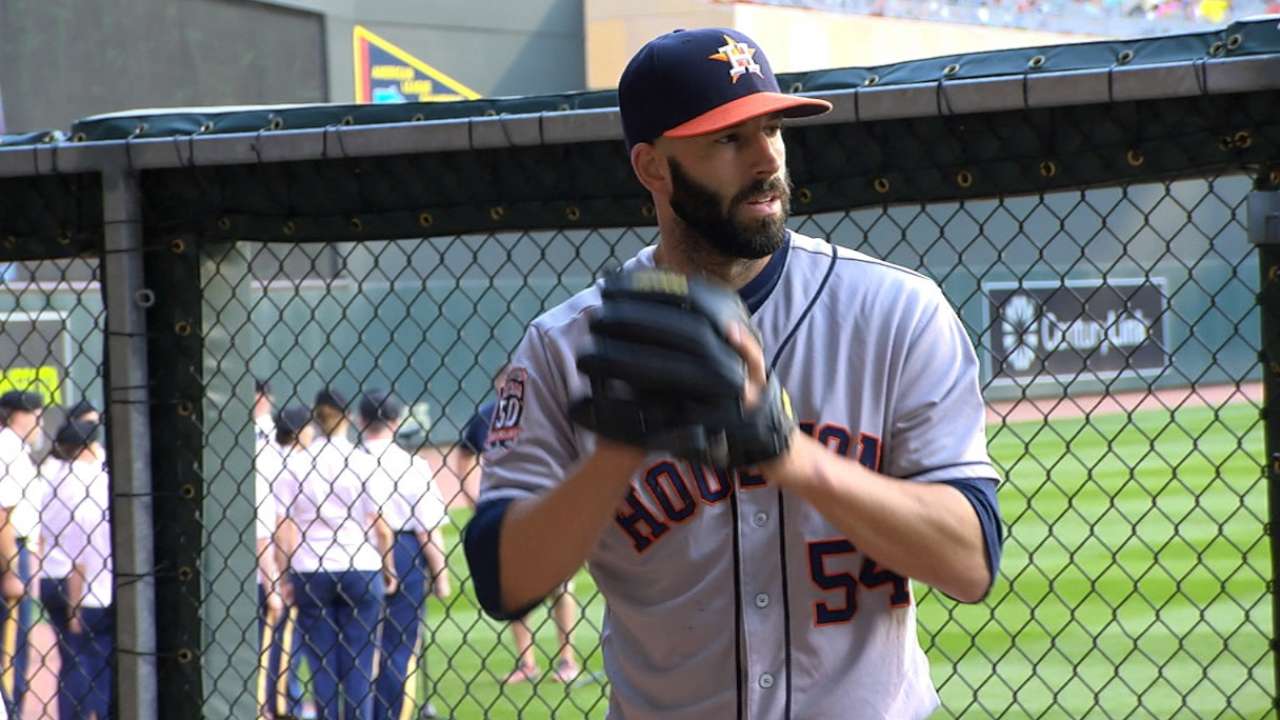 MINNEAPOLIS -- Mike Fiers tried out his best Johnny Vander Meer impression on Saturday, but it only lasted three innings.
Fiers, who tossed a no-hitter in his last start against the Dodgers on Aug. 21, held the Twins hitless until the fourth, when Joe Mauer ended the right-hander's attempt to become the second pitcher to throw two consecutive no-hitters during Saturday's 4-1 win over the Twins.
"I have to put that aside," Fiers said of the no-hitter. "You build off that, but you don't think about what you did last start."
Fiers gave up just three hits and a run in six-plus innings against the Twins. He walked three, which he was unhappy with and left with two runners on after hitting Trevor Plouffe with a pitch and giving up a single to Eddie Rosario.
"Just to get to that point and the game was in my hands, I kind of let myself down," Fiers said. "I should've been better than that at that point, but luckily Will [Harris] came in and did his job."
Though Fiers came away with a victory and a quality start, manager A.J. Hinch said he didn't think the starter was particularly sharp.
"[That] is hard to say after a game like that because he pitched well. His line was good," Hinch said. "Got into a little bit of a jam at the end when he tried to field a ball barehanded, but he navigated through some jams."
Fiers unsuccessfully to barehand Rosario's single and was pulled after that at 98 pitches. Fiers said his hand was fine -- he just needed to learn how to not instinctually reach out for the ball in that situation.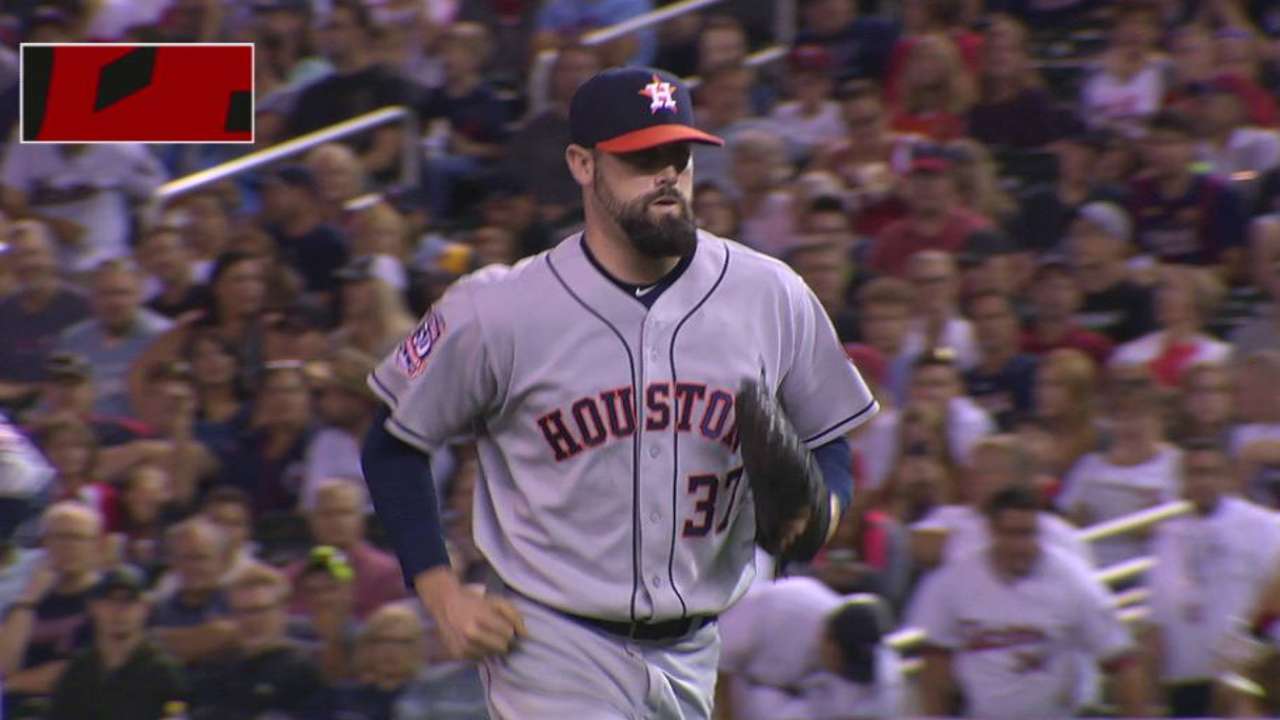 Aside from the seventh, the only other jam Fiers found himself in was in the fourth -- a pivotal inning for the Astros. After scoring three runs of their own, Fiers walked two and gave up his first hit before inducing a double play.
"I put myself in a bad situation but I had to make a big pitch and get a ground ball. We didn't care about one run there. We were playing normal double play depth and got [Trevor] Plouffe to hit that ball right to Jed [Lowrie] and we were able to turn to and like I said, that was the biggest inning."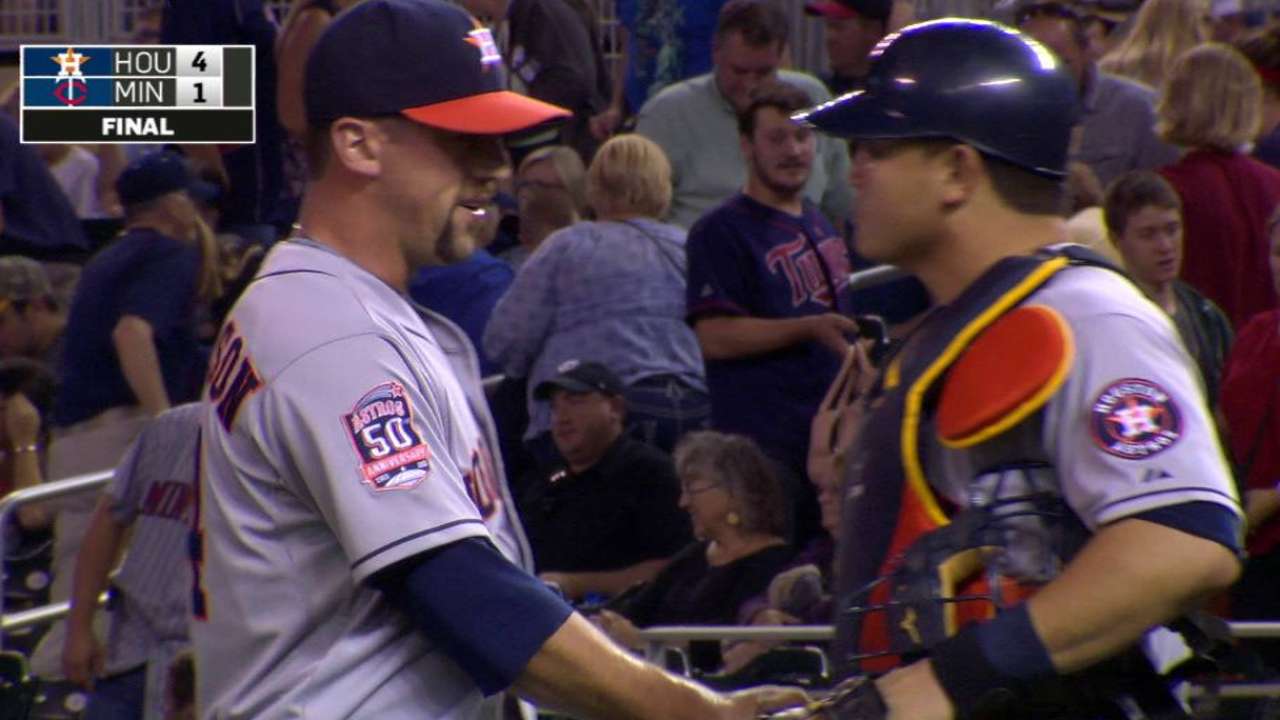 With the win, Fiers is now 2-0 with a 2.25 ERA since joining the Astros at the non-waiver Trade Deadline. In his past four starts, he has given up just four runs -- two earned -- in 27 innings. After his 134-pitch no-hitter, Fiers received a few extra days of rest and said he felt great.
And though Fiers didn't come close to Vander Meer's record, the righty did do what he set out to accomplish: win.
"You've gotta go out there, it's a different game. Different team. Really different game plan against these guys," Fiers said. "Just kind of wash it away and say 'hey, today's a different day.' I can't sit on that outing because it's over with and I was able to put up a quality start today and we won."
Betsy Helfand is an associate reporter for MLB.com. This story was not subject to the approval of Major League Baseball or its clubs.