Hicks debuts in wake of Marte's injury
Catcher plays third after shortstop strains hamstring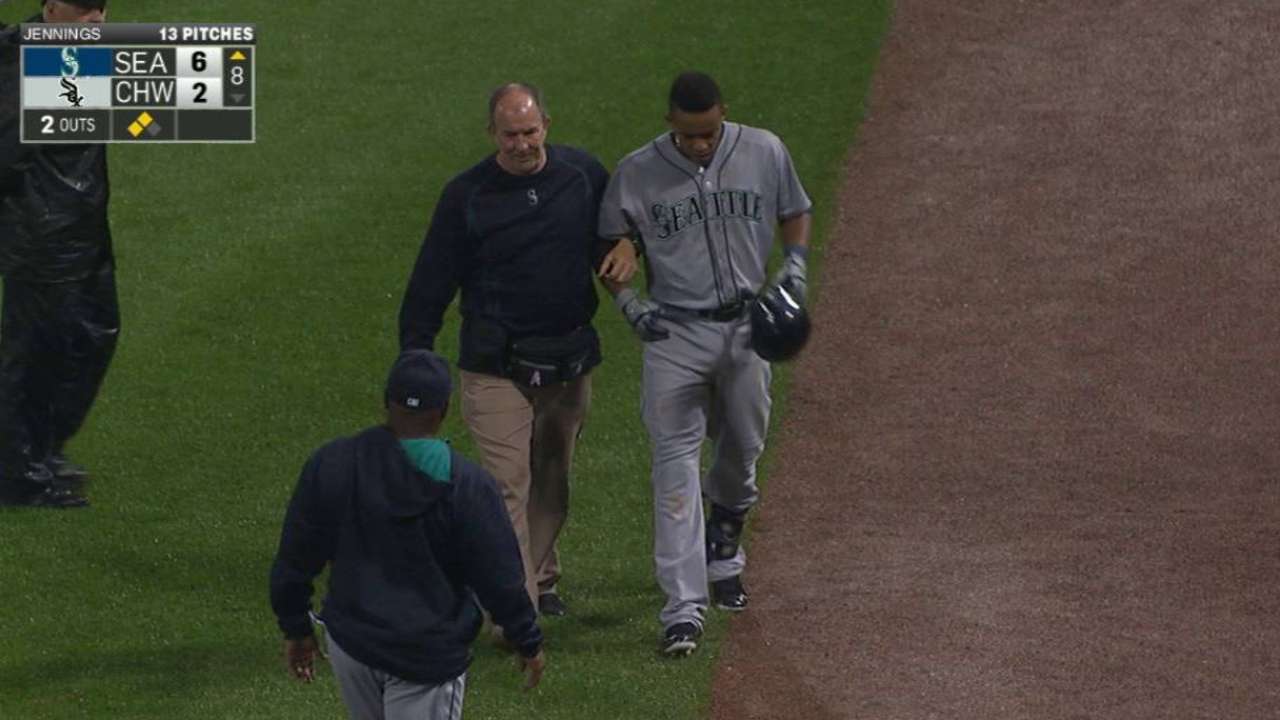 CHICAGO -- John Hicks was in the bullpen Saturday night when he found out he would make his Major League debut at third base. So he stretched out and began to jog over to third base before he realized he was missing a crucial element: a fielder's mitt.
A catcher by trade, Hicks had arrived from Triple-A Tacoma on Friday with his catcher's mitt and a first baseman's mitt, so he had to borrow center fielder Brad Miller's glove. And he'd end up using it in the Mariners' 7-6 victory over the White Sox on Saturday night.
"It was definitely not how I pictured my debut, but I'm happy to get it out of the way," Hicks said. "When they said third base, it was actually such a surprise that I didn't have the butterflies I thought I would have."
Congrats to John Hicks on making his Major League debut! #HawtCorner pic.twitter.com/40F1v8gRMt

— Seattle Mariners (@Mariners) August 30, 2015
Hicks didn't get to take an at-bat, but he did catch a popup in the ninth inning. With Kyle Seager moved over to shortstop, the four-year veteran said he didn't think twice about calling the popup.
"It's more fun. You only get the debut once. It's a popup. He's a big leaguer; he can catch it. It was kind of funny watching how nervous he was.
"I was less nervous playing short than he was playing third [base]. It was all right. I've played a little more short than he has third. He did well, though."
Hicks' debut came at a cost, though, as the Mariners were forced to shift the defensive alignment when shortstop Ketel Marte went down with a right hamstring injury, sustained while running through first base on an RBI groundout in the eighth inning.
Manager Lloyd McClendon said Marte would be a day-to-day decision and was not sure whether he would start in Sunday's series finale. Marte, though, said he could play if needed.
"It felt a little it tight, but now I feel good. I don't know what's going on tomorrow, but I can play tomorrow. I feel good. I feel normal."
With limited options off the bench, McClendon didn't hesitate to move Hicks to third base and leave catcher Jesus Sucre in the game. He still plans to work Hicks into a bigger role slowly, but said he was "very versatile."
It was the first time Hicks had played third base since his junior year of high school, he said. He had played games in center field, left field and first base throughout the Minors.
When the popup came his way, he waited for the ball to get to the highest point and for someone to intervene, but the 25-year old was alone, and he fielded it to the small cheers of his family and friends.
"I just tried not to mess it up," he said.
Greg Garno is an associate reporter for MLB.com. This story was not subject to the approval of Major League Baseball or its clubs.