Springer singles, 'shakes off cobwebs' in rehab assignment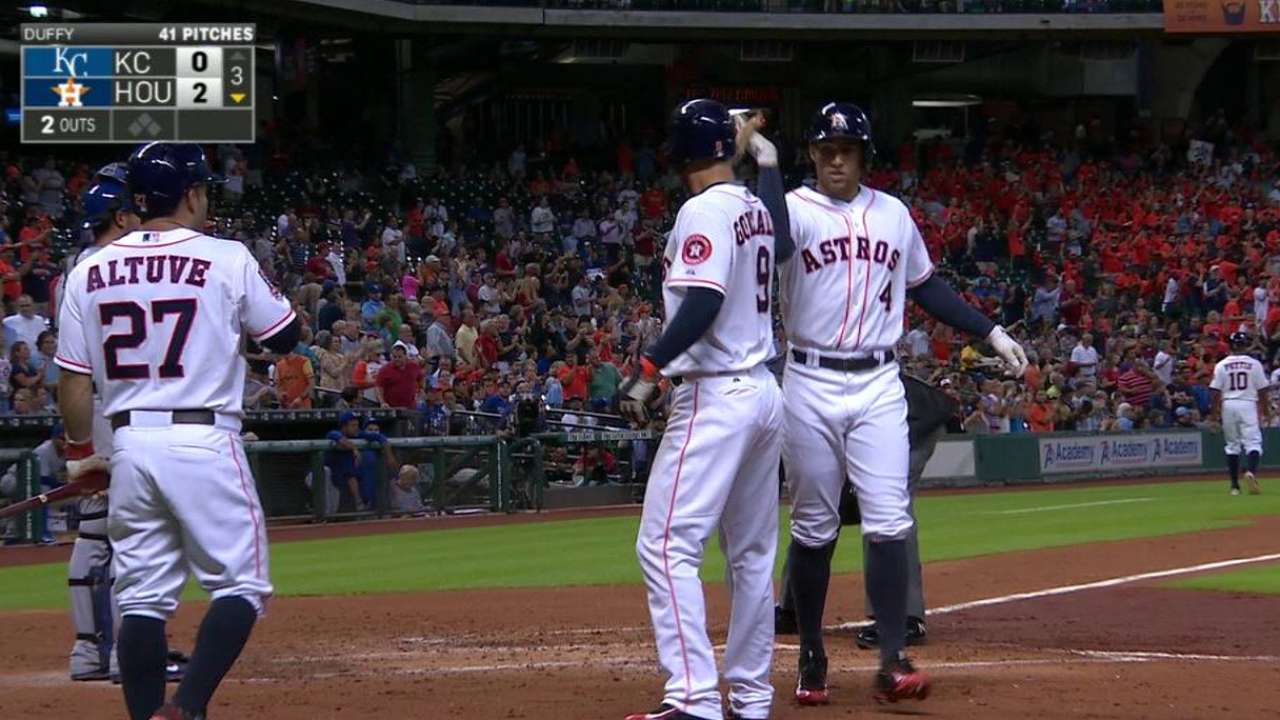 CORPUS CHRISTI, Texas -- George Springer returned to Double-A baseball to a hero's welcome Saturday night, going a quiet 1-for-4 with a run scored in a rehab assignment at Whataburger Field.
Wearing the home whites of the Corpus Christi Hooks (Double-A Astros) for the first time since his midseason promotion in 2013 -- when he was named the Texas League Player of the Year and All-Star Game MVP -- the Houston outfielder received an ovation from the crowd of 6,077 as he walked to the plate in the first.
Springer, 25, was getting his first at-bats since a pitch from Kansas City's Edinson Volquez fractured his right wrist July 1 at Minute Maid Park.
The former American League Rookie of the Month (May 2014) batted at the top of the order Saturday and played right field against San Antonio (Double-A Padres), running down a line drive toward the gap in the first, but otherwise having a quiet night.
Springer appeared to labor as he fouled back a pair of 90-mph fastballs from the right arm of reigning Texas League Pitcher of the Week Ronald Herrera. Springer then threaded a 1-2 off-speed offering through the left side of the infield for a single. He advanced to third on a hit-and-run, and scored on the first of two home runs by Minor League leader A.J. Reed, the Astros' second-round pick in 2014.
"Just shaking off the cobwebs. I wasn't working on anything specific, just squaring up," Springer said.
Springer went down swinging on a 1-2 pitch to end the second inning, popped up a 76-mph curveball foul to first in the fourth, and grounded out hard in the sixth against lefty Brandon Alger before calling it a night.
"It was a pitch off the plate and I was able to hit it, I don't know how, but I was able to get the bat out," Springer said of his last plate appearance. "Most importantly, I was able to track it with my eyes the whole way. It's a step in the right direction, especially after not seeing a pitch for eight weeks."
The Hooks won the game, 8-6, as Reed homered twice to raise his Minor League-leading total to 33.
Springer had played in one of Hooks' other games this season, going 1-for-4 with two strikeouts May 12 in San Antonio, while following MLB's seven-day concussion protocol. He is hitting .264 with 13 home runs, 29 RBIs and 14 stolen bases this season with Houston, after a quadriceps injury cut short his 2014 season.
"He should be fine," said first-year Corpus Christi manager Rodney Linares. "His timing's not there, and it's not going to be there for the first couple of days. He missed some pitches that he normally hits, but it was good to see him hit that two-strike breaking ball in the first inning."
Linares managed Springer at Lexington (High-A) for 106 games in 2012 after the Astros signed the prospect out of Connecticut with the 11th overall pick of the 2011 Draft.
"He's the same kid," Linares said. "He's matured a lot, because the conversation's turning a little more serious. He's talking about pitches and certain things he did tonight. Even today, he comes in and he's like, 'You know, I should have hit that breaking ball out. My timing's not there,' and this and that. But he's happy to be here and we're happy to have him. For me, it's all about him getting healthy and getting his timing back. As soon as he has it, he's gone."
Damen Clow is a contributor for MLB.com. This story was not subject to the approval of Major League Baseball or its clubs.