Vogt completes 'mission' for redemption
A's catcher rebounds with 17th homer in 3-RBI night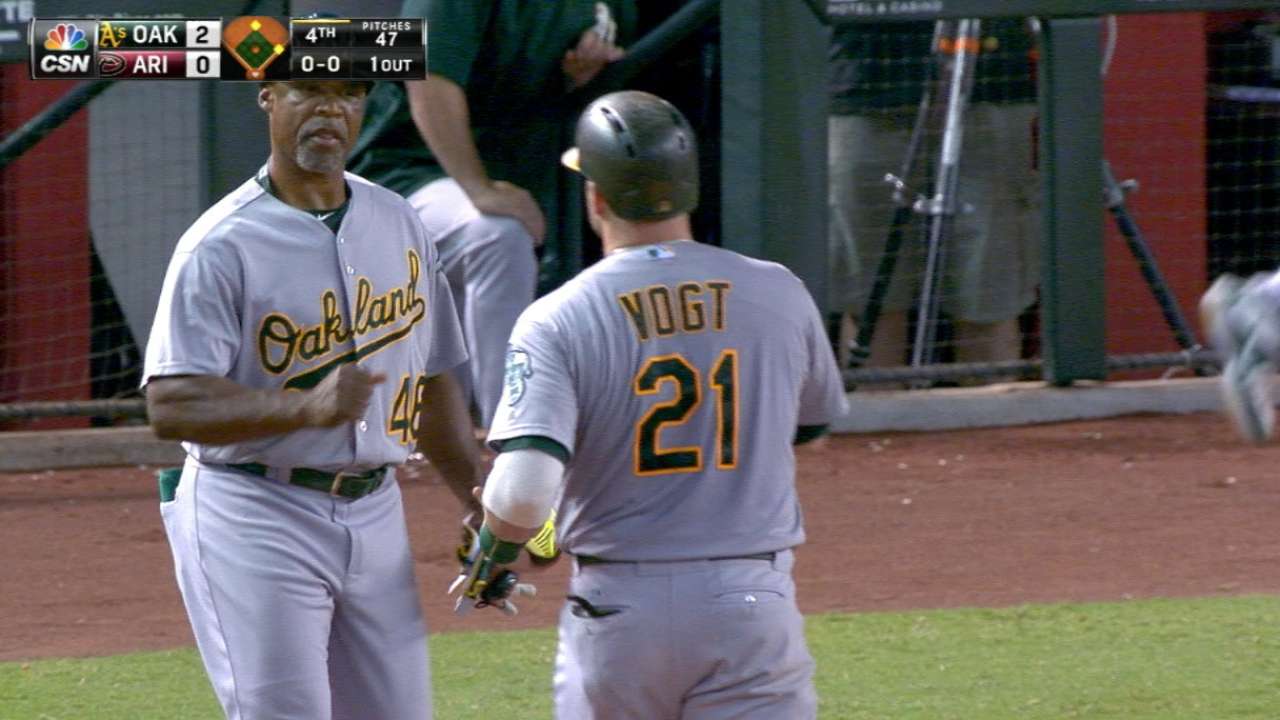 PHOENIX -- A's catcher Stephen Vogt, waking from what he called "one of my worst games on both sides of the ball in a long time," returned to the park Saturday and cranked a homer and drove in all three runs in Oakland's 3-2 victory over the D-backs.
"I was obviously not in a good place last night, so I was excited to see I was back in the lineup and was ready to go tonight," said Vogt, whose two passed balls led to a pair of unearned runs in Friday's series-opening loss. "I had a lot of steam to get off, and it felt pretty good to get off to a good start."
Vogt launched a two-run home run to right field -- his 17th of the season -- following Danny Valencia's leadoff double in the second to give the A's a 2-0 lead. He singled in his next at-bat, walked in the sixth and by the time his name was called again in the eighth to face lefty Andrew Chafin, the game was tied.
Valencia was intentionally walked ahead of him, putting runners at first and second with two outs for Vogt, who delivered an opposite-field blooper on a 3-2 slider.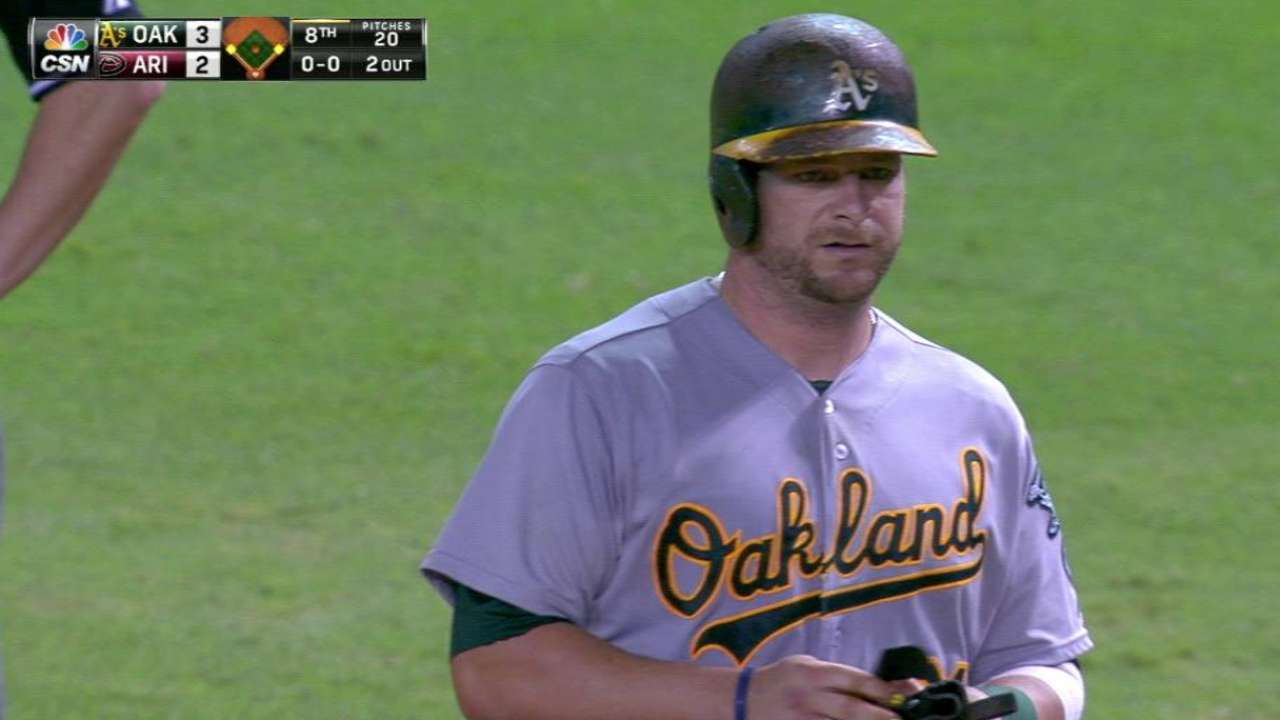 "I'll tell you what, he came in here with a mission today," manager Bob Melvin said. "There's no one guy who is at fault for a particular loss, but he takes it pretty hard, and I'm sure he probably didn't sleep real well last night. He was catching his guy Sonny and feels like he let him down a little bit. His at-bats were very tenacious."
"Obviously, any time you're the guy they walk somebody in front of, you want to come through even more so," Vogt said. "I wasn't trying to do anything more than flip a base hit out there somewhere. I had never seen him before, a tough lefty with a really good slider, and his fastball is pretty explosive. Fortunately I was able to get enough of it to get it in there.
"There's nothing better than coming through for your teammates late in the game, especially for me personally, since I felt it had been awhile since I've gotten a big hit for us. It's been a while since I've gotten a hit like that."
Vogt was batting .193 with 10 RBIs over his previous 48 games, riding a 0-for-9 streak he slammed the door on following an equally frustrating defensive performance.
"I had to remember how good I am," Vogt said. "You always have to remember how you got here, why you're here, and sometimes it's easy to lose sight of that. For me, part of it was awesome for me to come through and say, 'Hey, you know what? You can play this game and play it well.'"
Jane Lee is a reporter for MLB.com. Read her blog, Major Lee-ague, and follow her on Twitter @JaneMLB. This story was not subject to the approval of Major League Baseball or its clubs.