Colon gives 'pen a break with inning of relief
Mets righty tosses scoreless frame in first outing out of bullpen since 2011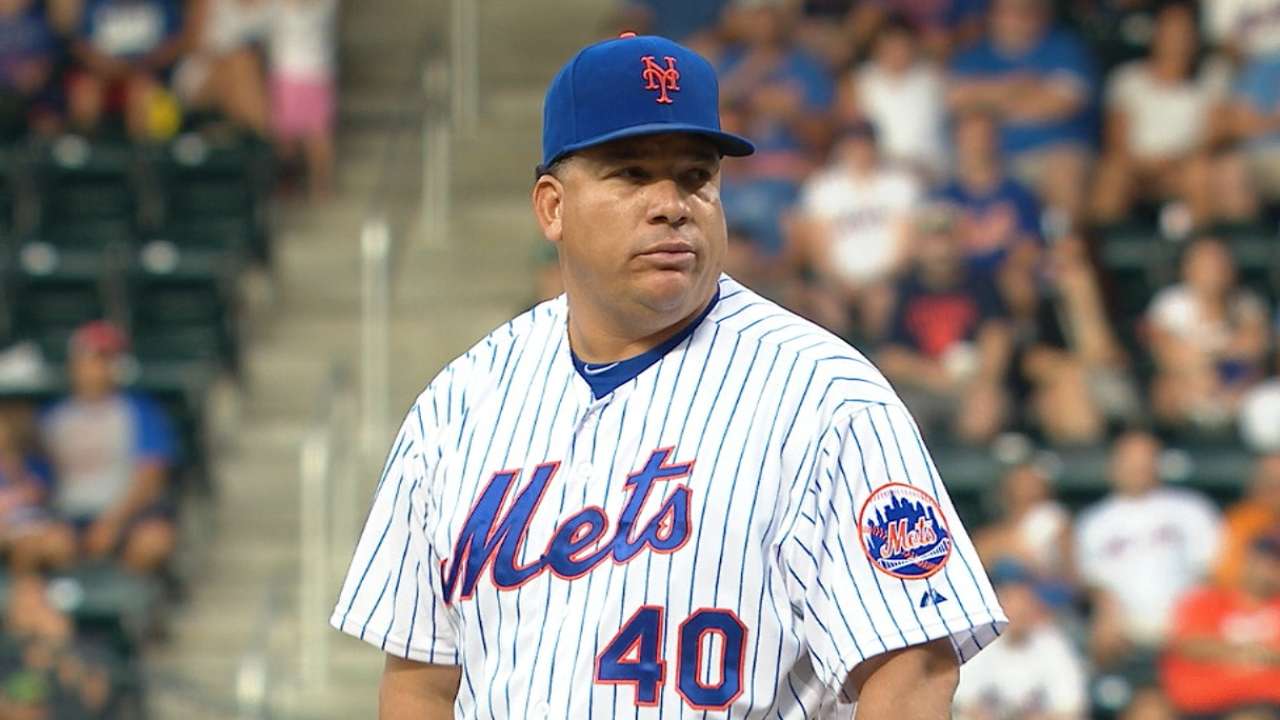 NEW YORK -- A near-record 43,255 fans piled into Citi Field on Saturday and were treated to a surprise. The second-largest showing in Citi's history left mostly displeased with New York's 3-1 loss to Boston. But many left entertained after beloved starter Bartolo Colon made his first relief appearance in over four years.
With New York's bullpen taxed, Mets manager Terry Collins turned to the 42-year-old Colon to take his normal between-starts bullpen session to the real mound. What resulted was a top of the ninth high on entertainment value and ultimately positive in results. Colon kept a 3-1 score at that by pitching around a one-out David Ortiz double, finishing a scoreless inning with two strikeouts. It was his first relief appearance since April 14, 2011, when Colon pitched three shutout innings for the Yankees against the Orioles.
"I think he can pitch in any role you put him in," Collins said. "Bartolo is Bartolo. He's going to come in and make you swing the bat, and he doesn't get out of his game. He doesn't beat himself."
Barring calamity, it's safe to assume Colon's 4.65 ERA won't be enough to squeeze the 18-year veteran into any potential October rotation New York features. Not with Saturday starter Jacob deGrom, Matt Harvey, Noah Syndergaard and Jon Niese around and safe from innings-limit shackles (not to mention recovering lefty Steven Matz, who is also working his way back into the picture).
Still, Collins adamantly rejected the notion that Saturday's relief cameo by Colon represented any sort of audition. And shortly after he did, news broke that appeared to confirm that: New York acquired Addison Reed from Arizona, according to sources, to boost a middle-relief corps that's been overworked and struggling in recent weeks. The Mets have not yet announced the trade.
The Mets' bullpen has a 3.81 ERA in August. But remove the reliable Jeurys Familia and Tyler Clippard, and that number balloons to 5.57.
Eric O'Flaherty has allowed 10 earned runs in seven innings since being acquired earlier in the month. Bobby Parnell struggled enough to earn himself a trip to the disabled list. Hansel Robles can be dominant, yet is still susceptible to big innings. Sean Gilmartin and Carlos Torres have found seesawing success in longer relief roles, but neither is trusted in high-leverage situations.
To make matters worse, Mets starters have gone at least seven innings in just two of the last seven games.
"I just think right now they're tired," Collins said of his relievers. "We wore them out."
So it was out of necessity that Collins sent Colon out Saturday, and he did so with a 15-pitch limit to more properly simulate what would have been a regular bullpen session. Colon retired the Red Sox on 11 pitches.
"Years ago, before the power, power arms were out there, he would have been the perfect eight- and seventh-inning guy," Collins said.
Joe Trezza is an associate reporter for MLB.com. This story was not subject to the approval of Major League Baseball or its clubs.