Kelly authoring quite the in-season turnaround
After struggling early, Red Sox righty has won six straight starts with a 2.68 ERA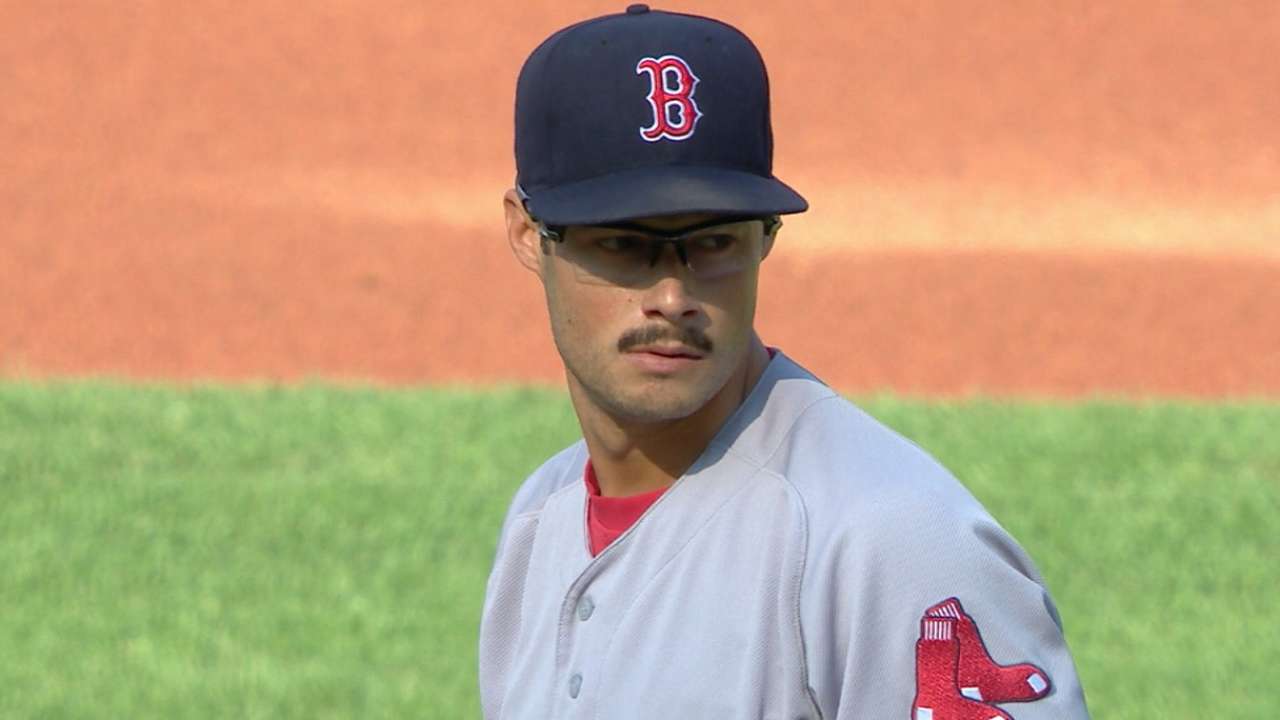 NEW YORK -- Here is how drastically things have changed for Joe Kelly in the last month.
At one point on Saturday, David Ortiz, the most prominent player on the Red Sox, sidled up to Kelly and said, "You've got me super excited for next year."
Over his last six starts, Kelly is 6-0 with a 2.68 ERA. Behind Kelly's mastery on Saturday, the Red Sox rolled to a 3-1 victory over the Mets. This, on a day New York trotted out Jacob deGrom, one of its noted young guns.
Though deGrom pretty much lived up to expectations, Kelly (7 1/3 innings, 5 hits, 1 run, 2 walks, 2 strikeouts) was just a smidge better, if less overpowering.
If there was a sequence in the game that displayed most how Kelly has evolved, it came in the bottom of the first, a laborious 30-pitch frame.
With two on and two outs, Kelly Johnson came up and took a 97-mph fastball for ball one. Kelly then came back with four straight changeups, the last of which Johnson swung at and missed to end the inning, one in which the Mets didn't score.
"Early in the year, maybe just a thrower," said interim manager Torey Lovullo. "Trying to throw fastballs by guys, but we know that's not going to happen at this level. He's started to pitch. He threw four straight changeups today, and if you told me he was going to be able to do that earlier in the year, I'd say it would be a challenge. He's come a long way. He's developed some pitches. The confidence is there. He's got three, sometimes four active pitches to left- or right-handed batters at any time, and that's very lethal."
When you have a 97-mph fastball like Kelly does, perhaps it's too easy to gravitate to it. But in recent weeks, ever since his return from Triple-A Pawtucket, the coaching staff and the catchers have basically forced Kelly to let go of his security blanket and mix it up.
"It's been a point of emphasis lately that no matter what team we're facing I have to throw the offspeed," Kelly said. "Earlier in the year, I was throwing all fastballs and obviously that didn't work out. It's just something we've been trying to make a point of emphasis early on in the game. Mix in some offspeed pitches and try to get the hitters off the fastball."
Why was Kelly so fastball-happy before?
"It was just something I was comfortable with," said Kelly. "I wasn't really locating and I was off mechanically, but like I said, I was trying to overthrow a little too much instead of placing it where I wanted to. But now I'm throwing some offspeed pitches for strikes, and it makes the fastball [have] a little bit more room for error to miss."
As a group, the Red Sox have played with better energy and results lately. Saturday was Boston's 10th win in the last 15 games. Some of the younger players -- Kelly at 27 still qualifies -- have been at the forefront of the run.
"I remember him talking with Pedro [Martinez] and working with the new pitching coach, and you watch him pitch right now and he's doing what the greats normally do, keeping hitters off-balance," said Ortiz. "Watching him pitch today, I was watching pretty much the whole game, he was outstanding. And when you see young talented players like him, like [Jackie Bradley Jr.], like [Xander] Bogaerts, all those guys. The way they are performing, that's an experience that will take over next year."
Ian Browne is a reporter for MLB.com. Read his blog, Brownie Points, follow him on Twitter @IanMBrowne and listen to his podcast. This story was not subject to the approval of Major League Baseball or its clubs.