MLB.com Columnist
Lyle Spencer
Molina performing perfectly for Cardinals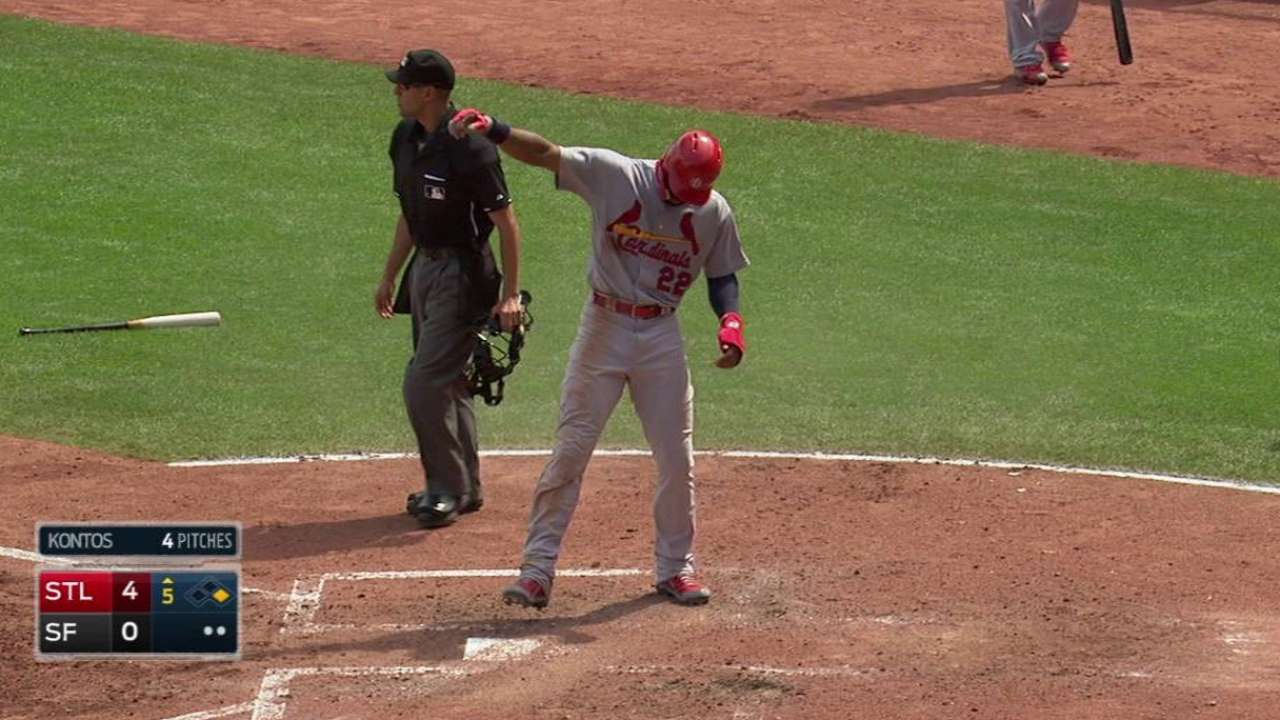 SAN FRANCISCO -- Yadier Molina is a great player. Precisely how great, even in this age of advanced analytics, we may never know. There simply is no math -- new or old -- to calculate his value to the St. Louis Cardinals as their field commander, leader and conscience.
Molina, who caught and went the distance on Friday night, strapped on the gear Saturday afternoon and went to work with starter Lance Lynn. The Cardinals subdued the surging Giants, 6-0, to even the series with the club that eliminated them at AT&T Park in the National League Championship Series last October.
The Redbirds are on their way to a ninth postseason trip in 12 years with Molina behind the plate. They have had one losing season in that span. At 33, he is on course to surpass his career high of 136 starts as a catcher in a season, set in 2009.
Catching more innings (1,018 2/3) than anyone else, including young Salvador Perez of the Royals, Molina has started 115 times -- and the Cards are 76-39, a .661 winning percentage. When he doesn't get the call behind the plate, the best team in baseball is 7-7.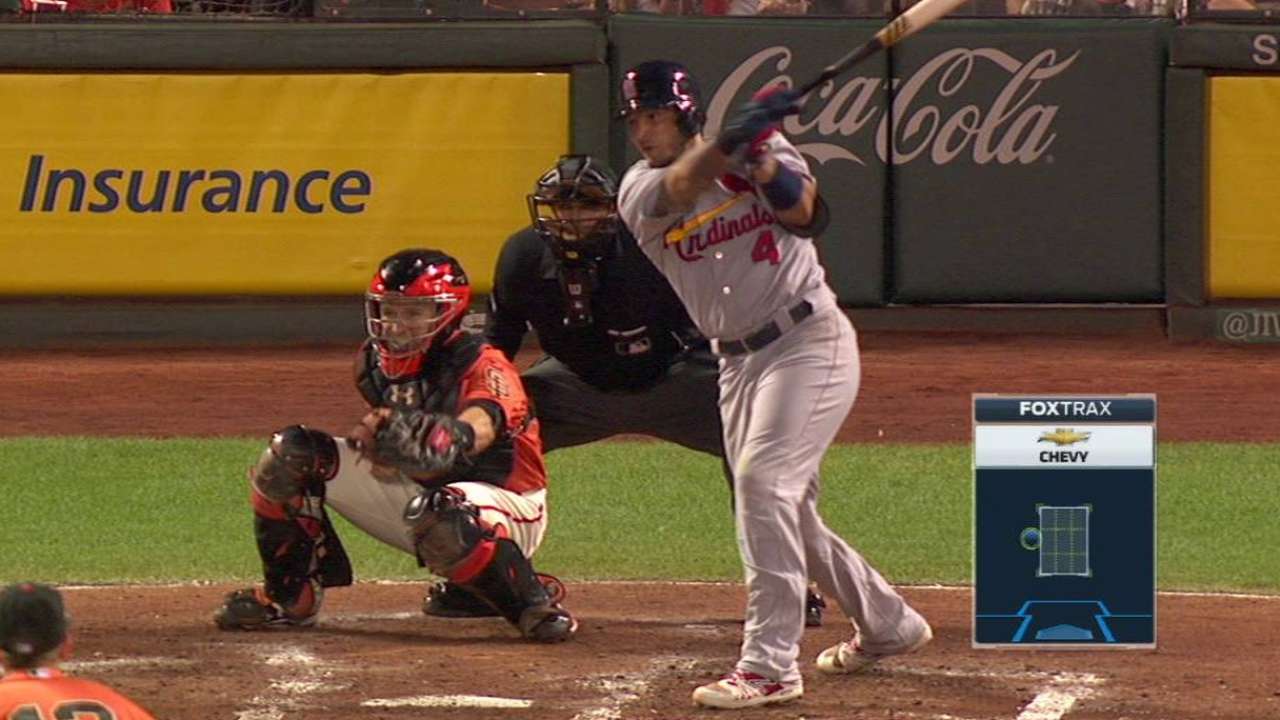 "When I feel good, I play," Molina said. "They pay me to play baseball. I'm just doing my job."
Manager Mike Matheny, the four-time NL Gold Glove Award winner who preceded Molina as the Cardinals' regular catcher, doesn't impose any artificial limits on his star. Molina dropped about 20 pounds over the offseason to prepare himself for the grind.
"He's played a lot this season -- that was the goal," Matheny said. "Listening to his body, there are days he needs it, and we give it to him. He knows better than me sitting here... when he needs one."
St. Louis' pitching staff is on its way to the best team ERA in decades at 2.63 -- 2.50 with Molina catching. An MLB team hasn't had a lower ERA since the 1972 Orioles came in at 2.53 and the '72 A's at 2.58.
For a matinee following a long, draining night game, Giants manager Bruce Bochy -- another former catcher -- gave Buster Posey a day to rest his weary, aching bones. This time of year can be miserable for catchers who have taken a pounding since early April.
Molina is a different breed of cat. He did his pregame studies, got in his crouch, called the pitches and blocked everything in the dirt. Molina caught a shutout and had two hits, including a two-out, two-run single in the fifth inning, giving Lynn a 4-0 cushion.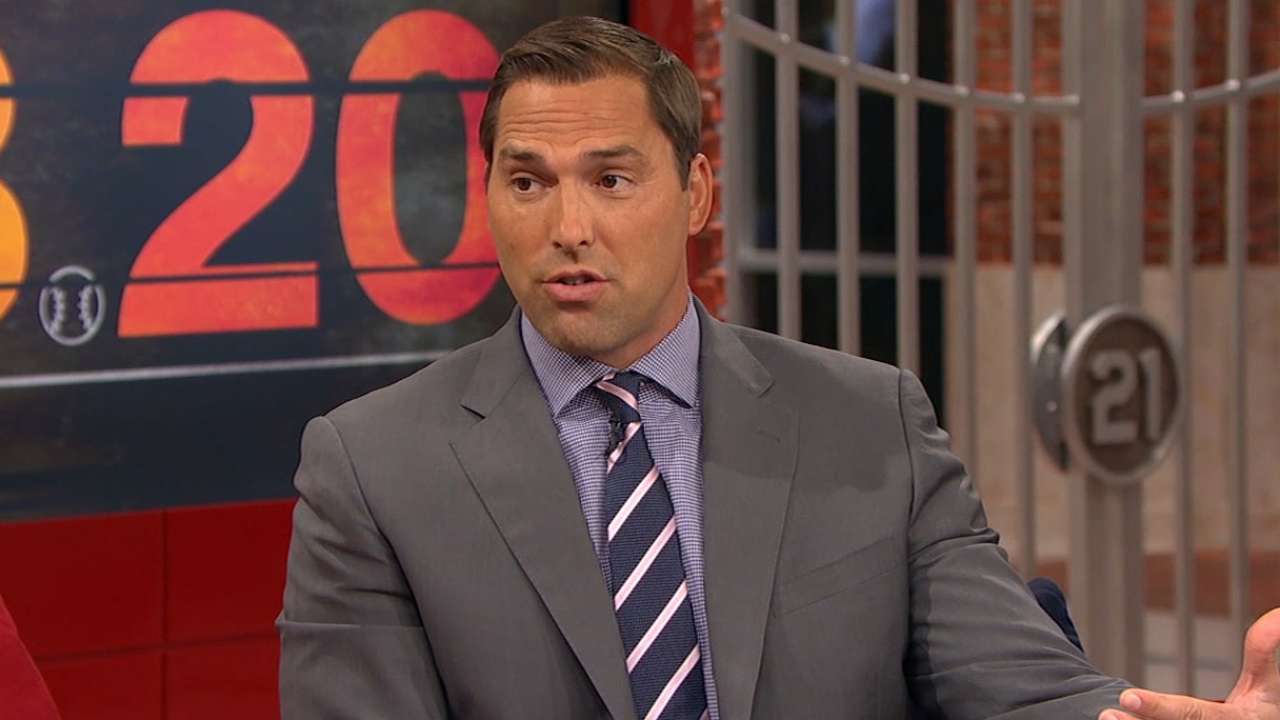 All in a day's work for Molina, a man who has been as valuable over the course of his career as any player in the sport.
"Every time you catch a shutout," Molina said, "it makes you feel good."
There was a moment of serious concern over Lynn, who tumbled to the grass in pain after an awkward spill on a slow roller in the eighth inning. Matheny feared it was a knee injury before discovering his big right-hander had turned an ankle. It doesn't appear serious, according to Matheny.
"They [pitchers] do all think they're the best athletes on the field and can do [Derek] Jeter stuff," Matheny said as he grinned in relief.
Three relievers completed the shutout. Lynn and all the Cards pitchers will tell you Molina makes their job infinitely easier.
According to Wins Above Replacement, courtesy of baseball-reference.com, Molina ranks 58th among active players with a 30.8 career WAR. This means he has been responsible for roughly 2 1/2 more wins per season than an average catcher, according to the metrics.
Joe Mauer (47.6), Victor Martinez (32.7) and Russell Martin (32.4), contemporaries with catching histories, have higher career WAR numbers. Mauer, Martinez and Martin have appeared in a combined 88 postseason games.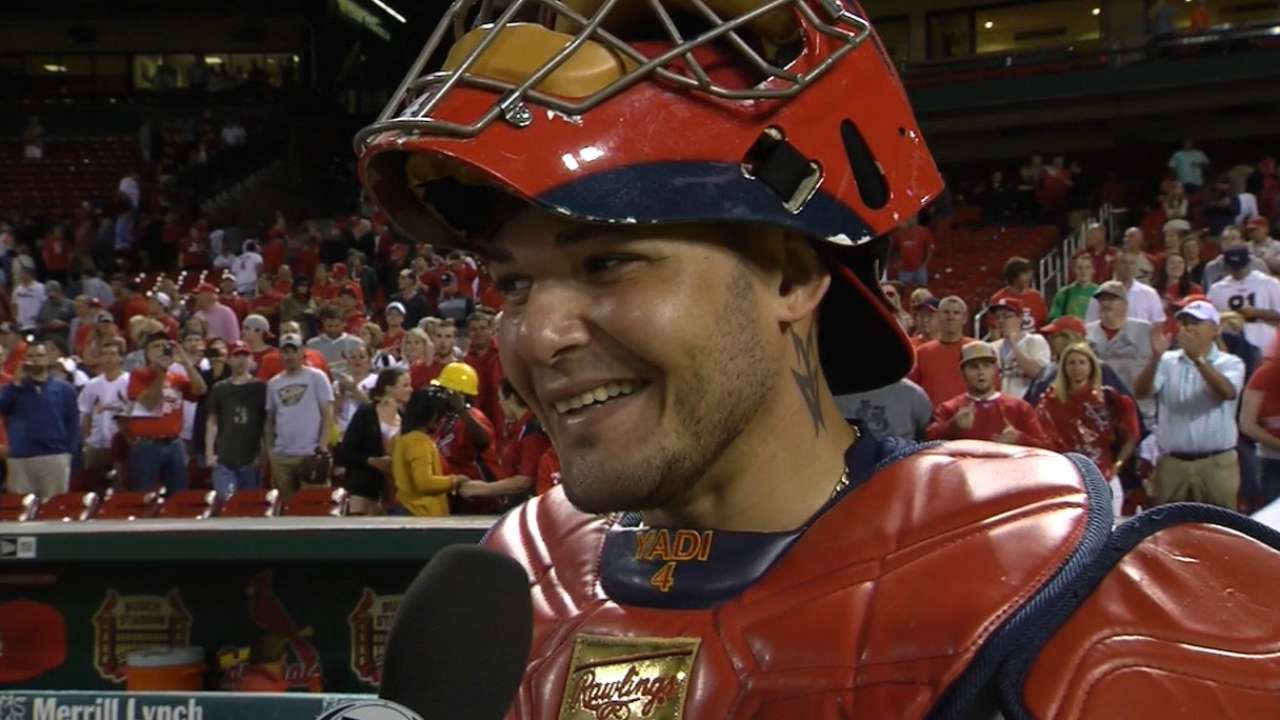 Molina has played in a franchise-record 86 postseason games, batting .290, while celebrating four NL pennants and two World Series crowns. His 3.55 catcher's ERA is more than a half-run better over his career than the MLB norm of 4.16. Molina has thrown out 45 percent of runners attempting to steal bases, far superior to the MLB average of 28 percent.
On his second single Saturday, greeting George Kontos in relief of starter Ryan Vogelsong in the fifth, Molina stroked a 1-2 fastball into right center, doubling his team's lead.
It might not have done much for his WAR, but Molina's all-around performance was not lost on his manager coming off a dispiriting loss.
"He's a veteran leader who's caught a lot of games and knows how to read himself, the season, where he needs to be for the postseason," Matheny said. "You'd be crazy not to take advantage of what he has."
Molina is here to play, not watch. He's just earning his pay.
Lyle Spencer is a national reporter and columnist for MLB.com. Follow him on Twitter @LyleMSpencer. This story was not subject to the approval of Major League Baseball or its clubs.