Ricochet tricks Byrd in crucial fifth inning
Moss gets triple after new Giants right fielder sees ball carom away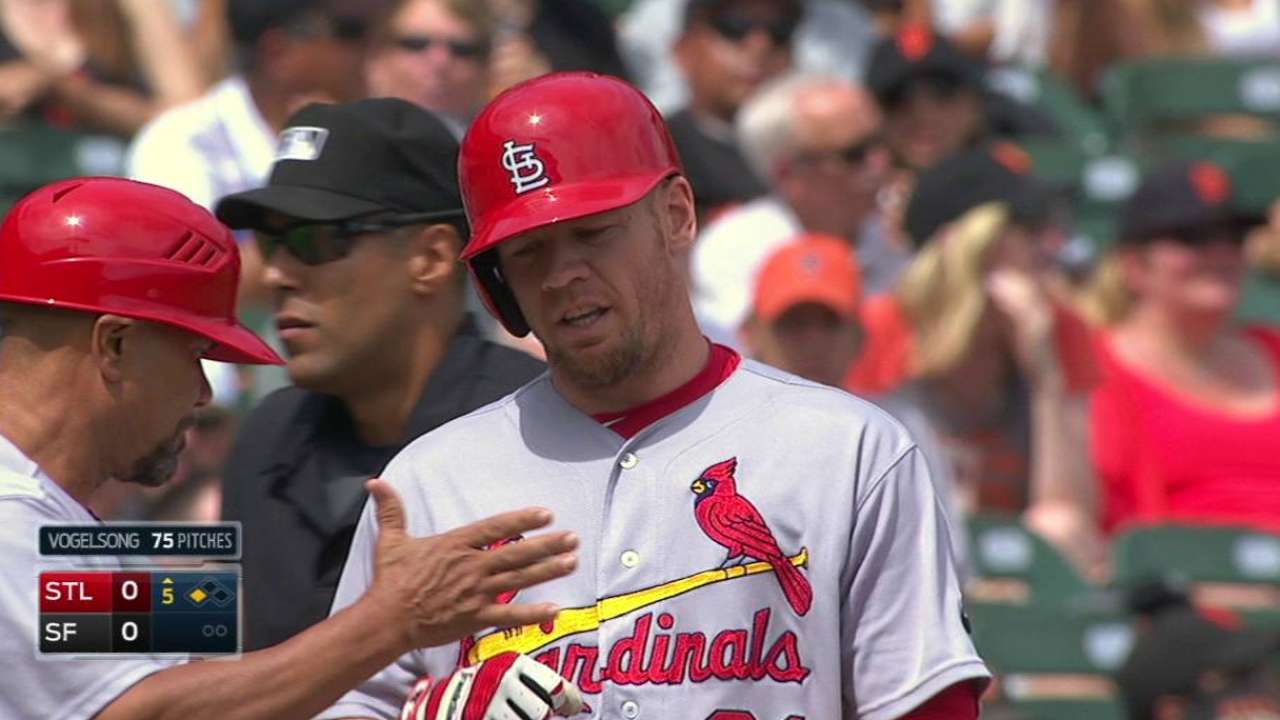 SAN FRANCISCO -- Marlon Byrd turned toward the outfield wall, drifted back and looked up, waiting to see if Brandon Moss' fly ball would clear the barrier.
The ball hit high off the bricks in right-center field and bounced hard back toward the infield, allowing Moss to get to third base. He eventually came in to score the winning run -- and the first of four scored in the fifth inning -- in the Giants' 6-0 loss to the Cardinals on Saturday afternoon.
The Giants right fielder put himself in position to field the ricochet, but the angle of the wall out by the arcade in right-center at AT&T Park caused the ball to bounce in a way Byrd could not have anticipated.
"It's hard to tell which way that ball is going to come off the wall," manager Bruce Bochy said. "It kicked really hard back, not much you can do."
The baseball caromed toward first base instead of straight back to Byrd, which enabled Moss to round second and take the extra base on the play.
"You try to get a ricochet and hopefully it bounces to you, but it's really tough, too, because [Byrd] hasn't been out there a lot," Bochy said.
Playing right field at AT&T Park is tough for any outfielder in the game, not only for someone who hasn't been playing there every day. Just ask Hunter Pence.
"The thing you kind of have to be aware of is the ricochets can be strange, so giving yourself some space [is key]," Pence said.
But Pence added he believes Byrd is doing about as well as you can for someone new to the Giants' home ballpark.
"He's getting to some balls, you know, that's a big gap," Pence said. "He's a veteran, an excellent outfielder. I think he's done a fabulous job playing defense out there."
Byrd made his fifth home start in right field for the Giants on Saturday.
When asked if he's still adjusting to playing the position at AT&T Park, Byrd simply replied, "I've played here for 14 years."
Oliver Macklin is an associate reporter for MLB.com. This story was not subject to the approval of Major League Baseball or its clubs.