Dodgers rally past Cubs, pad NL West lead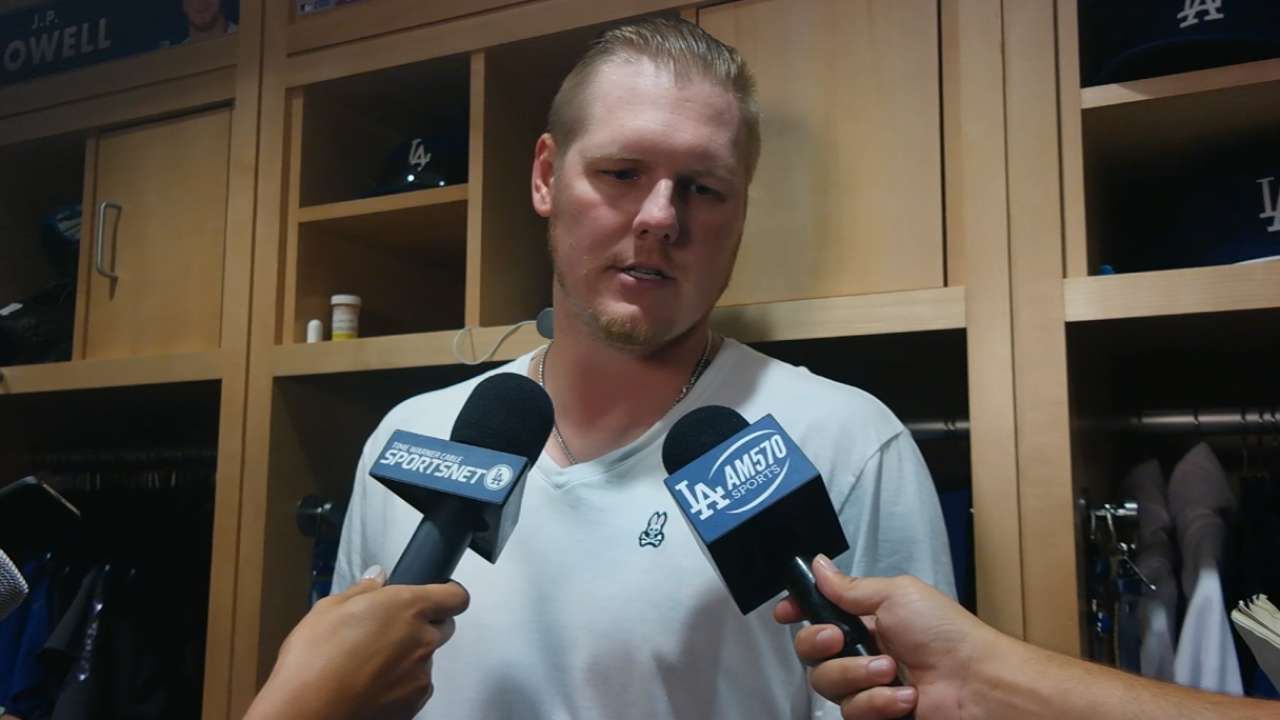 LOS ANGELES -- Andre Ethier gave the Dodgers the lead with a two-run single in the seventh inning for Los Angeles' fifth straight win in a 5-2 victory over the Cubs on Saturday night. The win pushed the Dodgers' lead in the NL West to 3 1/2 games over the Giants while the Cubs kept their Wild Card lead at 4 1/2 games.
Trailing, 2-1, to start the seventh, the Dodgers put four runs on the board off Cubs starter Jon Lester. Los Angeles started the inning with four straight hits, headlined by Ethier's go-ahead single, which took Lester out of the game. Adrian Gonzalez added an RBI single later in the inning for insurance. Lester (8-10) lasted six-plus innings, allowing eight hits and five runs.
"Balls were finding holes," Lester said of the seventh. "They were either hit a little too hard or a little too soft. The good thing is, I don't have to go back to the drawing board. My stuff was there. Location was there, stuff was there, velocity was there. Everything was there. Now it's a matter of a little bit of luck going my way and maybe the outcome is a little different."
In his first start since Aug. 13, Mat Latos was ineffective for the Dodgers, but earned a no-decision. He lasted 4 2/3 innings, allowing four hits and two runs, including a run-scoring balk. This is the third straight start for Latos that he's been unable to make it through the fifth inning. In his stead, the Dodgers' bullpen pitched 4 1/3 innings of scoreless relief to protect the lead.
"I didn't necessarily have my A-game," Latos said. "I have to build back up again. Eighty-five pitches is what I threw today and that's what I threw in rookie ball so I have to build back up again to be able to throw 100 pitches."
It's the first time the Cubs have lost four in a row since a season-high five-game streak, June 24-28.
"We have not been very offensive on this road trip," Cubs manager Joe Maddon said. "We're normally much more offensive."
MOMENTS THAT MATTERED
Right switch: Although Ethier didn't start the game, he entered in the top of the seventh as a part of a double switch and immediately made an impact. Following rookie Jose Peraza's RBI double, the veteran produced with the go-ahead, two-run single to give the Dodgers a lead. Ethier's hit was the fourth straight of the inning. More >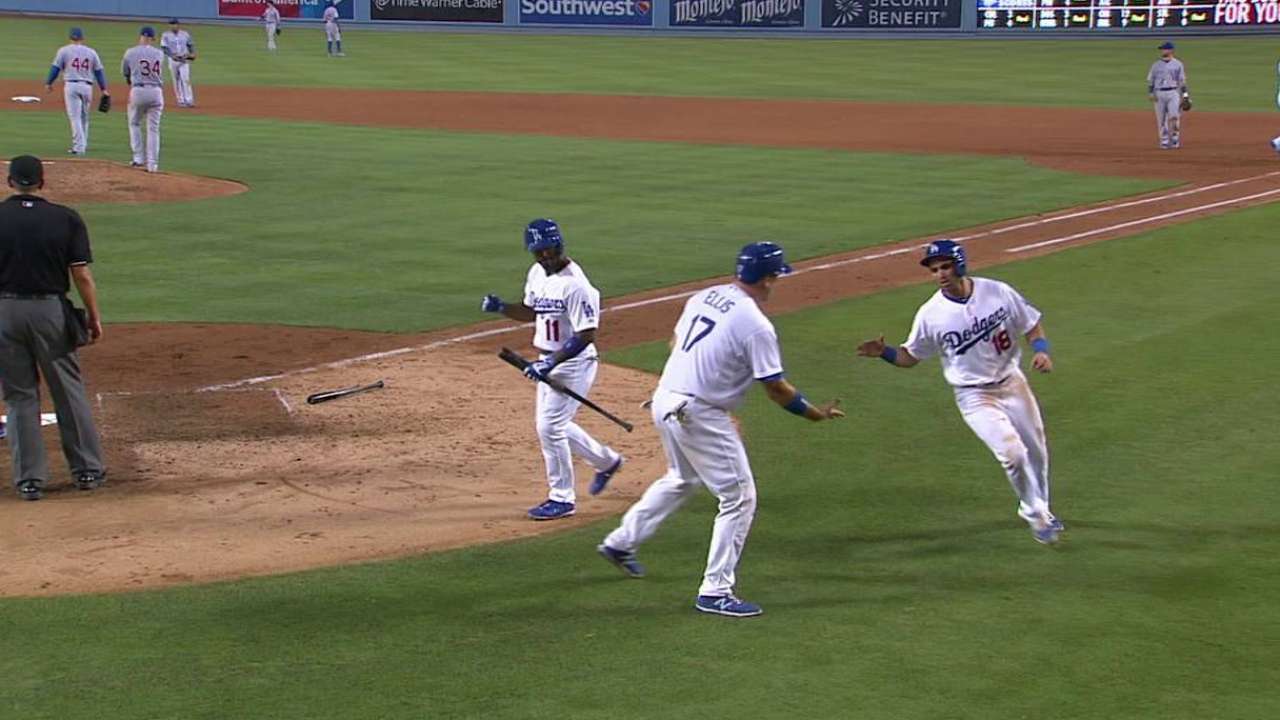 Balk: The Cubs had runners at first and third with two outs in the fifth when Latos was called for a balk. The runner at third scored, giving the Cubs a 2-1 lead. Dodgers manager Don Mattingly argued the call, and the umpires conferred twice, but did not change it. The balk came exactly three years from Latos' last one, Aug. 29, 2012, while pitching for the Reds against the D-backs.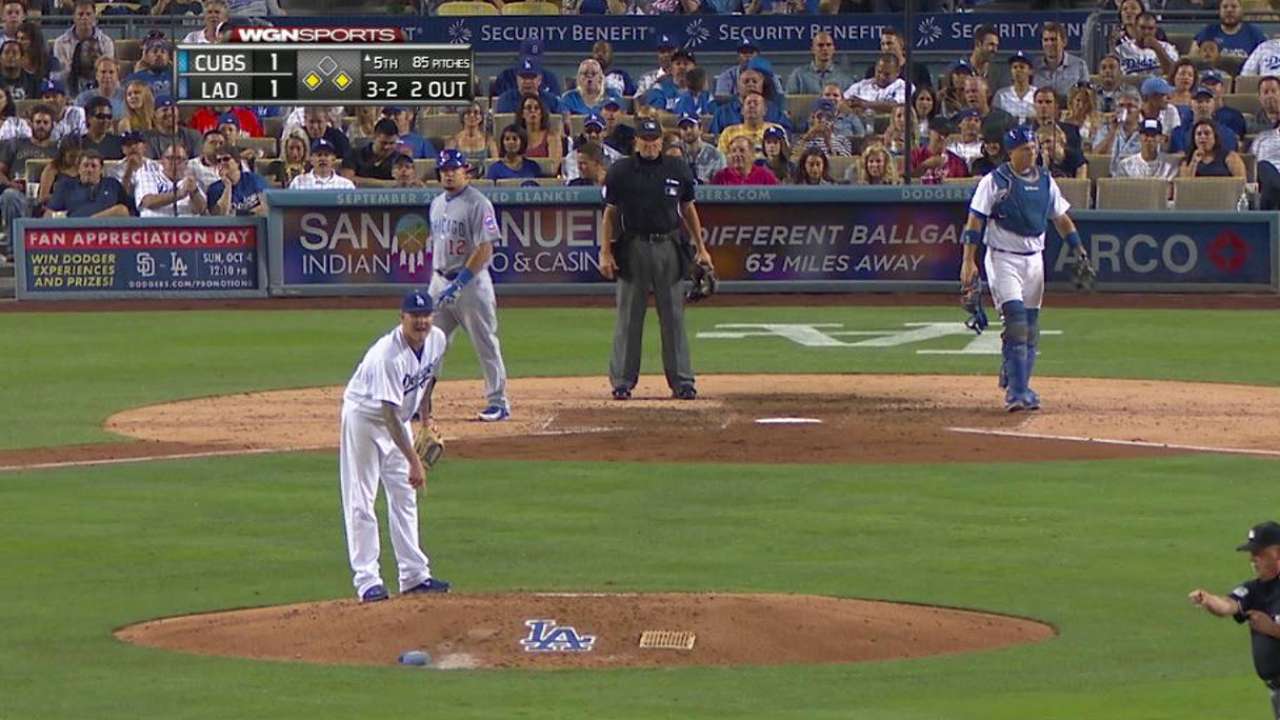 Rally stopper: After reliever Jim Johnson loaded the bases in the eighth with a walk and two hit batters, the right-hander escaped the jam thanks to some slick glovework. On a full count, Addison Russell, who represented the go-ahead run, hit a grounder to Jimmy Rollins at shortstop. The veteran fielded the ball on his right side and threw to Peraza at second who turned the double play to get out of the inning.
"The guys [in the bullpen] did their job today," Mattingly said. "Just get the right guy in there to get outs."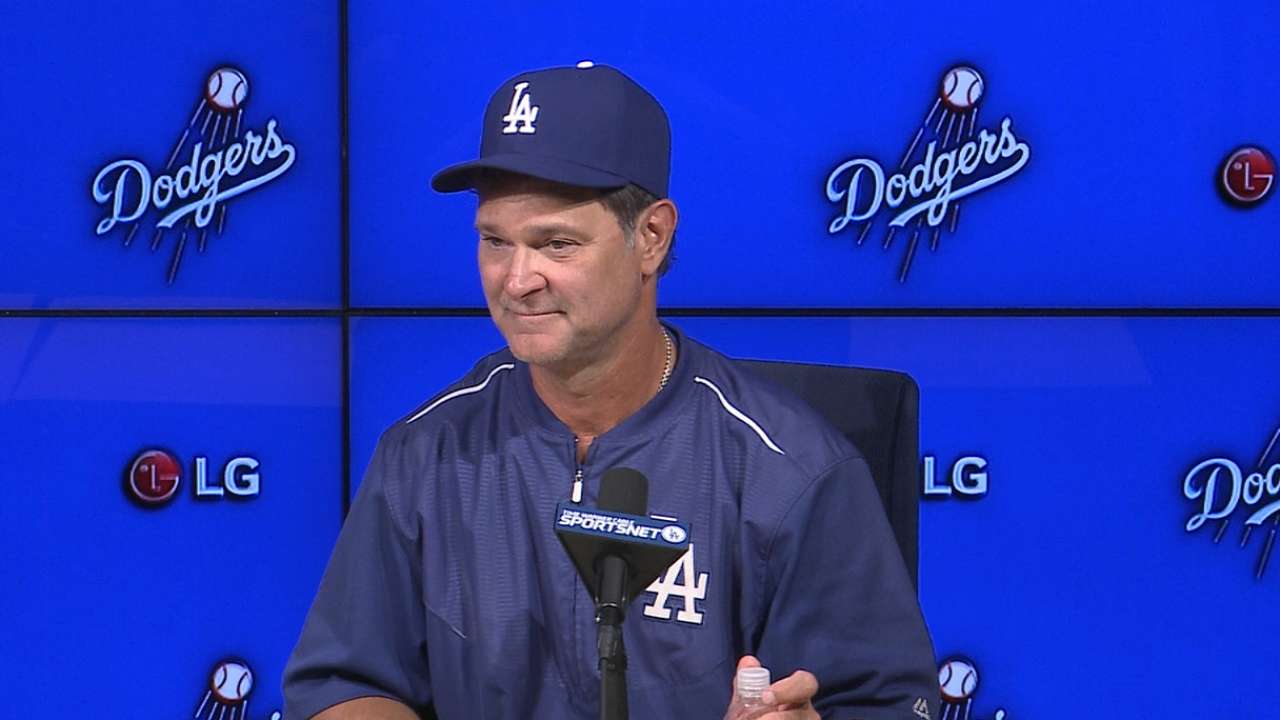 Timing is everything: Maddon, who normally only goes to the mound to make pitching changes, went out to talk to catcher Miguel Montero and Lester in the fourth when the Dodgers had two on and one out and the lefty had fallen behind, 2-0, to A.J. Ellis. Lester got out of the inning. Maddon said the move was more for defensive purposes. The seventh didn't go as well. Maddon said he didn't want to bring in a right-hander in that inning because of the left-handed bats the Dodgers had on the bench. More >
QUOTABLE
"It's a time of year where it doesn't matter what you have to do to win the game, you've just got to do it." -- Ethier
"It's a West Coast trip, sometimes they're difficult for young players who haven't done it before. I've been through it many a time. If your players don't care, if your players don't show up, if your players don't play hard, then you become disappointed, but we have [shown up and played hard]. We haven't hit the ball very well on this trip. We've normally been very good on the road and we haven't been that good on this trip." -- Maddon
SOUND SMART WITH YOUR FRIENDS
Reliever Justin Grimm posted a scoreless seventh inning to extend his scoreless streak to 15 innings, a season high for the Cubs bullpen.
WHAT'S NEXT
Cubs: Jake Arrieta will close the West Coast road trip on Sunday night at Dodger Stadium. The right-hander will be vying for his 14th consecutive quality start. He's 10-1 with a 1.17 ERA in that stretch. Arrieta has been on a roll on the road, winning eight straight road starts, the first Cubs pitcher to do so since Steve Trachsel in 1994. First pitch is scheduled for 7:08 p.m. CT.
Dodgers: Alex Wood will make his sixth start for the Dodgers in the series finale. He had his best start in Dodger blue last time out, earning the win by allowing just one run in 5 2/3 innings against the Reds on Tuesday.
Watch every out-of-market regular season game live on MLB.TV.
Steve Bourbon is an associate reporter for MLB.com. Carrie Muskat is a reporter for MLB.com. She writes a blog, Muskat Ramblings. You can listen to her podcast. This story was not subject to the approval of Major League Baseball or its clubs.