Blackmon pacing himself in 2nd full season
Rockies center fielder working to avoid post-break dip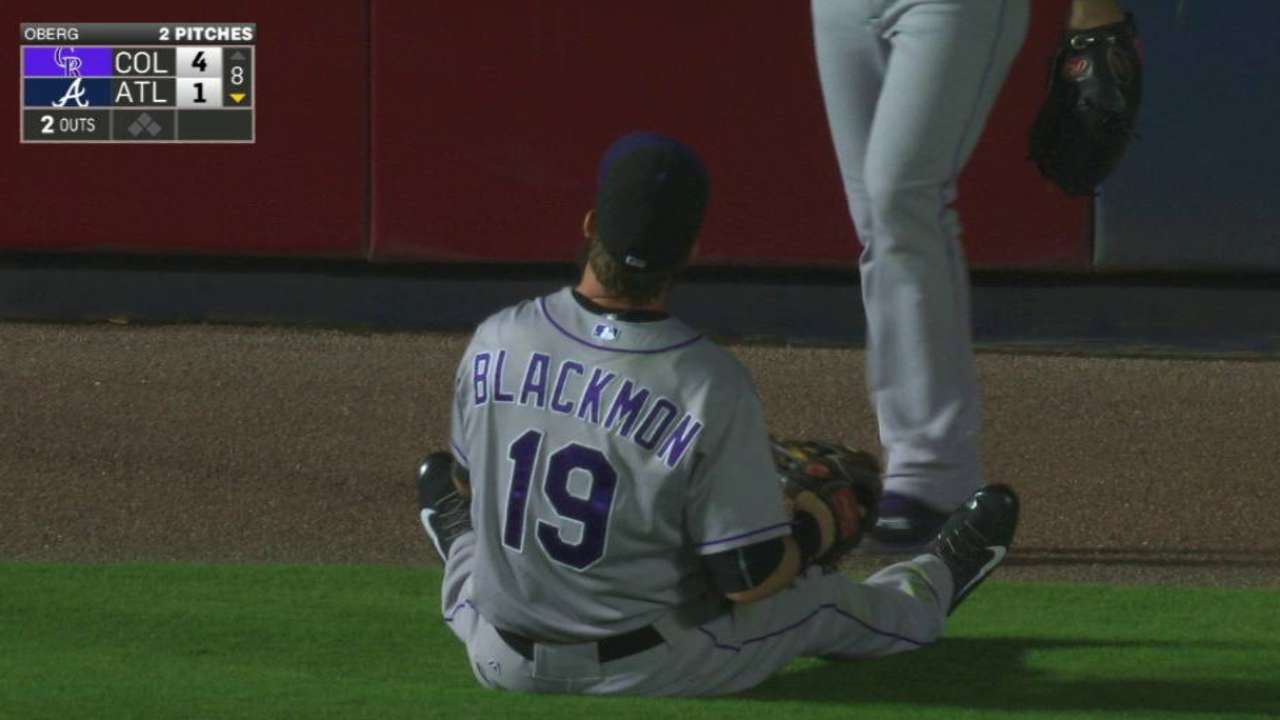 PITTSBURGH -- Rockies center fielder Charlie Blackmon's body is tired, but he has continued to produce because his brain is operating efficiently.
Last year, Blackmon broke out to an All-Star campaign on the strength of a .305 batting average and .479 slugging percentage in 93 first-half games, 81 of them starts. But he dropped to .264 with .384 slugging in 61 games, 54 starts, after the break.
This year, Blackmon batted a solid .291 and slugged .463 before the break while starting 82 of his 87 games. With another month or so of season left, Blackmon has shown staying power -- batting .288 and slugging .459 in 38 games going into Saturday night's game against the Pirates. He had a 12-game hit streak before going hitless in one at-bat as a late-game reserve in Friday night's 5-3 loss.
"There's no way you can feel physically now the same as you did in April and May, so it's key to figure out what your body needs, how to take care of your body from one game to the next," said Blackmon, 29. "I listen to my body more than I just strictly adhere to my workout program.
"Physically and mentally, it's a battle right now. I don't need to take as many batting-practice swings as I did earlier in the season. I just need to make sure I'm physically and mentally ready to play."
Blackmon is well known around the club for his intense postgame workout program, but he has learned to curb some of that. However, some parts of the routine don't change.
"I try to make sure I get my body lose and do my [batting] cage work daily -- that's the most important part, to get in there and do the drills that I need to do," Blackmon said. "Before I even get in there, there are certain parts I need to roll out [with various massage rollers]."
Blackmon has to play an energetic game to cover the expansive outfield at Coors Field. He also entered Saturday with a career-high 33 steals, and that can beat up on muscles and bones. Experience has also taught Blackmon to adjust the way he plays to conserve energy.
"When you're sliding, it pays to keep your hands in the air rather than jam your wrists into the ground," Blackmon said. "Or if they hit the ball to the gap and you're running to the wall, and you know you don't have a play at second base, your only objective is to keep that guy from getting to third. So I'm not saying you back off, but you don't necessarily throw the ball 100 percent to second base. You just need to hit your cutoff man on the way to third."
Rockies manager Walt Weiss said Blackmon has shown growth in pacing himself.
"It's tough, leading off and playing center field at our place, running as much as he does on the bases, that's a haul," Weiss said. "He's holding up well. He takes very good care of his body. He's a guy that for the most part has been running out there pretty much every day. He tends to end up in the game even when I give him a day off."
Thomas Harding is a reporter for MLB.com. Follow him on Twitter @harding_at_mlb, and like his Facebook page. This story was not subject to the approval of Major League Baseball or its clubs.