Aramis on RBI prowl since rejoining Bucs
Veteran slugger homers to spark offense against Rockies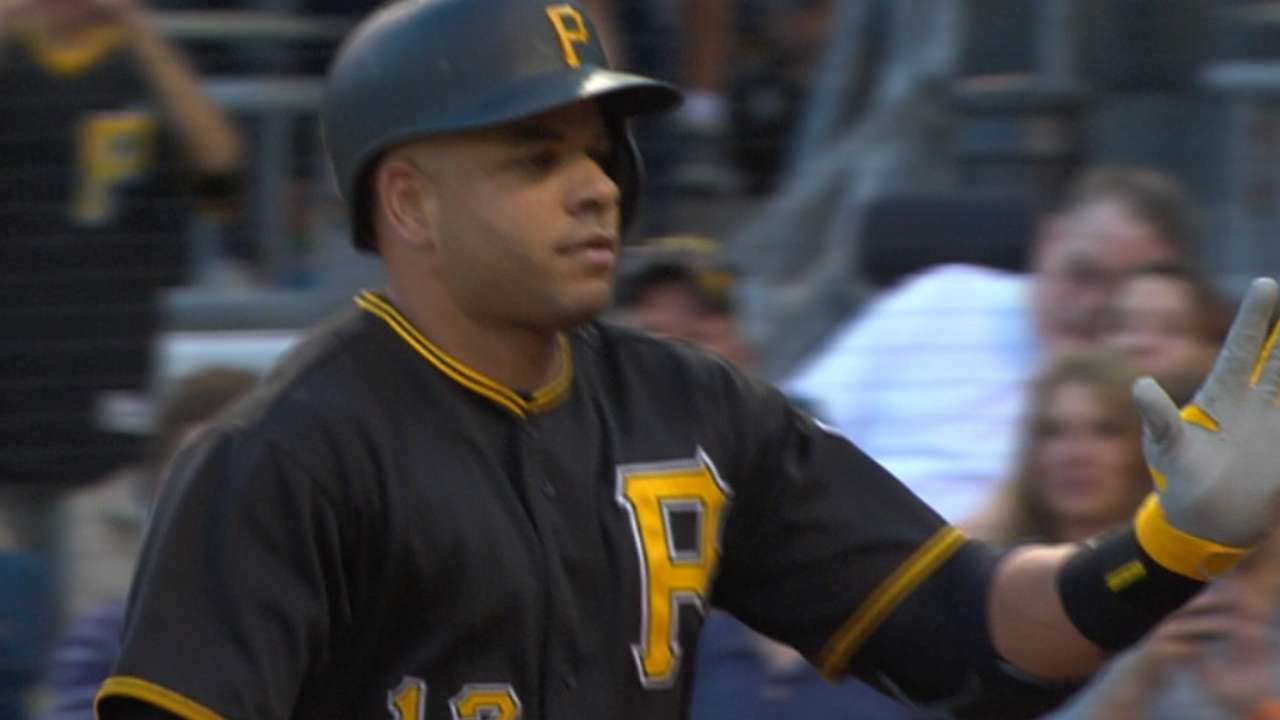 PITTSBURGH -- Third baseman Aramis Ramirez's numbers are down since the Pirates acquired him from Milwaukee on July 23. In 81 games with the Brewers this season, Ramirez, 37, had an OPS of .725, still well below his career mark of .833. His OPS slipped to .629 in his first 28 games with the Pirates.
Ramirez, who has said he will retire after this season, launched a three-run homer in the first inning Saturday off Rockies lefty Chris Rusin, giving the Pirates a lead they would not relinquish in a 4-3 victory. Ramirez has 13 homers this year -- 11 of them with the Brewers.
"I got a good pitch to hit," Ramirez said. "I was just trying to drive the ball. The last thing I want to do in that situation is hit a ground ball, just make sure I bring the run home."
Despite the dip in production, Ramirez has collected 20 RBIs with the Pirates. He has 18 RBIs in his past 21 games.
"That's what they brought me here for, to drive in some runs," Ramirez said before the game. "I've been able to do that lately. My first three, four, five games wasn't what I expected or what anybody expected, but after that I've been doing well. I'm sure a lot had to do with trying to do too much earlier, trying to do what I can't. And if you try to do too much, I can guarantee you aren't going to do anything. So I just relaxed and just play my game."
That was Ramirez's first HR at PNC as a Pirate since 7/20/03 vs MIL. Est dist: 400ft pic.twitter.com/lQrd2T8Na1

— Pittsburgh Pirates (@Pirates) August 29, 2015
Pirates manager Clint Hurdle says Ramirez's game is hunting RBIs.
"That is the biggest reason we got him, to be a run-producer," Hurdle said. "The professional approach at the plate with runners in scoring position -- it screams at you. ... This guy's approach as a run-producer is evident the way he goes about it. And he has been sharing some thoughts as the time has moved forward, and I think he's found his rhythm on both sides of the ball now. He laid out and made a couple of backhand plays in Miami that were really fun to watch. But we got him drive in runs."
George Von Benko is a contributor to MLB.com. This story was not subject to the approval of Major League Baseball or its clubs.