Four Tribe pitchers have over 150 strikeouts
Bauer, Kluber, Carrasco, Salazar first franchise foursome to accomplish feat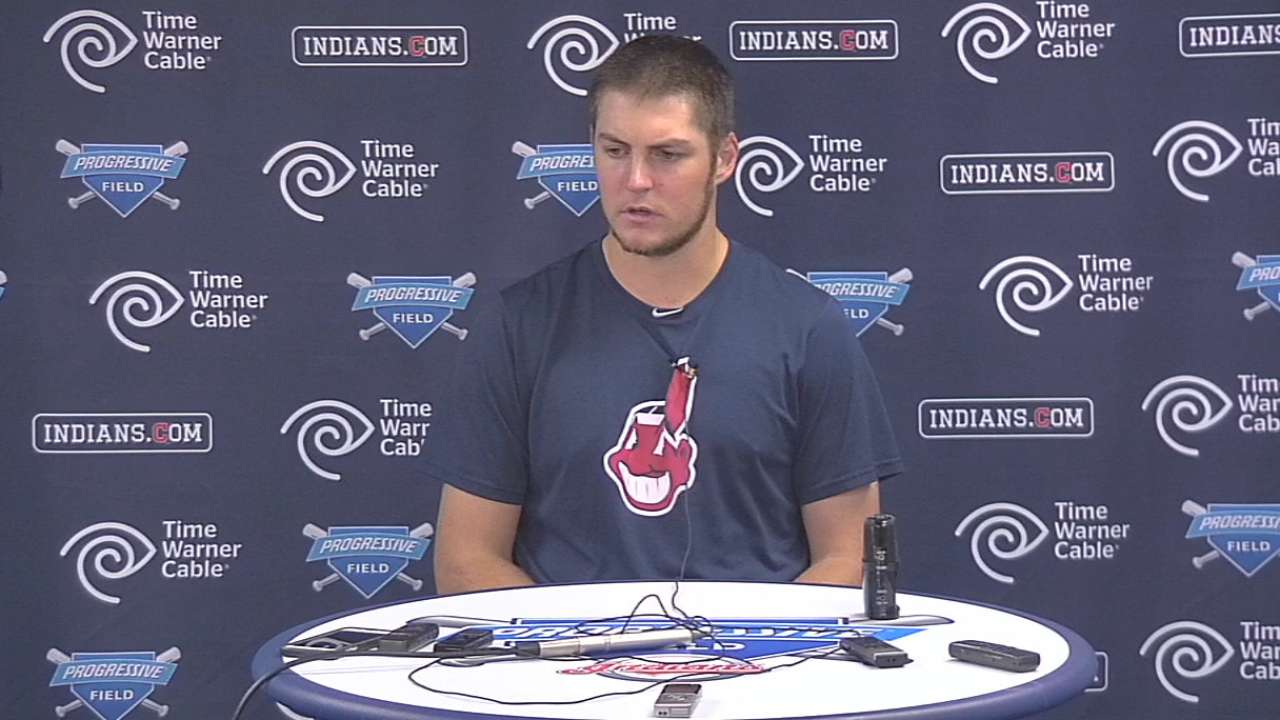 CLEVELAND -- Last year, it was Corey Kluber alone who set Indians records and placed his name alongside all-time franchise greats with a historic second half that led to an American League Cy Young Award victory.
This year, it's the entire Indians rotation.
When Trevor Bauer recorded his fifth of seven strikeouts in Friday's 3-1 home victory against the Angels, it was his 150th whiff of the season. Bauer became the fourth Indians starter to reach that mark this year, joining Kluber (213 entering Saturday), Carlos Carrasco (173) and Danny Salazar (162).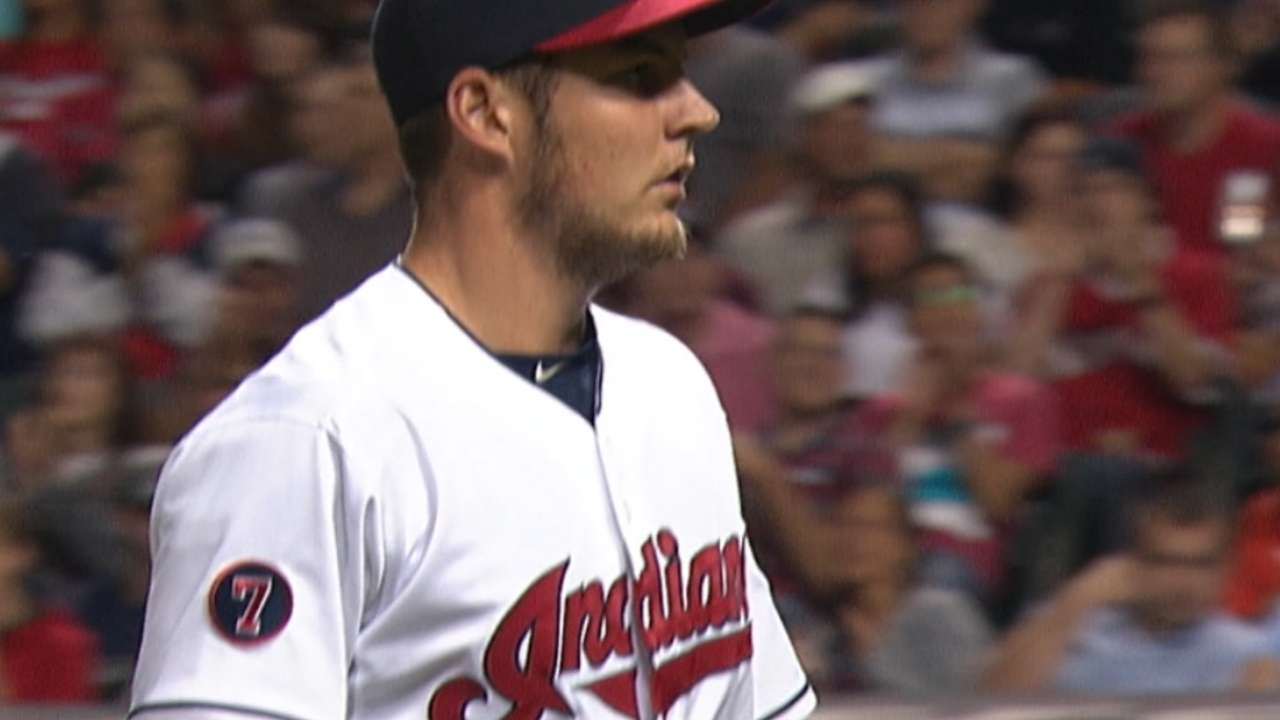 That group is the first foursome in Indians history to have each member break the 150-strikeout threshold in a single season.
"I'm kind of bringing up the rear," Bauer said with a laugh. "I have to look up to everybody else. Like, 'Oh, maybe I'll get there, too.' No, it's great, though. Obviously, you're talking about a staff with really good stuff all around. … It's fun to kind of compete with those guys. You have a good outing, and then the next guy goes out there and tries to have a better outing. It breeds healthy competition."
If things keep going the way they have this year, the unit may turn that team record into a league record. According to the forecasting systems hosted on FanGraphs.com, all four pitchers are projected to finish the season with well over 175 strikeouts apiece, and all but Bauer (188) are projected to finish the year with more than 200.
If, or when, all four hurlers reach 175 punchouts, they would join the 1990 Mets' foursome of David Cone, Dwight Gooden, Frank Viola and Sid Fernandez as the only teams in Major League history to reach such a mark, making them the only team in American League history to do so.
No team has ever had four pitchers breach 200 strikeouts in a season, which the Indians are in reach of accomplishing.
Only three teams -- the 1967 Twins, 1969 Astros and 2013 Tigers -- have ever had three starters tally 200 strikeouts, as Kluber, Carrasco and Salazar are projected to do.
Francona noted that while the gaudy strikeout totals are notable on their own, it's the rotation's ability to limit walks as well that makes the strikeouts all the more impressive.
Kluber's walk percentage falls within the top 10 of all qualified starters in baseball this year, with Carrasco in the top 20 and Salazar in the top 50.
As a whole, the Indians' rotation currently owns the best single-season strikeout-to-walk percentage in Major League history, and that's with Bauer posting the highest walk rate in the American League.
With all four pitchers under the age of 30 and cost-effective team control potentially through the 2020 season, it's worth wondering how many more records could be broken during the group's tenure.
"I choose to certainly think the glass is half full," Francona said of his young rotation. "The one thing with young pitchers is they need to continue to develop. But from where we sit, we're excited about it because we think they will. Besides Trevor, there's not a lot of walks, either, and Trevor is understanding that when he doesn't walk people, it certainly helps. High strikeouts and low walks are a good stat, especially for young pitchers."
August Fagerstrom is an associate reporter for MLB.com. This story was not subject to the approval of Major League Baseball or its clubs.