Experience tops Seattle's criteria for new GM
Ability to build a knowledgeable team also among priorities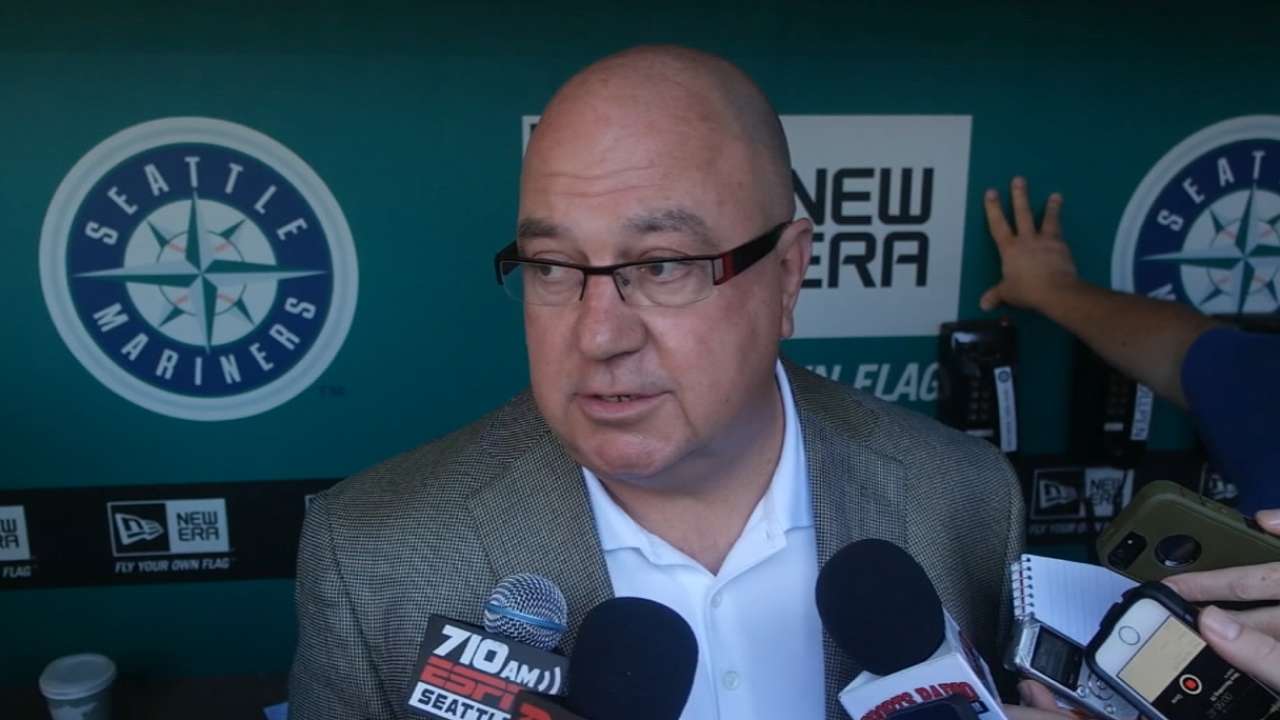 SEATTLE -- Now that the Mariners have made the decision to replace general manager Jack Zduriencik, the obvious question is what now?
For team president and chief operating officer Kevin Mather, the process of hiring the ninth GM in franchise history looms as the biggest challenge he's faced since he replaced Chuck Armstrong a year and a half ago.
Mather, who has been with the Mariners since 1996 on the business side of the front office, understands that he's not the know-it-all when it comes to baseball operations. His task is hiring a general manager who brings that expertise.
But perhaps just as critically, he's looking for a GM who also understands he doesn't have all the answers either and needs to surround himself with -- and then listen to -- people who are experts in their own parts of the puzzle.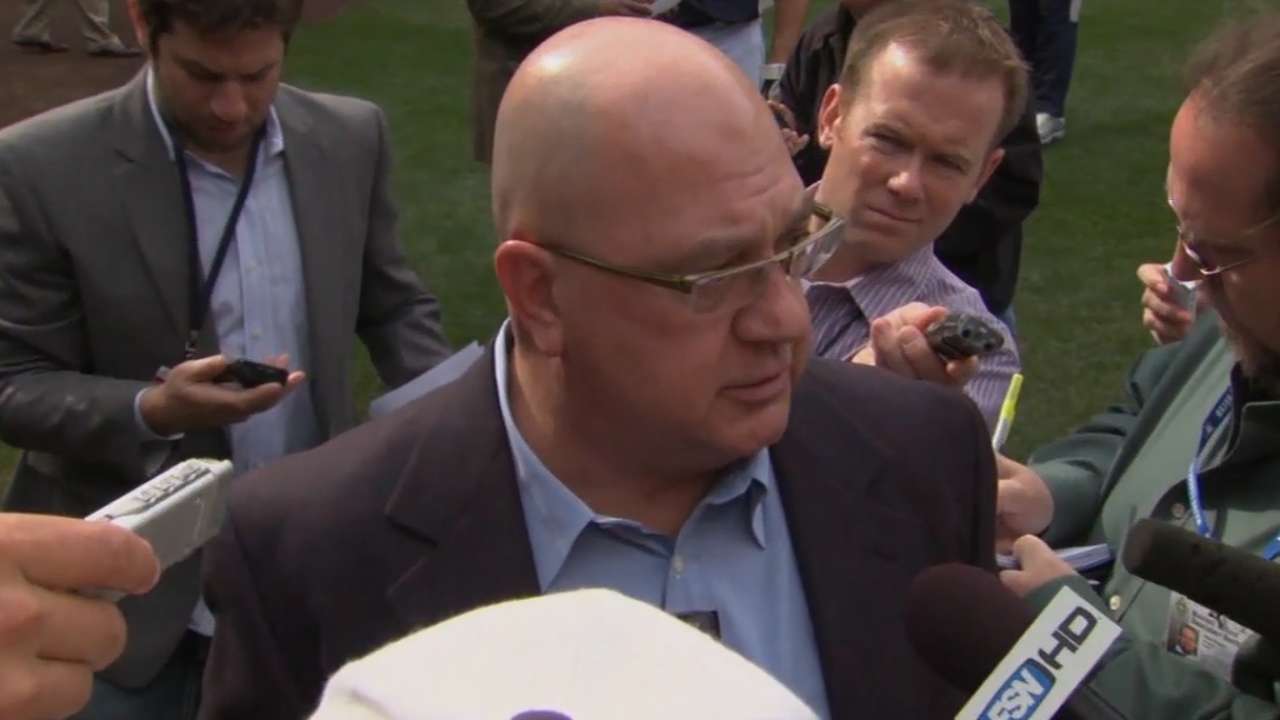 "What I'm looking for is someone who knows you need analytics and good scouts on the ground and good affiliates, good international signings and all those things," Mather said. "And perhaps more important, someone who knows they're not smart enough to think they know it all."
Mather will employ that philosophy himself in the coming weeks as he looks to land the right GM. He's already called the Commissioner's Office to ask for its input on top candidates and won't be afraid to seek opinions from others he trusts in the game.
"I'll be open-minded and open-eared," he said.
Zduriencik came to the Mariners with a background in scouting with the Brewers, but the trend now is clearly toward more sabermetrically-focused front offices. Mather believes both aspects are important. Mather's only stated preference is for a GM who already has run or helped run a franchise.
"I do think this club is in a very good spot," he said. "The nucleus is here and I'd lean toward an experienced GM or assistant GM who has had a heavy hand in the operations. I don't want to hire someone who is going to learn on the job for the next two to three years."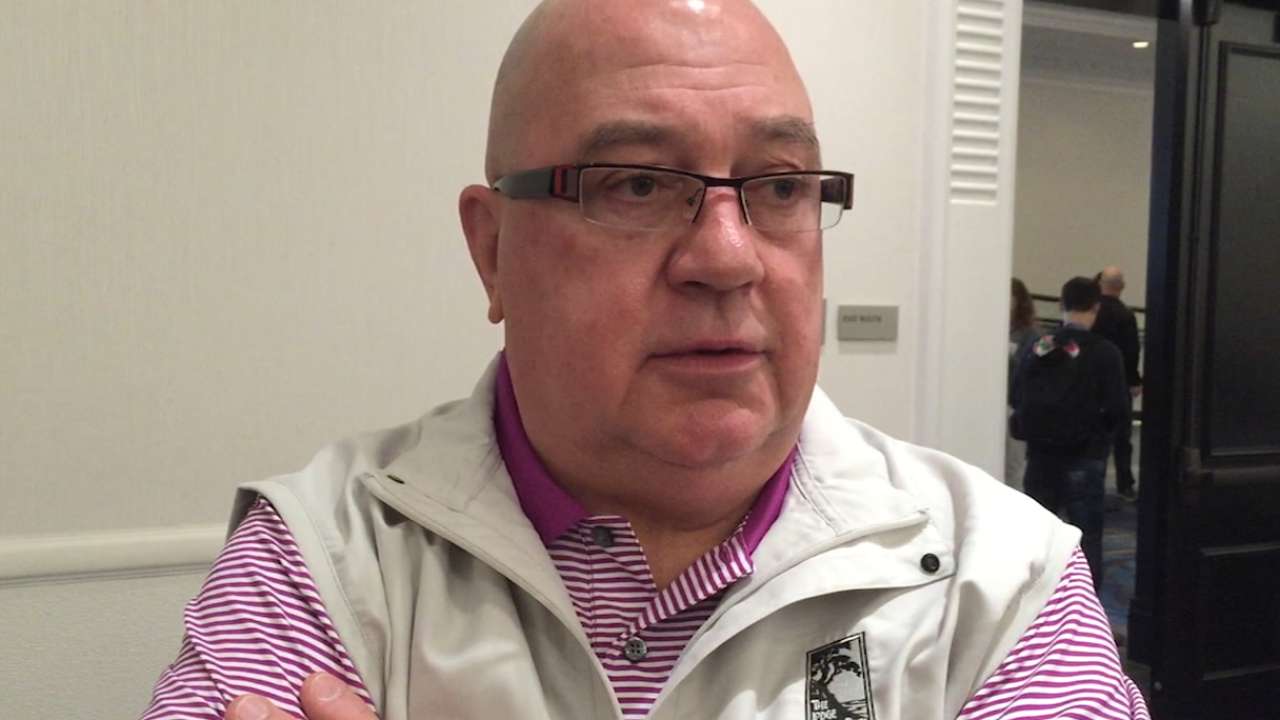 So who is available who fits that mold? Here are nine experienced GMs who might be candidates:
• Jerry Dipoto, 47, resigned after 3 1/2 seasons as the Angels' GM two months ago. Dipoto pushed for increased use of analytics and oversaw a team that won an MLB-leading 98 games last year, but stepped down amid reports of conflict with 16-year manager Mike Scioscia.
• Kevin Towers, 53, was GM of the Padres from 1995-2009 and the D-backs from 2010-14.He's currently working as a special assistant for player personnel with the Reds and is well-respected in baseball circles. His teams reached the playoffs five times and the World Series once in his tenure.
• Dan O'Dowd, 55, was GM of the Rockies from 1999-2014 and though Colorado had just four winning seasons in that span, did take that franchise to the World Series in 2007. He's now working as a studio analyst for MLB Network.
• Frank Wren, 57, was GM of the Orioles from 1998-99 and the Braves from 2007-14. He worked 15 years with the Braves, the last seven as GM, and the club made the playoffs in three of those seven seasons before he was replaced by John Hart.
• Ben Cherington, 41, had a very tumultuous four-year run with the Red Sox from 2011-14 during which Boston won a World Series, but finished last in the American League East twice and was struggling again this season when Cherington resigned two weeks ago after long-time Tigers GM Dave Dombroski was hired to run the show.
• Jim Hendry, 60, was GM of the Cubs from 2002-11 and led them to three postseason appearances and had an overall record of 749-748. He's currently a special assistant to Yankees GM Brian Cashman.
• Larry Beinfest, 51, began his front-office career with the Mariners from 1989-2000, working his way up through scouting and personnel departments and eventually becoming assistant VP of baseball operations. He was named GM of the Marlins in 2002 and had five winning seasons -- including a World Series title in 2003 -- and was well regarded for dealing with some difficult situations before being fired in 2013.
• Josh Byrnes, 44, was GM of the D-backs from 2005-10 and Padres from 2011-14. He built a reputation as an active trader and analytics man who had one playoff team in Arizona and is currently is working as VP of baseball operations for the Dodgers.
• Ned Colletti, 61, was GM of the Dodgers from 2006-14 and his teams went 783-674 and made the playoffs five of those nine years with just one losing season with a team with one of the highest payrolls in baseball. He's now working as a senior adviser in the Dodgers' front office.
There are also a number of well-regarded assistant GMs -- names like Thad Levine of the Rangers, Billy Eppler of the Yankees, Jason McLeod of the Cubs and Michael Girsch of the Cardinals -- who certainly could warrant interest if the Mariners choose to expand their search that direction.
Mather said he expects the list of candidates to grow in the next month as he travels the country doing interviews before narrowing the field and zeroing in on a couple finalists in early October.
Greg Johns is a reporter for MLB.com. Follow him on Twitter @GregJohnsMLB, read his Mariners Musings blog, and listen to his podcast. This story was not subject to the approval of Major League Baseball or its clubs.