Howard finding success facing only righties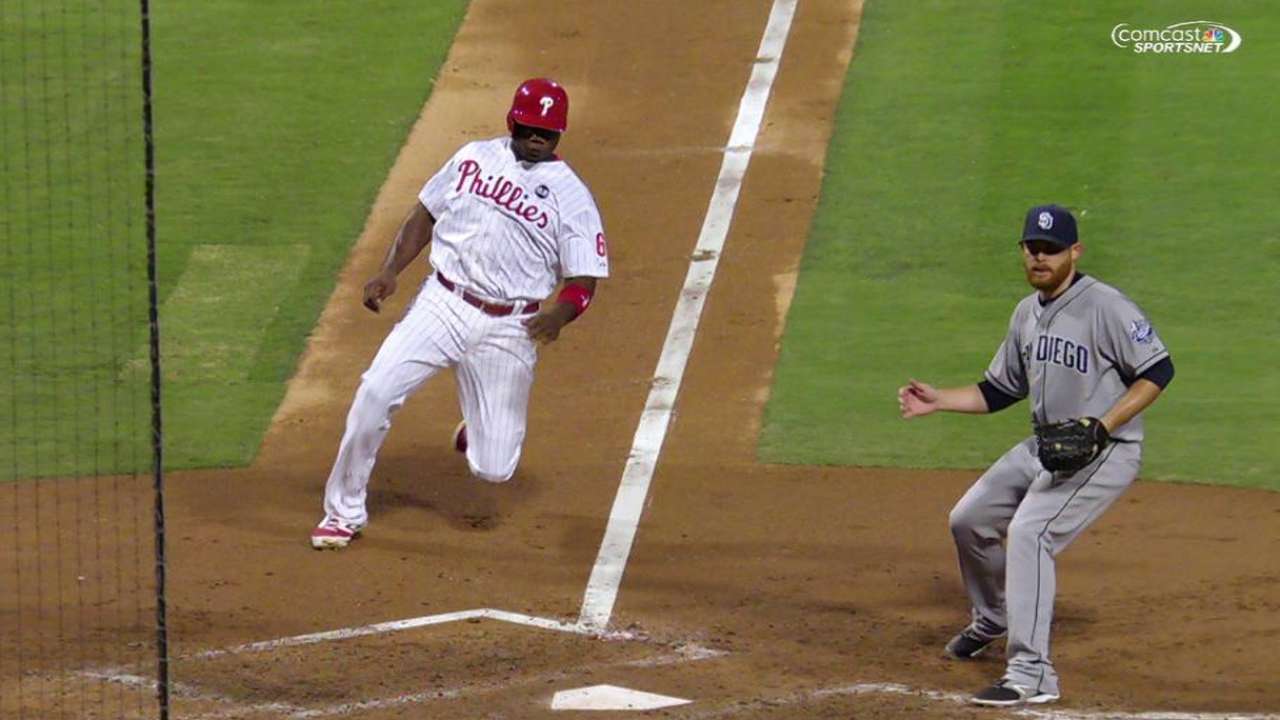 PHILADELPHIA -- And then there were two.
Phillies first baseman Ryan Howard said that earlier this month, when the Phillies traded Chase Utley to the Dodgers. It left Howard and Carlos Ruiz as the only two remaining members of the 2008 World Series championship team.
But as the Phillies have transitioned into a younger team, Howard has quietly put up some good numbers for almost two months. After Saturday night's 4-3 win against the Padres, he is now hitting .294 (42-for-143) with nine doubles, eight home runs, 34 RBIs in 40 games since July 5.
Is that a matter of Howard maybe being a streaky hitter? Or could it be something else?
"Howie will probably disagree with me," Phillies interim manager Pete Mackanin said, "but I think it's because he's not facing as many left-handed pitchers. I think he feels more comfortable. I think if you can take that out of the equation then you don't have to worry about it."
Howard has started against just two left-handers since July 5. He is hitting .273 with an .839 OPS against right-handers this season, but .138 with a .443 OPS against left-handers.
Howard's OPS against right-handers ranks 42nd out of 156 qualified hitters in baseball this season, which makes him a pretty good threat. One would think a contender in need of a left-handed bat would be interested in him, if the Phillies agreed to pay the vast majority of the remaining $35 million-plus on his contract ($25 million in salary next season, plus a $10 million buyout on a 2017 club option). But the Phillies have received little to no interest.
"If you take that .138 out of your batting average you're going to be up to .270 where you belong and you're more confident," Mackanin said he told Howard. "And then the occasional lefty you face you're going to have that confidence and not worry about what he's going to throw me this time. Just go up there feeling confident.
"I know for a fact because I didn't have that confidence very often in my career, but when you go up there and you know you're going to get a hit, it makes all of the difference in the world."
Todd Zolecki is a reporter for MLB.com. Read his Phillies blog The Zo Zone, follow him on Twitter and listen to his podcast. This story was not subject to the approval of Major League Baseball or its clubs.