Tomlinson filling in nicely for injured Panik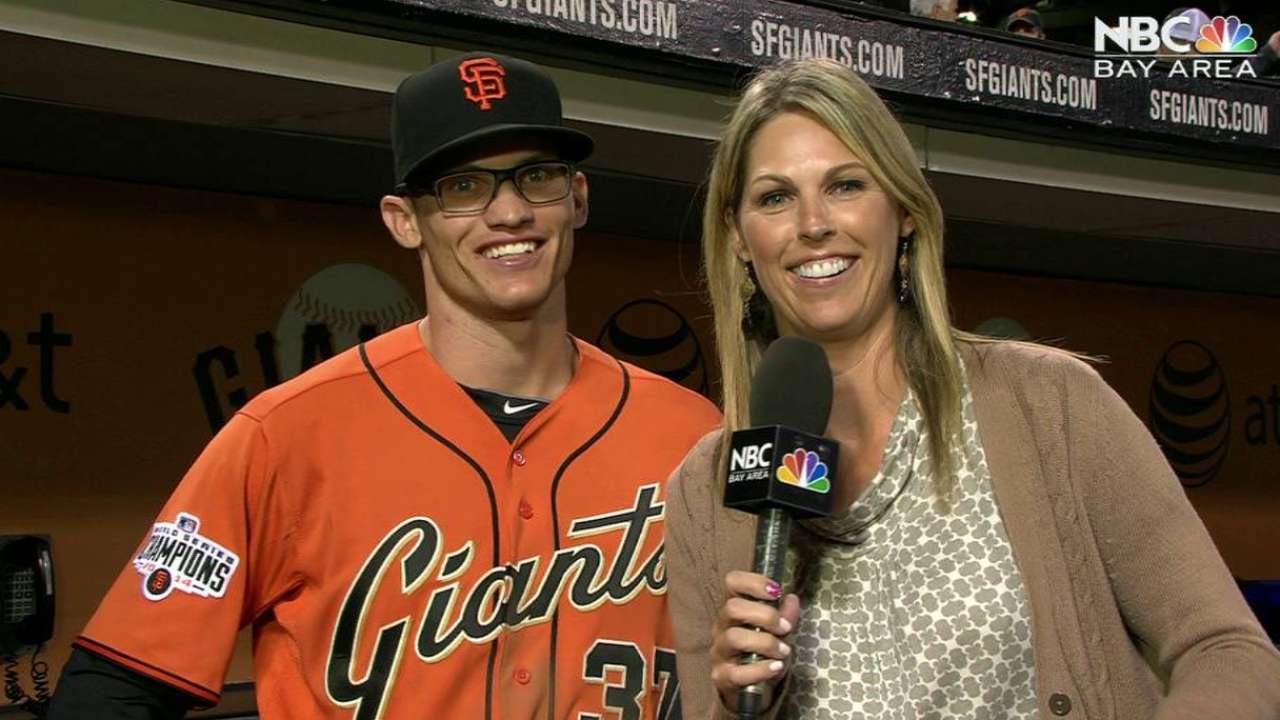 SAN FRANCISCO -- In the days leading up to the July 31 non-waiver Trade Deadline, rumors swirled that the Giants were attempting to acquire veteran second baseman Chase Utley from the Phillies.
Those negotiations ultimately fell through and Utley ended up being dealt to the Los Angeles Dodgers, the last place the Giants had hoped to see him go.
But the days of trying to look outside of the organization for a temporary replacement for the injured Joe Panik (lower back stiffness) are in the past. The Giants' answer to fill the void at second base was in Triple-A Sacramento all along.
Kelby Tomlinson, 25, was called up in early August and has looked every bit the part of a Major Leaguer.
"He just seems comfortable here," manager Bruce Bochy said Friday.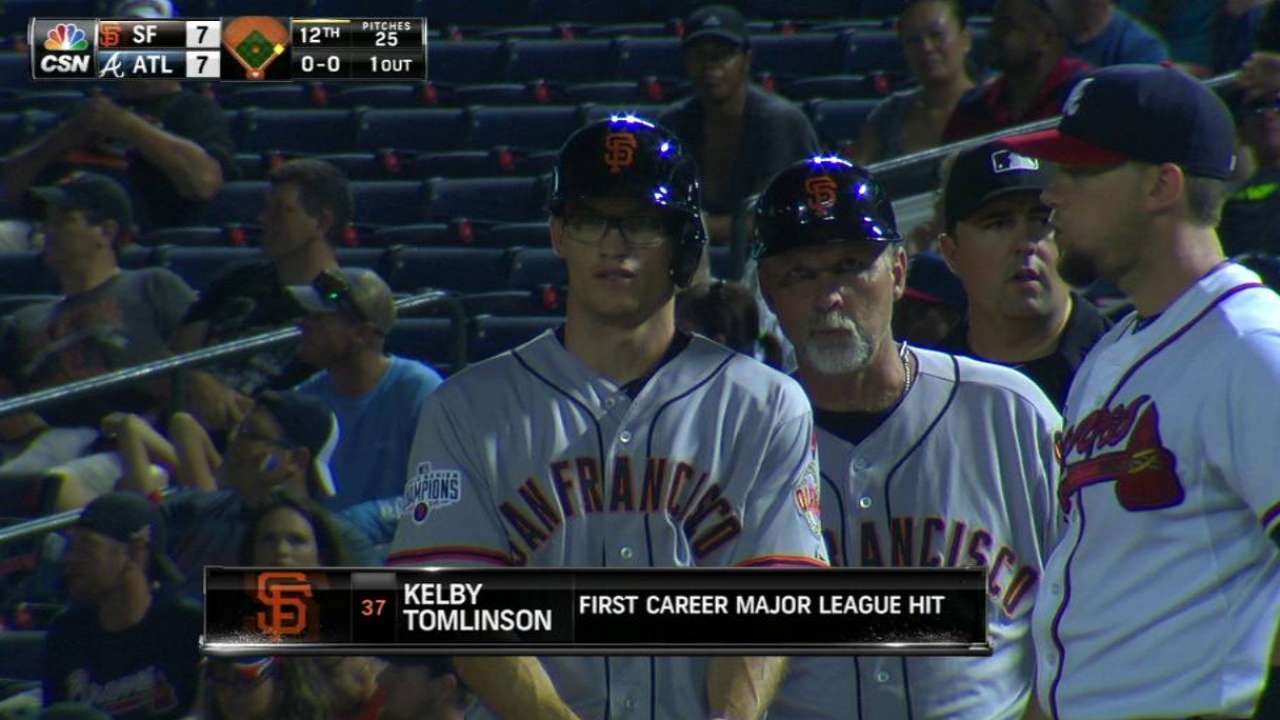 He singled in his first career at-bat, a pinch-hit appearance in the 12th inning in which he eventually came in to score a go-ahead run in a 9-8 loss to Atlanta on Aug. 3.
He played a key role in the Giants' 4-2 win over the Cubs on Wednesday, beating out a fielder's choice at second base that allowed the tying run to score and later smacking an RBI double to give San Francisco an insurance run.
On Thursday, Tomlinson notched his first career home run, a grand slam that came on a good curveball from Cubs reliever James Russell. Tomlinson just put a better swing on it and drove it over the left-field wall.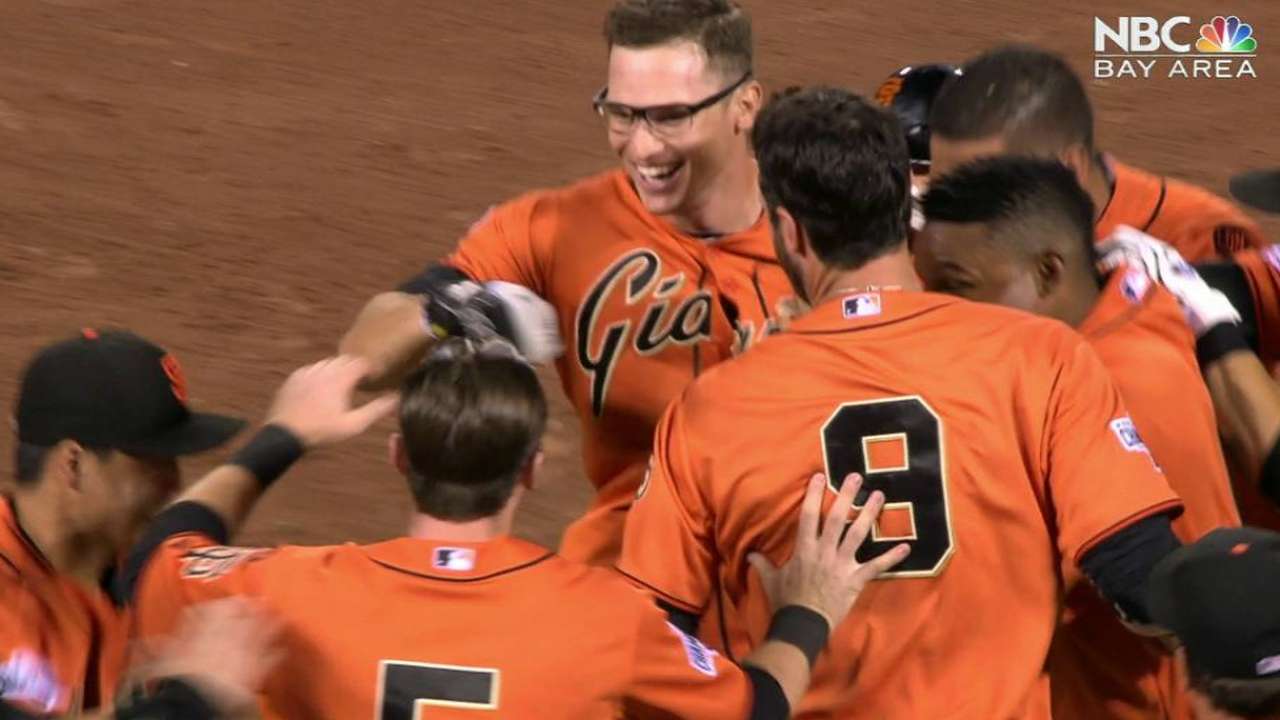 Friday was perhaps the biggest moment in Tomlinson's short career, as he knocked a walk-off single in the ninth inning to propel the Giants to a 5-4 win over the Cardinals. Tomlinson, though, has learned to stay collected in pressure situations.
"You just take care of what your job is in that particular at-bat, don't treat that at-bat differently," Tomlinson said. "It kind of takes the pressure away from itself."
Tomlinson is a major reason why the Giants have climbed back into the National League Wild Card race and kept pace with the Dodgers for first place in the NL West.
Entering Saturday, the rookie had hit safely in 13 of his last 14 games, batting .395 over that stretch. He had hit .364 with 12 RBIs in 21 games filling in for the injured Panik.
Even when Panik does eventually return from the disabled list, Tomlinson has paved his own way to find a spot in the lineup, Bochy said.
"If a guy is playing the way he is, you try to find him all the playing time you can," Bochy said after Friday's win. "He's earned it. ... He's going to be out there for a while."
• Brandon Crawford took swings in the batting cage Saturday, but Bochy said he doesn't yet know if his shortstop will be ready to return for the Giants' upcoming series with the Dodgers.
Oliver Macklin is an associate reporter for MLB.com. This story was not subject to the approval of Major League Baseball or its clubs.