Papi doubles off bench, intends to play Sunday
Hanley out with sore right shoulder; Hanigan scratched with sore right calf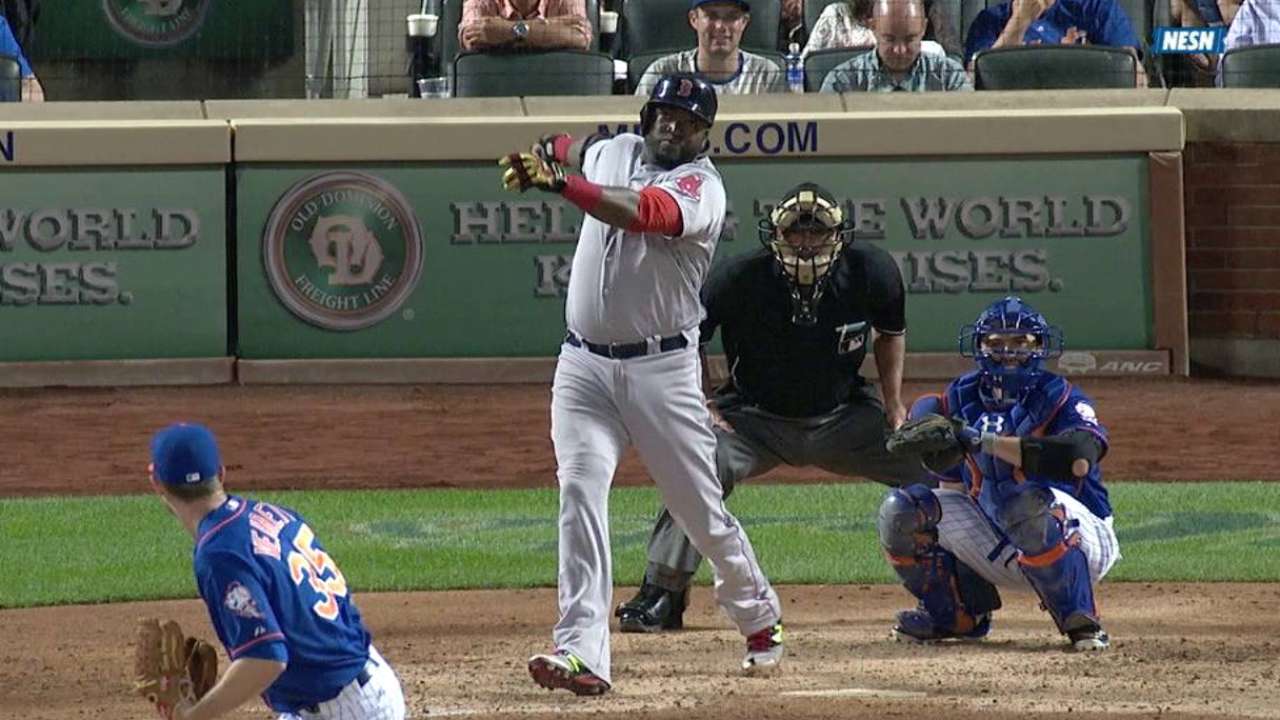 NEW YORK -- Mark it down as one of the shortest work days in David Ortiz's career. The slugger stepped up as a pinch-hitter in the top of the ninth inning in Saturday's 3-1 win over the Mets and smoked a double off the fence in center on the first pitch he saw from Bartolo Colon. He was then removed for pinch-runner Rusney Castillo.
Ortiz didn't start on Saturday after leaving Friday's game with some left heel tightness. He felt the heel a little on the double.
But it is Ortiz's intention to be in the lineup on Sunday.
"My left heel kind of tightened up on me yesterday," Ortiz said. "It's not bad. It's just been tight for the last couple of days, that's why I decided not to play the last day in Chicago. Yesterday, I guess just being out there and moving around doing things, it kind of tightened up on me.
"Today it's feeling better. Then I came to hit and hit that ball like that, it was on the other side of the fence for a minute. When I took off running, it kind of tightened up on me just a little bit, but it's not bad."
Hanley Ramirez also missed his second straight game with a right shoulder ailment.
"I think he's just going to go through some basic baseball progression today to see if he can test out the shoulder, just right shoulder soreness," said interim manager Torey Lovullo. "And you get to this point of the year, all these kinds of injuries, all these nagging little things, are very typical for these athletes. My gut feel is he's going to be ready to play sooner than later. I know that he wants to play but I think we just have to be smart moving forward."
Ramirez started working out at first base earlier this week in an effort to transition to that position, but those plans will be delayed until he returns to health.
"You'll see him out there taking some ground balls at first base," Lovullo said. "We're just going to give his body a chance to rest and catch up. They're not related. The first-base work did not lead to the shoulder issue."
In other injury news, catcher Ryan Hanigan was originally in Saturday's lineup before being scratched with a sore right calf. Blake Swihart started behind the plate in his place.
Ian Browne is a reporter for MLB.com. Read his blog, Brownie Points, follow him on Twitter @IanMBrowne and listen to his podcast. This story was not subject to the approval of Major League Baseball or its clubs.