Many positives for Wisler in loss to Yankees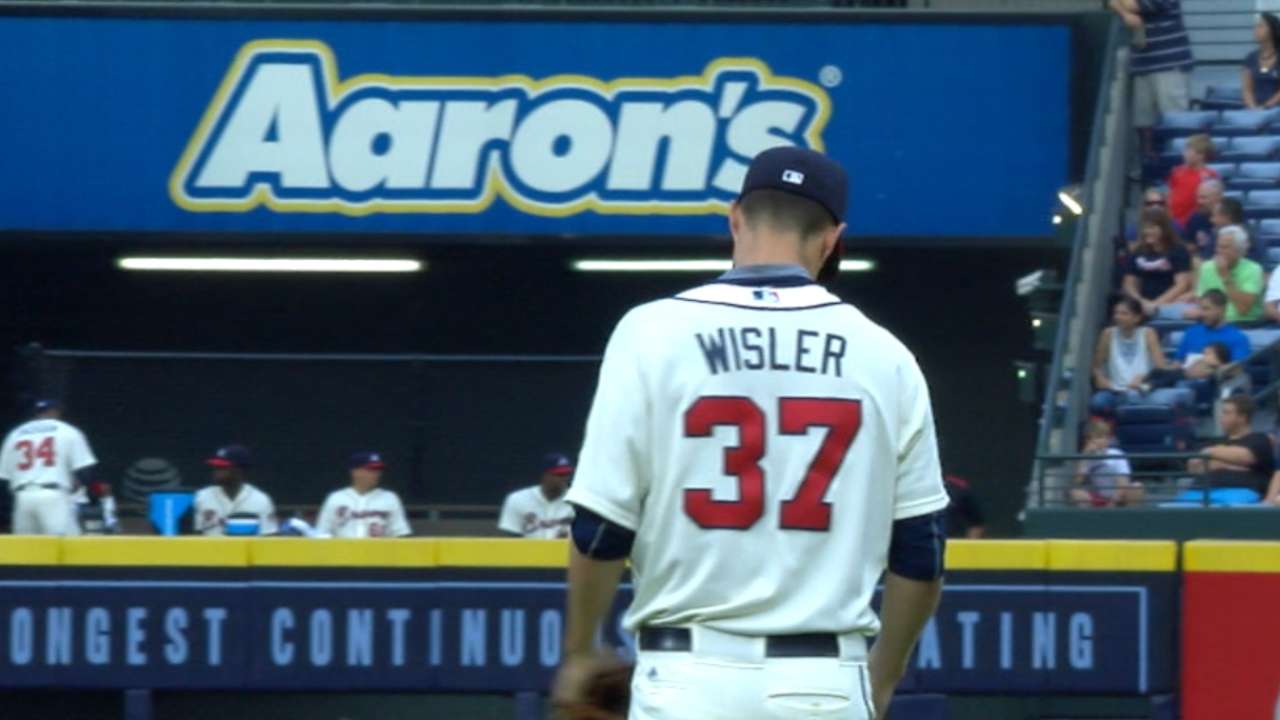 ATLANTA -- Matt Wisler will not have many fond memories of his first August at the Major League level. But the Braves rookie ended the month on a positive note as he produced an encouraging performance during Saturday night's 3-1 Braves loss to the Yankees at Turner Field.
After teetering during a 30-pitch first inning, Wisler did not show any signs of being fazed by the fact that he was making his first career appearance against the Yankees in front of a sold-out crowd. The 22-year-old right-hander pitched into the seventh inning for the first time in more than a month and surrendered just two runs, both which might have been prevented with some defensive assistance.
"You can't ask for anything more from him," Braves manager Fredi Gonzalez said. "He settled down and he was really good. You can't pick at anything he did. Actually, you've got to give him some kudos. He got out of it after that 30-pitch first inning. You've got to tip your hat there."
After completing seven strong innings during a July 26 win in St. Louis, Wisler produced a 9.15 ERA through his first five August starts. Inconsistent command hindered him as he completed more than five innings just once during a span that was lowlighted last weekend at Wrigley Field, when he allowed four homers in just 2 2/3 innings.
But while facing the Yankees, Wisler looked more like he had when he came to the Major League level in June and produced a 3.10 ERA in the five starts he made before the All-Star break. Still, he was not happy with the four walks he issued Saturday, especially the two the Yankees drew with two outs in the first inning.
After issuing the consecutive walks to load the bases, Wisler allowed the game's first run to score when he spiked a 0-2, back-foot slider that catcher Christian Bethancourt was unable to keep in front of him.
"I think it just took a weird hop out of the ground," Wisler said. "There is nothing you can really do about that. I think it just kind of spiked. It was a back-foot slider, and I think I just threw it in there too far. It just kind of spiked up and kicked off [Bethancourt]."
Wisler surrendered just one more hit over the next five innings. But he exited after allowing Chase Headley and Didi Gregorius to begin the seventh inning with consecutive doubles. Braves center fielder Cameron Maybin got turned around and consequently was unable to snare Headley's double before it hit off the center-field wall.
"We kind of got turned around on the ball in center field a little bit," Gonzalez said. "I don't know if the wind took it from [Maybin] a little bit, and then all of the sudden [Wisler] gives up another run. But for me, he did a lot of good stuff today."
Wisler was encouraged by the results he garnered against a Yankees lineup that included eight left-handed hitters. During his previous five starts this month, the young hurler had allowed lefties to hit .458 and produce a .529 on-base percentage against him.
"My Achilles' heel my whole career has been the lefties," Wisler said. "So to go out there and do what I did against that many lefties, I am pretty happy."
Mark Bowman is a reporter for MLB.com. This story was not subject to the approval of Major League Baseball or its clubs.