Braves option Perez, leaving rotation vacancy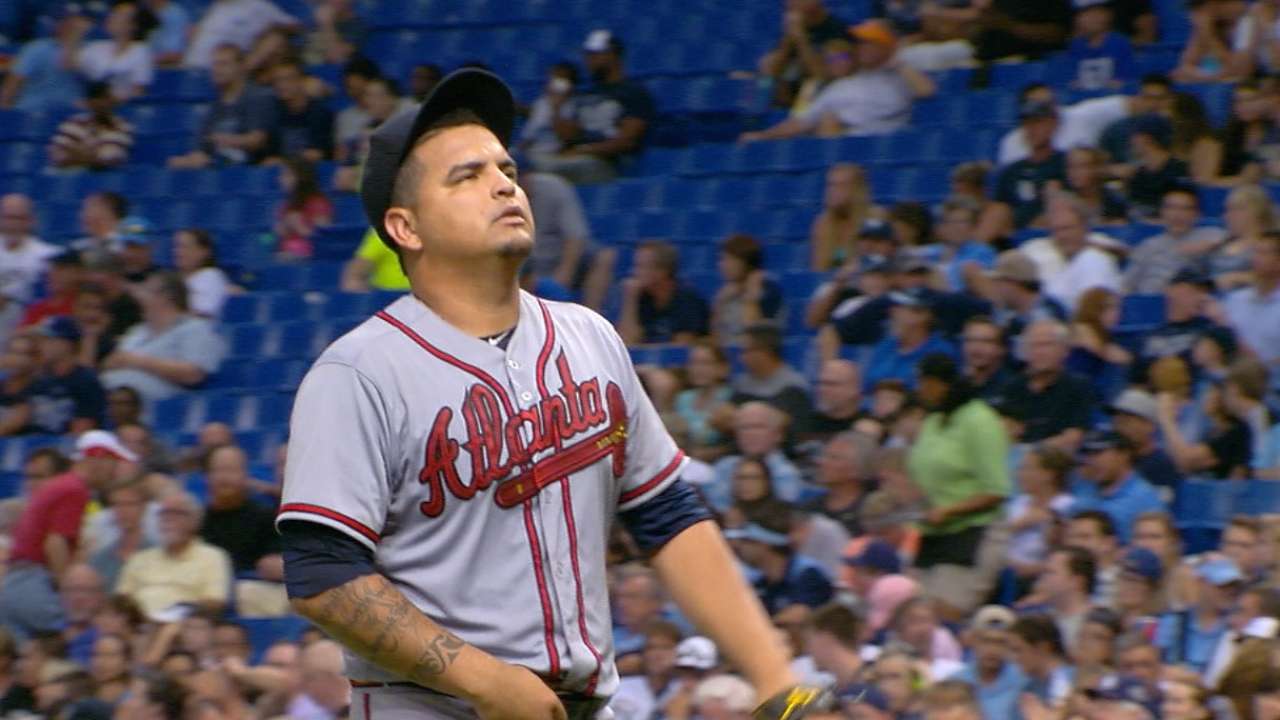 ATLANTA -- Braves manager Fredi Gonzalez was noncommittal when asked whether he needed to alter his rotation after Williams Perez allowed eight earned runs in just 1 2/3 innings during Friday night's 15-4 loss to the Yankees.
But by Saturday afternoon, the Braves had optioned Perez to Triple-A Gwinnett, despite the fact that they do not have a logical option to replace him in Atlanta's rotation. This move was influenced by the 9.87 ERA Perez has produced over his past six starts and the fact that his struggles have taxed a bullpen that came into Saturday night's game vs. New York having worked 20 2/3 innings dating back to Sunday.
To fill Perez's next scheduled start against the Marlins on Wednesday afternoon, the Braves will either piggyback a group of relievers or take advantage of the fact that both Jake Brigham and Sugar Ray Marimon have recently been stretched out while pitching for Gwinnett.
If the Braves opt to pair a couple pitchers to pitch a few innings apiece on Wednesday, they could opt to start veteran Edwin Jackson or rookie Manny Banuelos, who will rejoin Atlanta when Major League rosters expand on Tuesday.
Banuelos has not thrown more than two innings or 27 pitches in a game since going on the disabled list on July 28 with a bone chip in his left elbow. Likewise, Jackson has not thrown more than 29 pitches in any of the six relief appearances he has made since the All-Star break.
Still, if the Braves get through Shelby Miller's start on Tuesday night with their bullpen in relatively good shape, they could enter Wednesday's game with the hope of getting up to three innings from both Jackson and Banuelos.
Or they could opt to provide a first career start to either Marimon or Brigham, who was recalled from Gwinnett on Saturday to fill Perez's roster spot.
Brigham completed five innings and threw 70 pitches for Gwinnett on Monday. Marimon completed at least six innings in each of the final three starts he made for Gwinnett this month.
Though Perez surprised many when he posted a 2.27 ERA through his first eight career starts, the 86-percent strand rate he produced during this span provided indication that he could not sustain the stretch of good fortune. That proved true as he allowed at least five earned runs in four of the six starts he made after returning on July 31 from a month-long stint on the disabled list (bruised left foot).
Perez will likely rejoin Atlanta's roster once Gwinnett's season concludes. At that time, the Braves will determine whether to use him as a starter or reliever.
Mark Bowman is a reporter for MLB.com. This story was not subject to the approval of Major League Baseball or its clubs.