Bridgeport leaders happy to see kids Play Ball
Senator Blumenthal, Mayor Finch and ex-big leaguer Echevarria speak at camp
BRIDGEPORT, CT -- The Play Ball initiative wound its way to one of its final cities on Saturday, when Bridgeport went above and beyond the call of participation. Bridgeport, the largest city in Connecticut, staged free instructional clinics at four area fields to celebrate youth participation in baseball.
One of the clinics -- the one held at Freedom Park -- brought some distinguished guests to be part of the proceedings. Senator Richard Blumenthal attended the clinic and spoke briefly to the kids, as did Mayor Bill Finch and Angel Echevarria, a former big leaguer who grew up in Bridgeport decades ago.
• Play Ball gallery
Freedom Park is one of 12 new fields built in Bridgeport over the past few years, and Mayor Finch said it's been a city priority to invest more resources in youth sports. Tens of thousands of kids may ultimately be impacted by the renovations, and Finch said he was thrilled to be part of the Play Ball agenda.
"When Major League Baseball said they wanted to do the Play Ball initiative, it fit right into our initiative to get kids off computers," said Finch before he addressed the kids. "We love it when they're in class and they have computers. But when they're out of class, we really want them to play and learn the lessons of life you learn in baseball. You learn teamwork, and there's nine players, and every one is just as important. The team is only as strong as its weakest link, and everybody's got to support each other."
Finch picked up on that theme when he addressed the children, and he joked that the other sports were invented to help pass time between the World Series and Spring Training. Senator Blumenthal made his own remarks, saying that he hopes the kids value their time on the field and in the classroom.
"There's nothing like baseball. Especially at this time of the year, because this is when the races begin narrowing and people start thinking about the playoffs and World Series," he said to the assembled children. "What's more exciting than baseball? I'm willing to bet that we have in this group at least one person -- one young man or woman -- who could grow up to play Major League Baseball."
Echevarria, who batted .280 and played for the Rockies, Brewers and Cubs during his big league career, could speak to that very phenomenon. Echevarria went to high school in Bridgeport before carrying on to Rutgers University and professional baseball, and he told the kids they could follow his path.
But first, he said, they had to believe in themselves. Echevarria told the children that nobody believed in his baseball future when he was a kid, so he made up for it by believing in himself. Now 44 years old and 13 years removed from his last big league season, Echevarria values his time as a role model.
"This is definitely a pleasure for me," said Echevarria. "When they call me and say they've got a clinic going, I say, 'Of course, You know you can count on me if I have the time.' And I always make time to do things like this, because I think it's important for these kids to realize that if they want to be a Major Leaguer, hey, I grew up on these streets as well. And it can happen if you just put your mind to it."
Approximately 200 kids came out to the four Bridgeport clinics on Saturday, taking advantage of the spacious field-turf facilities that have cropped up around town over the past few years. Finch said that Bridgeport has also built water parks in town in order to get the kids outside even more.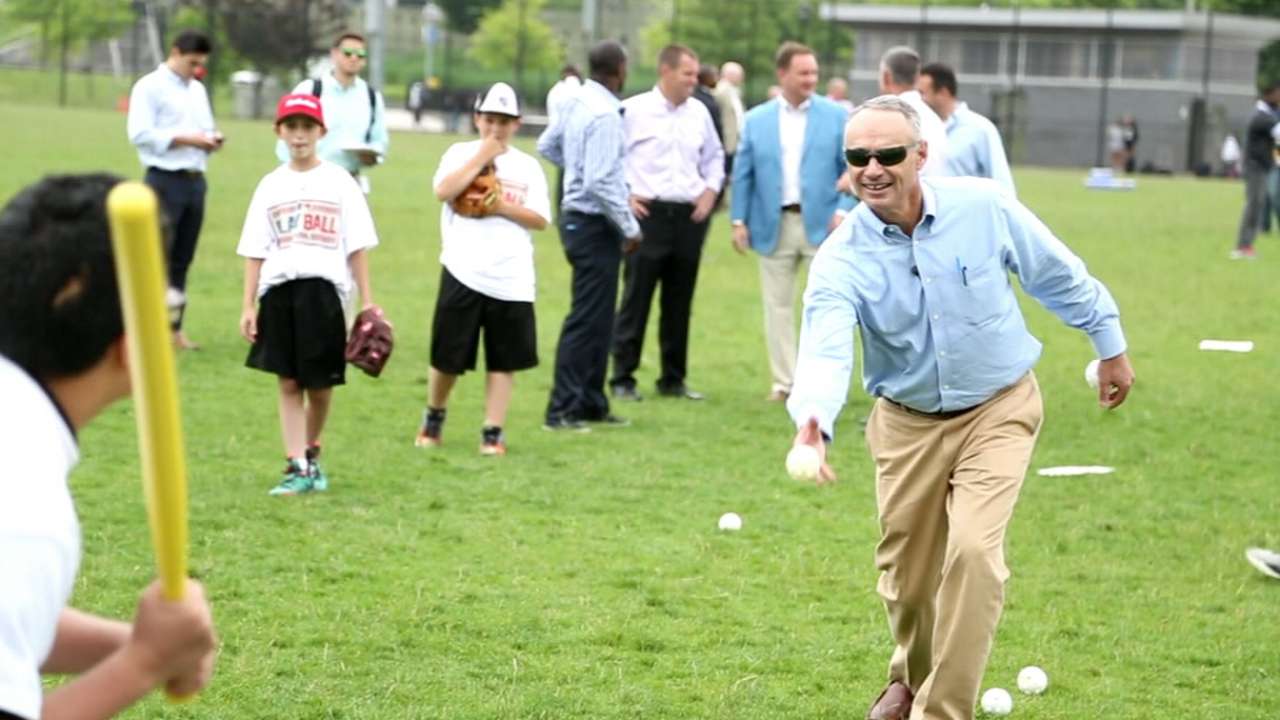 Bridgeport has a thriving Little League program and two competing leagues for young kids to play football. Finch said that sports are important -- if only to make sure that the kids stay active.
"It's an epidemic that we see as parents," said Finch. "We see kids getting heavier, we see them getting less sunshine and exercise. We see them playing together less. These fields are magnets. ... This summer was really a tipping point, which is why we were so happy to do MLB Play Ball. We've just seen a lot more outside activity this year than before, because we made places for it to happen."
The kids, all between the ages of 5-10, received a free Play Ball shirt as part of the clinic, and they got free vouchers to see the hometown Bridgeport Bluefish of the independent Atlantic League. They also got a rare chance to work with Echevarria and hands-on instructors from the local Bridgeport Caribe Youth Leaders.
The dream, for many of these kids, might be to play on their high school team or even in college. Echevarria, who has been to the mountaintop and back, said he wants the children to think of him as approachable, but more importantly, he wants them to see their own goals as attainable.
"Many of them have seen my face so many times. I'm just the normal Angel from around the neighborhood," said Echevarria. "But it's always a treat to come out, because you always want to be able to inspire kids to dream, whether it's MLB or whatever else they want to achieve. Baseball is just an avenue. I talk a lot more about life situations than just baseball, and I think that's really important."
Spencer Fordin is a reporter for MLB.com. This story was not subject to the approval of Major League Baseball or its clubs.