MLB.com Columnist
Hal Bodley
Yost's use of superb 'pen changing baseball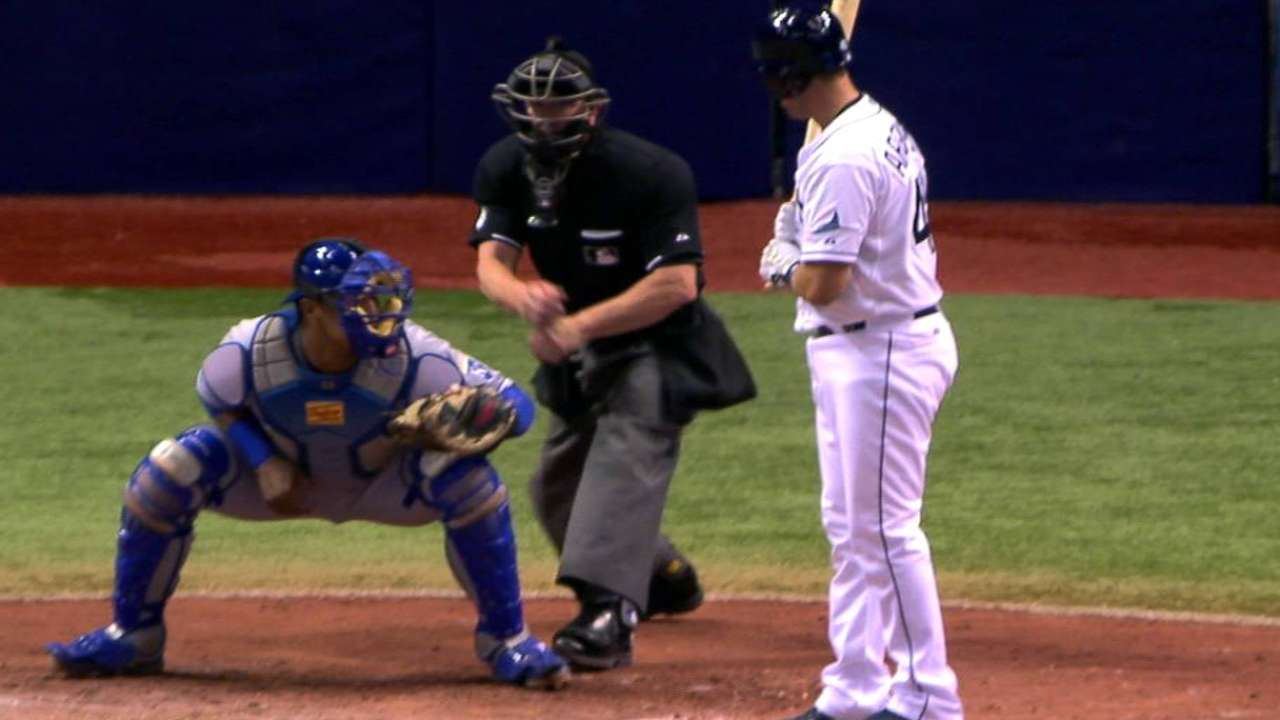 ST. PETERSBURG -- It's not exactly revolutionary, but the high-flying Kansas City Royals are changing the face of baseball with the way manager Ned Yost uses his talented bullpen. Other teams are adopting the successful formula, and I wouldn't be a bit surprised if in seasons to come, it becomes the accepted way, just like today's widely used defensive shifts.
For the Royals, it's known as HDH -- flame-thrower Kelvin Herrera in the seventh inning, dominant Wade Davis in the eighth and closer Greg Holland in the ninth. Opponents better attack Kansas City in the first six innings, because with HDH, it's lights out. Each late-inning reliever has a role, and each is essentially a closer in his assigned frame.
Complete games are a thing of the past -- Royals starters have just two in their 128 games -- but I believe we're seeing an era where starting pitchers will be asked to go just six innings.
When Kansas City eked out a 3-2 victory over Tampa Bay on Friday night, it moved to 30 games over .500, the first time since 1980 -- when the Royals finished 97-65 and went to the World Series -- that the club had established such a margin.
And it's no surprise the Royals' vaunted bullpen leads the American League with a 2.37 ERA heading into play Saturday, including a 1.58 ERA in the past 11 games.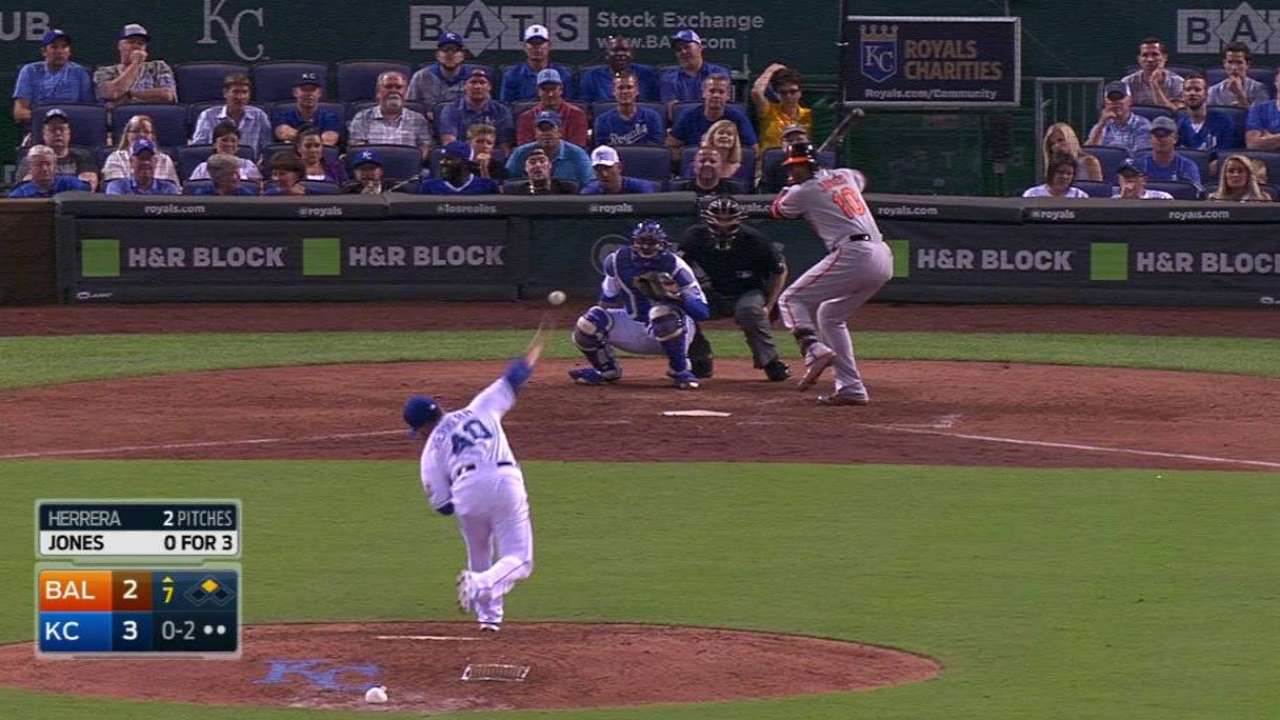 According to Rays manager Kevin Cash, who leans on his own 'pen heavily, "[The Royals] have tremendous confidence in their bullpen. That's not slighting anything the starting rotation does, but I do see it is trending that way. Look at the way teams are shifting [defensively] now. Teams are going to be aggressive with their bullpens. The Royals have an elite staff, and each of them is asked to get three outs."
Yost takes it a step further.
"Not only the bullpen, but I believe a lot of the ways [Royals general manager] Dayton Moore has built this team is becoming more of a trend," says Yost. "We have tremendously athletic players who play great defense, a lights-out bullpen and an offensive group that puts the ball in play, doesn't strike out.
"Nothing knocks our eyes out about our team offensively, but we score runs. We put the ball in play; we find ways to put the ball in play in crucial situations."
Is baseball becoming a game of six-inning starting pitchers?
"It is for us," Yost says without hesitation. "You have to look at your own circumstances as a team. For us, when our bullpen is right, it can actually be a five-inning game."
When the need arises, Yost can call on Luke Hochevar, Franklin Morales or Ryan Madson before he goes to the HDH trio. Or use one of them when someone else needs a day off.
"It's hard to lose a game in the seventh, eighth or ninth innings when you have a bullpen as good as ours," Yost says. "Our goal every day is just: Get us by the sixth, and we're in pretty good shape. On days when Davis and Holland have thrown two days back-to-back, we've got guys who can cover. We never have to worry about having guys short on a given night."
Friday night at Tropicana Field, starter Edinson Volquez was nursing a 3-2 lead when Rene Rivera walked with two out in the seventh inning. Morales was summoned, and he got the last out. Herrera shut the Rays down in the eighth, and Holland earned his 29th save. The closer needed just seven pitches, striking out Kevin Kiermaier and J.P. Arencibia on three pitches apiece.
"We have the best bullpen in baseball," says Volquez, who leads the Royals with a 12-7 record. "There's a lot of confidence when you leave the game with just a one-run lead."
Herrera, who struck out John Jaso as the radar gun reached close to 100 miles per hour, is 4-2 with a 2.12 ERA. Davis is 7-1 with 12 saves and has a 1.01 ERA in 55 games over 53 2/3 innings. Holland, with his 29 saves, is 3-1 with a 3.83 ERA.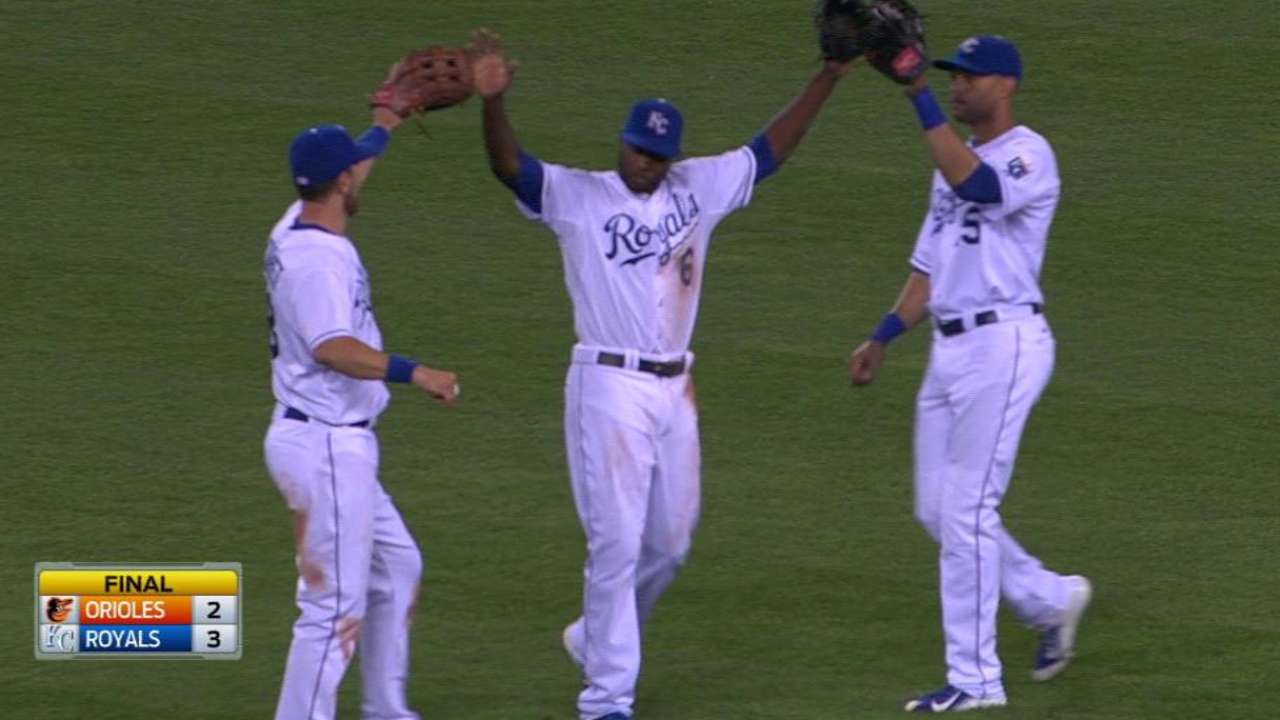 Kansas City, as an AL Wild Card entry, returned to the postseason last year for the first time since 1985, before losing to San Francisco in the World Series. Now, the Royals are arguably the American League's best, leading the Central division by the widest margin of any other first-place team in baseball.
Often, the second time around is more difficult.
"I guess that's true, but it's actually been a lot easier this year, because our guys experienced the postseason last year," says Yost. "They really believed in their ability to get back there. Last year, during the postseason, they finally realized how good they are as a group. Their focus from Day 1 in Spring Training has been to get back to the World Series.
"What has been so amazing to me is they haven't dropped their intensity or their energy -- not one day. We've got a nice lead, but they haven't slowed down. They've exceeded my expectations in the way that they're able to sustain their energy every single day, every single pitch, every single inning of every single game."
Ben Zobrist, the former Rays fan favorite, joined Kansas City in a trade from Oakland on July 28. He's batting .343 in 27 games and says he's energized with the possibility a playing in the postseason.
To Zobrist, the huge division lead is great, but can also be dangerous.
"Obviously, it's good because everyone is playing relaxed and focused on playing each game and not worrying about the standings," Zobrist says. "But when you go down to the end, you want to be playing your best baseball. The important thing is to be healthy and playing well at the very end. We're going to have to win some more games."
Which goes without saying for this juggernaut.
Hal Bodley, dean of American baseball writers, is the senior correspondent for MLB.com. Follow him @halbodley on Twitter. This story was not subject to the approval of Major League Baseball or its clubs.