Fortunes turn for Gray, A's in shaky 6th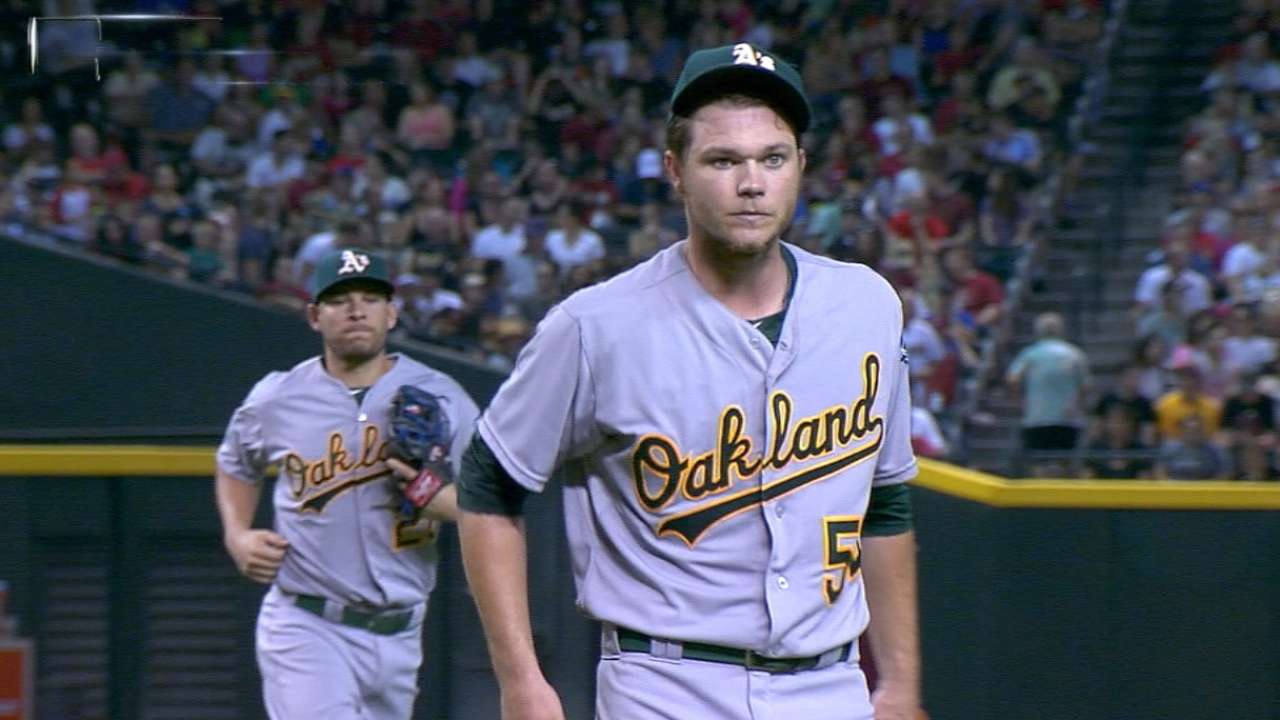 PHOENIX -- The A's were forced to relive several key moments from the sixth inning of Friday's series-opening, 6-4 loss to the D-backs in an attempt to explain just what went wrong in the mistake-laden frame.
Catcher Stephen Vogt shouldered the blame for much of the game-changing events that led Sonny Gray to throw 28 pitches in the inning. Vogt, who had just five passed balls to his name entering the game, committed two in the frame.
The first allowed leadoff man Ender Inciarte to advance to second. Gray struck out A.J. Pollock and got Paul Goldschmidt on strikes, too, except Vogt couldn't handle the third one, a slider that slipped away from him for another passed ball, putting runners at the corners for David Peralta, who got the D-backs on the board with an RBI single.
"For me, that was unacceptable for two of those balls to get by me," Vogt said. "I'm used to Sonny's movement, and there's no excuse for missing two of his pitches, especially when he makes good pitches to get some of the best hitters in the league out.
"We've talked all year how hard it is to give teams four and five outs, and he makes a great pitch to strike out the National League MVP in my opinion, and I can't catch the freaking ball to keep him off first. Obviously I'm very frustrated with myself."
Frustration soon spilled to the outfield, where right fielder Josh Reddick made the second out with a catch near the stands in foul territory. The Gold Glove outfielder's throw to the plate was cut off and dropped by first baseman Mark Canha, allowing Goldschmidt to easily tag up from third and knot the game, 2-2.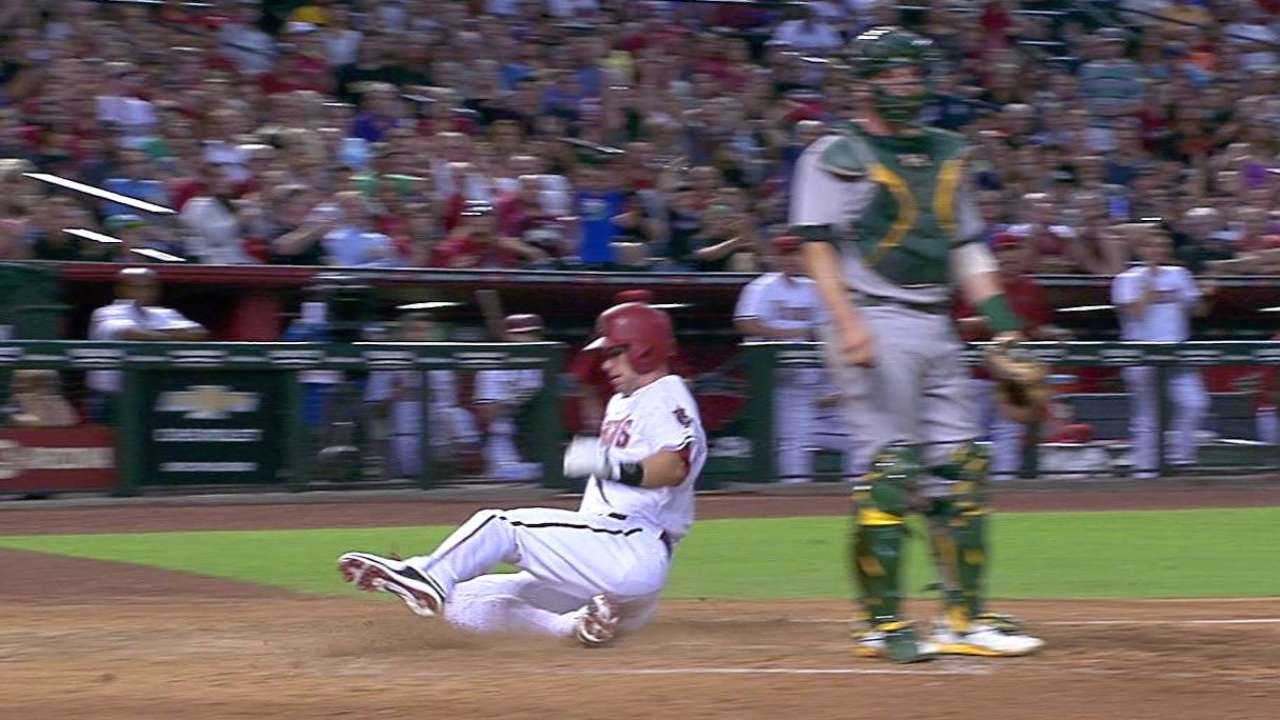 Reddick was visibly upset by Canha's decision to cut off his throw and acknowledged as much after the game.
"Sonny was kind of struggling, so I was just trying to make a play for him," Reddick said. "I never second-guessed myself on catching it.
"I felt like the throw was on line. I looked at it, and from the release it looked pretty good. It may or may not have got him. Everybody saw I wasn't happy with the cutoff. Everybody's in agreement that there's no need to cut that ball off whether he beats it by 10 feet or two feet. You never know when you're going to have a play, and cutting that ball off does nothing."
Manager Bob Melvin, though, said, "It looked like it was off-line." Vogt deemed it "close."
"That's fish out of water territory for a first baseman," Vogt said. "I don't think it's a slam on Mark. It's not, 'How can you cut that ball?' But I do think it was on line and it would've been a close play. Goldschmidt's got some speed, but the long and short of it is is we shouldn't have been in that situation."
Jane Lee is a reporter for MLB.com. Read her blog, Major Lee-ague, and follow her on Twitter @JaneMLB. This story was not subject to the approval of Major League Baseball or its clubs.