Goldy's big hustle play after K earns praise
D-backs 1B also slugs 466-foot HR to cap rally over A's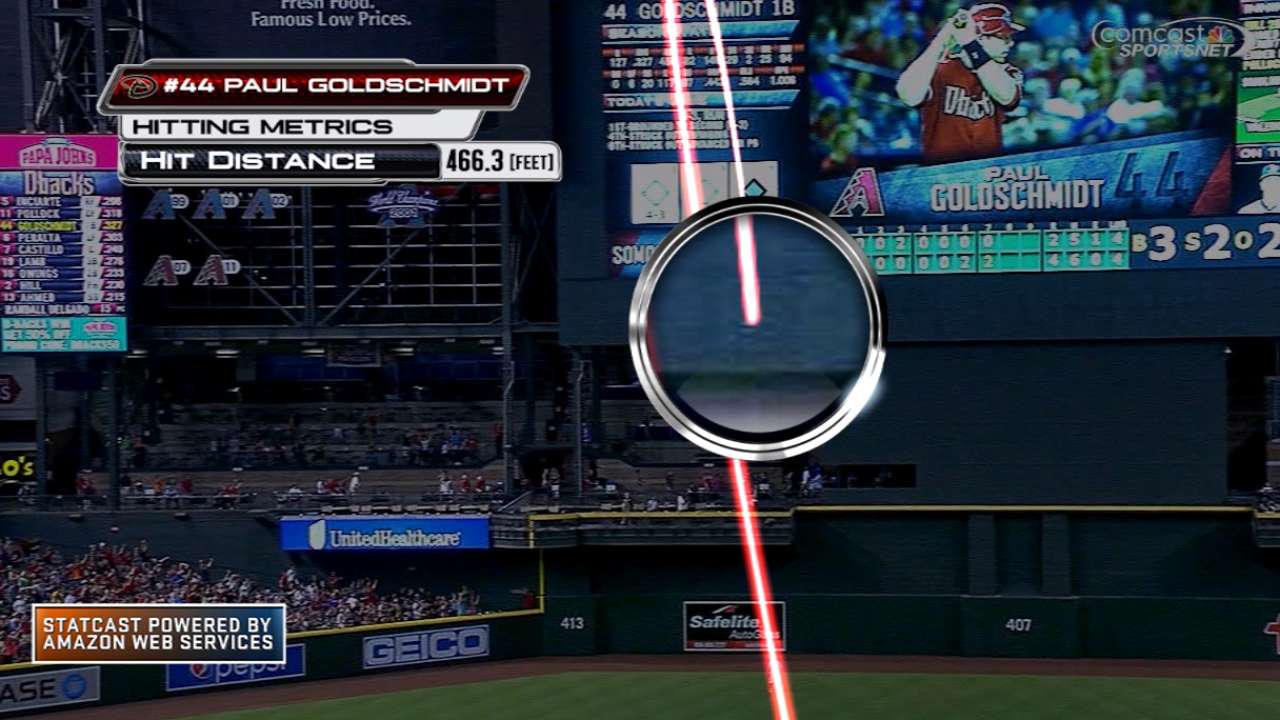 PHOENIX -- Paul Goldschmidt hit his second titanic homer in three days Friday night, but after the D-backs' 6-4 win over the A's, it was his strikeout that came the inning before that had his manager singing his praises.
On Wednesday against the Cardinals, Goldschmidt hit a homer projected to land 471 feet away, according to Statcast™. On Friday, his two-run blast off Pat Venditte that capped a four-run seventh inning hit off the bottom of the scoreboard and Statcast™ projected it at 466 feet away.
But in the sixth, with one out and a runner on second and the D-backs trailing, 2-0, Goldschmidt swung and missed a Sonny Gray pitch that bounced off the glove of catcher Stephen Vogt and toward the backstop. Goldschmidt sprinted to first, giving the D-backs runners on the corners with one out.
Goldschmidt eventually came around to score the tying run.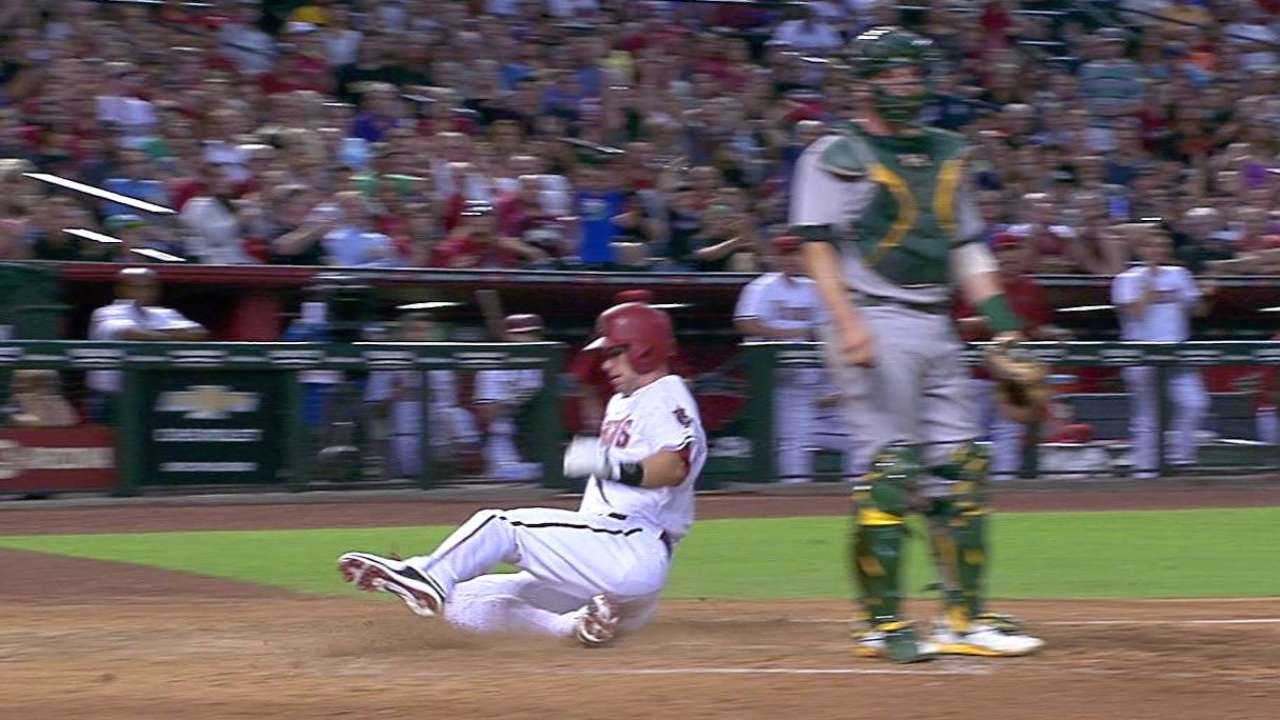 "I truly believe that we won that game because our guy Goldy hustled on a strikeout," D-backs manager Chip Hale said. "A lot of guys just get upset and walk back to the dugout. He saw that ball get away and busted it to first base. That to me epitomizes our club and that's why we play the way we play because he gives everything he has every night. That's how he plays and that's how he demands his teammates play."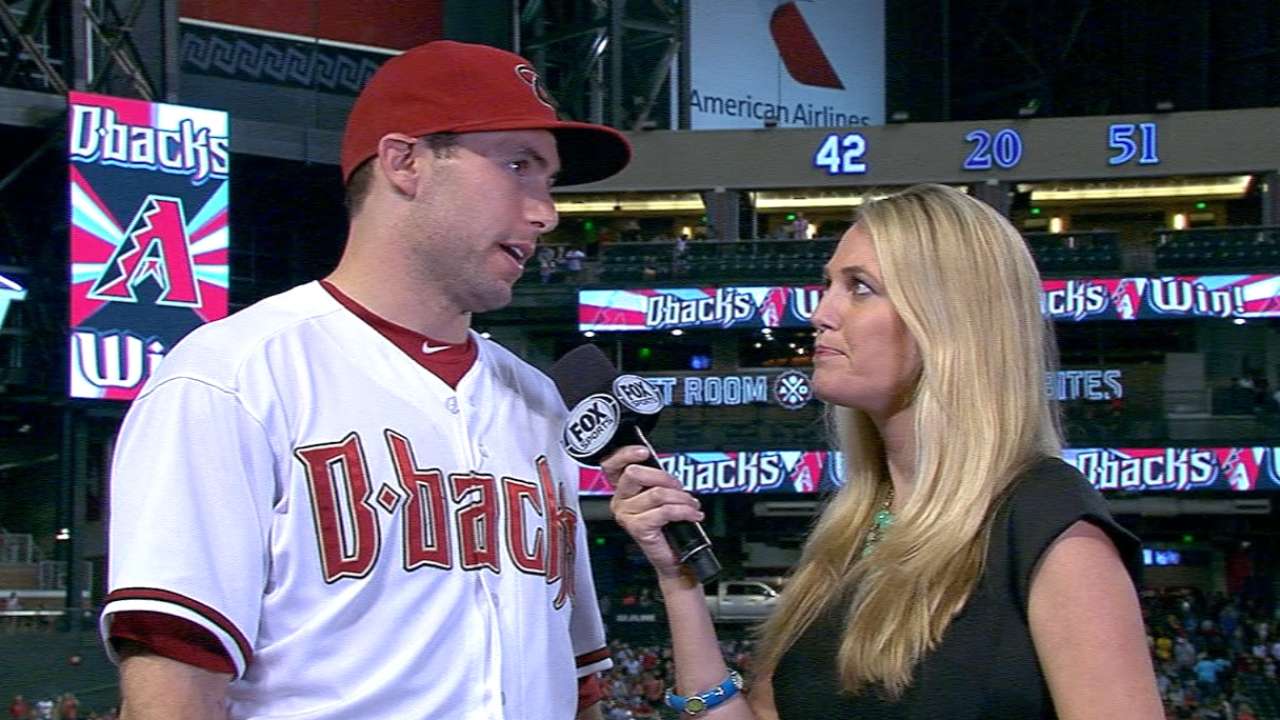 Goldschmidt shrugged his shoulders when told of Hale's comments and said he didn't think he did anything different than anyone else would have done in that situation.
"I think that's what we all try to do," Goldschmidt said. "We take a lot of pride in trying to play the game hard and that was one of the times it paid off. There's probably nine out of 10 times where they pick the ball up and throw you out at first. It's not just me, it's every single guy on this team, so you don't want to be the one guy that doesn't hustle. I think we hold each other accountable that way."
Steve Gilbert is a reporter for MLB.com. Read his blog, Inside the D-backs, and follow him on Twitter @SteveGilbertMLB. This story was not subject to the approval of Major League Baseball or its clubs.