Bregman, Reed among top 10 prospect performers Friday
Astros No. 1 prospect records his first four-hit game, No. 5 prospect grabs the Minor League home run lead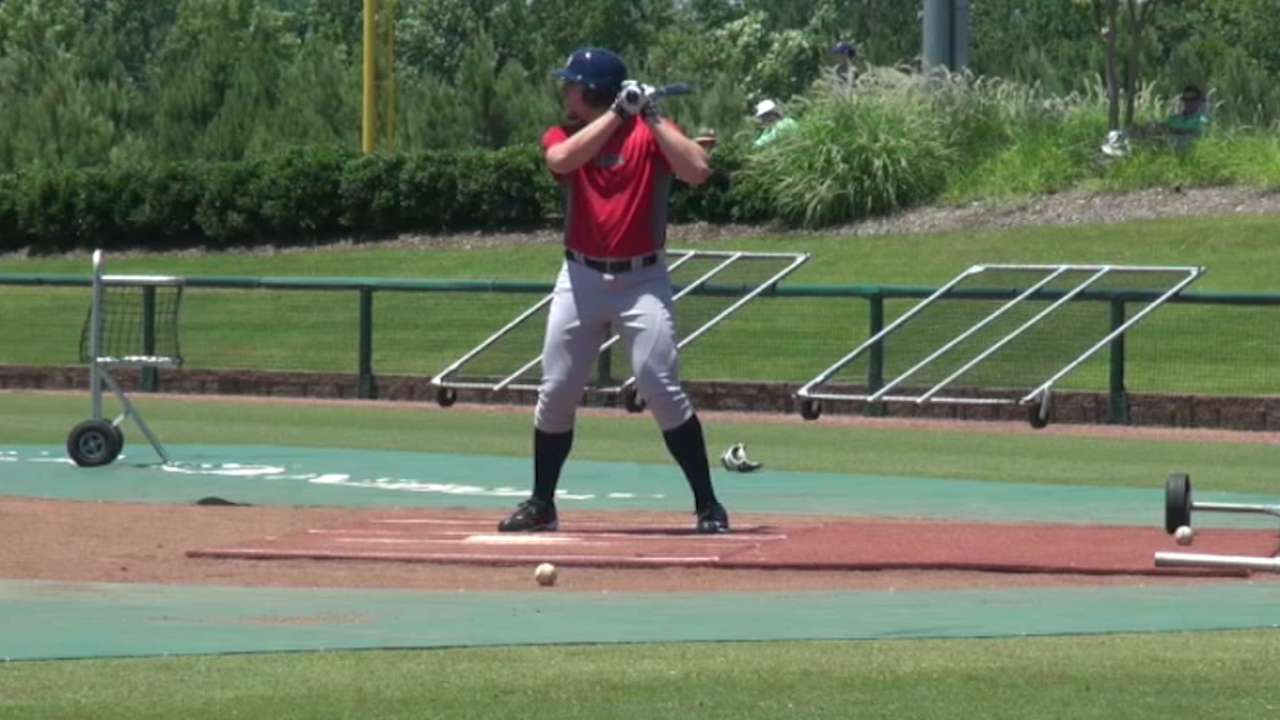 A.J. Reed is back in front.
The Astros' No. 5 prospect (No. 99 overall) crushed his 31st home run of the season during Double-A Corpus Christi's 17-6 blowout win over Midland. In the lineup as the designated hitter, he finished 4-for-4 with four runs and three RBIs, boosting his line to .352/.419/.576 since joining the Hooks on July 12.
Reed has been one of the most consistent power bats in the Minors this season. A second-round Draft pick in 2014, he has 42 homers and 166 RBIs in 192 pro games and is hitting .324/.415/.577 overall.
Several other players -- namely Triple-A Louisville's Adam Duvall (30 homers) and Class A Advanced Bakersfield's Tyler O'Neill (30) -- have laid claim to a share of the home run lead this year, but Reed has consistently stayed near the top of the pack. He's piled up six RBIs in the past five games and is on a seven-game hitting streak.
Down in Reed's old stomping grounds, No. 1 prospect (No. 24 overall) Alex Bregman has a 14-game streak going for Class A Advanced Lancaster.
This year's No. 2 overall pick went 4-for-6 -- his first four-hit game as a professional -- with a triple and an RBI as the JetHawks crushed Lake Elsinore, 16-4. Bregman has improved his average from .261 to .336 since his streak began and has 12 extra-base hits and 18 RBIs in 30 games at the Advanced level.
The rest of the 10 best performances from top Minor Leaguers
• Athletics No. 2 prospect Matt Olson broke a 2-for-20 slump by going 2-for-3 with a double, homer and three RBIs in Double-A Midland's 17-6 loss to Corpus Christi. The 6-foot-5 slugger also added two walks to break the century mark this year. His 101 free passes are second in the Minor Leagues (behind teammate Colin Walsh's 107), and his .380 on-base percentage helps balance out his .238 batting average. Olson also has 32 doubles, 16 homers and 71 RBIs on the year.
• Brewers No. 3 prospect (No. 80 overall) Trent Clark went 4-for-4 with three RBIs as Rookie Level Helena defeated Missoula, 8-2, in a rain-shortened five-inning game. The first-rounder is 6-for-7 (.857) after receiving a promotion from the Arizona League. All six of his hits have been singles, which is on par with his work for the AZL Brewers. Drafted No. 15 overall this summer, Clark hit .309/.422/.442 with just 14 extra-base hits (one homer) in 43 games out in the southwest. His career got off to a rough start in the desert; Clark was carted off the field on June 22 after running into the outfield wall. Clark was diagnosed with a concussion, and missed two weeks before returning to the lineup with a 1-for-4, two-walk outing that included four runs.
• D-backs No. 9 prospect Peter O'Brien smacked his third homer in three games. The Triple-A Reno masher went 2-for-4 with a solo shot and has 24 bombs on the season. His .288 average is the highest it's been since June 27, and O'Brien also has 30 doubles and seven triples. Just five short of 100 RBIs, the former Miami Hurricane is on pace to blow by his previous career-high of 96.
• Mariners No. 6 prospect Patrick Kivlehan went deep for his 22nd homer one night after cracking two blasts for Triple-A Tacoma. The center fielder is in the midst of a nine-game hitting streak, during which time he's knocked five balls out of the park. At .248, his average is the highest it's been since June 9 and you'd have to go back much further than that (May 3) to match his current .309 on-base percentage.
• Rangers No. 2 prospect (No. 15 overall) Nomar Mazara swatted his first homer for Triple-A Round Rock. He finished 3-for-4 with two RBIs and had manager Jason Wood gushing over him post-game. "I think it's his maturity, his mental maturity," Wood told MiLB.com when asked why Mazara has been so successful (.364) in 11 Pacific Coast League games. "He's just got this confidence built inside him. He's not afraid of anything. It truly doesn't matter. He knows that if he puts a good quality at-bat up there, he can hit just about anybody."
• Royals No. 3 prospect Kyle Zimmer set a new season-high with six strikeouts for Double-A Northwest Arkansas. The right-hander won for the first time since July 24 for the Naturals, allowing just two hits and one walk in five shutout innings. Zimmer lowered his ERA from 2.75 to 2.44 and is 2-4 with three saves since his promotion in early July.
• White Sox No. 2 prospect (No. 46 overall) Carson Fulmer continues churning out short, solid starts for Class A Advanced Winston-Salem. This year's No. 8 overall Draft pick went three innings on Friday night, giving up just two hits and two walks against four strikeouts in a scoreless effort. Fulmer, who led Vanderbilt to the College World Series final this summer, was promoted a little more than one month ago after allowing one hit in one inning during his pro debut for the AZL Sox on July 18.
• Yankees No. 27 prospect Jordan Montgomery was perfect for Class A Advanced Tampa on Friday evening, tossing six clean innings during a 9-3 win over Daytona. The 6-foot-4 southpaw struck out eight hitters and did not allow a hit or a walk. He left the Yanks' perfect game in the hands of reliever Chance Adams, who allowed three runs on five hits in 2 1/3 innings of work. Despite losing out on the record books, Tampa still got a classic performance from Montgomery. The outing was his second of the year in which he went at least six innings without surrendering a hit. He's 6-5 with a 3.05 ERA at the Class A Advanced level and recorded 73 strikeouts against 23 walks in 15 appearances.
Alex M. Smith is a reporter for MLB.com. This story was not subject to the approval of Major League Baseball or its clubs.