Zunino, Paxton getting back on track in Tacoma
Catcher sent down to regain confidence; lefty completing rehab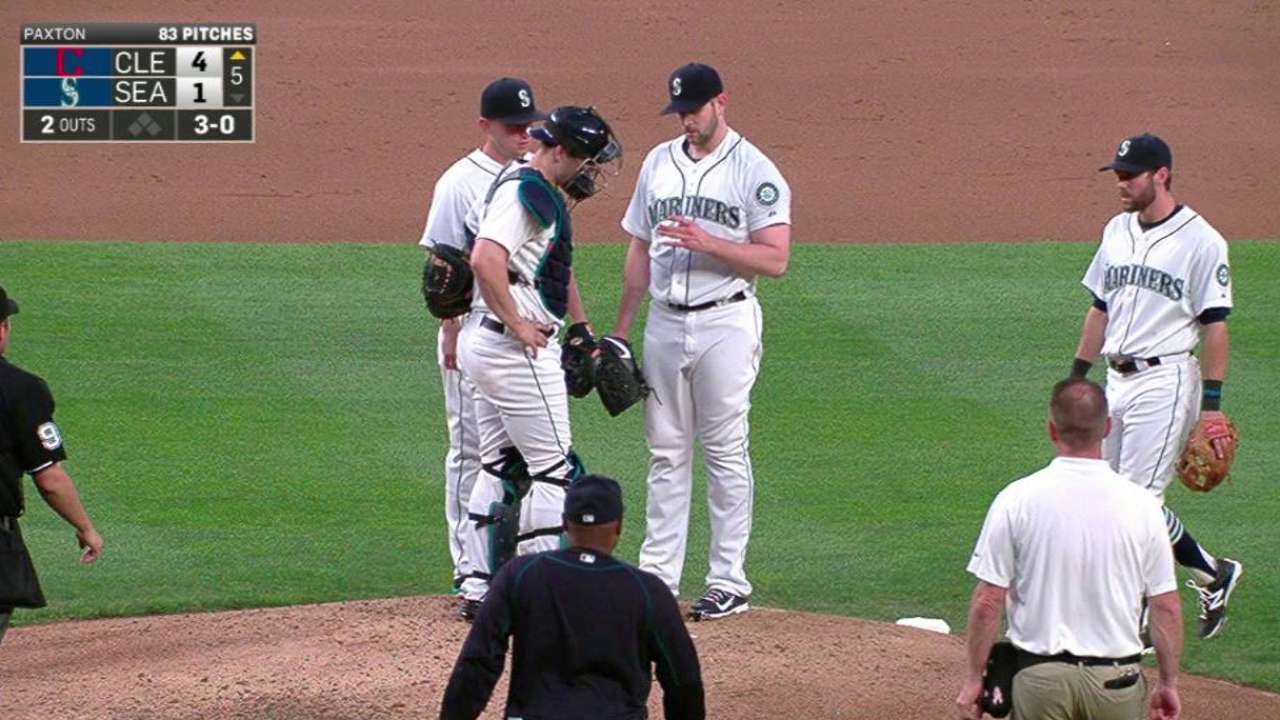 TACOMA, Wash. -- Mike Zunino found out he was being optioned to Triple-A Tacoma on Thursday night in Chicago, arrived in Tacoma on Friday afternoon and 2 1/2 hours before the Rainiers' 8-3 win over Triple-A Nashville, the 24-year-old was already catching bullpens and signing autographs.
Friday night was his break. Zunino wasn't behind the plate to catch James Paxton's second Minor League rehab start, in which the left-hander allowed three runs on five hits while walking two and striking out two over three innings, but he was at Cheney Stadium with a positive outlook on his first Minor League stint since 2013.
• Mariners option Zunino to Triple-A, call up Hicks
"It's been so much tweaking mechanically that I feel like I've tried a bunch of everything and haven't given myself a fair shot to stick with one thing," said Zunino, who hit .174 in his first 112 games with Seattle this season. "So I think that's the biggest thing, getting back to where I'm comfortable."
Zunino is expected to join the Mariners for September callups. Likely following him after one more start with the Rainiers will be Paxton. The 26-year-old left-hander, who was placed on the disabled list May 29 with a strained tendon in his left middle finger, threw 39 of his 62 pitches for strikes over his three innings Friday, building on his rehab start (36 pitches, two-thirds of an inning) from Sunday.
"Yeah, I think it was better than last time, you know, I got out of the first inning. Good start," Paxton said. "I still made a few mistakes but second time out it was a good step forward and I'm ready for my next one."
Paxton's first inning was his roughest. The lefty touched 95 mph and flashed better bite on his breaking pitches but left a couple pitches over the plate. Nashville notched two runs on two hits before Paxton got Brent Morel to fly out to right to end the 22-pitch inning.
Though a high pitch count early cut Paxton's night short, he hit his stride in the second inning, Nashville's only damage against him coming in the form of an infield single. Paxton allowed a double, a single and a walk in his final inning as the Sounds extended their lead to 3-0, but got Rangel Ravelo to fly out with two runners on to end the threat.
The next step for Paxton will be continuing to build his pitch count with a third Minor League rehab start. The left-hander said he expects to throw about 75 pitches before possibly making his return to the Mariners after a three-month absence.
"I feel great, it's just about getting that timing and rhythm, the snap on my stuff, and I feel like I'm really close," Paxton said. "I'm going to let them make the decisions up there [in Seattle], but when they want me back I'll be ready."
Andrew Erickson is an associate reporter for MLB.com. This story was not subject to the approval of Major League Baseball or its clubs.