McCann homers in return to Turner Field
Yankees catcher hits three-run shot in eighth inning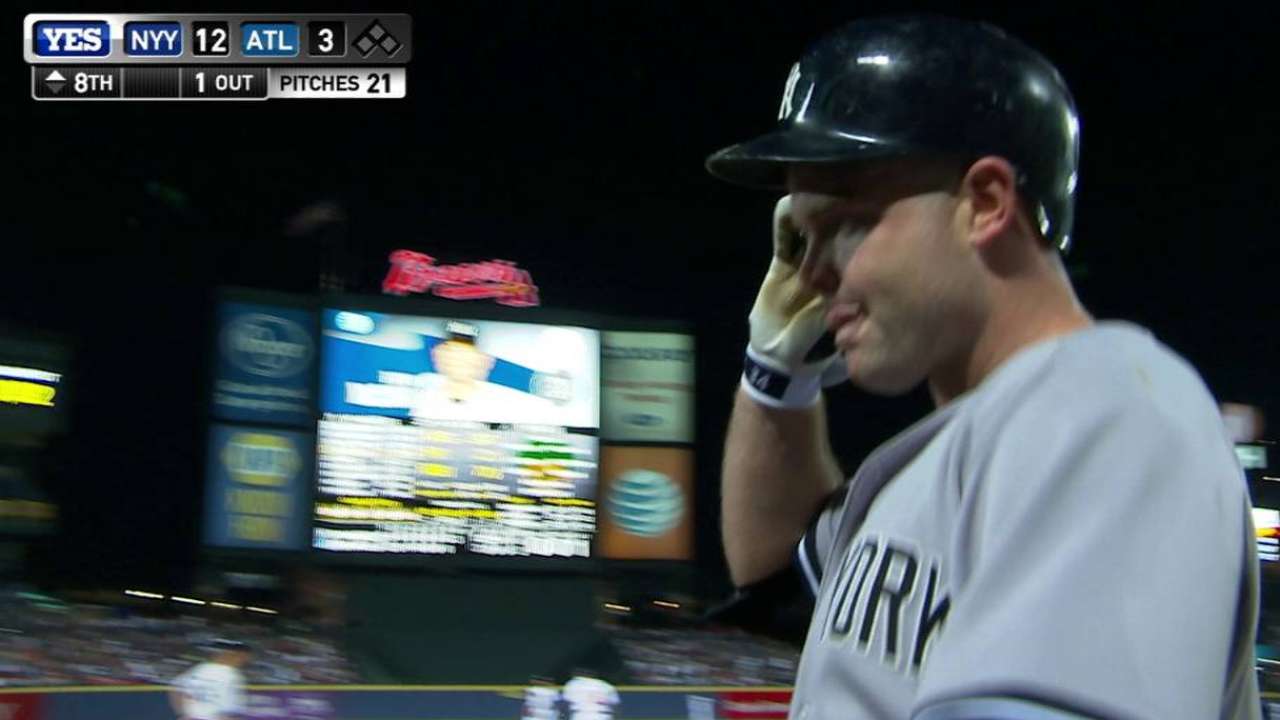 ATLANTA -- The reception was warm, the runs were in plentiful supply and Yankees catcher Brian McCann was able to enjoy his happy homecoming on Friday, homering to slap an exclamation point on his first game as a visitor at Turner Field.
The former Braves backstop received a standing ovation before his first at-bat, and heard another loud round of applause while rounding the bases after hitting a three-run homer in the eighth inning off Andrew McKirahan in the Yankees' 15-4 victory.
"It was great. I've been saying it all day," McCann said. "I was really excited to come back here and play in front of these fans. It meant a whole lot to me."
McCann went 1-for-2 with four RBIs and a season-high three walks in the contest and, having appeared in 1,105 games for the Braves over the first nine years of his career, owns more Turner Field homers (92) than anyone not named Chipper Jones or Andruw Jones.
"That [ovation] was kind of neat," Yankees manager Joe Girardi said. "The fans were great. They appreciate what he did here. He was here a long time. He was a very productive player, a leader; it was really nice for the fans here to appreciate what he did."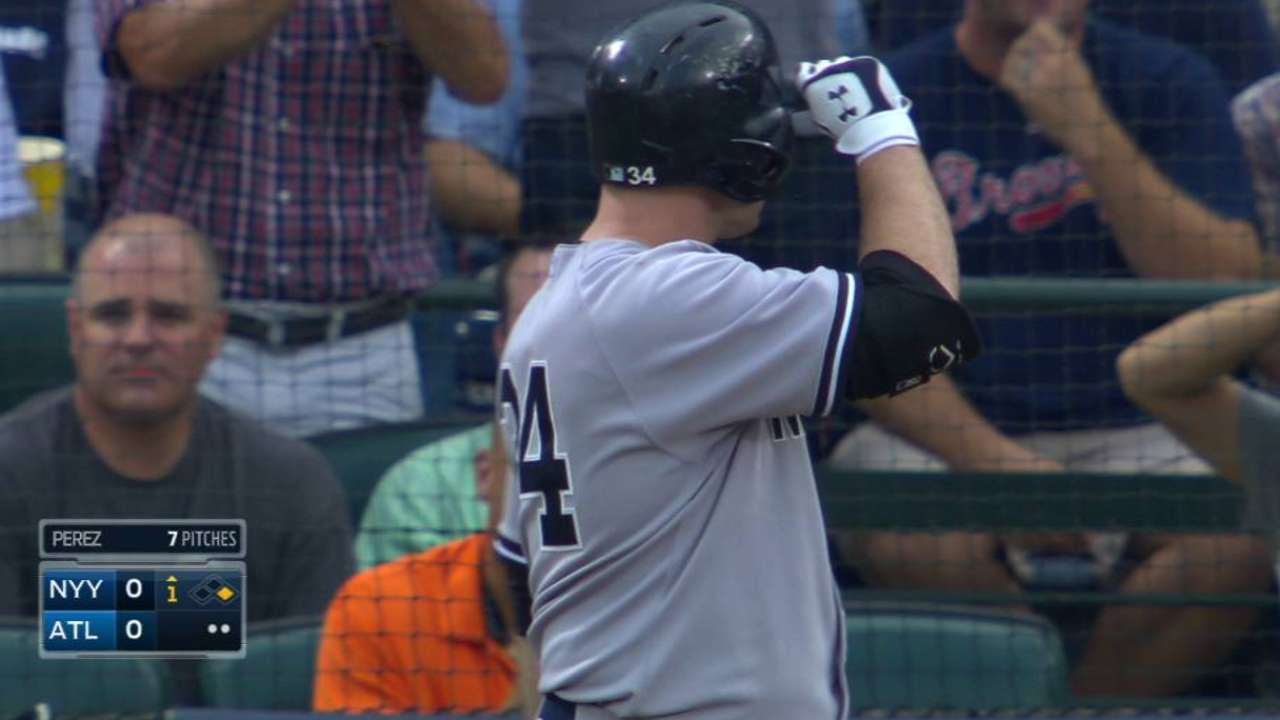 A product of nearby Duluth, Ga., McCann grew up cheering for the Braves (he was in the stands on the date when the park opened for baseball in 1997), but recognized that it was time to move on during the '13 season, setting up an $85 million deal with the Yankees.
Still, it was somewhat odd for McCann to make the longer walk to the third-base clubhouse, a room which he had little opportunity to enter during his time with Atlanta.
He wasn't tempted to visit the old Braves digs, noting that he hardly knows anyone in there -- Freddie Freeman, Andrelton Simmons, Peter Moylan, Julio Teheran and Michael Bourn are the only current members who McCann played with for a significant amount of time -- but he said that the facility will always have a special place in his heart.
McCann said that his brother, wife and other family members were at the game, but he hardly expected to be emotional about it; someone jokingly asked McCann if he would choke back tears, to which he scoffed. But that doesn't mean the night wasn't important.
"Tonight was huge," McCann said. "For everybody to swing the bats the way they did. We got a huge pitching performance. When you play so many games, you're going to have stretches where you struggle and we were going through one of those stretches, but over the long haul, I really like this lineup."
Bryan Hoch is a reporter for MLB.com. Follow him on Twitter @bryanhoch, on Facebook and read his MLBlog, Bombers Beat. This story was not subject to the approval of Major League Baseball or its clubs.