Statcast tracks Polanco's arm, Swihart's legs
Ellsbury, Turner also star on D while quartet of sluggers hit crushing blasts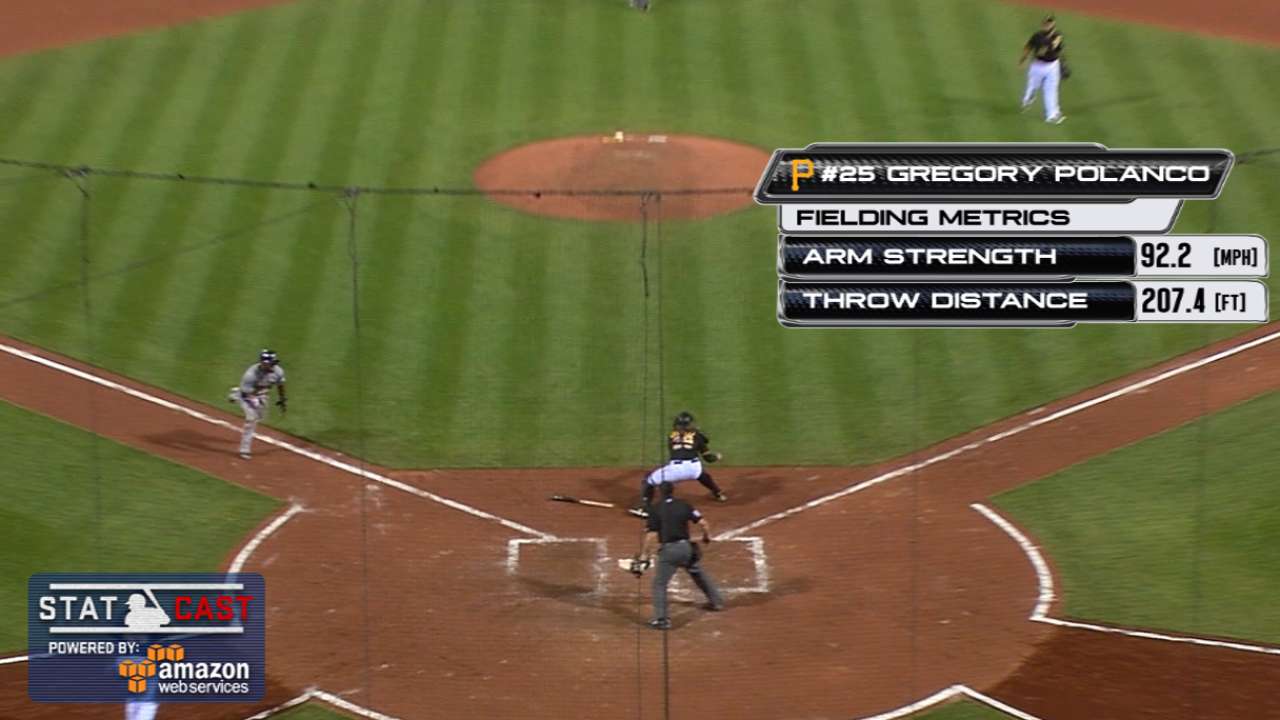 Though Statcast™ was busy tracking its usual dose of home runs on Friday, it was defense that reigned supreme on this night.
From a potentially game-saving double play in Pittsburgh to a near-perfectly executed sliding catch on the warning track to a rookie flashing his elite speed, there was no shortage of defensive gems in Friday's action. There was, of course, also a trio of towering home runs from some of the game's top sluggers, as well as an unusual "inside-the-park" homer in Queens.
Here's an in-depth look, courtesy of Statcast™, at that trio of highlight-reel plays, as well as the quartet of home runs.
Polanco throws out Reyes at the plate to end the 8th
Gregory Polanco not only made a significant impact offensively on Friday night with his three hits, two runs and an RBI, but the Pirates outfielder also prevented the go-ahead run from scoring with an absolute strike in the top of the eighth inning. With the game tied at 3 and the speedy Jose Reyes on third base, Polanco caught a Nolan Arenado line drive and came up firing with a 92.2 mph throw to the plate. His throw covered 207.4 feet and arrived just in time for catcher Francisco Cervelli to tag out Reyes, who reached a blistering top speed of 20.6 mph in his dash to the plate. The Pirates went on to beat the Rockies, 5-3.
"I'm sure the scouting report probably says something," Pirates infielder Josh Harrison said. "But they keep testing him, they keep testing him and they keep getting the same result. I'm cool with it."
Swihart races around for inside-the-park homer
Red Sox catcher Blake Swihart hit one of the more unusual home runs of the season in Friday night's 6-4 win over the Mets, putting his club ahead with a leadoff inside-the-park home run in the 10th inning.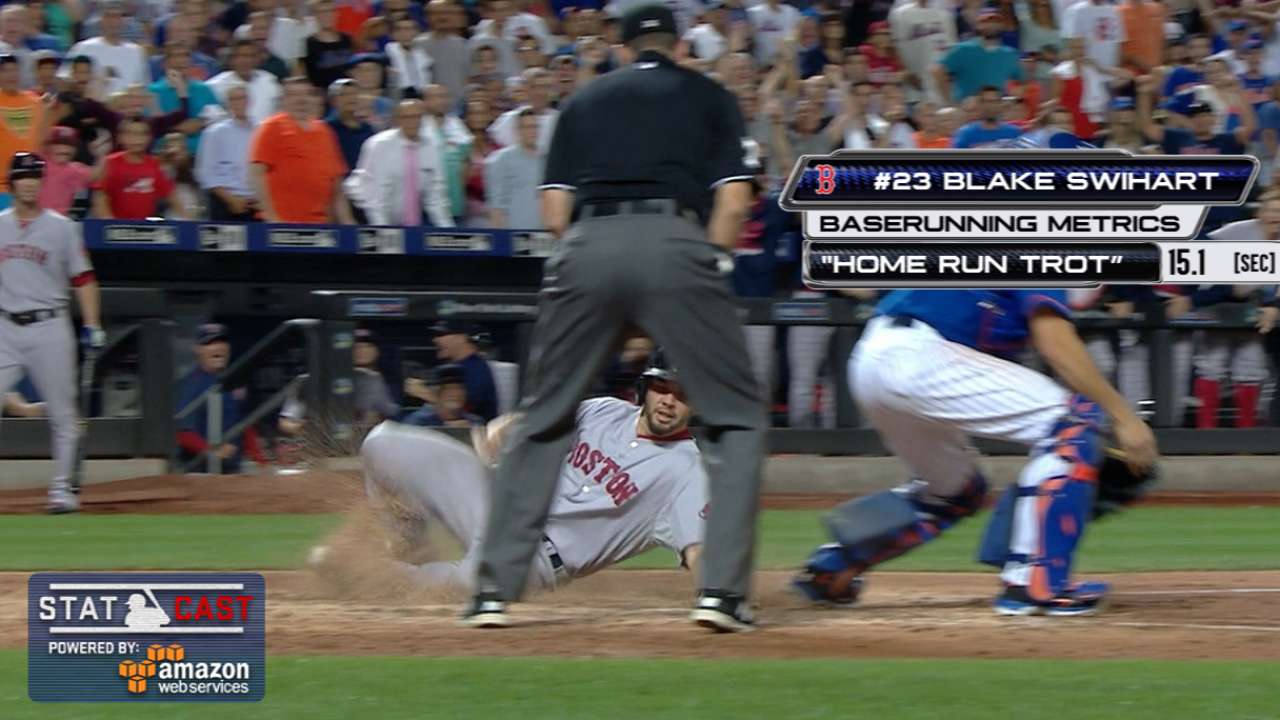 Though replays showed that the ball actually cleared the wall anyway, neither Swihart nor the umpires knew it as the Sox backstop raced around the bases in a total of 15.12 seconds. As for the hit itself, it traveled a projected 419.9 feet before ricocheting back onto the field of play and past Mets center fielder Juan Lagares.
Ellsbury saves run(s) with sliding catch
Yankees outfielder Jacoby Ellsbury put a dramatic end to an early Atlanta rally when he covered 78.6 feet of ground on a near-perfect route to make a highlight-reel, inning-ending catch. With runners on the corners and two runs already across in the bottom of the first, Braves catcher Christian Bethancourt ripped a liner to straightaway center field. Ellsbury got a good jump on the ball, taking his first step just 0.248 seconds after contact, then reached a top speed of 17.5 mph on the play, all while recording a dazzling route efficiency of 98.255 percent. The Yankees defeated the Braves, 15-4.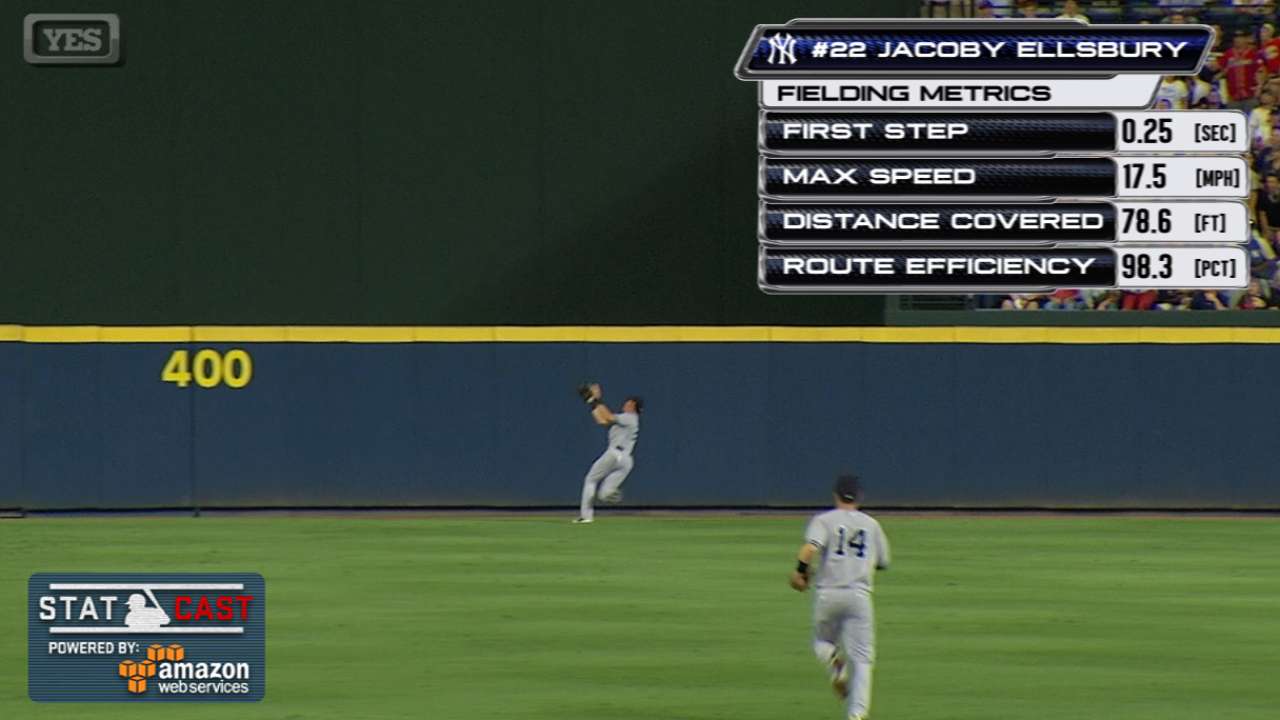 Turner provides glimpse of all-around talent
Nationals top position-player prospect Trea Turner flashed his speed in tracking down a popup along the right-field line to close out the sixth inning in the Marlins' 4-3 win Friday night. Turner took his first step in a respectable 0.391 seconds after Marlins outfielder Marcell Ozuna hit a shallow blooper down the line, but it was Turner's impressive top speed of 20.6 mph that allowed the rookie to reel in the basket catch after a long run.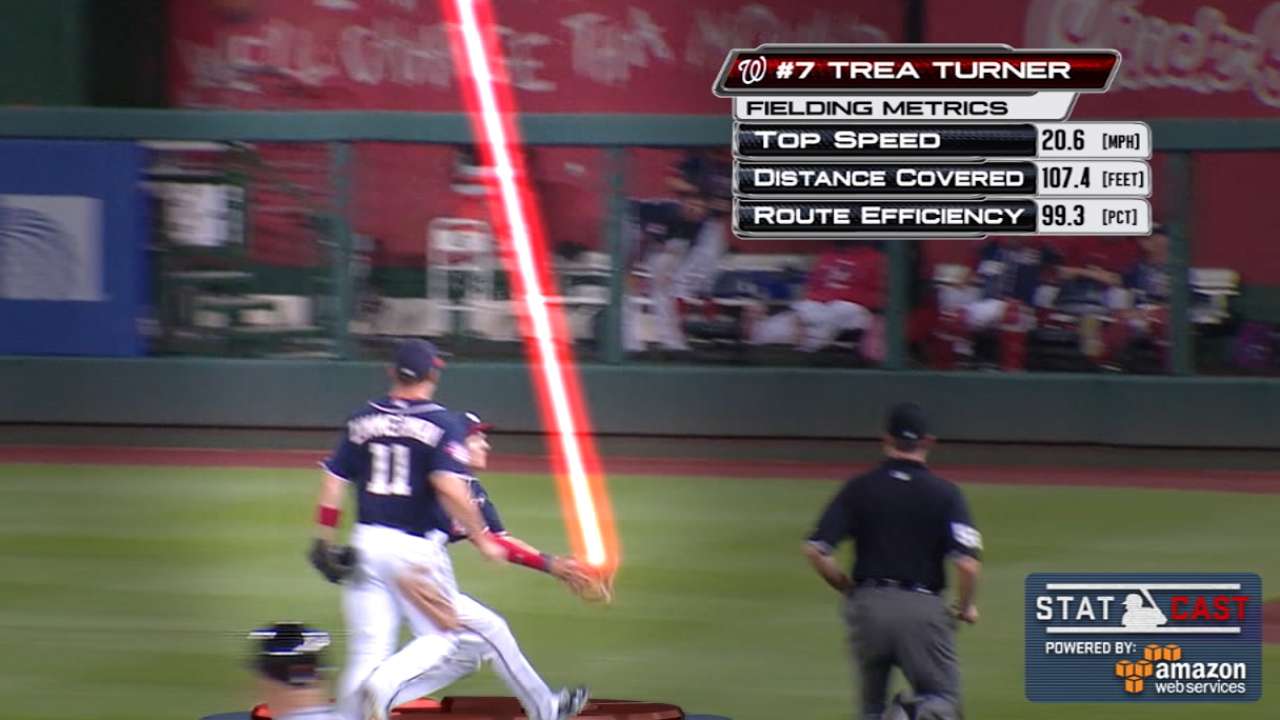 Rizzo takes Kershaw deep
Cubs first baseman Anthony Rizzo jumped all over a 94-mph Clayton Kershaw fastball, turning it around at a whopping 109.27 mph for a fourth-inning homer on Friday night in the Dodgers' 4-1 victory. The ball left Rizzo's bat at a launch angle of just 25.94 degrees, leaving the park on an absolute line to straightaway center field. The ball was projected to travel 439.6 feet, despite having a hang time of only 5.78 seconds.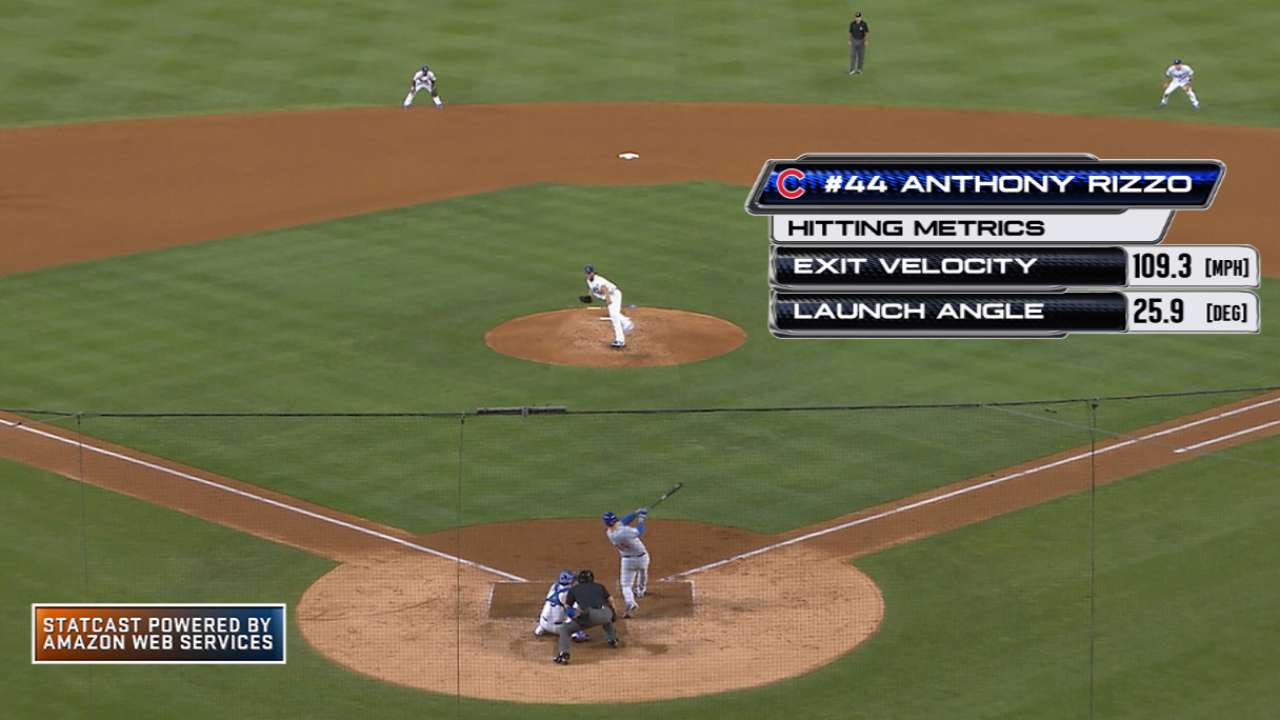 Donaldson tees off for another August homer
Blue Jays third baseman Josh Donaldson continued his MVP push with a no-doubter home run in Friday night's 5-3 victory over the Tigers, his 10th this month -- and 35th on the season. The third-inning solo shot jumped off of Donaldson's bat at 109.51 mph and Statcast™ projected that it would have traveled 453.7 feet, had the ball's path not been interrupted when it hit the facing of the fifth deck.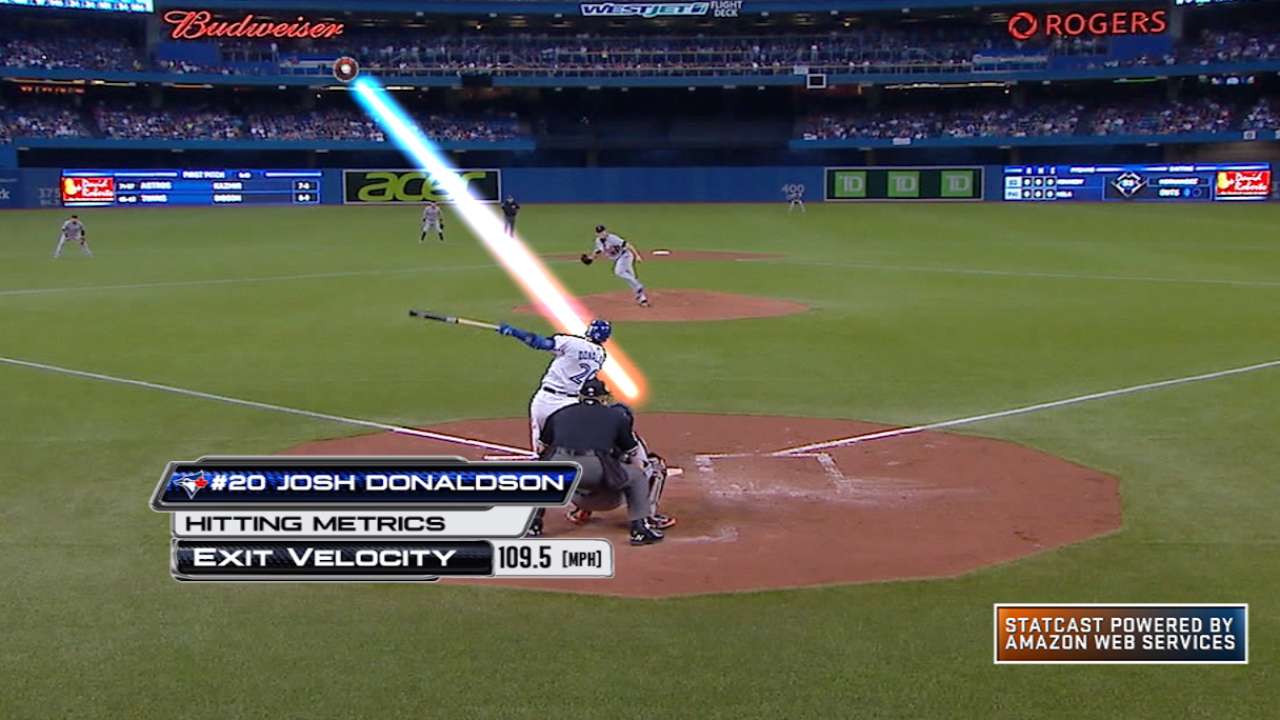 Goldschmidt hits a moonshot
D-backs first baseman Paul Goldschmidt capped off his club's four-run seventh inning with a mammoth two-run homer to center field off of A's reliever Pat Venditte.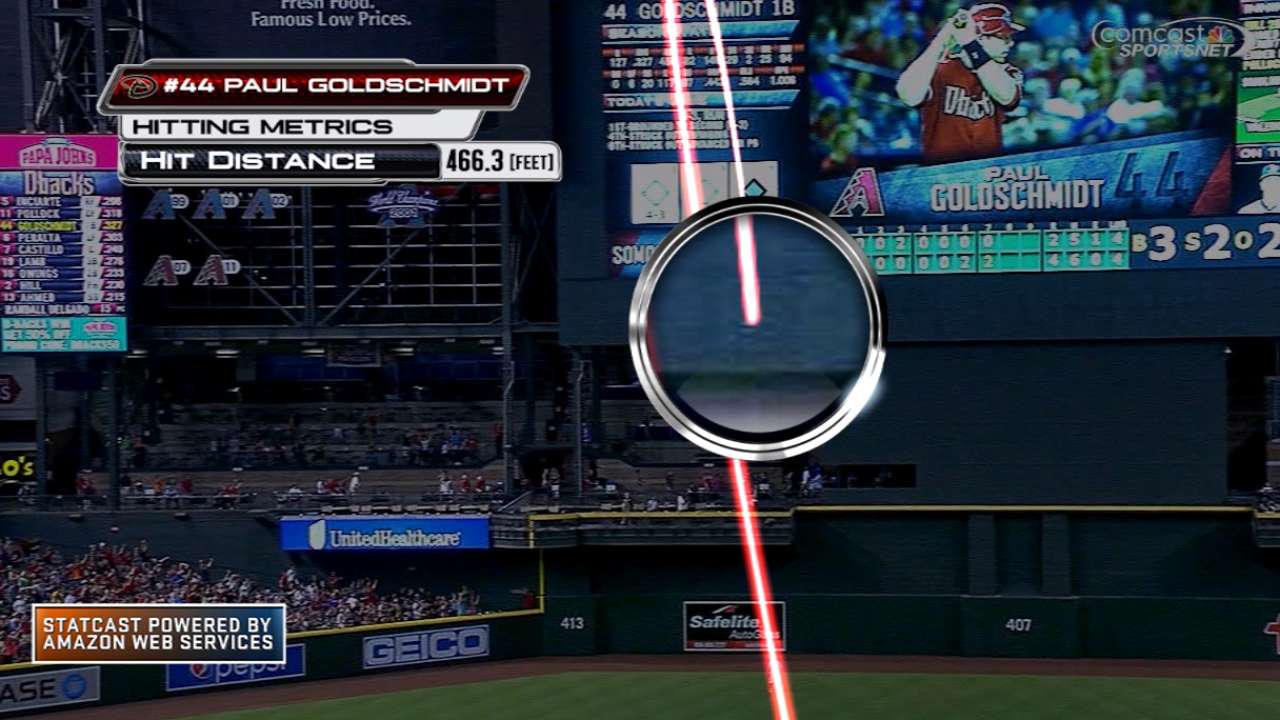 The ball jumped off Goldschmidt's bat at a blistering 111.7 mph before traveling a projected 466.4 feet, making it the 29th longest home run in the Majors this season. The D-backs topped the A's, 6-4.
Paul Casella is a reporter for MLB.com. This story was not subject to the approval of Major League Baseball or its clubs.