Kazmir's control problems prove costly in 4th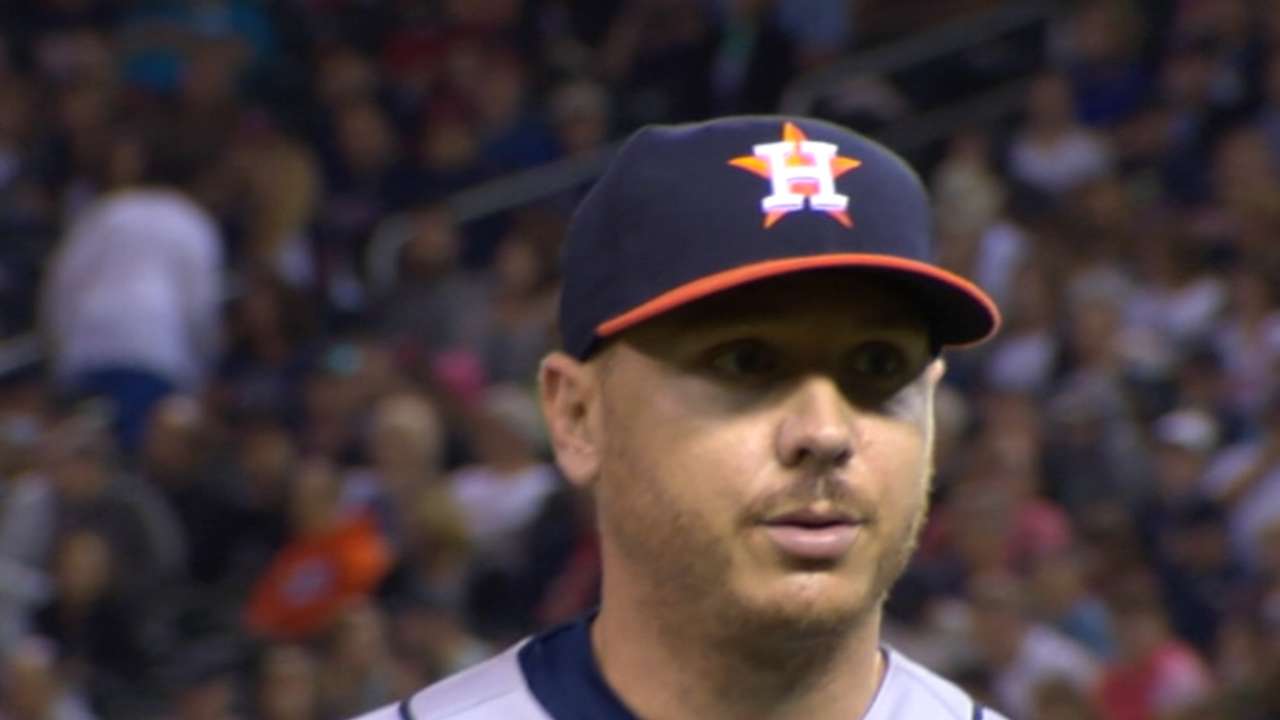 MINNEAPOLIS -- Astros starter Scott Kazmir retired nine of the first 10 batters he faced on Friday night. And then, the lefty unraveled for an inning.
Kazmir lost his control in the fourth and though he eventually regained it, the damage had been done in a 3-0 loss to the Twins.
It was an unraveling that was not surprising. After all, Kazmir said his delivery felt out of sync "pretty much the whole start." He began the inning by giving up a double to Eduardo Escobar and walking Brian Dozier. Kazmir then plunked two of the next three batters, forcing in a run.
Kazmir had some help getting out of the inning from second baseman Jose Altuve, who made a nice play ranging to his right to limit the damage. After that, Kazmir seemed to recover. What started as no outs and the bases loaded for the Twins turned into just two runs, but it was too much for an Astros offense that recorded just six hits.
"His control left him in the fourth and everything he did wrong, he got burned. Both walks, the hit by pitch -- both hit by pitches," manager A.J. Hinch said. "They had seven baserunners and half of those -- more than half of those -- were via the walk or hit by pitch. When a lefty's hitting a righty, the hitter's lower extremities, usually something's gone astray."
And Kazmir's attempt to solve the problem didn't help much, either.
"Normally in those situations, I kind of amp it up a little bit and give them a different look, maybe throw a little bit harder, and when I tried to do that, it was just side-to-side with everything and pulling everything, so that was unfortunate," Kazmir said. "Hitting two guys right there, that's just something you can't do, especially when you've got guys on early on in the inning, so that was frustrating."
Kazmir said he made adjustments after that, focusing on not overthrowing and smoothing out his motion to hit his spots. He finished seven innings and gave up just three hits while striking out six.
It was a quality start statistically, but perhaps not in his mind. Kazmir used the word "frustrating," multiple times in his postgame session with reporters.
The other run Kazmir allowed came on homer by Eduardo Nunez in the third inning. That, too, Kazmir dubbed "frustrating."
"He backed off a little bit, his velocity came down because he was really trying to command it a little bit better," Hinch said. "He got us through seven and really didn't get hit at all. He had a couple hard outs, the home run obviously. Every mistake he made, either through the walk or the home run, came back to haunt him."
Betsy Helfand is an associate reporter for MLB.com. This story was not subject to the approval of Major League Baseball or its clubs.