Heaney removed after six scoreless innings
Scioscia makes tough call to put reliever Gott in game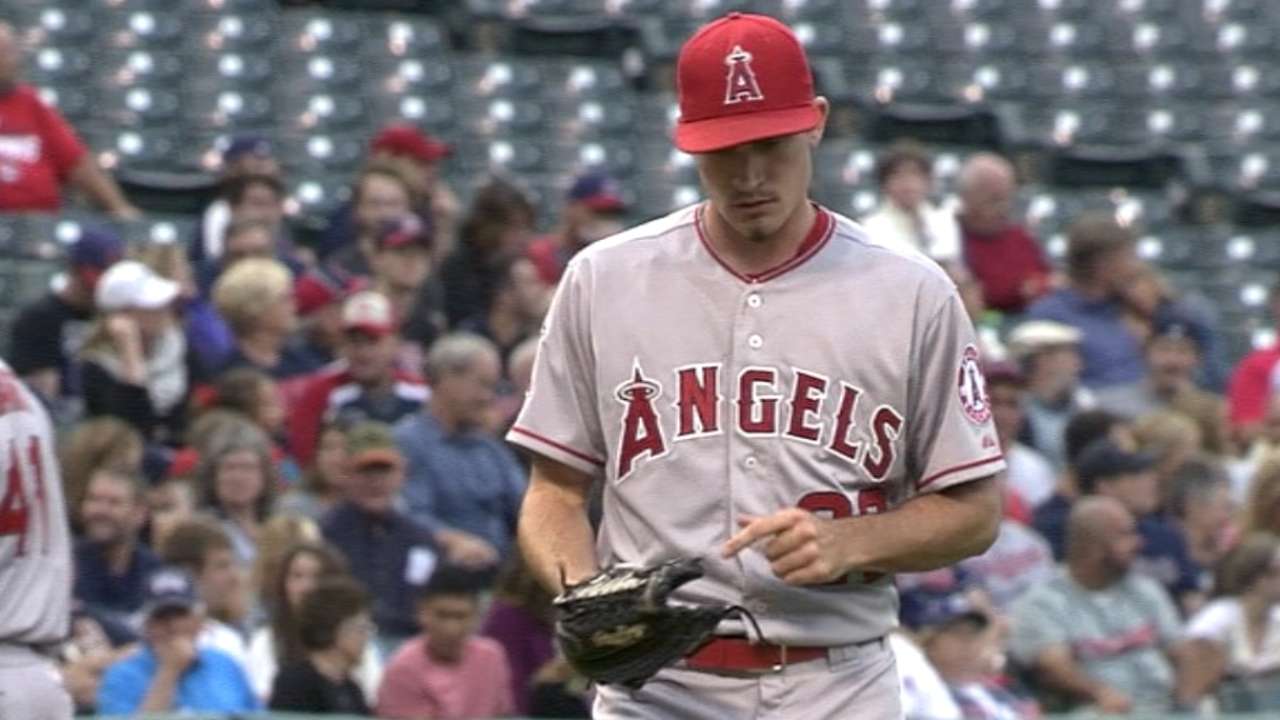 CLEVELAND -- To Angels manager Mike Scioscia, the logic was easy to digest -- even though the end result was so difficult to stomach. Andrew Heaney was only 12 pitches away from his career high, the bottom of the Indians' order was due up and the next reliever in line, Trevor Gott, had a 1.65 ERA.
"The decision," Scioscia said late Friday night, "just swayed on the opportunity to get Trevor Gott, who's been terrific, into a clean inning, or stretch Andrew a little bit, where maybe he wasn't quite as crisp, into maybe one or two hitters."
Scioscia chose the former. He removed Heaney six innings and 88 pitches into a shutout, then watched Gott turn a one-run lead into a two-run deficit and, eventually, another tough loss, a 3-1 defeat at the hands of the Indians. The Angels have now dropped 23 of their past 34 games and are 1 1/2 back of the Rangers for the second Wild Card spot in the American League, with the Twins also in front.
Heaney rebounded from the worst start of his impressive rookie season -- eight runs and 10 outs against the Blue Jays -- by scattering six hits, walking one and striking out three in six shutout innings from Progressive Field.
Then he settled for a no-decision.
"I understand the move," Heaney said of being taken out early. "We have great seventh-, eighth-, ninth-inning guys to come in and get it done. For me, it's not a question of my stuff. It's about how good those guys are in the bullpen. I didn't really give a great indication the last couple innings, having multiple runners on, having to work out of jams. I didn't breeze through the last inning or anything like that."
Heaney, 24, gave up two hits in a 16-pitch sixth inning. He hadn't been allowed to throw more than 100 pitches in a start all season, and Gott, also a rookie, had started a clean inning in 26 of his 32 appearances.
Gott had also thrown only seven pitches over the previous four days, and he had allowed only one run over his last 16 2/3 innings.
"There's no doubt that Andrew got us through a certain point in the game, and I think that he might've had another handful of pitches or another hitter or two," Scioscia said, "but we felt good starting with Trevor. Trevor's fresh, throwing the ball well. Unfortunately, today it didn't work out."
Gott began the bottom of the seventh with a 1-0 lead and promptly walked pinch-hitter Lonnie Chisenhall to cap a nine-pitch at-bat. Two batters later, he grooved a first-pitch fastball to pinch-hitter Abraham Almonte and watched it sail for a game-tying double. To the next batter, Jason Kipnis, he hung an 0-1 curveball to give up the go-ahead single. Two batters after that, he missed with four straight fastballs, walked Michael Brantley, exited and watched Jose Alvarez surrender an RBI single to Carlos Santana.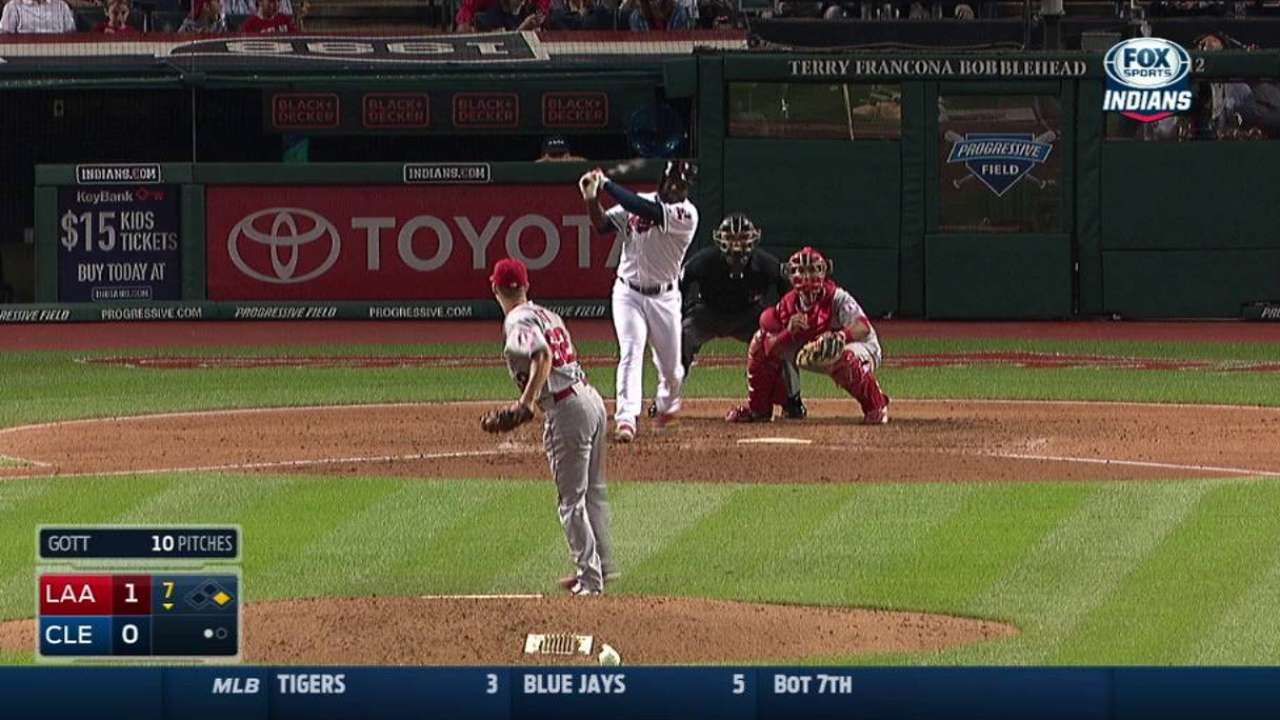 "Just fell behind," Gott said. "That's all there is to it. I have to throw a strike, and it's usually going to be a fastball. I think they know that, and they put some good swings on them tonight. It happens."
Scioscia spoke Friday about monitoring the workload of his three young starters, Heaney, Hector Santiago and Garrett Richards. Heaney is at 150 2/3 innings now, just 16 away from the career high he set last year, and he's hoping to make six or seven more starts amid a playoff race.
But Scioscia said the decision to remove him "wasn't about monitoring work as much as it was where we were in the game." And it's hard not to look at where they were in the game without thinking about the offense, a unit that has the lowest OPS in the Majors this month and has managed only three runs over its past three games.
"It's all connected," Scioscia said. "Even though we gave up three runs in the seventh, we're not giving ourselves much margin for error to go out and make big plays and to pitch. That's a tough way."
Alden Gonzalez is a reporter for MLB.com. Follow him on Twitter @Alden_Gonzalez and listen to his podcast. This story was not subject to the approval of Major League Baseball or its clubs.