Groundouts, double plays key in Bauer's gem
Righty finds groove again with two-seamer to pitch eight strong innings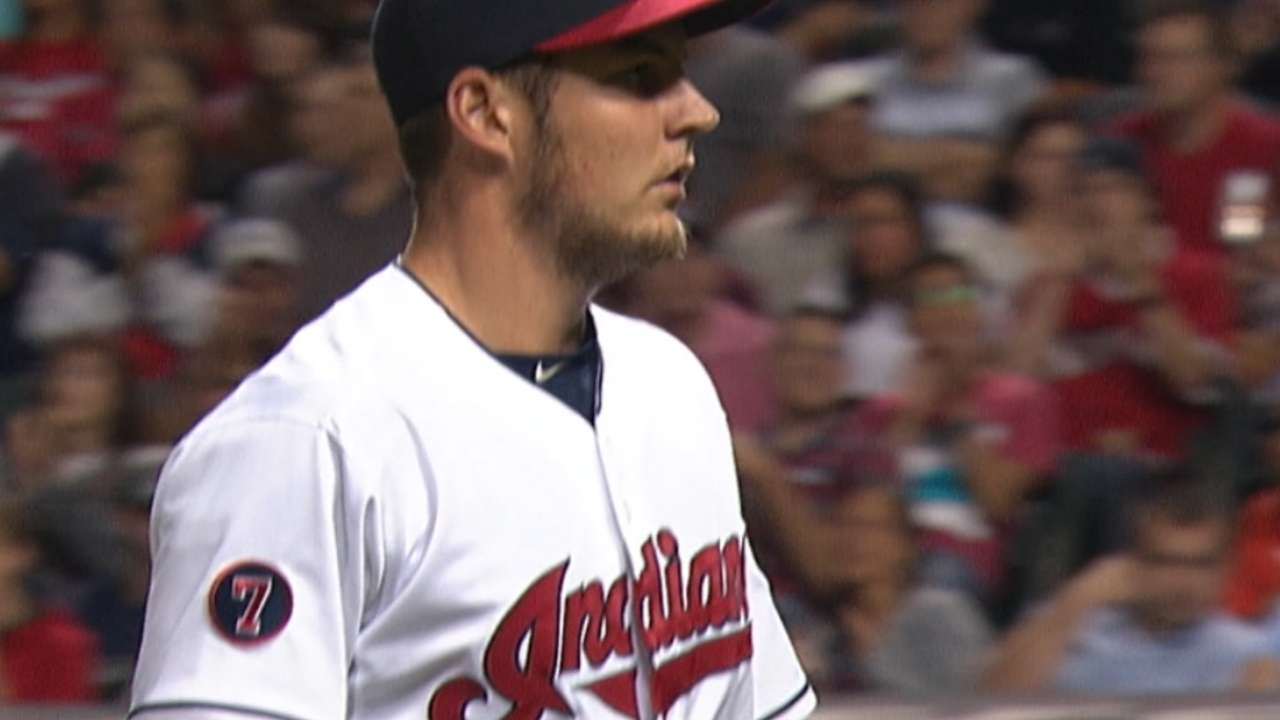 CLEVELAND -- Trevor Bauer was reunited with an old friend on Friday night. On the mound at Progressive Field, where the Indians' starter has struggled more often than not this season, the right-hander regained the feel for his two-seam sinker against the Angels.
"It was big. It was really big," Bauer said after Cleveland's 3-1 victory. "It disappeared for a couple months."
With that weapon back in his holster, Bauer leaned heavily on ground balls to beat Los Angeles.
In his eight innings of work for the Indians, who have won six of their past eight games, Bauer created 11 outs via grounders. That included a career-high four double plays, including three courtesy of his sinker and two to end an inning. Prior to Friday's gem in Cleveland, Bauer had 11 outs on the ground in his previous three starts combined, and he never had a start in his career with more than two twin killings.
Bauer said he began to feel more comfortable again with his two-seamer in his previous outing in New York, where he held the Yankees to one earned run over 6 1/3 innings. The righty recognized early on Friday that his two-seamer was in fine form again, convincing him to rely on it in key situations against the Angels.
"It definitely changes things," said Bauer, who struck out seven, scattered five hits and walked three in the win. "The first time through the order, I got a couple guys on comebackers, and then I got some guys on cutters that were off the plate. ... The more things you can do in a game the first time through, the more you can do the second or third time through. It helps."
The sinker accounted for five ground balls, which turned into eight outs. In the fifth inning, for example, Angels catcher Carlos Perez chopped a two-seamer into the infield grass for a 6-4-3 double play, following back-to-back singles by C.J. Cron and Erick Aybar to open the frame. Bauer then gave up an RBI single to Kaleb Cowart, but the starter limited the damage to that lone run.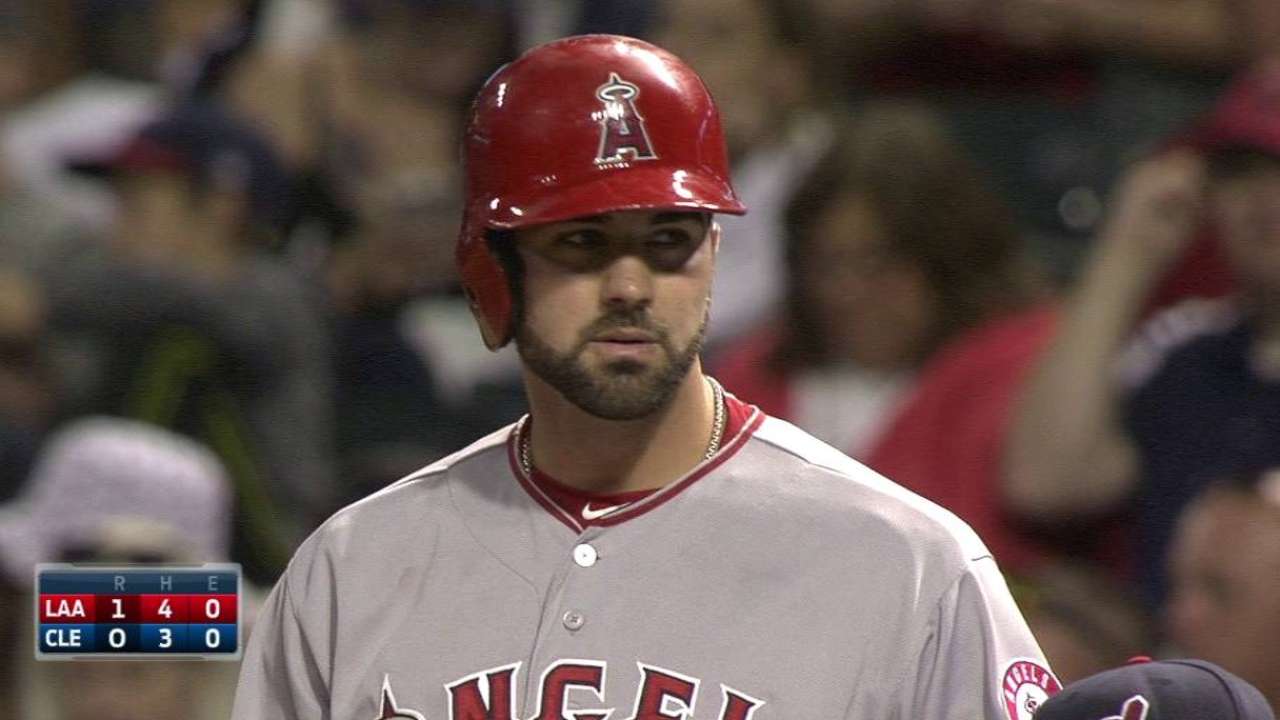 Perez led off with a walk in the third, but he was later erased on the basepaths when Grant Green drove a cutter into the ground for an inning-ending double play. In the sixth, Bauer issued a one-out walk to Mike Trout, and the pitcher kicked the mound in frustration. Albert Pujols followed by sending a sinker to Indians shortstop Francisco Lindor, who initiated another inning-ending twin killing.
"Four double plays, and he kept the ball on the ground," Indians manager Terry Francona said. "I think there were five outs in the air. That's real good. When he's keeping the ball down with the two-seamer, that bodes well."
The outing was Bauer's longest since a nine-inning performance on July 28 against the Royals, and it marked the first time this season the righty's gone at least eight innings with no more than one run allowed. Heading into Friday's outing, Bauer had a 6.07 ERA at home this year.
Bauer noted that his sinker is less effective when it is only getting "five-to-seven inches" of lateral movement. When that is happening, the pitcher said it looks more like a four-seamer with a little run to it. When he has more horizontal movement with his sinker (the pitch fades toward the right-handed batter's box), that is when he is more effective with the offering.
Supporting that is the fact that Bauer averaged 7.69 inches of lateral movement with his two-seamer against the Angels and 7.93 inches in his previous start against the Yankees. In five of the six starts prior to the outing in New York, the average was under seven inches. During that six-start stretch, Bauer turned in a 6.55 ERA with a .905 opponents' OPS.
Bauer enjoyed being able to rely on his sinker against the Angels again.
"It was nice to finally have that pitch back," he said.
Jordan Bastian is a reporter for MLB.com. Read his blog, Major League Bastian, follow him on Twitter @MLBastian and listen to his podcast. This story was not subject to the approval of Major League Baseball or its clubs.