Kennedy frustrated by run-scoring wild pitch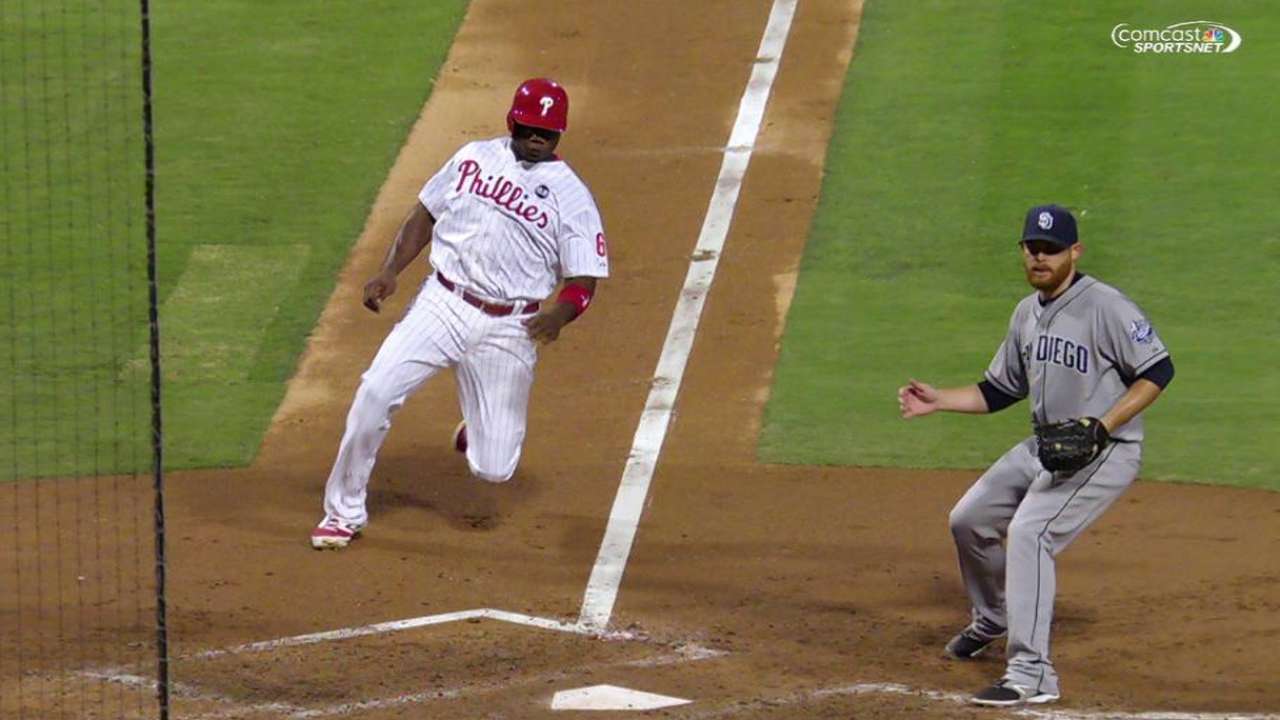 PHILADELPHIA -- Over the course of 6 2/3 innings of work on Friday, Ian Kennedy found himself in a pair of tough situations.
The first, he escaped with the help of third baseman Yangervis Solarte and a spectacular play. The second, he pushed the envelope just a bit too far and in a tough game, that was the difference.
"I think overall you have to look at that outing as a terrific outing for Ian," said Padres interim manager Pat Murphy, whose team fell, 7-1, to the Phillies after the bullpen surrendered five runs in the eighth. "He pitched very well and gave us a chance to win. We're in play after seven innings and just one back."
Maybe Kennedy tried too hard in the first inning, maybe it was just one of those things, but the Phillies loaded the bases thanks in part to three walks. That's when Andres Blanco ripped a ball down to third that Solarte dove and caught. He then completed the inning-ending double play by scrambling to the base to record the final out of the inning.
"You wipe your brow and say, 'Whew, got away with that one,'" Kennedy said. "All those guys got on by three walks. They are one big hit away from opening it up and we get a great play by [Solarte]. It helps you think, innings over and now you get a whole new one."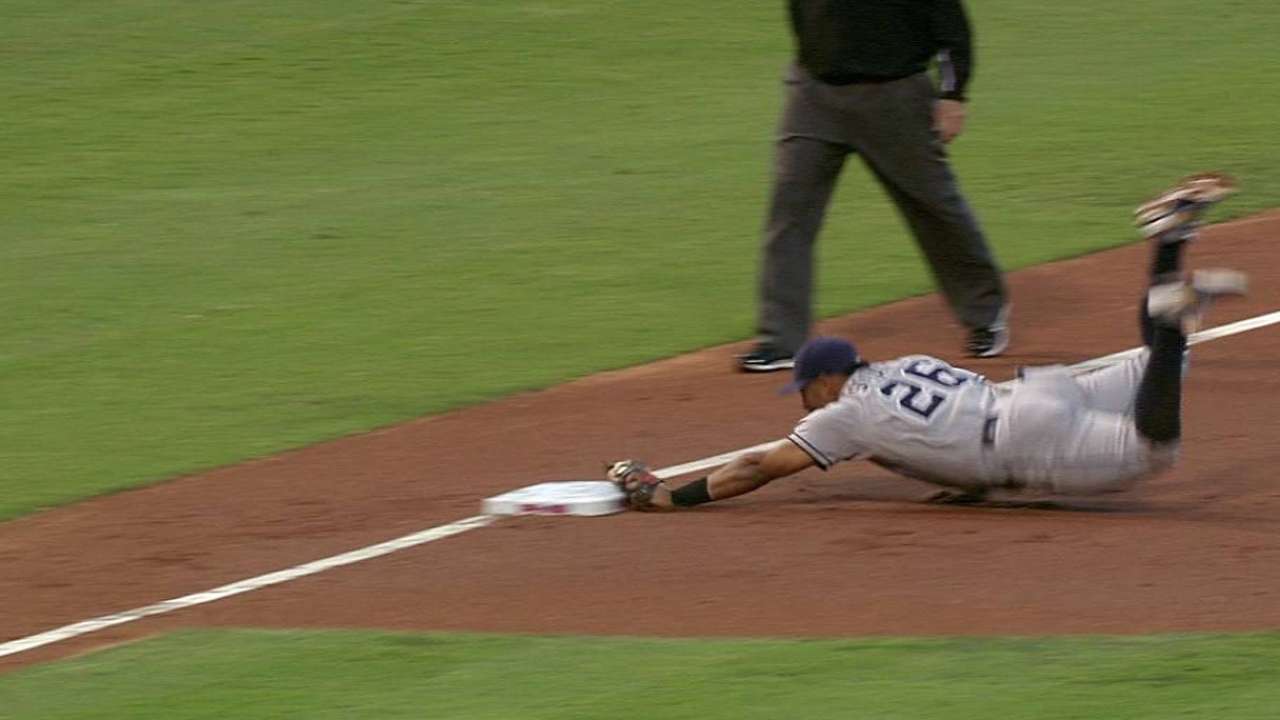 Kennedy used that momentum as well as his curveball to settle in and go at the Phillies. For the most part, he was in control, but then so was Phillies starter Aaron Nola, as both pitchers didn't give up a hit until the fourth, when Justin Upton hit his 23rd home run of the year to give the Padres a 1-0 lead.
The Phillies pecked away in the bottom half of the fourth and again loaded the bases -- after hitting leadoff hitter Aaron Altherr with a pitch and two singles -- but this time, Kennedy couldn't make a clean escape. He got Cody Asche to pop out and then Cameron Rupp to groundout, with a run scoring to tie the game at 1.
With two outs, an intentional walk to Freddy Galvis brought Nola to the plate and it appeared as if he had managed to avoid further problems.
Kennedy knew what he wanted to do against Nola and knew what he didn't want to do. What he didn't think about is what cost him the second run he gave up. A slider he wanted down and away that snuck past catcher Derek Norris which allowed Ryan Howard to rumble home with the go-ahead and eventual game-winning run.
"Trying to throw a slider down and away," Kennedy said. "I wasn't going to throw him a cookie. Just a little more than I intended. Yeah, frustrating because you know you are going for a strikeout there or a weak ground ball and it just got away. Frustrating."
Michael Radano is a contributor to MLB.com. This story was not subject to the approval of Major League Baseball or its clubs.