Boyd takes lesson from homers surrendered
In seventh career start, Tigers lefty allows three solo shots to Blue Jays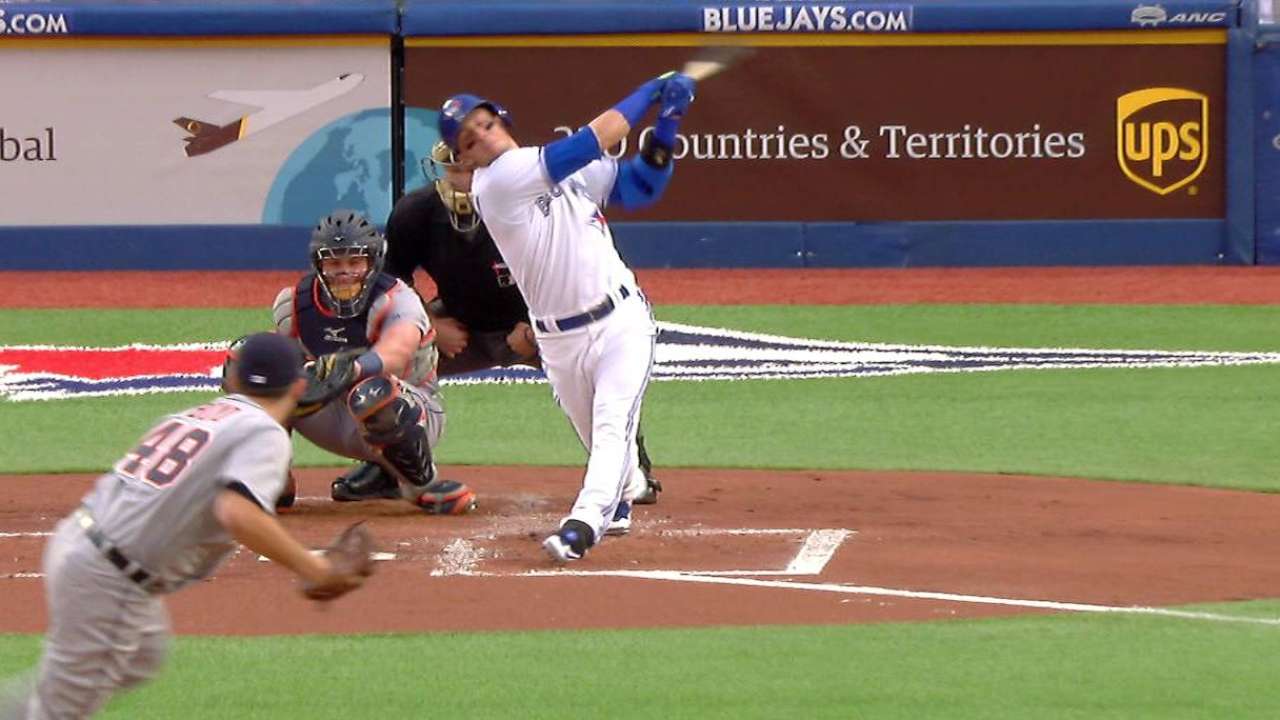 TORONTO -- No team hits left-handed pitching harder than the Blue Jays -- for average, for slugging percentage and for OPS.
Tigers lefty Matt Boyd, meanwhile, gave up more home runs at Rogers Centre in two starts when he was with the Blue Jays than all but three current Toronto pitchers have all season. And he was facing a club that knows his stuff.
By all statistics, it was a mismatch well before the Blue Jays hit three home runs in a 5-3 Tigers loss Friday night. For the 24-year-old Boyd, however, it was a learning experience in his seventh Major League start.
The lesson: Don't give up on a secondary pitch just because it's not working early.
"If I could've thrown [the slider] in situations, that probably would've changed things," Boyd said. "But overall, there's a lot of positives to take out of this. I felt like I was a few pitches away from really owning this game. I can live with solo [home runs], but the runs that cost me were the walks, and that's kind of what hurts the most."
Boyd allowed three solo homers, including a massive drive from Josh Donaldson off the facing of the upper deck down the left-field line and a no-doubt drive to left-center from Jose Bautista. Both were on fastballs he tried to pound inside. The other was on a changeup down that Troy Tulowitzki reached for and pulled over the left-field wall.
Boyd should've been doomed, and the sight of the Tigers' bullpen jumping to action early suggests he wasn't far off. Yet after the last of the home runs, Bautista's blast, he took the lesson to heart.
Before Bautista jumped a first-pitch fastball, Boyd retired Donaldson on a 69-mph breaking ball that he lined to left. After Bautista homered, Boyd sent down Edwin Encarnacion swinging and Chris Colabello on a called third strike. Neither saw a pitch harder than 81 mph.
"That was me just throwing the slider a little more," Boyd said. "I wasn't commanding early on, and looking in hindsight, I should've gone to it again because they were sitting on fastballs in. Once I got hit on heaters in, I started going to [sliders] after that and had some success with it."
Boyd mixed fastballs and sliders in the sixth and retired the Blue Jays in order. By retiring the final five batters he faced, he saved the Tigers' bullpen from another long night, and he showed manager Brad Ausmus that he isn't overwhelmed easily.
"He keeps plugging along," Ausmus said. "He saw some of those balls fly out of the park, he puts those behind him and he goes after the next hitter.
"He doesn't seem to get rattled. He didn't throw his hands up in the air or slam his glove against his leg. He moves on. He seems to be mature."
Boyd delivered six innings for the second consecutive start. He has tossed at least five innings in all five of his outings with the Tigers since coming over in the David Price deal on July 30.
"I like what we've seen from Boyd since we've gotten him," Ausmus said. "I think he's got a chance to be a good Major League pitcher."
Jason Beck is a reporter for MLB.com. Read Beck's Blog, follow him on Twitter @beckjason and listen to his podcast. This story was not subject to the approval of Major League Baseball or its clubs.