Nola continues to impress for Phillies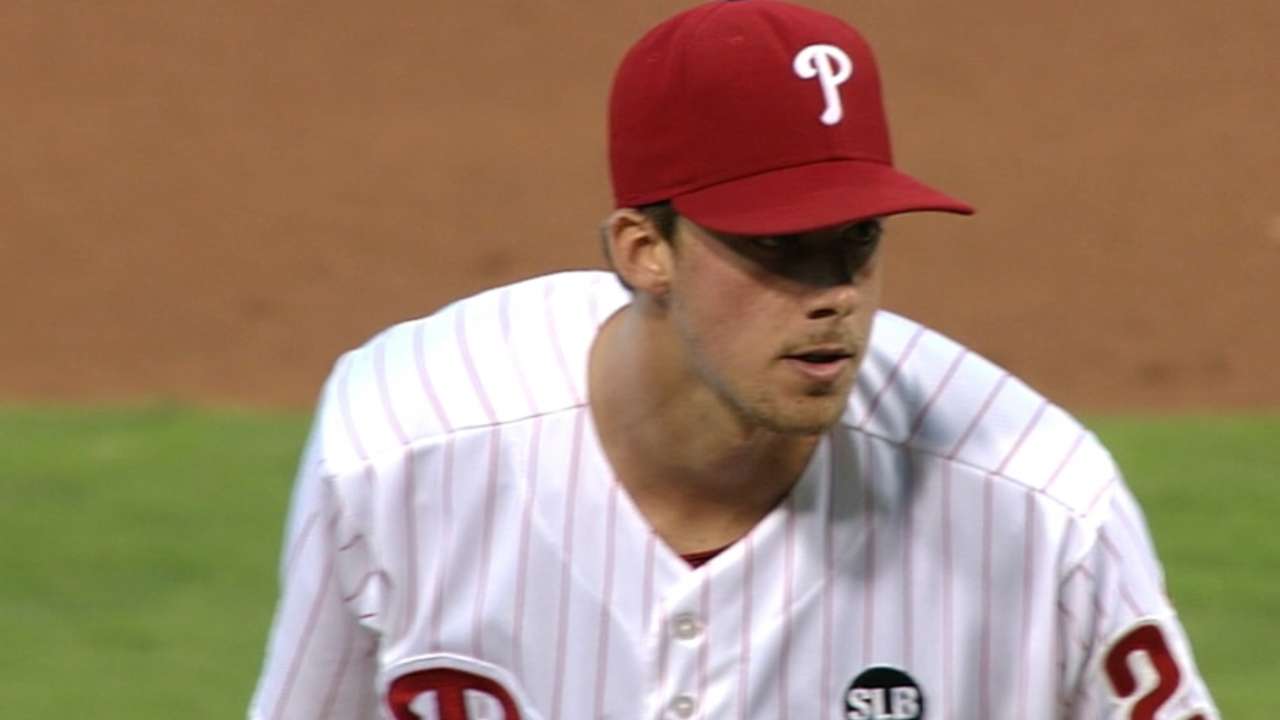 PHILADELPHIA -- The Phillies entered Friday night's series opener against the Padres on pace for 99 losses.
But that does not mean they are not worth watching the rest of the season. In fact, they should be quite interesting to follow because four out of every five games (or four out of every six, if they employ a six-man rotation once rosters expand on Tuesday) the Phillies will have a rookie pitcher on the mound.
Aaron Nola is the most promising of a foursome that includes Adam Morgan, Jerad Eickhoff and Alec Asher. Nola allowed two hits, one run, two walks and struck out six in seven innings Friday in a 7-1 victory at Citizens Bank Park. He has allowed one run in 15 innings in his last two starts.
"I'll take five pitchers just like him," Phillies interim manager Pete Mackanin said.
Nola threw just 86 pitches, but was pulled as the Phillies continue to monitor his workload. Nola has thrown 159 innings this season, including innings with Double-A Reading and Triple-A Lehigh Valley. The Phillies have said they want him to finish the season around 185.
"He's a young guy, first year in the Major Leagues," Mackanin explained. "In his last two innings he could have gone further. But we don't want anything to happen. We just want to make sure he comes out on a positive note. We have to do that this year."
Nola did not allow a hit until Justin Upton hit a solo home run to left-center field with one out in the fourth inning. He retired 11 of the final 13 batters he faced.
Nola improved to 5-1 with a 3.26 ERA in eight big league starts.
"I feel a little bit more comfortable now," Nola said. "I know I can pitch here. But my main goal is to pitch to win and to try and keep the guys in the best position every single time I go out."
Scouts and others tried to lower expectations for Nola upon his arrival July 21. They said he projected as a No. 3 starter, despite the fact the Phillies selected him in the first round of the 2014 MLB Draft. But Nola has looked better than that.
"The guy throws strikes down in the zone," Mackanin said. "His breaking ball has improved since he's been here. He's got movement, deception and a very good presence on the mound. He's fun to watch pitch. He's been doing a great job for us."
Todd Zolecki is a reporter for MLB.com. Read his Phillies blog The Zo Zone, follow him on Twitter and listen to his podcast. This story was not subject to the approval of Major League Baseball or its clubs.