Osuna reaches AL high with 16th straight save
Young closer strikes out side in Blue Jays' victory over Tigers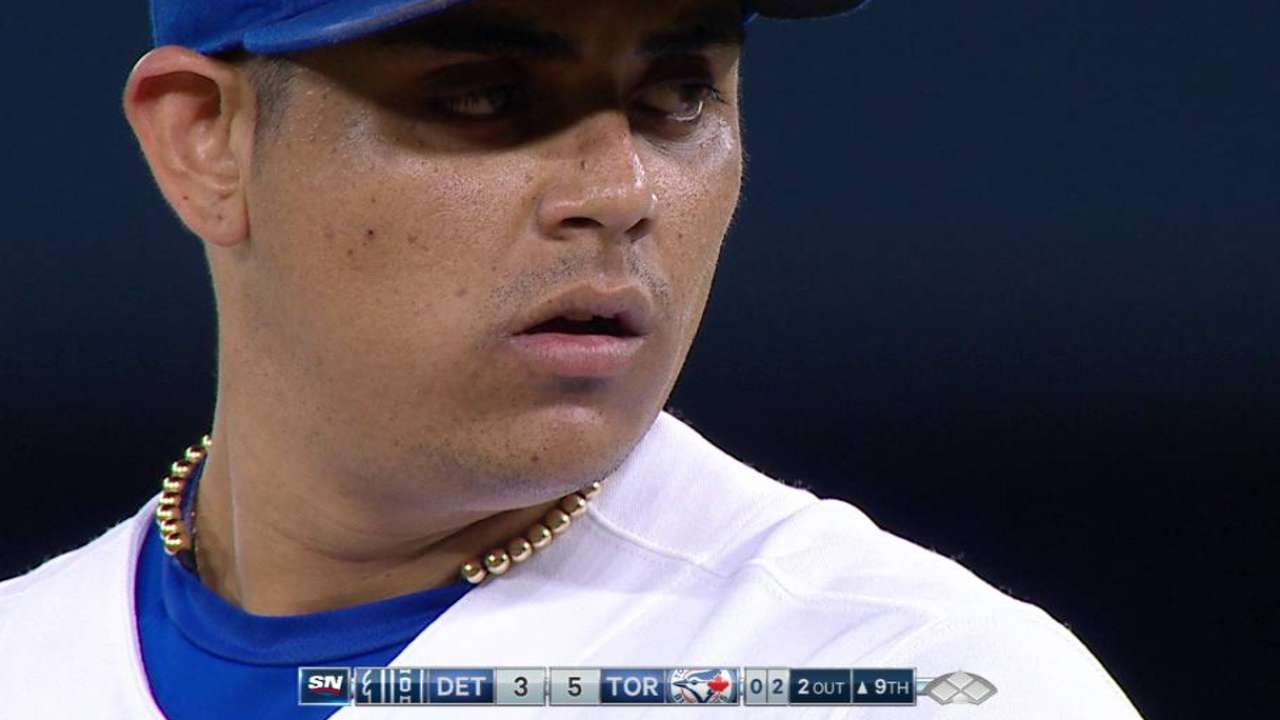 TORONTO -- With Roberto Osuna taking the mound, the Blue Jays could've left their seven other position players -- aside from the catcher -- on the bench in the ninth. It wouldn't have made any difference.
The 20-year-old closer came into the game and struck out the side on 12 pitches to lock down Toronto's 5-3 win over Detroit at Rogers Centre in the series opener Friday night. It was an electric performance from the game's youngest player, who has proven unshakable in a pressure-packed role that few pitchers his age would be able to handle.
"I don't feel any pressure because I don't think about it," said Osuna, who has recorded 16 consecutive saves, the longest streak in the American League this season. "I'm just doing my job. I don't pay attention to the fans, nothing until the game is done. I'll watch it all on video when I come in here after."
It's hard to imagine anyone could've blocked out the booming Blue Jays crowd -- a sellout of 46,518 -- as they rained down cheers on the young right-hander while he diced up three straight Tigers hitters to seal the victory. Josh Donaldson called it the loudest crowd he's heard at Rogers Centre yet.
Despite falling behind, 3-0, to the first batter he faced, Osuna battled back and rung up J.D. Martinez on the next three pitches. He then took down Nick Castellanos with three straight 96-mph fastballs before whiffing James McCann on three pitches to end the game.
"That kid, it feels like he's got a few years in that role already," Donaldson said of the rookie's poise in high-stress situations.
Osuna has now converted 16 of 17 save opportunities, four of which have been for four outs or more. He's the youngest Blue Jays reliever to record multiple four-out saves since Victor Cruz in 1978. Osuna's mettle on the mound has been attributed to the fact that he started playing professionally in Mexico at age 16.
Osuna, who only reached Class A last season, has far outpitched expectations since he made the team out of Spring Training, skipping the club's Double-A and Triple-A affiliates in the process. He's quickly grown into one of the most important pieces on the Blue Jays roster as they vie for a postseason berth for the first time in 22 years, which Osuna said is what drives him.
"I'm proud," Osuna said. "I thank God that I'm healthy and I'm doing a good job. My mind is in making the playoffs."
Jamie Ross is an associate reporter for MLB.com. This story was not subject to the approval of Major League Baseball or its clubs.