Kershaw speaks volumes, as Vin reveals plan
Dodgers ace dominates Cubs; broadcaster announces he'll return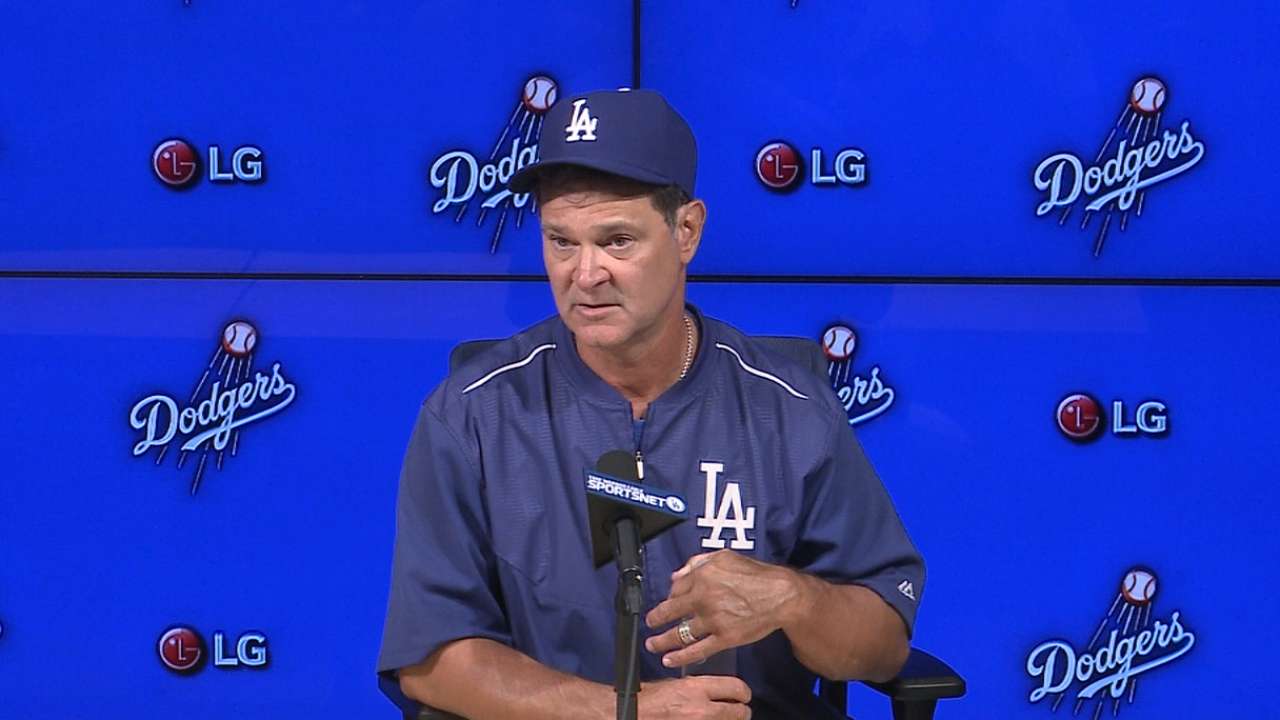 LOS ANGELES -- Broadcaster Vin Scully announced Friday that he'll return for his 67th season with the Dodgers in 2016, but even the legend behind the microphone might have to find new ways to describe Clayton Kershaw.
Kershaw was at his best, tying a season-high with 14 strikeouts and dominating his eight innings, allowing just three hits and one run. Kenley Jansen struck out another batter for good measure as the Dodgers beat the Cubs, 4-1, on Friday night.
Kershaw's lone run allowed, a homer to Anthony Rizzo in the fourth inning, snapped a 31-inning scoreless streak at home. Kershaw has been laser-focused for the past two months and shows no signs of slowing. He's unbeaten in his last 10 starts, owning a 0.92 ERA and picked up six wins in that span.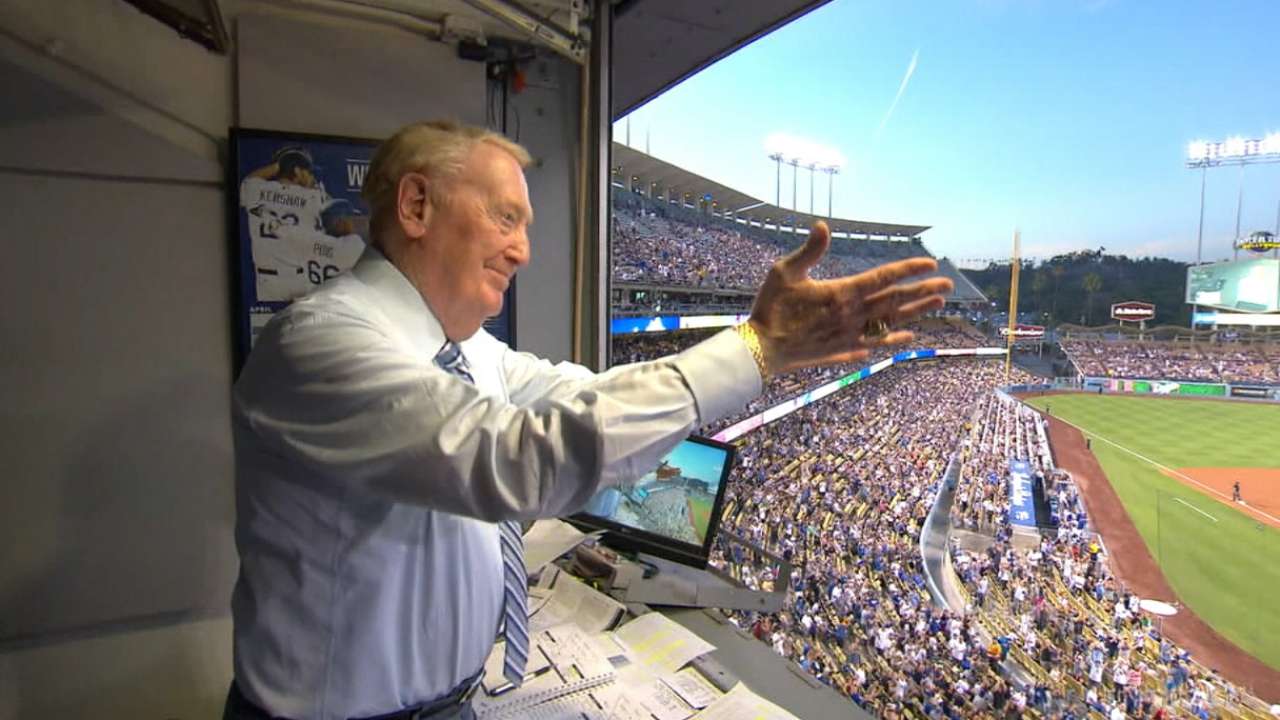 With a month left to play in the regular season, Kershaw is 12 strikeouts short of his career-high of 248 in a season. He passed Chris Sale for the lead in the Majors on Friday night, although those numbers don't seem to resonate with Kershaw.
"I just take pride in getting outs as fast as possible," Kershaw said. "The Cubs are known to strike out and hit homers. An out is an out, it doesn't really matter how you get it."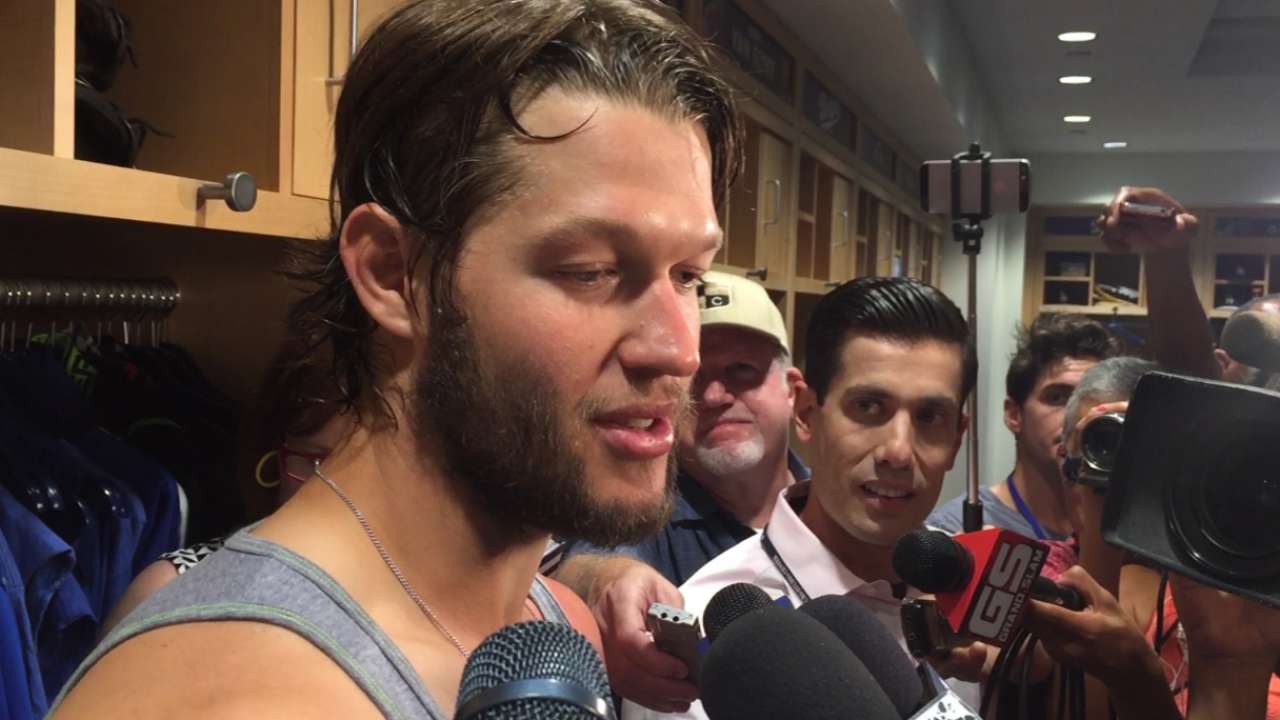 Kershaw made rookie phenom Kris Bryant look foolish at the plate by striking out the youngster four times and Kershaw recorded two strikeouts in six of his eight innings. Only a high pitch count, 108 through eight innings, seemed to stop the left-hander Friday.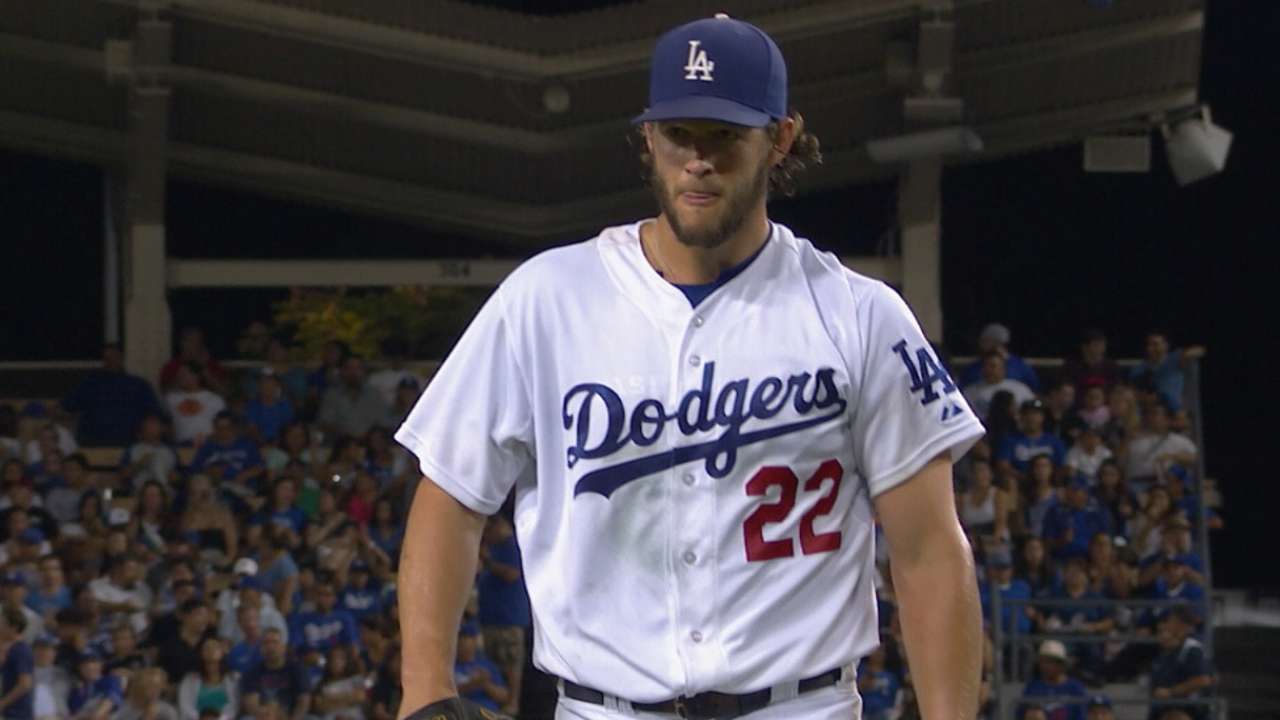 "The young guys shouldn't get frustrated. They're not the only guys striking out facing Kershaw," Cubs catcher Miguel Montero said. "Kershaw strikes out everybody -- it doesn't matter. He's pretty filthy. Don't feel bad about 0-for-3, 0-for-4 against him. Those are the type of pitchers who you're not supposed to get a hit against."
Since his last start, after which he said the Dodgers needed to play with a little "panic," the club is 4-1 and has won four in a row. Does he think the team listened to his rallying cry?
"I don't think they really care [what I say]," Kershaw said. "We played a team like the Reds that is struggling a little bit so that's good timing. But tonight, winning against this team that has been playing really well in August, is big. It's really good for us."
Both the Dodgers and Giants won Friday night to keep Los Angeles' lead in the NL West at 2 1/2 games. As the regular season moves into its final month, the Dodgers will need their pair of aces more than ever. Kershaw leads the Majors in strikeouts while Zack Greinke owns the league's lowest ERA.
"When you have horses like that, you'd like to win those days," manager Don Mattingly said. "Especially if they give you a chance. There's going to be days where they get hit too, but if they give you a chance to win, you've got to win those days."
Steve Bourbon is an associate reporter for MLB.com. This story was not subject to the approval of Major League Baseball or its clubs.