Inside-the-parker in 10th helps Sox halt Mets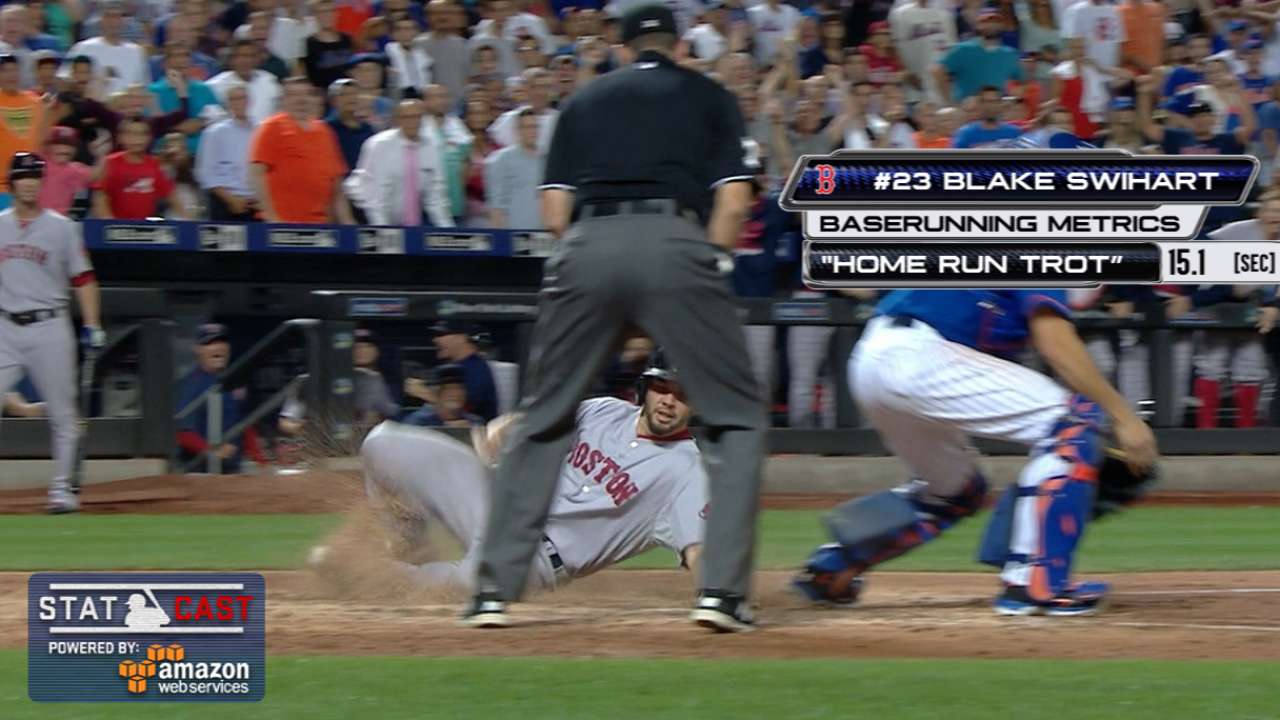 NEW YORK -- Jog or sprint, it really didn't matter. Blake Swihart's go-ahead inside-the-park homer off Carlos Torres in the 10th inning appeared to clear the orange marker along the center-field wall at Citi Field. But nobody saw that in real time except Juan Lagares, who watched the ball carom past him while Swihart chugged around the bases as the Red Sox cooled off the red-hot Mets with a 6-4 win on Friday at Citi Field.
"I was close to first at least, going to second, and I thought it had gotten over because of the way it bounced back," said Swihart. "I just kept my head down, running. I kind of watched the center fielder kind of jogging. I didn't hear anything, so I just kept running."
Boston barely survived a 12-walk effort from its pitching staff, which twice issued bases-loaded free passes -- the second of which from Junichi Tazawa, who walked four straight in the 10th to make it 6-4. That forced the Red Sox to bring on lefty Craig Breslow to face righty slugger Yoenis Cespedes with the winning run aboard. Cespedes flew out to deep center, ending the Mets' winning streak at seven and spoiling the returns of two stars.
A robust, towel-waving crowd of 39,401 witnessed the first game between the Mets and Red Sox at Citi, welcomed back David Wright and, to a lesser extent, Matt Harvey, who started on 11 days' rest. Wright singled twice and scored in his first home game since April 14, and Harvey dominated after the Mets skipped him last week in Colorado. The right-hander induced an inning-ending double play in the first and cruised from there. His final line -- six innings, two hits, eight strikeouts -- left some longing for more, but Mets manager Terry Collins pulled Harvey with 103 pitches after six innings and New York leading, 2-0.
"He wanted to throw another inning and I just said, 'We can't do it,'" Collins said. "'We aren't here to tax you.'"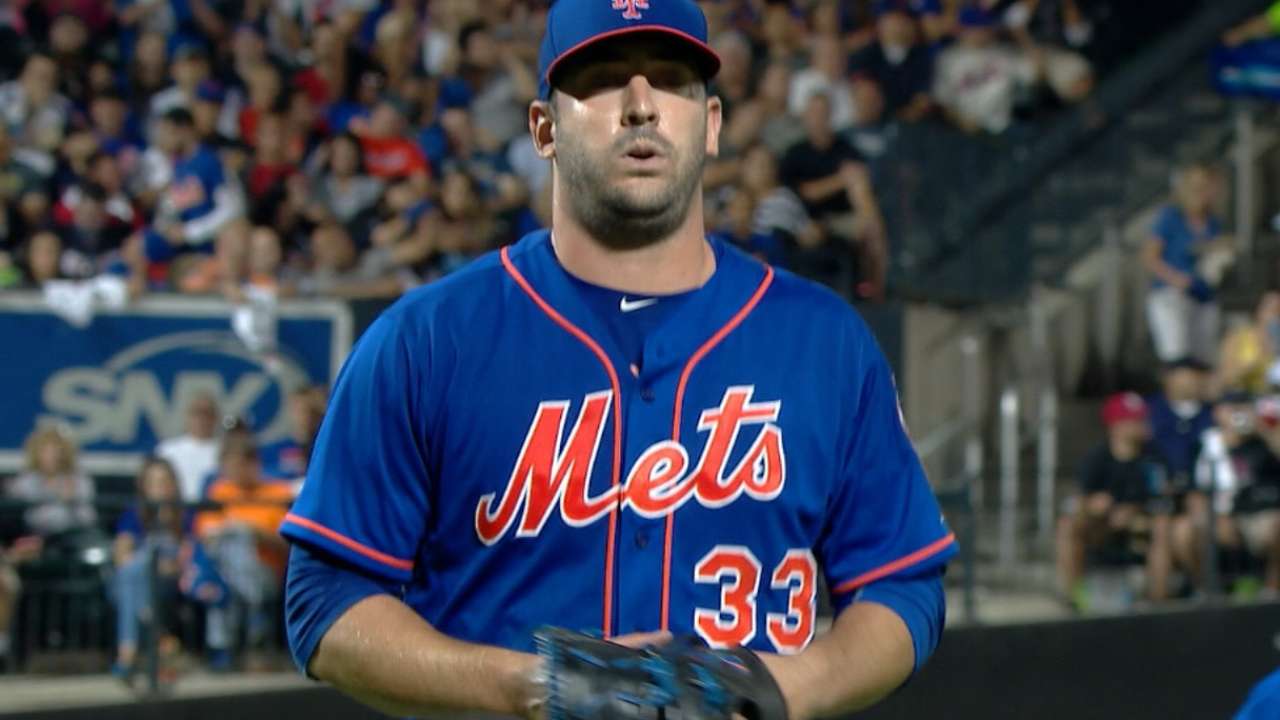 In the seventh, David Ortiz promptly greeted reliever Logan Verrett by belting his first pitch over the wall in left-center to slice the lead in half. Three batters later, Jackie Bradley Jr.'s two-run shot put Boston briefly on top, ensuring the third time this season Harvey wouldn't win despite throwing six or more scoreless innings.
Making his fifth career start, Henry Owens spent five innings limiting the damage despite issuing the first four walks for the Red Sox. Alexi Ogando's bases-loaded walk to Travis d'Arnaud tied the game at 3-3 in the seventh. That's where it stood before Swihart hit Torres' first pitch off the wall in center. Josh Rutledge's sacrifice fly extended Boston's lead before Xander Bogaerts provided more insurance with an RBI single.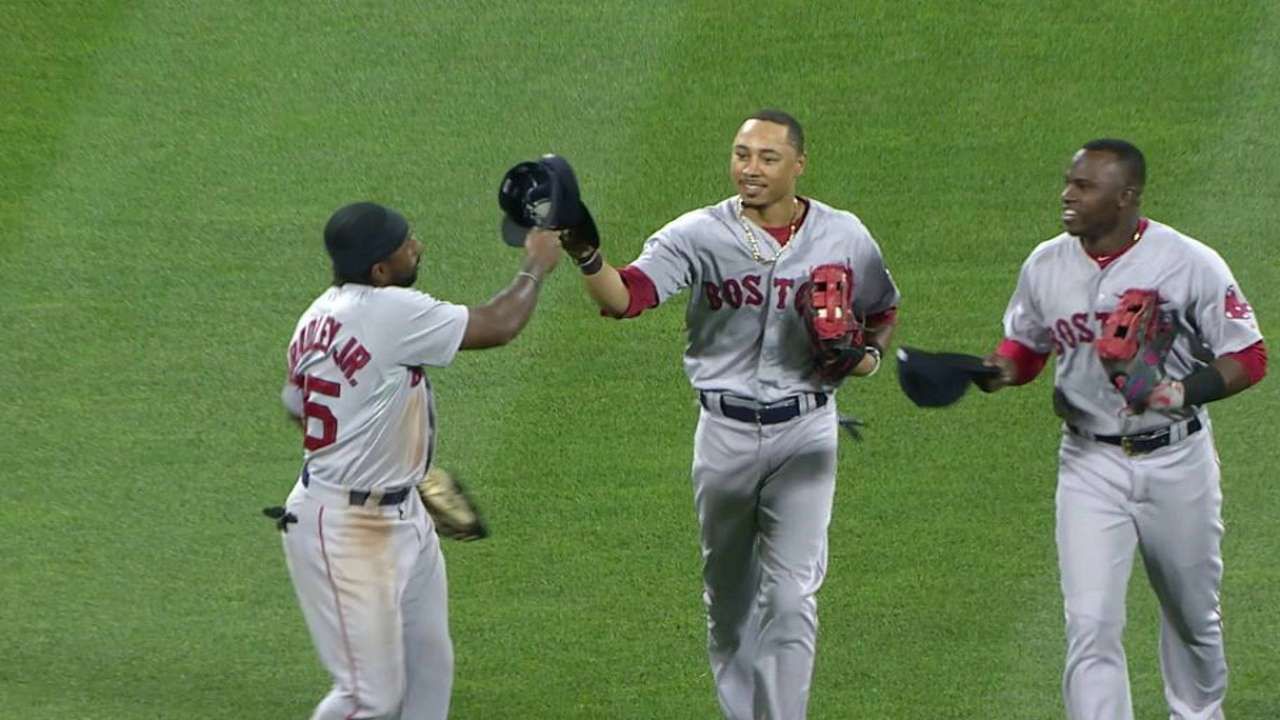 MOMENTS THAT MATTERED
Ortiz ties Gehrig, McGriff: Just about every time the Red Sox go to New York, David Ortiz goes deep. This time, the venue was Citi Field instead of Yankee Stadium, but the result was familiar as the slugger cranked a solo shot to left-center to slice Boston's deficit to 2-1 in the top of the seventh. It was No. 493 of Ortiz's career, tying him with Hall of Famer Lou Gehrig and Fred McGriff for 29th on the all-time list. Ortiz left the game with left heel soreness, but the injury isn't believed to be serious.
"What impresses me about David is he's never seen the guy. First-pitch fastball and he hits it over the left-center-field wall for a home run," Red Sox interim manager Torey Lovullo said. "Nothing he does surprises me anymore, that's for darn sure. It got us going. It got us pushed in the right direction and it gave us a kick-start." More >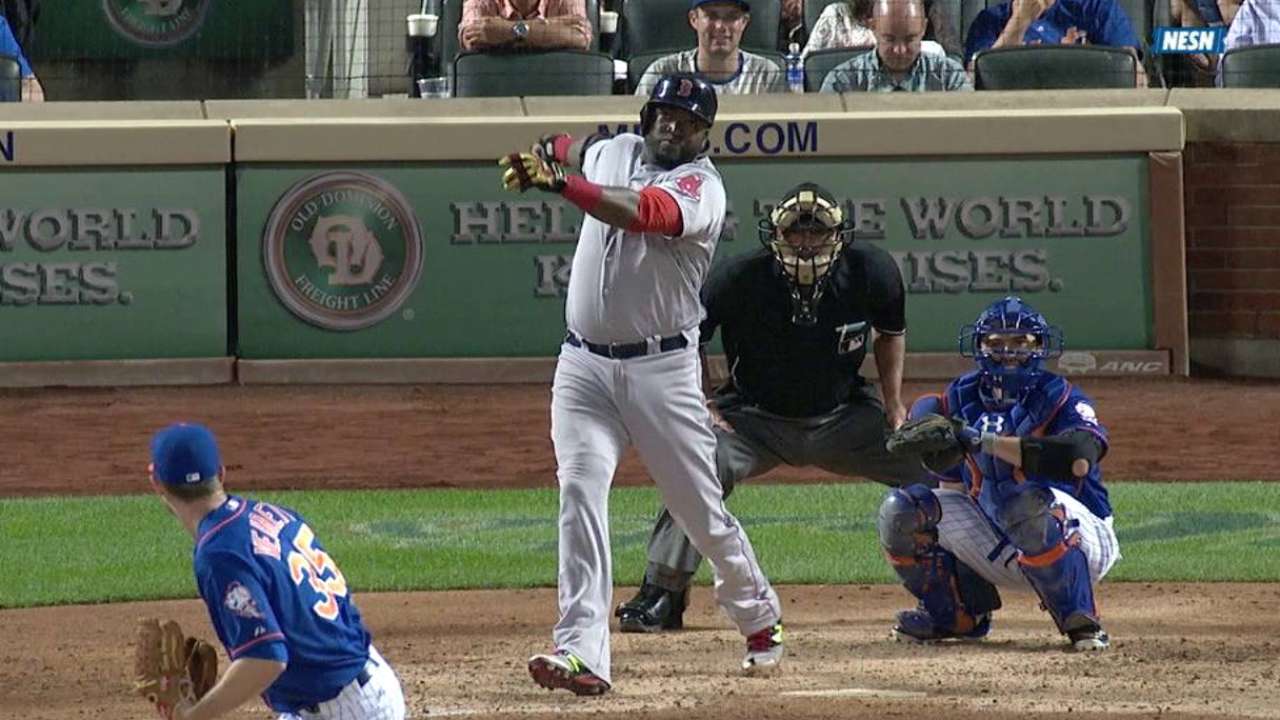 Stop? How about go: After Wilmer Flores doubled with one out in the fourth, he was unable to advance when Red Sox catcher Swihart muffed a catchable pitch to next hitter Travis d'Arnaud. So when d'Arnaud singled, Flores tried to score at any cost. He ran through third-base coach Tim Teufel's stop sign and reached home easily when Mookie Betts' throw was cut off, plating the game's first run.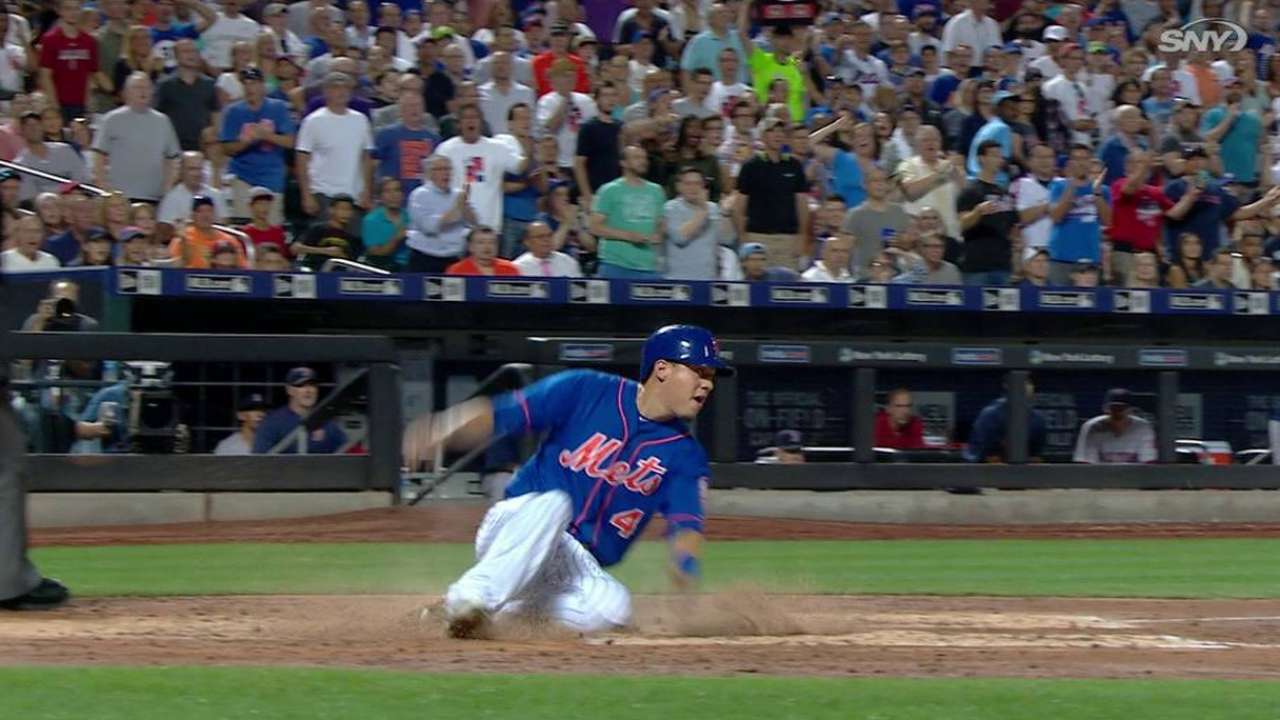 Swihart ends power drought: Not only did Swihart's inside-the-parker give the Red Sox the lead, but it ended a lengthy power outage for the catcher. Swihart had gone 134 at-bats without a homer, going back to June 4. It was also Swihart who helped set up Bradley's two-run homer with a single and a stolen base in the seventh.
"I don't try to hit home runs. I just try to hit the ball hard and get on base. Home runs are going to happen," Swihart said. More >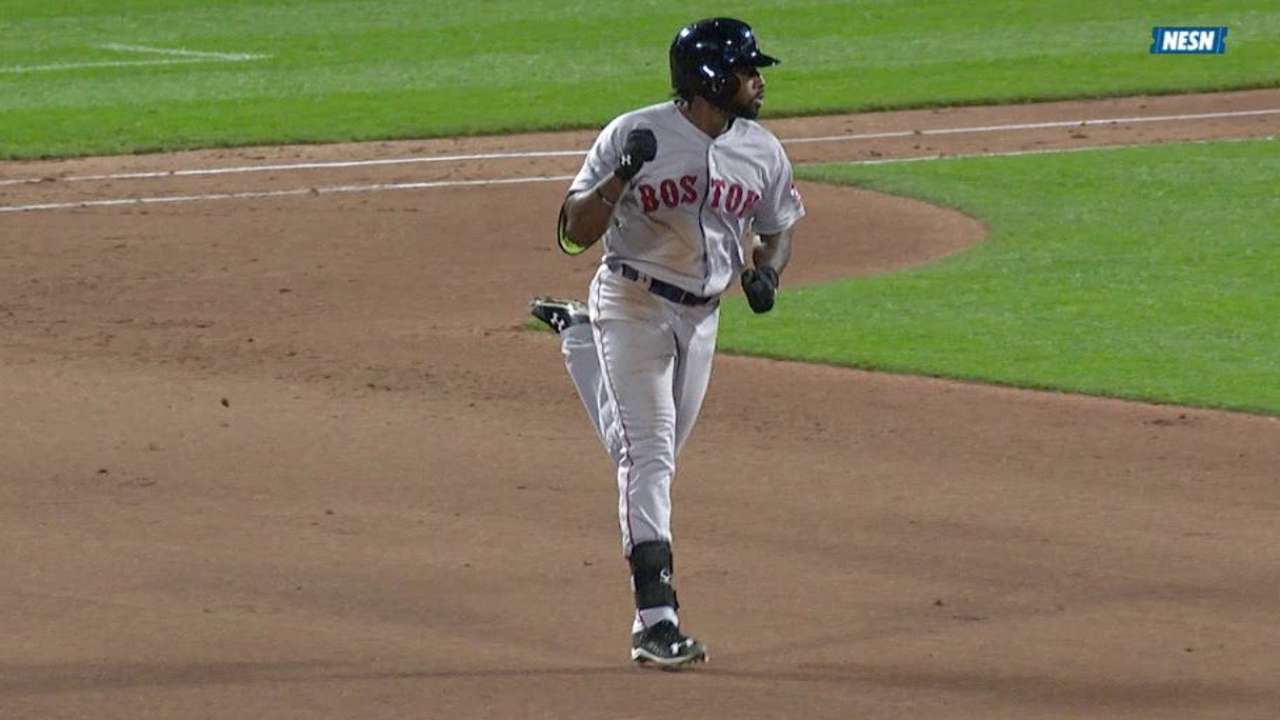 QUOTABLE
"It was fun. I saw 11 pitches, so that was cool to get his pitch count up a little bit. But I think I only saw six, actually -- I just heard the other ones. I earned a curveball after a nice foul tip. That was my foul ball, I need that ball in my locker. It was cool. It was fun. It was intimidating at the same time. It was a good experience."
-- Owens, on hitting for the first time in his career, and facing Harvey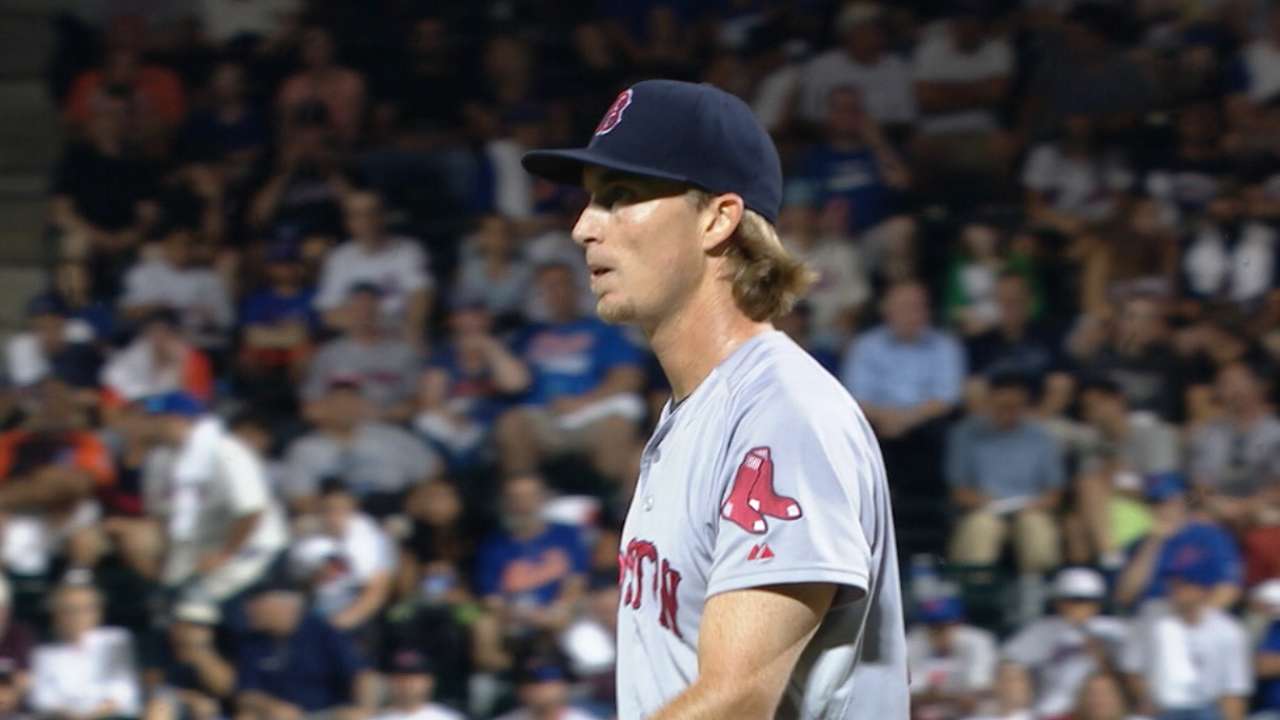 SANDOVAL EJECTED
In the top of the eighth, Red Sox third baseman Pablo Sandoval was ejected for arguing with home-plate umpire John Hirschbeck after he was called out on a tapper hit on the plate. Sandoval thought the ball was foul, and didn't attempt to run before being tagged out by catcher d'Arnaud.
"Pablo kind of misinterpreted what had happened and it was a fair ball," said Lovullo. " John Hirschbeck heard those magic words and he was ejected immediately."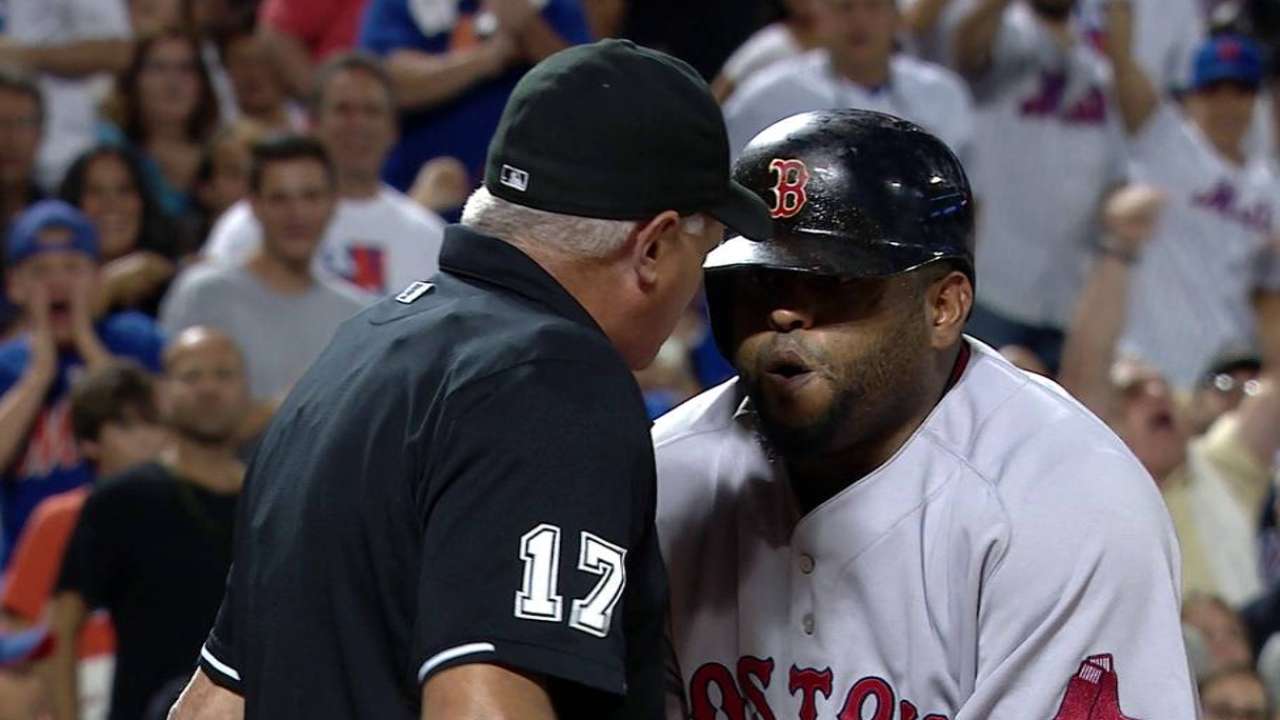 WHAT'S NEXT
Red Sox: Right-hander Joe Kelly goes after his sixth straight win in Saturday's 4:05 p.m. ET contest at Citi Field. Kelly held the White Sox to five hits and two runs over 7 1/3 innings last time out and has a 1.40 ERA in his last three starts.
Mets: The victim of a rare clunker last time out in Philadelphia, Jacob deGrom takes the mound for New York on Saturday looking to improve on his 2.29 ERA, which is tied for third in the National League.
Watch every out-of-market regular season game live on MLB.TV.
Ian Browne is a reporter for MLB.com. Joe Trezza is an associate reporter for MLB.com. This story was not subject to the approval of Major League Baseball or its clubs.